Masters Results 2012: Tiger Woods' Struggles Are Not a Sign of His Demise
April 8, 2012

Andrew Redington/Getty Images
Tiger Woods has no shot at winning the 2012 Masters, which in all likelihood means he won't be able to get his career back on track like so many had hoped.
Give me a break. Tiger will be just fine.
After getting his first victory since 2009 at the 2012 Arnold Palmer Invitational, many immediately jumped on the bandwagon that Tiger was back, ready to take the Masters by storm.
Who could blame them?
It was great to finally see Woods claim a title after a nearly three-year absence, but to be realistic, there was reason to believe the odds were not in his favor.
Sure, Woods did finish fourth at last year's Masters, and while there was a great deal of likelihood that he could once again succeed here, it should come at no surprise he struggled.
That is golf. Some days you are hitting great, and others you just can't find the hole. Nobody is immune to this, and neither is Tiger.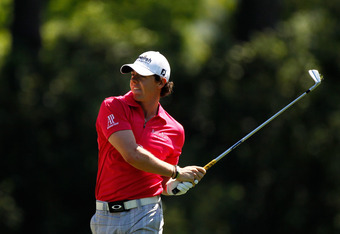 Streeter Lecka/Getty Images
Take pre-tourney favorite Rory McIlroy. The Scot is having a terrible tournament himself, shooting a 77 on Day 3. If you have asked anybody if they thought McIlroy would be six-over at any point in the tournament, more than likely, they would have laughed in your face.
Just like anybody who struggles at a Major tournament, their demise doesn't come hand-in-hand.
His numbers were not Tiger-esque, but they also were not out of control. They just were not amazing as one would expect.
He posted par on two of the three days thus far, while his plus-three on Day Two definitely set him back. It will remain to be seen how he finishes the final round, but sitting at plus-one on the day through 15 isn't going to help his cause.
Unfortunately for Woods, he is just the main man in the public eye, and his struggles will be always be blown out of proportion.
Tiger clearly has some things to continue to work on to perfect his game post life-changing moments, but sure enough, the former World No. 1 will continue to get things heading into the right direction.
Jeff Chase is a Featured Columnist for the Chicago Cubs and Arizona State football.
Follow @Real_Jeff_Chase