Florida State Football: 3 Players Who Must Shine in 2012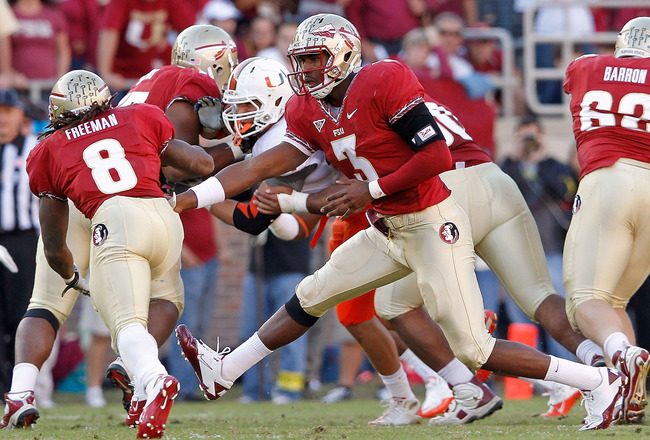 Mike Ehrmann/Getty Images
Even though, on paper, last season was a success for Florida State, nine wins wasn't quite what fans expected going into the year.
Most onlookers agree that with a healthy quarterback, the same stiff defense and a balanced team of selfless playmakers, the Noles will be back in the national championship hunt in 2012.
While it will be important for every player to stay focused across the board, as always there will be a few key positions that could make all the difference. Let's take a look at three players that could play a major role in the success of this coming season.
Brandon Jenkins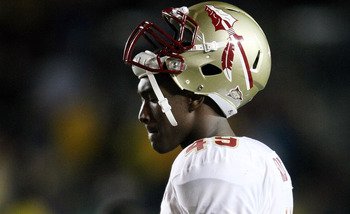 Elsa/Getty Images
Senior defensive end Brandon Jenkins was one of the leaders of a nasty Florida State defense in 2011.
He could have taken the easy road and entered the NFL draft this month, but Seminoles fans were thrilled when Jenkins announced he would return to Tallahassee this season.
Though there's little doubt the Noles defense will be solid again for the 2012 campaign, individual players will once again need to step up and control the opposition on the field. Jenkins has an opportunity to help lead his team back to greatness and a possible title run.
Fifty tackles and double-digit sacks would go a long way in setting the tone for keeping FSU's defense at the top of the ACC and among the best in the nation.
2011 Stats: 41 tackles, 8 sacks
Lonnie Pryor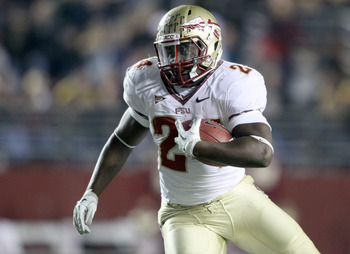 Elsa/Getty Images
Senior back Lonnie Pryor has largely played a behind-the-scenes role for much of the Seminoles success throughout his career.
Even on the field and involved in every single play, key players can go largely unnoticed by the average fan, but Pryor has been integral to much of Florida State's success on offense for several seasons.
Many former 4-star recruits would have already transferred rather than take on the unsung hero role, but without Pryor's run-blocking, the Noles would have been struggling on the ground the past two seasons.
If Pryor can continue to thrive in the workhorse role and the run game can build upon last season's gains, the Seminoles offense will be a threat on the ground and through the air.
2011 Stats: 27 attempts for 74 yds, 6 receptions for 61 yds, 3 total TD
EJ Manuel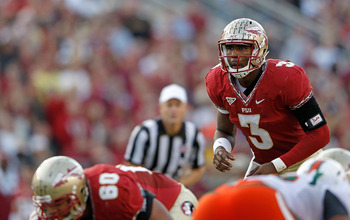 Mike Ehrmann/Getty Images
An injury to his non-throwing shoulder during the Oklahoma game last season left EJ Manuel sidelined for a large part of that game, and he would also miss the Clemson game. After a strong start, the Seminoles would lose both of those games and again to Wake Forest in an early three-game skid.
It's not hard to see that, with a healthy Manuel the Noles could have easily won 10 or 11 games last season, and would have been well positioned for a possible BCS bid or even a title run.
With a ton of key offensive weapons returning for the 2012 season, and a fierce defense on the other side of the football, this could be a great opportunity for FSU to return to the national stage as a legitimate contender.
If this senior quarterback can have another solid season and stay healthy, it would go a long way towards a top five finish. If he can get 20 or more touchdowns, keep his interceptions in single digits and reach the 3,000-yard mark, the Seminoles will be a title contender in 2012.
2011 Stats: Passing: 203/311 completions (65.2%), 2,666 yds, 18 TD, 8 INT; Rushing: 151 yds, 4 TD
Keep Reading

Florida State Football: Like this team?