Barcelona and the 10 Most Dominant UEFA Champions League Victors Ever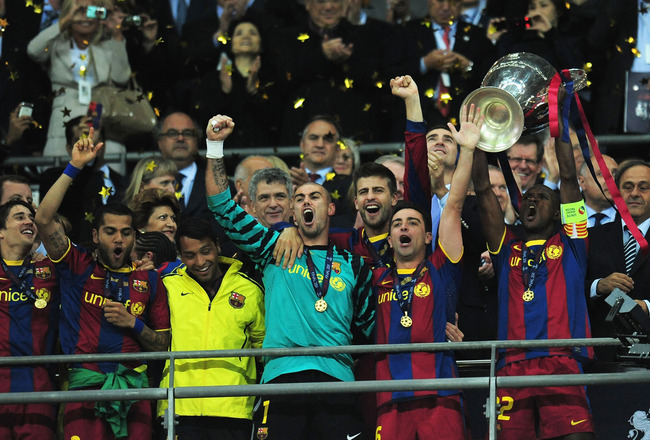 Shaun Botterill/Getty Images
Every season the Champions League showcases many of the best players throughout the world. For the best of these players, they could possibly win the title of European champions, which is one of the toughest titles for a player to achieve.
In certain cases, there are sides that are able to completely overwhelm their competition on a consistent basis. We saw this happen last year when Barcelona overwhelmed all of their competitors to win the Champions League for the second time in three years.
This season, we have once again watched Barcelona slice through their competition like a hot knife does with butter.
If Barcelona is to win the Champions League again, this is the competition that they will go up against for the most dominant sides to win the Champions League in the Champions League era (1992 to the present).
No 10 Bayern Munich (2001)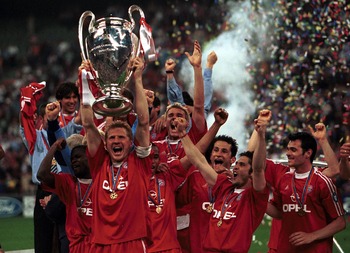 Alex Livesey/Getty Images
They had not captured a Champions League title since 1976, but Bayern Munich were able to ride a fantastic run through the knockout stage to become European champions.
Bayern twice defeated Manchester United and Real Madrid in the knockout stages to reach the final where they prevailed on spotkicks.
Domestically, Bayern were able to claim their third consecutive Bundesliga title.
No 9 Real Madrid (2000)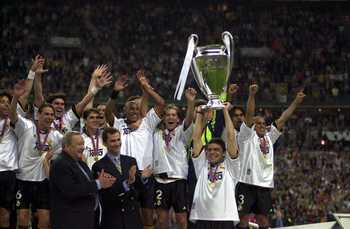 Graham Chadwick/Getty Images
Two years after winning their first Champions League title in 32 years, Real Madrid were able to claim their eighth Champions League crown.
Madrid scraped through a difficult group with Bayern Munich (who were the runners-up the year before) and Dynamo Kiev. But once they reached the knockout stage, they were completely different.
Madrid knocked out defending champion Manchester United with ease before eliminating Bayern in the semifinals. Madrid easily won the final over Valencia 3-0.
No 8 Barcelona (2006)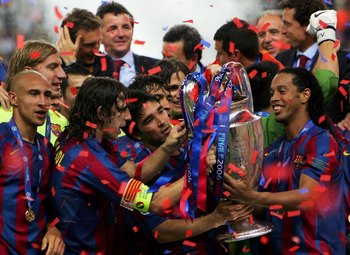 Laurence Griffiths/Getty Images
For some of the players that are on the current Barcelona squad, this was their first Champions League title.
After sweeping through the group stage with 16 out of a possible 18 points, Barcelona knocked out the likes of Chelsea and AC Milan to reach the Champions League final, where they would defeat Arsenal 2-1.
Barca also dominated in La Liga, winning the title by 12 points over Real Madrid.
No 7 Real Madrid (2002)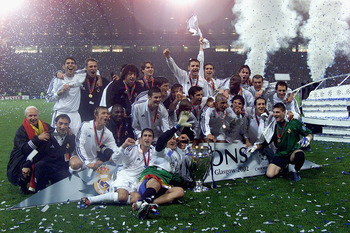 Gary M. Prior/Getty Images
Real Madrid had some of the best players in the world in 2002 in Roberto Carlos, Luis Figo and Zinedine Zidane, and those players displayed their magic throughout their Champions League campaign.
After finishing first in their first group stage, Madrid again topped the second group before defeating Bayern Munich and Barcelona to reach the final.
Madrid won the final 2-1 thanks to a great goal from Zidane, giving los blancos their ninth Champions League title.
No 6 Ajax (1995)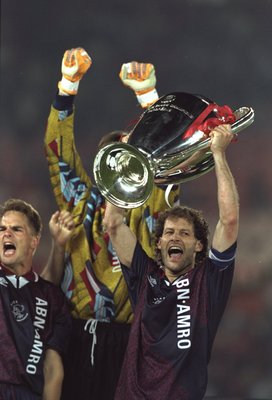 Clive Brunskill/Getty Images
Looking at this Ajax side 17 years after their triumph in the European Cup, it is amazing that they were able to assemble a squad with such amazing players.
In the Champions League final alone, they had the likes of Edwin van der Sar, Frank Rijkaard, Danny Blind, Clarence Seedorf, Marc Overmars, Edgar Davids, Jari Litmanen and Patrick Kluivert on their squad.
Managed by Louis van Gaal, Ajax went unbeaten in the Eredivisie and were tremendous in the Champions League.
This Ajax side is certainly the best Dutch domestic side since the early 1970s, when Johan Cruyff led Ajax to three consecutive European Cups with their "Total Football" philosophy.
No 5 Inter Milan (2010)
Jasper Juinen/Getty Images
The only Italian club to complete a treble of the Champions League, Serie A and the Coppa Italia, Inter Milan had a season to remember in 2010.
After getting through a difficult group stage, Inter knocked out Chelsea and defending champion Barcelona to advance to the final. Inter then defeated Bayern 2-0 to close out one of the most impressive seasons in European history.
The final also proved to be the final match that Jose Mourinho managed for Inter.
No 4 Manchester United (1999)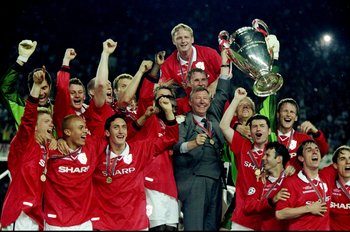 Phil Cole/Getty Images
Manchester United's 1999 season is one that will be remembered for generations. Domestically, they won the Premier League on the final day of the season and the FA Cup.
But in the Champions League, United had a difficult group with both Barcelona and Bayern Munich, yet they failed to lose despite finishing in second place.
United then went on to defeat Inter Milan and Juventus to reach the final, where two late goals gave United the title of European champions.
No 3 Barcelona (2011)
Clive Mason/Getty Images
Last year's Barcelona squad featured many of the best players in the world and were certainly among the best sides to ever participate in Europe.
Barcelona topped their group, beat Arsenal and Shakhtar Donetsk, and defeated a star-laden Real Madrid squad to reach the final.
Of course, Barcelona sealed the deal with a convincing 3-1 win over Manchester United to complete a double of the Champions League and La Liga.
No 2 AC Milan (1994)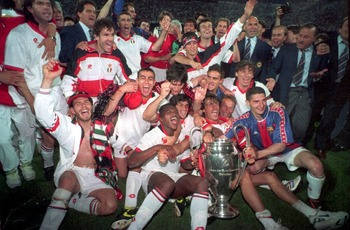 Shaun Botterill/Getty Images
Throughout the late 1980s until the mid-90s, AC Milan were the most dominant side in Europe. This culminated in 1994, when Milan dominated both the Champions League and Serie A.
Milan eased their way through the group stage without a loss before defeating Monaco to reach the final.
Against a strong Barcelona side that reached the final just two years before, Milan crushed Barca 4-0 to close out one of the greatest seasons in the history of the Champions League.
No 1 Barcelona (2009)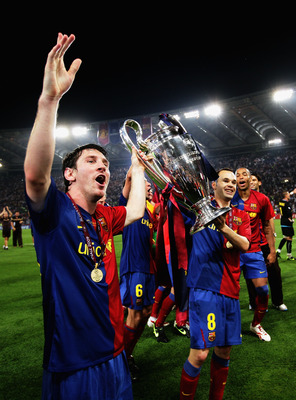 Laurence Griffiths/Getty Images
Barcelona went into the 2009 season with a new manager in Pep Guardiola. But the former Barcelona midfielder brought a new attacking flair that captivated football.
With the likes of Lionel Messi, Thierry Henry, Samuel Eto'o, Xavi and Andres Iniesta all on the same side, Barcelona eased their way into the knockout stage, where they crushed Lyon and Bayern Munich.
Following a controversial elimination of Chelsea in the semifinal, Barcelona dominated a favored Manchester United side 2-0 to seal the first Spanish treble.
Barcelona went on to complete an unprecedented sextuple for their amazing 2009 year.
Keep Reading