New York Mets Talk: 2-0 Is a Nice Start, but a Long Season Still Awaits
April 8, 2012

Chris Trotman/Getty Images
For the first time in what seems like an eternity, everything is going right for the New York Mets.
Maybe it started with the removal of the black cloud originally cast by the Bernie Madoff scandal; maybe it is that fabulous new blue outfield wall that's helped remove the nightmare of CitiField's cavernous dimensions from Mets hitters' heads; maybe the Atlanta Braves are still in the funk that saw them collapse at the end of last year.
Whatever it is, the New York Mets have started the 2012 baseball season 2-0.
Surprisingly, the Mets have had everything go exactly the way they need to in order to have a chance at any success. Their young players, especially Ike Davis and Lucas Duda, look like they are ready to break out this year.
David Wright is hitting like the David Wright who played in Shea Stadium, the bullpen has been great and Johan Santana has returned strong. Heck, even an injury to new lead-off man Andres Torres hasn't slowed the Mets down.
Maybe the ghost of Mets legend Gary Carter, who was beautifully honored by the Mets on Opening Day is guiding this team, cashing in all of the good will he accumulated on this Earth for this year's Mets squad.
OK, maybe that's something out of a Disney movie, but for a team who was expected by many, including yours truly, to be one of the worst teams in all of baseball, it's as good of an explanation as any to explain the Mets' fast start.
Whatever the reason, it's so far so good for the Mets and their fans, as the team will enter Easter Sunday tied for first place. They are also looking to start the season with a three-game sweep of the division rival Atlanta Braves, a team who has been just as disappointing this young season as the Mets have been surprising.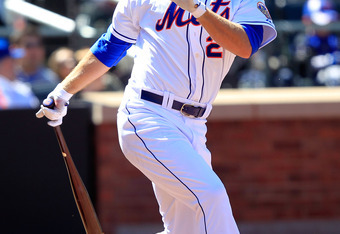 Chris Trotman/Getty Images
With all that said, it still needs to be pointed out that it is only two games, and unfortunately, the chances that a long dreadful season still awaits the Mets are very good.
I really hate to rain on the Mets' parade, but the reality is that the Mets are still not a good team, in a division that looks to be one of the toughest in baseball.
Despite a nice first start, Johan Santana's durability will remain a question all season, Mike Pelfrey hasn't pitched and/or imploded yet, Jason Bay is continuing to prove he's a worse signing than Bobby Bonilla ever was, Frank Francisco and John Rauch have yet to remember that they are one year removed from playing hot potato with the Toronto closer's job and Daniel Murphy hasn't even had a chance to lose a game with his glove.
Not to mention the perceived top two teams in the division, Philadelphia and Miami, are a combined 2-3, a trend that is sure not to last.
It's a pessimistic view, sure, but that has been the culture surrounding the Mets since Carlos Beltran looked at strike three in the 2006 NLCS.
Still, there are some good signs for the Mets after the first two games of the season.
First, the team is much better defensively, especially in the infield now that Ike Davis has returned. Yes, Daniel Murphy is still a terrible defensive second baseman, but he may be able to be hidden with the rest of the quality defensive players in the infield. Manager Terry Collins has made no bones about using a defensive replacement for Murphy late in games, even this early in the season.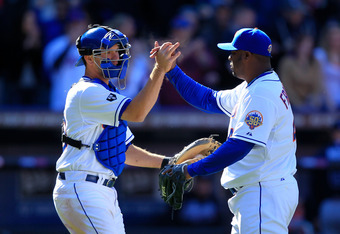 Chris Trotman/Getty Images
Second, it looks like this team will finally be a decent offensive team, even after losing their offensive catalyst in Jose Reyes to free agency. Ike Davis and Lucas Duda, who had his first career multi-homer game on Saturday, look like they belong in the big leagues. David Wright looks much more comfortable at the plate with CitiField's new dimensions. If Jason Bay can ever get back to being close to what he was in Pittsburgh and Boston, this offense looks like it may be able to be pretty good.
The bullpen combination of Bobby Parnell, John Rauch and Frank Francisco has looked great so far, but it remains to be seen if they can keep it up.
So enjoy this hot start now Mets fans, because it probably won't last. The Mets aren't going to win it all this year, they probably won't even be close to making the playoffs, but there are some signs that the Mets are on the right track.
At the very least, the Mets could end up a scrappy team that's fun to watch. Not exactly the highest of expectations, but definitely better than the Flushing Faithful has seen in quite some time.