5 Reasons Seattle Mariners' Offense Will Explode vs. Texas Rangers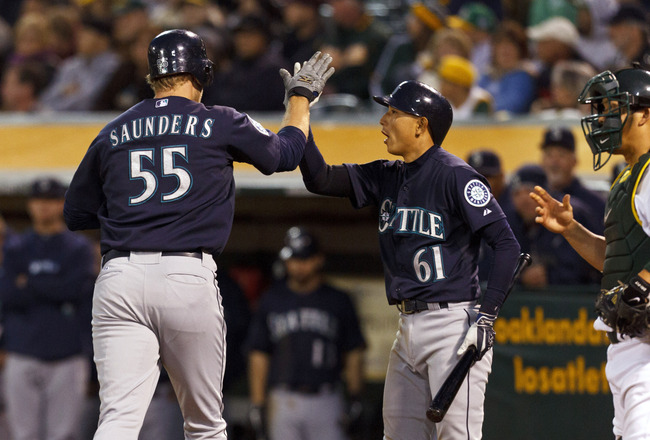 Jason O. Watson/Getty Images
Who would have seen this coming? Fifteen runs in two games for the Mariners as they start the season 3-1.
Can the Mariners continue hitting the cover off the baseball?
It might be crazy and perhaps a bit premature, but I oddly believe the M's will explode during their four-game tussle in Texas.
Following their offensive outburst in Oakland, a trip to Texas to face the defending AL champions would seem like a good test for the M's. The ballpark in Arlington has historically proved to be a bandbox where both the Rangers and their opponents can rack up a lot of runs in short time.
I won't go as far to say that the Mariners will sweep or win their series against the Rangers, but here are five reasons the Mariners will more than hold their own...
Yu Darvish's Debut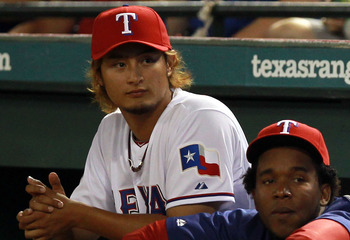 Ronald Martinez/Getty Images
If you love the game of baseball, you will enjoy watching Yu Darvish pitch.
All throughout his career he has thrived under pressure, but Monday night the whole (baseball) world will be watching his MLB debut.
Will he rise to the occasion or will he falter?
While I do believe Darvish will go on to have a great season in Texas, I actually think the Mariners might be up for the task given that all the pressure will be on the former Nippon Ham Fighter to electrify the masses.
Against the M's Darvish will probably pick up a few strikeouts, but I also see them making contact, especially at the top of the order with Chone Figgins, Dustin Ackley and Ichiro Suzuki serving as the catalysts.
If the Mariners can rough up Darvish and get to the bullpen early, it could set the tone for the remaining three games of the series.
Chone Figgins Will Want a Hero's Welcome at Safeco on Friday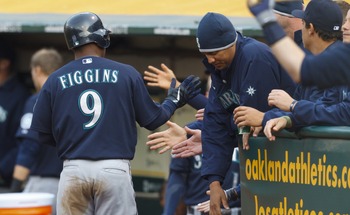 Jason O. Watson/Getty Images
Come Friday night at Safeco, Chone Figgins will be looking to get a standing ovation upon leading off in the bottom of the first inning.
For two years now, Figgins has been a shell of his former self. Yet in two games this weekend he's come out like a man on fire after a slow start in Tokyo. Saturday night alone he was just shy of the cycle in needing only a homer.
Perhaps he finally figured, "What do I have to lose?"
Whatever happened, look for Figgins to continue playing with the same aggressive style that has helped the Mariners win both games to start the season stateside. Deep down Figgins knows this is it and he's not about to ease up on the throttle any time soon.
If he can deliver this week in Texas, let's hope the fans at Safeco can put their hands together in thanks on Friday night.
Beware of the Runts!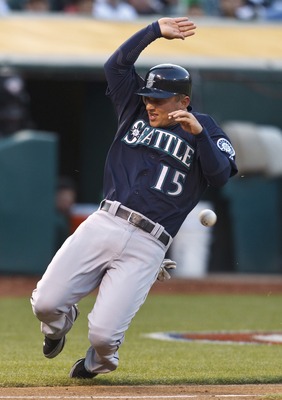 Jason O. Watson/Getty Images
In addition to Chone Figgins, what's perhaps proved most satisfying about the Mariners' outburst this past weekend is that it came from some of the most unlikely of sources. While it may be an extremely small sample size, it just goes to show that you can't underestimate anyone in this lineup on any given day.
Whether or not the Mariners have a winning season remains to be seen, but so far this team hasn't been dull to watch since sleepwalking in Tokyo.
I'd like to think this will continue in Texas with players like Kyle Seager, Munenori Kawasaki and Brendan Ryan making the most of their opportunities to get in the lineup.
They may not have much punch, but they can still hurt you.
Smoak's Revenge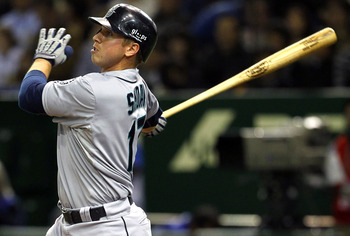 Koji Watanabe/Getty Images
On the other side of the coin, the heart of the order hasn't provided much punch either stateside or back in Japan.
Other than his second-game bomb in Tokyo, Justin Smoak has struggled, having already struck out four times in as many games. A trip to Texas may not cure his strikeout habit, but hopefully he can start to make contact with a little more consistency and drive the ball.
Not too long ago Smoak was the Rangers' first-round pick out of the University of South Carolina, yet in short time found himself shipped off to the Mariners as the key piece of the Cliff Lee deal.
Since coming to Seattle in the summer of 2010 it's been a bit of a bumpy ride. One would imagine it would be satisfying for Smoak to make the Rangers regret trading him with a solid series, especially if he can get his power stroke working.
Deep down just about every Mariner fan is hoping for this to finally happen.
Jesus Montero Is Due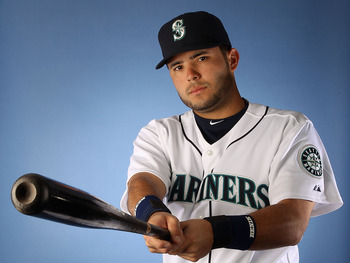 Christian Petersen/Getty Images
Much like Justin Smoak, Jesus Montero is due—due to catch at some point this week (from reports out of the clubhouse), but perhaps more importantly, due to hit.
Thus far we haven't seen much of either.
In a strange way I think getting Montero behind the plate could give him something to think about other than trying to kill the ball. It was disappointing this weekend to see him struggle at the plate with either the bags empty or with runners on base.
With only two hits and an RBI this season, we can only hope a trip to Texas and a shot at catching could help get Montero on track.
Keep Reading

Seattle Mariners: Like this team?