Manchester United: 3 Players Most Likely to Score vs. Queens Park Rangers
April 8, 2012

Clive Brunskill/Getty Images
If last week was a big match, then this one is critical for the Red Devils' title chances.
With a win against QPR, United would go eight points clear at the top of the table, with crosstown rivals Manchester City facing a tough away match versus Arsenal.
It would put them in a nearly unstoppable position and almost certainly guarantee them their 20th league title in the top class.
If Manchester United are to find the back of the net—which, funnily enough, they'll need to do to win—here are the three most likely players to end up the hero for the Red Devils in this one.
1. Antonio Valencia
After successfully predicting Valencia to score last week, he looks set to continue his incredible form against a QPR side on the verge of relegation.
Known for his assist play and ability to whip in superb crosses, Valencia will find the back of the net in this one and notch up his third goal in five games for the Red Devils.
2. Wayne Rooney
I know it sounds obvious, but it is incredibly hard to ignore the English striker who has simply been brilliant for Manchester United in the latter part of the season.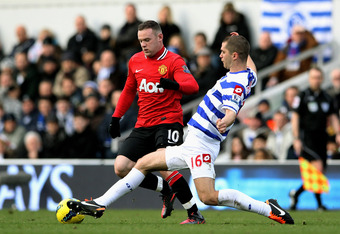 Scott Heavey/Getty Images
His importance to this side is growing with every week, and after failing to get on the scorers sheet last week, the odds are fairly good that he will be adding to his 21-goal tally for the year in this one.
Rooney scored in the first minute of play last time these two sides met, and whilst he might not be grabbing a goal that quickly this time around, at home, you've got to like him to find the back of the net.
3. Javier Hernandez
Part of this selection comes down to Hernandez getting the nod over Danny Welbeck to partner Rooney up front for United, which I think he will do.
Welbeck has been solid all year, but has struggled as of late and has only scored once since January. In that time, Hernandez has proved his worth to Manchester United, scoring valuable goals against Chelsea and Stoke.
Despite only scoring two out of his 10 goals this season at Old Trafford, Hernandez will find the back of the net against a struggling QPR side and prove that he is the second striker for United.
And even if he doesn't start, he could very well get a consolation goal off the bench. So, either way, don't rule out Hernandez to score in this one.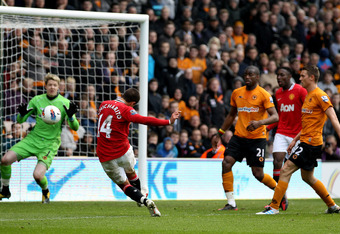 Scott Heavey/Getty Images
Overall
There's your three potential goal scorers, though not all of them may find the back of the net. Much has been made as to how tough a match this is for United, but I can't see that fazing the Red Devils' dominance and offensive presence.
United are the Premier League favorites for a reason, and they will prove that with another win over Rangers. They aren't in a position where they need to send a statement to their rivals; they simply need to win and chalk up the three points.
Which they will do, as they score a goal either side of halftime to take a comfortable 2-0 win.
Read more articles by Dan here — or  Follow @dantalintyre