Masters Standings 2012: Dissecting the Day 3 Leaderboard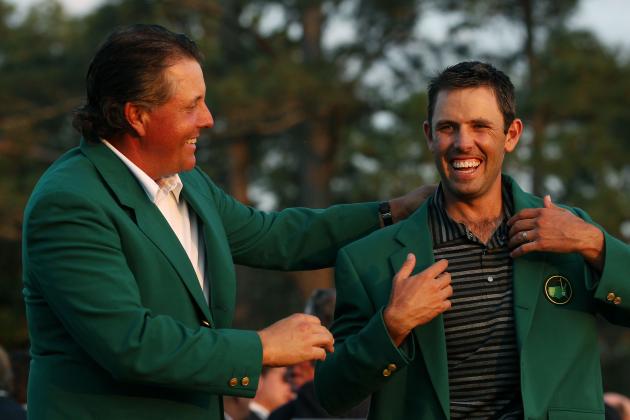 Andrew Redington/Getty Images
Will the positions be reversed come Sunday evening?
Although the first two rounds of the 2012 Masters provided a few interesting storylines (Freddie's 67 for a piece of the lead and Tiger's scattershot 75 that left him three over), Saturday saw the action at Augusta National really heat up as eight different players led or shared the lead at some point. The day concluded with nine players within five strokes of the lead.
Nineteen of the last 21 Masters champions have played in Sunday's final pairing. Realistically, anyone going to sleep Saturday night within five shots of the lead has to think himself capable of shooting a round that could have him in Butler Cabin putting on a green jacket Sunday evening.
Let's take a look at the top nine players on the leaderboard and try to separate the true contenders from the pretenders before they tee it up on Sunday.
Begin Slideshow

»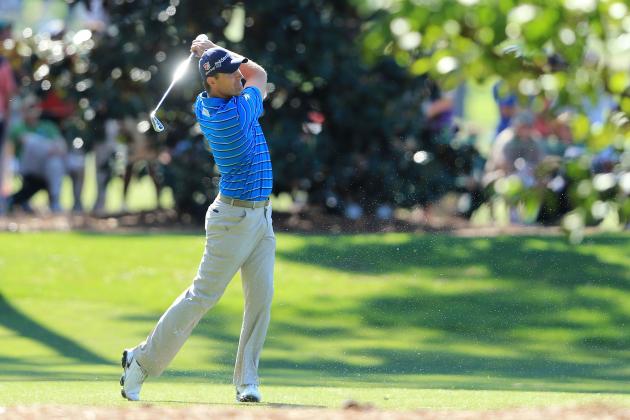 David Cannon/Getty Images

Four golfers are tied for sixth, four-under par, at the conclusion of play on Saturday. That puts them five shots behind the leader, Peter Hanson.
We'll take them in alphabetical order, which means first up is a real surprise, Padraig Harrington.
Harrington has pretty much slipped off the radar since winning three of six major championships from the 2007 British Open Championship (repeating the following year) through the 2008 PGA Championship.
Since that PGA title, Harrington has been winless in 65 straight events. And, truth be told, we wouldn't be talking about him now except for the fact that after standing one-over par after the 12th hole on Saturday, Harrington seemingly stepped through a time warp and birdied 13 through 16, settled for par on 17 and concluded his improbable run with another birdie on 18. That finish gave him a career-equaling low Masters round of 68.
Padraig does have three top-10 finishes at Augusta but none since 2008. For about 75 minutes on Saturday, the magic was back.
To assume it will continue on Sunday would just be unrealistic.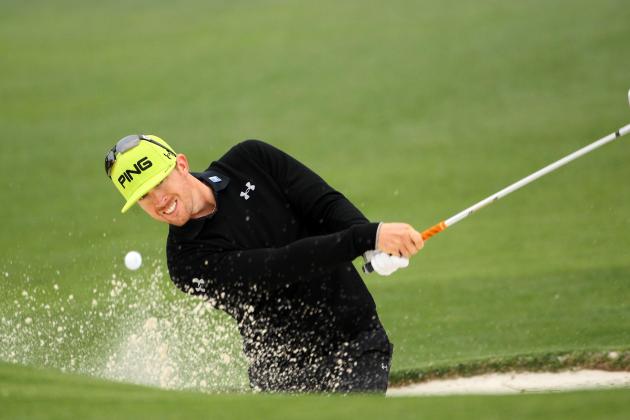 Jamie Squire/Getty Images

Mahan has lofted the winner's trophy in two of the last four PGA events, so he knows how to win.
This is only Hunter's sixth Masters, but he's got two top-10 finishes in the last three years to show for his efforts at Augusta.
This year he has played the par fives seven-under par, one of the keys to winning the Masters. He also finished strongly on Saturday, playing a bogey-free back nine three-under par.
After two even-par rounds on Thursday and Friday, Mahan has things going in the right direction. If he can equal his Masters' career-best 66 on Sunday, he could well find himself in the hunt.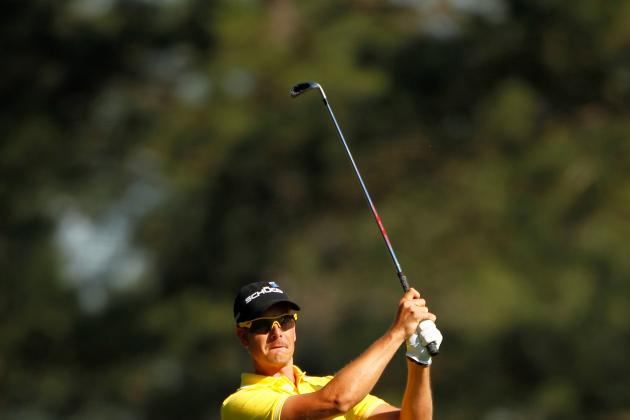 Streeter Lecka/Getty Images

Henrik Stenson has played 54 holes of golf thus far in this Masters. He can be forgiven, though, if he has trouble not dwelling on one in particular as he goes to sleep on Saturday night.
Henrik was the first-day leader all by himself as he stepped to the 18th tee. Eight shots later (a quadruple bogey), that lead was a distant memory.
Stenson was able to put that disaster behind him on Friday, shooting a second-straight 71. Following that with a 70 on Saturday, Stenson is one of only three players to go under par in all three rounds (Bubba Watson and Matt Kuchar are the other two).
What doesn't bode well for Henrik starting Sunday, however, is he has failed to break 70 in his first 21 rounds at Augusta.
Hard to make a case for this one of the two Swedes on the leaderboard.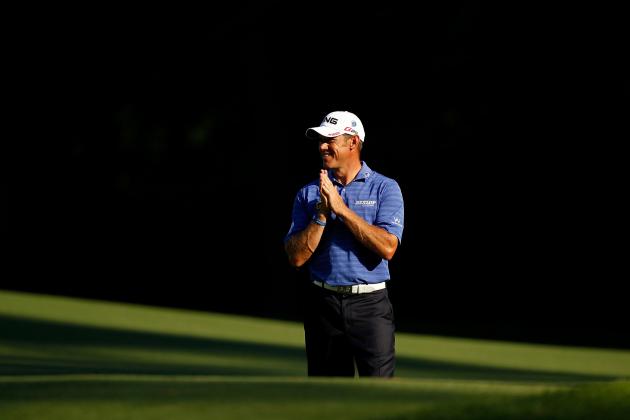 Streeter Lecka/Getty Images

Westwood has developed a reputation for being in the bridal party but never saying, "I do" at the majors.
Lee owns 33 titles here and abroad and knocked on the door of a coveted major championship three times last year, finishing third at the U.S. Open, eighth at the PGA and 11th at the Masters.
He has shot his Masters-low 67 once in each of the last three years. A second one on Sunday, or better, could put him right there again.
But in all likelihood, that'll be him, three or four to the right of the groom in the wedding photo.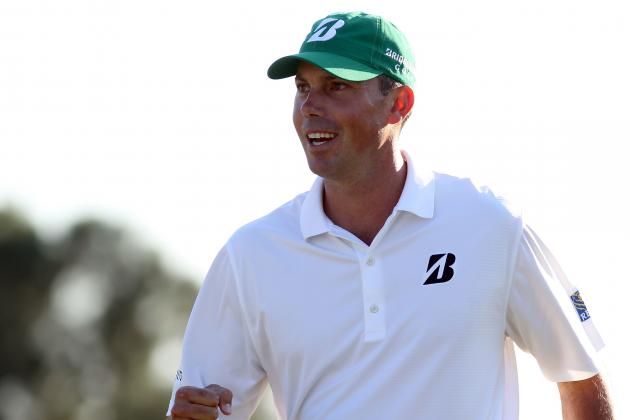 Jamie Squire/Getty Images

If the former Georgia Tech golfer is going to win this Masters, chances are it will be in a playoff. Kuchar owns three career PGA Tour victories, and the last two have come via the playoff route.
Matt has never cracked the top 20 at Augusta. His play this week has been steady, if not spectacular. Over the last 50 holes he has only three bogies.
Kuchar will need to shoot his best round ever at Augusta to have a chance on Sunday. To date he hasn't bettered 68. That won't get it done.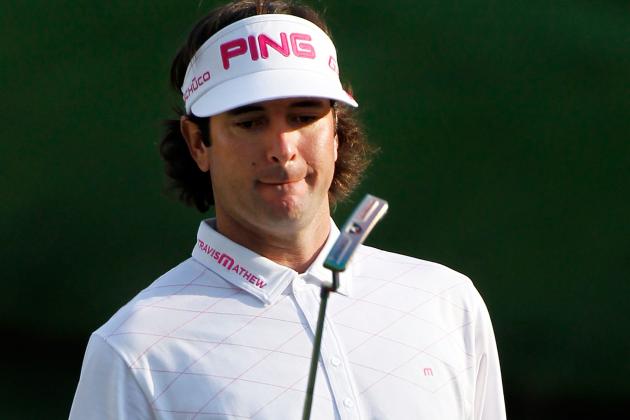 Streeter Lecka/Getty Images

About 95 percent of Saturday's players would like to have Bubba's tee-to-green game.
Bubba has birdied five of the last six par fives and will need to continue that run on Sunday if he is to contend for this Masters championship.
The biggest problem likely facing Watson in the fourth round is the continuing drying out of Augusta National's greens. Bubba's putting has looked very tentative at times the past three days. While pin placements will be in their familiar fourth-round positions, some of which are very accessible, a player struggling with his putting through the first three rounds doesn't figure to reverse that trend on Sunday at Augusta.
With the exception of Phil Mickelson, or maybe Hunter Mahan, Bubba Watson seems the guy most likely to be able to go very low at Augusta on Sunday. It probably won't happen, but if someone's going to break Nick Price's and Greg Norman's course record 63 someday, Bubba's as good a bet as there is right now.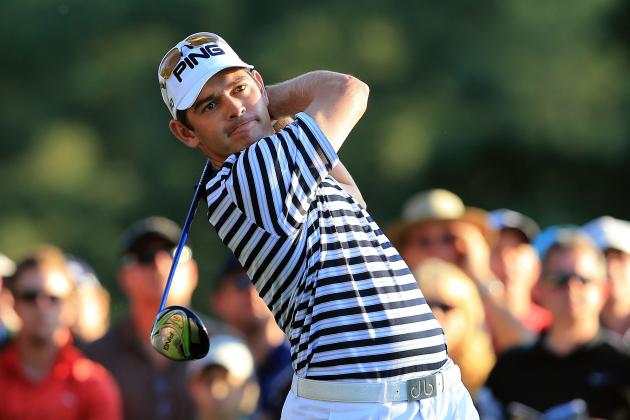 David Cannon/Getty Images

Of the top three players on the leaderboard, Louis Oosthuizen is the most-recent winner of a major championship. He also owns the most orthodox swing of the threesome, something that should, in theory at least, benefit him in pressure-filled situations.
The 2010 British Open Championship winner, Oosthuizen has a reputation on tour for being unflappable. At St.Andrews, Oosthuizen won by seven shots, not really testing his nerves. Sunday will mark the first time in his four Masters' visits that Louis will be playing the fourth round.
No Masters winner has ever won in his fourth attempt after missing the cut in his first three tries.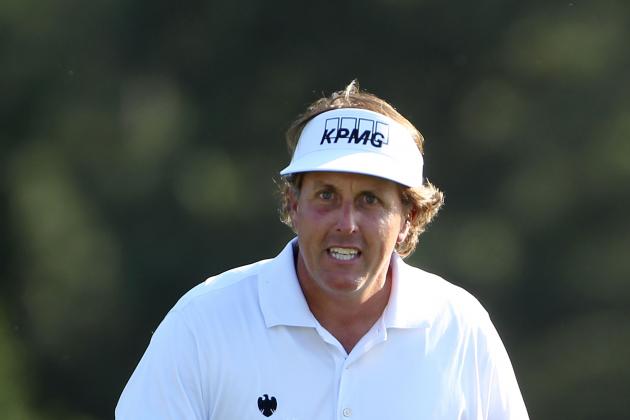 Jamie Squire/Getty Images

Momentum and experience. Everything points to Phil being a prohibitive favorite.
It's been three 18-hole rounds thus far, but to understand how Phil has gotten to eight-under par, one shot off the lead, the 54 holes break into three distinctive, but not equal, segments. For the first 10 holes of the Masters he was four-over par. For the next 35 he was six under. And for the last nine on what's known as "Moving Day," Phil definitely moved, going another six under par.
In 19 of the last 21 years the Masters winner has come from the final pairing. Want another one? In all four of Mickelson's major championships he has begun Sunday in the last group. And, if you're reading this, you probably know that three of those four championships came right here at Augusta.
Want me to keep going? Okay, there's an old adage that the Masters doesn't start until the back nine on Sunday. Four of the seven driving holes on Augusta's back side are best-suited to left-handed players, and no one has taken better advantage of that than "Lefty" himself.
Lastly, Mickelson has used just 77 putts in 54 holes, the lowest amount in the field.
There is no sporting event where the individual pressure is greater than on a golfer in the final round of a major championship. We can't just hand Phil his fourth green jacket now, but it will be a surprise if he isn't wearing it Sunday night.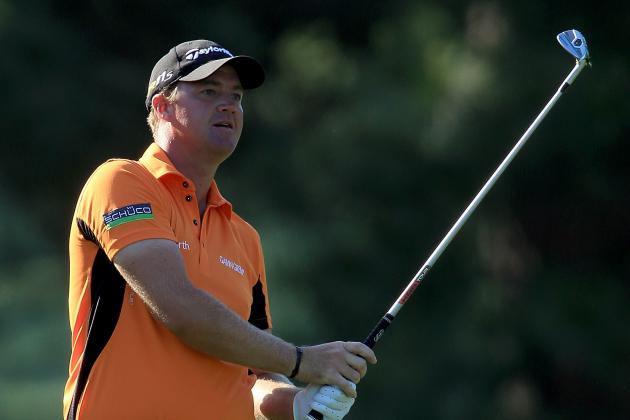 David Cannon/Getty Images

If you're not a regular to the golf portion of the sports section, you can be forgiven if your reaction to being told the name of the third-round leader at the Masters is, "Who?"
Before you totally discount Hanson's chances, though, be aware that at last year's U.S. Open he shot consecutively lower each of the four rounds, finishing with a 67, good for a seventh-place finish.
Starting this year, Hanson has been working with a new coach, Gary Gilchrist, and the results have been impressive. Peter has two top-five finishes in just four PGA events.
While Phil's 30 on the back nine has garnered all the attention, Hanson shot 31. And, while Phil's 77 putts are the fewest, guess who's second with just two more at 79?
Everyone is questioning how Hanson will stand up to the pressure in this, only his second Masters (he missed the cut last year). There will, of course, be 17 holes still to be played after the first on Sunday, but the first may set the tone for Hanson. The last two days have seen Hanson go bogey, double bogey on the first.
A similar start on Day 4 will likely relinquish the lead. Some might argue that for someone like Hanson it might be easier to chase Phil rather than withstand being chased by him.
One way or another, it figures to be another memorable Masters finish.