Cincinnati Reds: 10 Takeaways from the Miami Series
Joe Robbins/Getty Images

The Cincinnati Reds have won the first series of the year, including Opening Day, against a tough Miami Marlins team.
What did we learn from the season openers?
What does the future hold for this ball club?
Although it's still very early in the season, it's not hard to see that the future looks bright for the newly-signed Joey Votto and his Reds team.
Begin Slideshow

»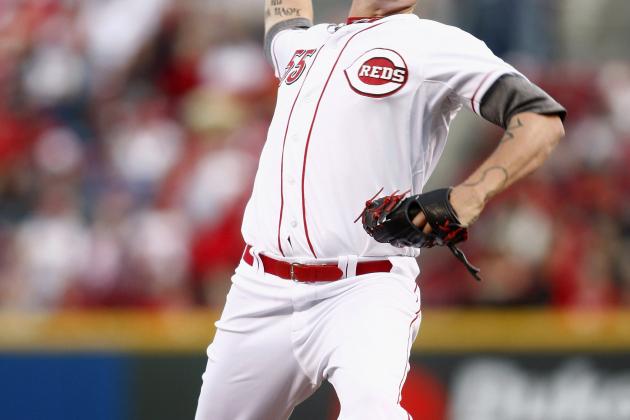 John Grieshop/Getty Images

Dusty Baker isn't exactly well-regarded for his treatment of pitchers, just ask Kerry Wood. But in these first two games of the season, Baker has looked smart.
While many agreed that Johnny Cueto should be the Opening Day starter, some suggested the harder throwing new talent Mat Latos should take the slot. Latos fits the typical description of a start-of-the-rotation ace with his high velocity, solid breaking ball and low walk rates.
Baker must have felt proud when he saw Cueto completely spoil the idea that he might regress, picking up the 2012 season just where he left off by throwing seven scoreless innings. Sadly, the same can't be said for Latos.
Latos looked as dominant as he had in San Diego for the first three innings, but things started to fall apart quickly after he gave up a home run in the fifth. After that, he couldn't throw his slider for a strike and was left with only his fastball, which the Miami players had no trouble hitting.
It's far too early to say that Latos will suffer in the hitter's paradise of Great American Ballpark. More likely, he was the victim of debut jitters. Latos is still very young, and in looking to impress on opening night, he overthrew his pitches and ended up picking up the loss.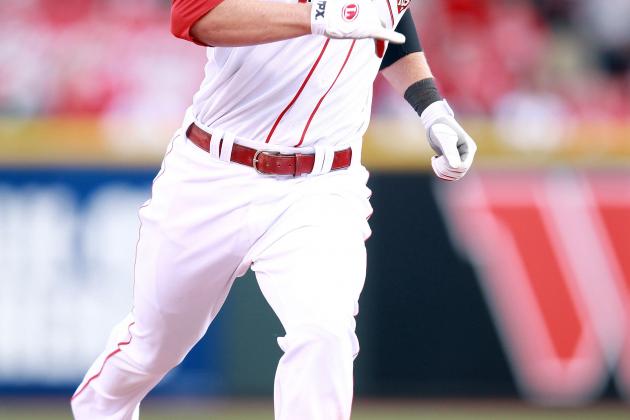 Andy Lyons/Getty Images

Zach Cozart has batted 6-for-11 so far this year. He's homered, hit a triple and double and scored four runs. While it's obviously too early to really speculate, Cozart looks to have the makings of a Rookie of the Year. He also seems to be the Reds' answer at shortstop.
Of all the players so far, Cozart has played the best, both behind the plate and in the field. He's playing well beyond his years.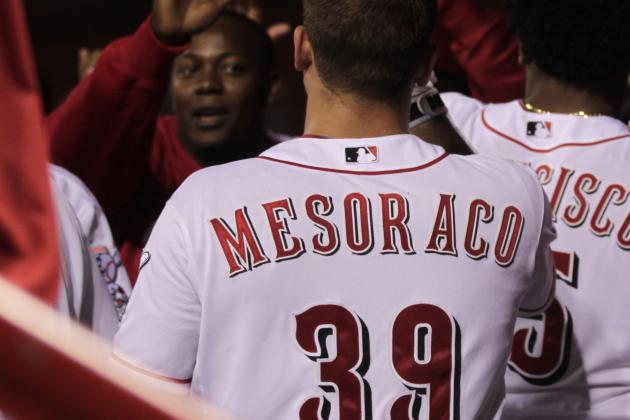 John Sommers II/Getty Images

Devin Mesoraco might be the best catching prospect in all of the majors, but he's still got some growing to do before he can be dubbed the Reds' first-choice catcher.
While I'm not saying the difference between Hanigan and Mesoraco is vast, Hanigan calls a better game and makes fewer mistakes behind the plate. Mesoraco, in contrast, is a much better hitter but looked a little unsettled at times, although part of the blame can be placed on Mat Latos' lack of control.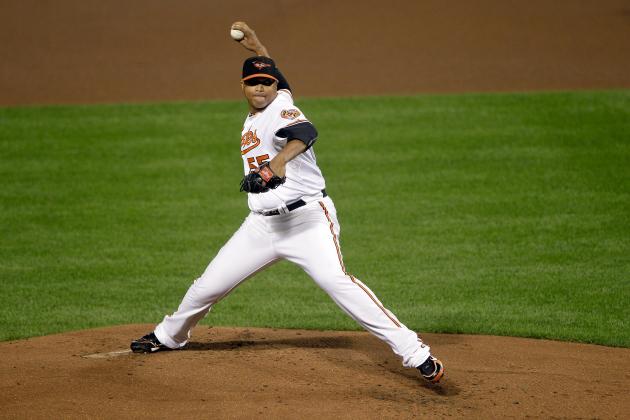 Rob Carr/Getty Images

Reds fans have spent years dealing with frustrating pitchers. After dealing with Edinson Volquez's control problems, Francisco Cordero's saving problems or even Bronson Arroyo's off year last season, fans have little patience for poor pitching performances.
As I watched the second game of the year, I groaned when Alfredo Simon gave up two runs to the first batters he faced. Unlike Sam LeCure, Simon won't get the benefit of fans' memories.
As a fan, it's easy for me to write off LeCure's bad outing considering he had a fantastic 2011. Simon, on the other hand, has yet to prove himself. Giving up two runs immediately in his debut certainly isn't helping his case.
The bright side to Simon is that he was able to strike out the next three batters he faced. If he is able to find the control required to pitch in Great American Ball Park, then he can be a success. If not, he looks to be about as inconsistent as Nick Masset.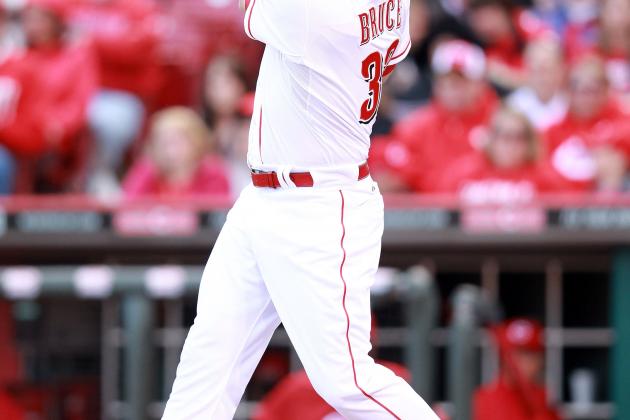 Andy Lyons/Getty Images

Jay Bruce has three hits in his 11 at-bats and all of them are home runs. While batting 3-for-11 is certainly not bad, I'd like to see Bruce hitting for contact more and getting on base. He's started off strong if you consider his power numbers, but he's always looked pretty good there.
Granted, it's very early in the season, but the lighter Jay Bruce doesn't look to be substantially different.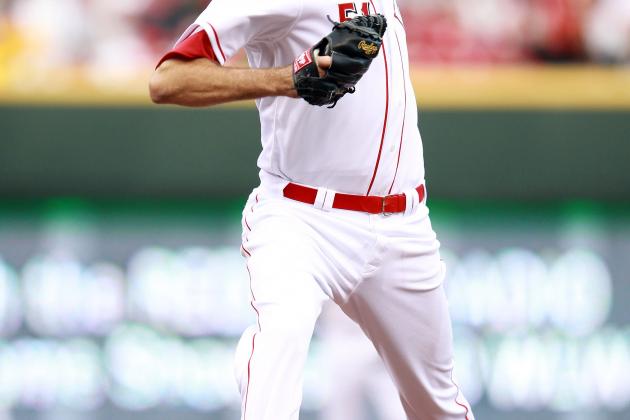 Andy Lyons/Getty Images

When I first learned that Ryan Madson would be out for the season thanks to his elbow injury, I was worried. And while I'm still upset that we're paying Madson $8 million to sit on the bench, I'm so excited to see what the year holds for new closer Sean Marshall
Marshall came in on Opening Day and dispelled any notion that he would struggle as a closer. He sat down the three batters he faced, striking out two of them. Fans have so much to look forward to in this new closer.
John Grieshop/Getty Images

Six months ago, many fans must have thought Chris Heisey would be guaranteed left field after a year of platooning with mediocre players and first baseman Yonder Alonso. But he disappointed heavily in spring training and lost the position to veteran Ryan Ludwick. Ludwick wasn't fantastic on Opening Day but he was able to drive in a run.
When Heisey got on base as a pinch hitter later in the game, I thought maybe he'd upped his game, that with the arrival of the regular season came the man that was once the Reds' best minor league player.
Somehow, though, Heisey put up just as average as a performance as Ludwick, recording one hit on a bunt in his three at-bats. He also failed to make some big-time catches which, although not easy, could have solidified him as the first-choice left fielder.
Just like last year, left field looks like an enigma.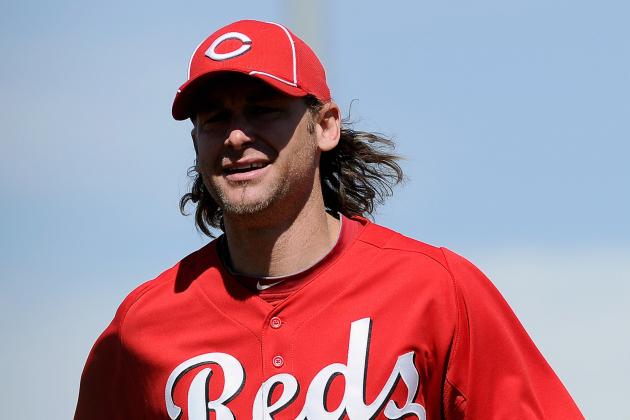 Kevork Djansezian/Getty Images

Last year Bronson Arroyo was poor, to say the least. He gave up more home runs than anyone in baseball and had a dismal 5.07 ERA. But he had a valid excuse, harboring injury and illness almost the entire season.
In the third game of the Miami series, Arroyo took the mound. I fully expected Arroyo to look as consistent as he had in the past, to give up no more than three or four runs and keep the game close. And while he was able to keep the game competitive for six innings, he blew up in the seventh, giving up three runs.
What does it mean? While it's easy to argue that Arroyo's struggles were a result of hitting the leadoff batter and then giving up a hit to the next batter, I think Arroyo is the victim of fatigue. He gets tired later in the game and opposing batters are able to recognize what he's throwing by their third at-bat.
I'm not advocating for Arroyo to be pulled out of the rotation; rather, I think Dusty Baker should limit his innings to six a game unless he looks much more confident on the mound.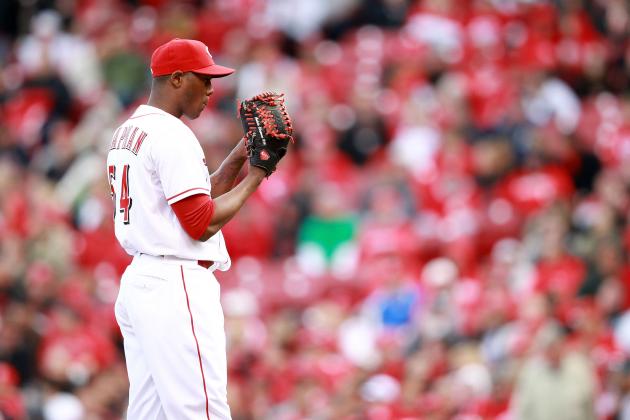 Andy Lyons/Getty Images

Aroldis Chapman has been up and down since arriving in Cincinnati, and people were beginning to wonder if the $30 million project was failing.
Now in his third season with the Reds, Chapman has been the single most dominant pitcher the club has. He has faced 10 batters, striking out five, walking none and giving up just one hit (to Jose Reyes, no less).
His improvements are vast. He's shortened the time between pitches and taken a little off of them, which has resulted in more strikes and fewer walks. While he hasn't throwing close to 105 MPH yet, he hit triple digits twice in the third game and has kept his unhittable fastball in the upper 90s where it still blows by hitters.
As the year progresses, more and more fans are going to be calling for Chapman to start, especially if one of the regular starters struggles early on.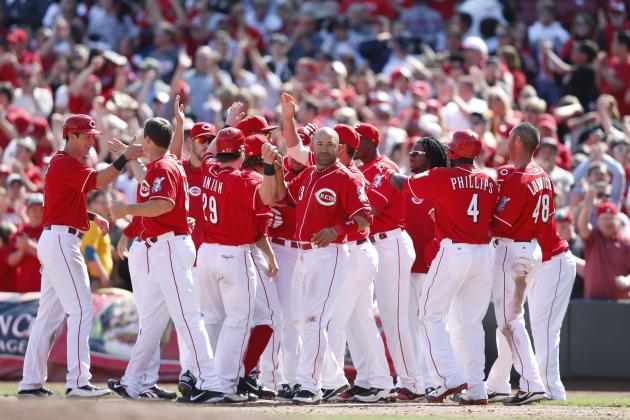 Joe Robbins/Getty Images

The problem with the 2011 Reds was closing out games and winning the tight ones. In 2010, Cincinnati was winning the one-run games and led the league in comeback wins. In sharp contrast, in 2011 the Reds repeatedly lost close games. Their run differential was positive but they were under .500 on the season and over 15 games back from first.
Again, I know it's only the first series of the year, but climbing from a one-run deficit and coming away with the rubber match is huge. It shows that this team doesn't give up despite the scoreboard. That was the mentality of the 2010 Reds.
The next matchup for this team is the rival St. Louis Cardinals who come in regarded by many sources as one of the top teams in baseball. A series win here, although early, could set the tone for the entire year.