WWE/TNA/ROH: My Top 15 Moments of the Week (April 1-6)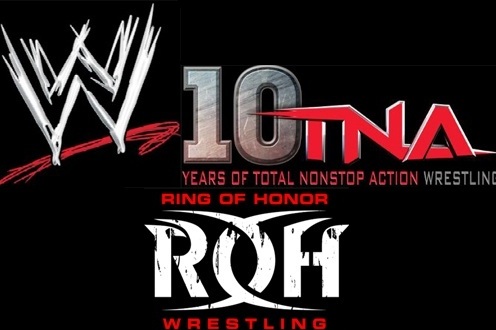 Another week of professional wrestling has come to an end, and what a week it was!
WWE presented the 28th edition of WrestleMania last Sunday, and it was one hell of a show. It surpassed last year's by miles, and while it did have a few low points, the high points overshadowed them.
WWE Monday Night Raw was a decent show. I felt that it was a bit slow, and I personally didn't gain interest until the big return at the end.
TNA Impact Wrestling was a very good show with multiple good matches. It was quite solid which is a good sign for new general manager Hulk Hogan.
ROH Wrestling delivered three matches, only two of which were worth watching, and only one that I felt was good enough to include here. They also had their two-night iPPV event Showdown in the Sun last weekend, but I unfortunately didn't get the chance to see it.
WWE Friday Night SmackDown delivered a good show. Despite a few low points, I felt that it was overall better than Raw.
Who gets "Show of the Week"? It's a no-brainer that WrestleMania was the show of the week.
If we're talking in terms of just the weekly television shows, I have to give it to Impact Wrestling. Hogan's first night back in charge delivered big time!
As you can see, I've upped the moments to 15 this week. After writing down everything I liked, there was nothing I could have gotten rid of.
So for the first time ever, here are my top 15 moments of the week!
Begin Slideshow

»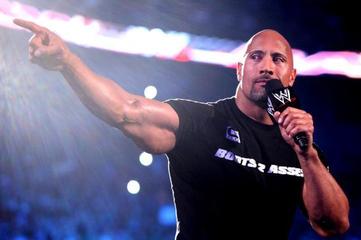 wwe.com
The Rock opened Monday Night Raw to brag about his victory over John Cena at WrestleMania. While he did put Cena over, he was in celebration mode.
Right before he left the ring, though, he dropped a bit of a bombshell.
The People's Champion declared that he wanted to be champion, and that he'd begin his quest towards the WWE Championship.
The Rock as WWE champion? Sign me up for that!
If they do put the title on him, it would be his first time as champion since 2002.
I would love to see him as the champion one more time, but I do see a problem with him holding the belt. He would have to win the title during a lengthy break from shooting whatever movie he's working on.
If he is the champ while also acting, that leaves Monday Night Raw without a champion for extended periods of time, and that's not a good thing.
I would like to think that the WWE is going to be smart about this and put the title on him during a break.
While I love the idea of the Rock as WWE champion, he needs to be present to hype up the title match and his reign as champion.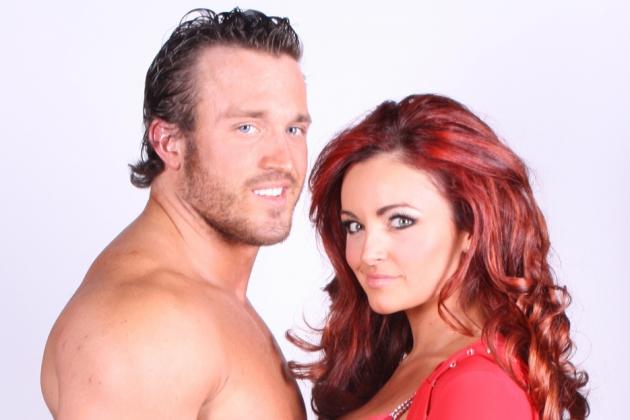 rohwrestling.com
Ring of Honor featured three matches, but this is the only one I actually thought was really good.
Both of these wrestlers are quite impressive in the ring as they delivered a nice series of moves, keeping the match quite even throughout.
I really wish ROH Wrestling was more than an hour long, as it would be great to see guys like Bennett and Edwards have the opportunity to put on a showcase on television.
It blows my mind that Bennett has yet to hold a single title in ROH.
He's quite good in the ring; I hope he captures the World Championship or, at least, the television title by the end of the year.
It's great to see Maria still active in the business. She plays a very good valet and could help shoot Bennett to the top of ROH.
I'll end this with the words of color commentator Nigel McGuinness.
For Bennett to win, Maria played hurt, and this is what McGuinness had to say about her acting: "I've seen better acting on RedTube!"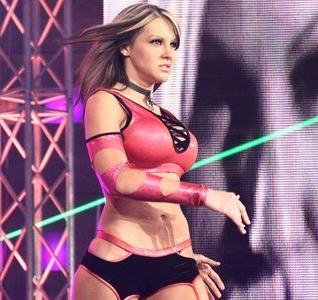 impactwrestling.com
It's been a while since there's been a really good Knockout's match on Impact Wrestling, but this match broke that streak.
When this match was first announced, I feared that all six would be in the ring at the same time, creating a cluster of insanity that would have been hard to follow.
I was pleasantly surprised when I discovered that they'd have to tag in and out of the match. By doing that, each Knockout was given the chance to do what they do best, which is wrestle.
This ended up being quite the good match with all six women getting the chance to shine.
It was especially great seeing Winter and Angelina Love featured as it's been way too long since they've appeared on the show. What made it better was that they actually faced off for a bit.
The match ended like every other multi-person match, with everyone hitting their finishers, but this turned out to be a good match.
Velvet Sky won this contest, which gave her a title shot against Gail Kim at Lockdown.
It's about time she was given another shot at the title. When she lost the belt to Gail, she was never given her rematch, which always bugged me.
Some former champions get a rematch while others are ignored for a few months before finally getting it.
Thankfully, Velvet is back in line, and I hope she wins it back so that she can have a reign longer than a month.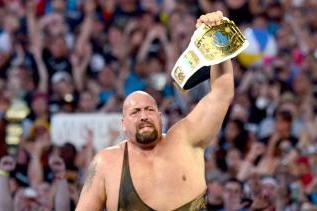 wwe.com
The Big Show has been with the WWE since 1999, taking only one break in 2007 for a year. While he has had an impressive career with the company, his record at WrestleMania wasn't as such.
With embarrassing losses to non-wrestlers like Akebono and Floyd Mayweather, as well as moments that just aren't too flattering, the Big Show has never had his WrestleMania moment.
That moment finally came at WrestleMania XXVIII!
In a match against Cody Rhodes for the Intercontinental Championship, Big Show won the match and left the big event a champion.
I actually thought this was a good match as well. Despite Rhodes losing, he was the star of the match. He performed very well with someone of the size of the Big Show and sold for him so well that he made him look like a true star.
The most important thing here, though, was the Big Show finally getting his moment.
It took him 12 WrestleManias, but he finally got it!
With this moment also comes a record. His title win makes him a Grand Slam Champion. He is the 12th wrestler to do so and one of only six that are still able to accomplish the feat.
Since WWE no longer has a tertiary title, the only wrestlers that could join the club are ones who held the former tertiary titles, the WWE European and Hardcore Championships.
I'm quite happy for the Big Show, as he has had a great career, and this really caps it off.
Short of winning the Royal Rumble, Big Show has nothing left to accomplish in the WWE. Once he loses the title, I think his career will finally start to wind down.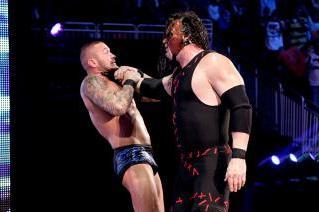 wwe.com
With the exception of Kane's top-rope chokeslam, I found the Randy Orton/Kane match at WrestleMania to be kind of boring. I felt that nothing really happened to make the match entertaining.
Their rematch on SmackDown, though, was very entertaining.
The WrestleMania rematch was set as a no disqualification match, and these two superstars beat the hell out of each other.
Whether they were fighting up on the stage or beating each other with chairs, there wasn't a dull moment in here.
With Kane winning at the big event, it was almost a lock that Orton would win this encounter. He did win the match with an RKO, and it will undoubtedly lead to a rubber match at Extreme Rules.
When Kane returned with his mask on, I had such high hopes. Then he failed at getting John Cena to "embrace hate," and he will probably fail at ending Orton.
His two return storylines have been really dumb.
He apparently felt that he was the best candidate to get Cena to embrace the hate, and he wants to end Orton because he shook his hand nine months ago.
Wouldn't it make more sense for him to battle Mark Henry? You know, the guy that took him out of action for five months.
Apparently that little tidbit is being forgotten.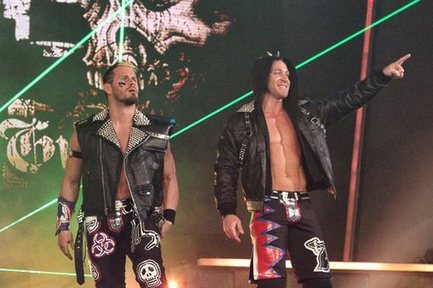 impactwrestling.com
After quite the long absence, Chris Sabin and Alex Shelley of the Motorcity Machine Guns returned to TNA Wrestling! They faced off against Mexican America and just left the Latin American Xchange wannabes in their dust.
As Sabin and Shelley performed their double team maneuvers, it was like they never left. Anarquia and Hernandez just couldn't keep up with the Guns.
It was like watching poetry in motion.
The Machine Guns were as good as before they left, and I hope that they're going to help revitalize TNA's once great tag team division.
After Sabin and Shelley took down Mexican America, Sabin got the mic and kept his speech short and sweet. The Motorcity Machine Guns wanted their Tag Team Championships back.
They will be getting their chance at Lockdown, as it'll be them taking on the champions Samoa Joe and Magnus inside the cage.
While it's going to take more than two teams to bring the division back to life, this is a good start. The title match at the PPV should be a great one!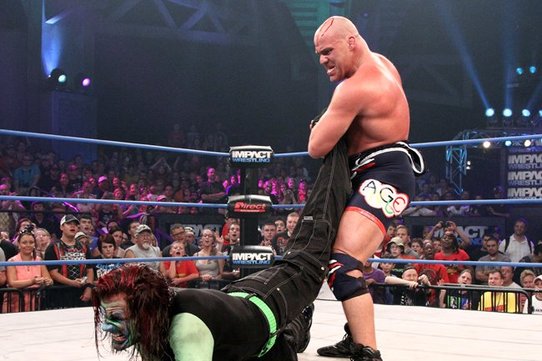 impactwrestling.com
I thought this was a good match and seeing it as the opening contest was a definite plus.
The match was very back-and-forth and featured some nice high impact moves.
Jeff Hardy has proven to me that he deserves this last chance. He has been performing very well since his return late last summer and is back to being the Charismatic Enigma the fans love.
Kurt Angle rarely disappoints in the ring, and this was no exception. I feared that with the injury to his hamstring that it would hinder him in the ring, but it didn't.
I loved the ending of this match. Count-out victories are never satisfying but Angle walking out of the match lead to new general manager Hulk Hogan booking Angle vs. Hardy at Lockdown.
The count out actually led to something, so I liked it.
This feud has been a decent one so far. The buildup has been subpar, but it is producing some good matches. Lockdown should really heat things up for this feud.
Angle has never disappointed at TNA's annual steel cage event. It's almost a sure thing that Hardy will be leaping off the top of it.
I think these two have the potential to steal the show at Lockdown!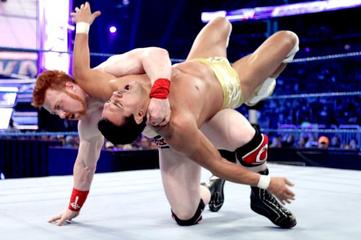 wwe.com
Alberto Del Rio made his triumphant return to WWE, interrupting Sheamus on Raw. Per orders of John Laurinaitis, the two of them will be going at it on SmackDown.
In the main event of the Friday night show, Del Rio defeated the world champion by disqualification, thus gaining a title shot at some point.
The match itself was good and featured some nice action throughout. Sheamus looked good in his first match as world champion, and I hope it's a sign of things to come.
Del Rio performed quite well in his return match and didn't seem lose a step while being away with his injury.
To me, the disqualification finish makes sense. Del Rio needed to get back into the main event picture somehow but having him pin the new world champion would have made Sheamus look weak.
This way, having Del Rio pull an Eddie Guerrero keeps Sheamus looking strong.
I don't see the Celtic Warrior losing the title anytime soon, so a feud between these two could very well be on the horizon.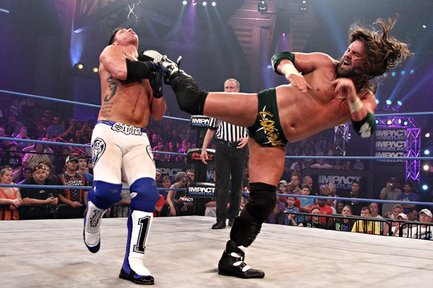 impactwrestling.com
To prepare for Bobby Roode, James Storm wanted to face the best TNA had to offer. For that he went to A.J. Styles.
The two ended up having quite the good match that featured some nice back-and-forth action throughout.
Storm was not only able to keep up with Styles, but he performed very well in the ring with him. If he can compete on the level of an A.J. Styles, then Storm can wrestle anyone and have a good match.
He is without a doubt ready for the big match with Bobby Roode at Lockdown.
As for Styles I was beyond happy to actually see him wrestling on the show. He really is the best TNA has to offer, and he's been out of the spotlight for way too long.
It sometimes seems like TNA doesn't know what to do with him after they've exhausted his feud with Christopher Daniels for the 100th time.
Styles should at least be the television champion so that some legitimacy can be brought to the belt. Come on, TNA, get in gear and do something with A.J. Styles that doesn't also include Daniels!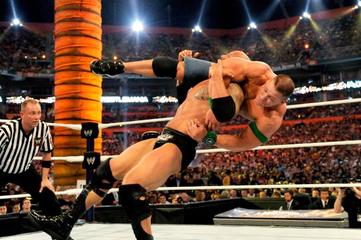 wwe.com
While I did think this was an overall good match, I don't feel that it lived up to the yearlong hype.
Both superstars performed quite well, but the match was really slow at times. There were parts of the match where I was falling asleep.
When the match picked up, though, it was exciting to watch. The Rock brought his A-game to his first WrestleMania match in eight years, and he certainly delivered.
John Cena brought it as well, and despite the match being slow at some points, both of them meshed well together.
With a year worth of hype, though, I wanted this match to blow me away. I knew it wasn't going to be Punk/Jericho. I knew that it wouldn't be able to surpass Hell in a Cell.
I expected this match to be good, which it was, but I wanted it to be great. It was certainly better than last year's main event, but I think Hell in a Cell or the WWE Championship match would have been better suited to close the show.
I was glad that the Rock won. I was expecting this to be a "passing of the torch" with Rock passing it to Cena much like Hulk Hogan did for him, but that obviously wasn't the case.
I'm happy about the Rock victory and the match was enjoyable to watch overall, but I hope that this was the last time we see them in the ring as opponents.
This was short, simple and to the point. That is why I loved this segment.
Bully Ray came out, insulted Austin Aries, Aries attacked him, and Ray ended up laying him out.
Bully Ray was quite good on the mic here, and I was originally hoping that he and Aries would have a war of words. Both are solid on the mic and tend to produce pure gold at times.
Could you imagine what they could do on the mic by going face to face? It would turn out to be one hell of a segment!
I am happy with what ended up happening, though.
Bully Ray is being his namesake—a bully. He doesn't see the much smaller Austin Aries as a threat in any way, shape or form.
Aries knows that there's only one way to deal with a bully, and that's with action. He came out with a microphone but immediately hit Bully Ray with it and went on the attack.
This had to be quite the surprise for the bully, but he was able to use his strength to gain the upper hand. The powerbomb Ray delivered looked wicked as he put the X-Division champion in his place.
This is becoming a good feud here, and it's going to lead to great match between the two. I think that this is Aries' time. The main event is on the horizon for him.
Bully Ray will end up costing him the X-Division Championship, and the two will have an intense battle with the winner being placed in line for a world title match.
Whether you're a fan of Daniel Bryan or not, the general consensus among fans was that he was screwed at WrestleMania.
Losing the World Heavyweight Championship in the 18 second opening match was an insult to a man who has worked extremely hard since winning the title.
Bryan addressed the situation for the first time on SmackDown and delivered a very good promo. A.J. received some mic time as well and her words really added to the segment.
This segment led to Bryan declaring that he had a guaranteed rematch and that he was kicking A.J. to the curb, blaming her for his 18 second loss at WrestleMania.
Everything about this segment was great. Both the former champion and A.J. delivered on the mic here, and their post-segment actions really sold it.
She walked out on the verge of crying as Bryan just stood in the ring with his back to her.
Since the loss, the WWE Universe has been 100 percent behind Daniel Bryan. The "Yes" chants on both Raw and SmackDown were deafening, and I even read that it was being chanted at a Miami Heat's basketball game.
This segment may have been a way to get his heat back, but it didn't work. Instead of feeling sorry for A.J., the crowd chanted "Na Na Hey Hey Kiss Him Goodbye" as she walked to the back.
I have a feeling that the love for Daniel Bryan will be continuing.
It has been eight years since the WWE Universe has seen Brock Lesnar. His last appearance was at WrestleMania XX in a losing effort to Goldberg.
He left the WWE wanting to try his luck at football, but he ended up failing in that venture.
From there he appeared at New Japan Pro Wrestling, winning the IWGP World Championship and then at the UFC, winning their World Championship.
Rumors began to fly in 2010 after he and the Undertaker had a confrontation at UFC 121 and then again after he appeared in the new video game WWE '12 last year.
Nothing came of any of those, though.
With Lesnar arriving in Miami for WrestleMania weekend, the rumor mil started right back up. This time around, it was right!
While he didn't appear at WrestleMania like many had hoped, he made his big return the next night on Raw.
To "We want Lesnar" chants, the former Next Big Thing interrupted John Cena's promo and ultimately delivered an F5. Eight years later, and that move is still awesome to see!
It is great to see Brock Lesnar back in the WWE. I just hope that he appears more than the Rock did over the past year.
I'm a bit disappointed, though, that he targeted John Cena right away. Hopefully, this won't last an entire year and just end by SummerSlam.
I don't consider Brock Lesnar vs. John Cena a WrestleMania dream match, so I don't want to see them go at it at the big event.
I'd much rather see Lesnar take on the Rock, which will see the Rock finally get his SummerSlam 2002 rematch.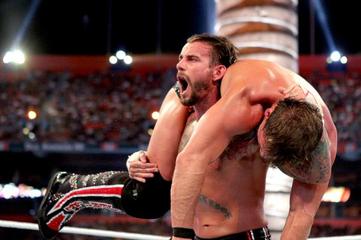 wwe.com
The battle for best in the world finally went down, and while it wasn't match of the night, it was still great!
CM Punk and Chris Jericho put on a wrestling clinic in the ring going back and forth the entire duration of the match. It really was anyone's game here as the match was quite even from beginning to end.
The feud itself has been very good, adding pure emotion to this battle to be the best. The feud really hit a stalemate as both just kept saying the same thing. Inserting the family factor into this really gave it a new shot of life.
That emotion gave way for a very intense CM Punk during this match.
Before the match itself, John Laurinaitis declared that if Punk got disqualified that he would lose the title. Jericho used that to his full advantage during the beginning of the match. As he antagonized Punk about his family, Jericho had such a sadistic look on his face.
My favorite part of this match was without a doubt the ending. Starting with Jericho catching Punk with a Codebreaker as he leaped into the air, the ending of this match was the best I've seen from WWE in quite some time.
Constantly blocking each other's finishing moves, the many near-falls and the reversing of each other's submission holds into their own; the whole sequence had me at the edge of my seat.
Punk ultimately locked in the Anaconda Vice for the win and proved that he was the best in the world. As far as I'm concerned, though, this match proved that both of them are equally the best!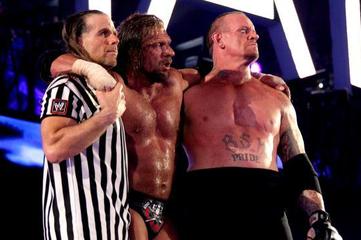 wwe.com
This right here was match of the night at WrestleMania!
From start to finish, the match was a thrill ride of intensity. Both the Undertaker and Triple H beat the hell out of each other, and the reactions from Shawn Michaels really sold what was going on.
Those chair shots Triple H was giving to the back of Undertaker were just brutal. He went to town on him leaving some nasty welts. It's been a while since we've seen that side of Triple H.
This certainly wasn't a wrestling match. This was a fight and that's why I loved it.
Both superstars performed very well here, and it really was the end of an era.
Much like last year Triple H tried everything to keep the Deadman down, but it ended with the Game flat on his back.
I wasn't sold on Michaels being the referee, as I thought that he really was going to screw one of them over. While he did intervene a few times, it was in some form of retaliation.
His role ended up being an integral one. As Triple H screamed "End it, Shawn, or I will!" Michaels would ask the Undertaker if he wanted to quit, even going as far as to begging him to quit.
He would always respond, though, with "Don't stop it" and get right back up.
There were many times HBK was just going to stop the match, but he would always go to the Deadman first. He knew the importance of the match and much like the Undertaker, he didn't want to see it end that way.
It really added to the match, as did Triple H's final act of defiance. Once the Game did the DX crotch chop you knew it was over.
The ending shot of Michaels and the Undertaker carrying Triple H out of the ring was a sign of the hell they put themselves through and is a shot that will always be remembered.
This match was just plain awesome!
As for the Undertaker's new look, it was definitely weird. I thought he looked more intimidating, especially the very first shot of it, than he ever did with the long hair.