Winnipeg Jets Historic Return-Season Comes to an End
April 8, 2012

Marianne Helm/Getty Images
The Winnipeg Jets played their final game of the 2011-12 season on Saturday night against the Tampa Bay Lightning.
The Jets closed out their season on home ice at the sold out MTS Centre in front of an exuberant crowd. Unfortunately, the Lightning spoiled the Jets' hopes of going out with a win.
With nothing left to play for, the Jets wanted to put on a show for their fans, letting them know how appreciative they are of their passion and support.
Although it didn't start in the favor of the home team, the Jets were able to display a valiant effort in the latter part of the game to give the fans a dramatic finish.
Jimmy Slater scored twice in the third period, including a late, game-tying goal which gave the Jets one last chance to become victorious.
However, Teddy Purcell wouldn't allow that to happen. Purcell scored his game-winning hat trick goal just one minute into the overtime period.
The Jets were sent away with a loss, but that didn't matter to the fans. When the game ended, the fans stood high and applauded their team for one last time this season.
Although it was the Jets' final game of the season, all eyes tonight were on Lightning superstar-forward, Steven Stamkos.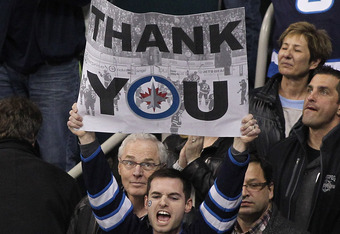 Marianne Helm/Getty Images
Stamkos entered tonight's game with 59 goals, just one shy of a remarkable milestone. Early in the third period, Stamkos achieved 60-goal status.
Stamkos' feat didn't go unnoticed even on the road as the classy fans of Winnipeg gave him a standing ovation.
The historic first-year return of the Winnipeg Jets has come to an end.  The Jets finished the season with a record of 37-35-10.
The Jets fall just short of the playoffs, but it won't take away from their memorable return to the NHL.
It may be the end of the season, but it's only just the beginning.