2012 NFL Draft: University of Georgia Offensive Tackle Justin Anderson
April 7, 2012

Al Messerschmidt/Getty Images
Justin Anderson is a massive guard out of the University of Georgia. At the combine in February he measured in at 6'4-1/4" and 335 pounds. Anderson played on the defensive line in 2010 and unfortunately suffered an injury. He moved back to the offensive line for the 2011 season, started 14 games, and was named one of the team's most improved players.
I talked to him after his pro day about his time in college. Anderson played in the SEC, known as the best conference in college football. I asked him what it was like. 
"I think that the SEC has really, you know, it's, it's probably the most brutal conference, you know, as far as body wise, as far as physicality wise," he said.

He told me that playing in the SEC was rough and that from what he had seen the SEC was a whole different ball game than the other conferences. He said that other conferences had talent, but the SEC was just different.
Anderson was injured while playing along the defensive line as a junior. He told me that he relied upon his faith to get him through the difficulties of switching positions and the injury.
"I didn't plan on getting hurt. I mean I prayed about it. I got hurt and I was out for the rest of the season, and I got a new defensive line coach and it seemed like God was telling me to go back home, you know, sending me a message telling me to go back home."
He told me that he took it as a sign to go back to the offensive side of the ball but he really learned an incredibly valuable lesson out of it all.
He told me that it really motivated him to graduate even more. He said that once he got his degree he knew that it was all going to work out and he didn't feel like he had wasted five years of his life.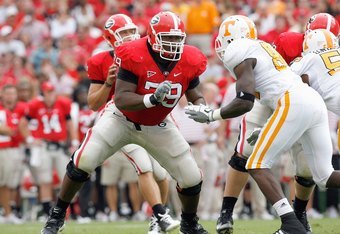 Kevin C. Cox/Getty Images
"If I had to turn back the hands of time and do it all over again I would. You know I mean I wouldn't change anything that happened. I mean, you know, being hurt in college, and having the dream of playing in the NFL since I was nine years old and seeing that fall apart in your face kind of reminds you of how important the college degree really is."
I asked him what his favorite moment from playing college football was.
"Beating Florida this year, this past season, you know, because they are our big rival and they had been beating us pretty bad in previous years and the 2010 game we lost in overtime. So, whooping them was a great feeling."
We talked about the combine and what the process was like for him. Anderson really had a spectacular workout in Indianapolis. His 10-yard split was tied for ninth among all offensive linemen. He has really long arms (34-'5/8") and managed to up 32 repetitions of 225 pounds in the bench press.
"Combine is, I mean don't get me wrong, I mean I was blessed and happy that God gave me...blessed me with the opportunity to be there. But it's rough and you don't get very much sleep there. I mean you are up all day. You're doing this, you're taking tests all day. You're doing NFL interviews. I mean it's a pretty tiring four days. You know I was kind of glad when that fourth day was over just to get back on that plane."
Anderson trained at Athletes Performance Institute in Gulf Breeze, FL and told me that they had a great facility and a great program. He said he got stronger there while training for the combine and is happy that it has all worked out in his favor.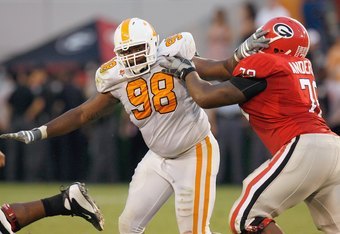 Kevin C. Cox/Getty Images
We turned our focus to the NFL. I asked him what his strengths were.
"I'm a superb run-blocker and I think I have gotten 100 percent better at pass-blocking. I think I'm pretty superb there too."
He told me that from talking to certain teams he knew they were looking for a good backup. He said if a team wanted him to back up for the first couple of years that was fine but if they needed him to come in right away and play he could do that too. He feels like that versatility is really going to help him.
Anderson is gigantic—literally like a refrigerator with feet. I wondered if he thought his size was an advantage. He told me that it definitely was an advantage for him.
He told me that he was at the combine and he saw the guys that were ranked ahead of him. He told me that they are all smaller and he felt that doing the drills on the field showed him that while he was bigger, he was more athletic than they were.
I asked him if he had a message for the fans of the team that drafts him. 
"I'm somebody that's going to work hard to try to win every day. That's pretty much all I can do and I'm going to put everything else in God's hands."
Justin Anderson is a man of faith and he alluded to his faith throughout the entire interview. He told me that God was an anchor in his life and it had been like that for years. He has the mentality and mindset to take on the challenges on the NFL.
He is one of those guys that leaves you feeling better about things after talking, and that is refreshing. It was a pleasure talking to him, and when his name gets called in the draft, I will be very happy for him. I will know that some team just drafted a good football player and a really good person.
Scott Bischoff is a Contributor for Bleacher Report. Unless otherwise noted, all quotes were obtained first-hand.