2012 NFL Draft: Why Robert Griffin III Will Turn the Redskins Around
April 8, 2012

Brett Deering/Getty Images
Heisman winner Robert Griffin III has a lot of weight on his shoulders. After all, the Redskins gave up two first-round picks and a second-round pick in order to trade up for him. That is the kind of move that can either propel a franchise to a Lombardi Trophy or doom them to another decade of painful mediocrity. The risk is high.
So is the reward.
Robert Griffin III is not your ordinary, run of the mill quarterback. Some are quick to label Griffin as a scrambler. They draw comparisons to Michael Vick, or if feeling particularly brutal, Vince Young. Here's the thing: Griffin's ceiling is higher than Michael Vick on his best day.
Griffin can run with the ball, that much is known after his stunning 4.41 40 time at the NFL Combine. What makes Griffin unique is that he has a world class arm as well. That is not to say that he just has a strong arm, which he certainly does, but that he has pinpoint accuracy as well. He can fit the football into the narrowest of windows.
Don't just take my word for it. Greg Cosell of NFL Films, one of the most respected film watchers today, agrees.
"What immediately jumped out was his arm strength," Cosell wrote. "Griffin, for a power thrower, was consistently accurate. The better term for accuracy is ball location. That's what allows receivers to run after the catch. Griffin excelled in that area."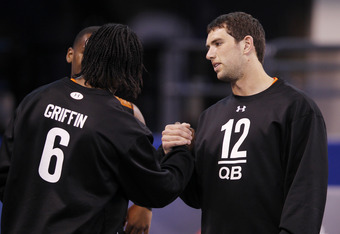 Joe Robbins/Getty Images
Imagine Griffin's ceiling as being Michael Vick's athleticism combined with Peyton Manning's intelligence. And that is perhaps the biggest difference between the typical athletic quarterback and Griffin.
Griffin is intelligent, with a mind for the game and an outstanding work ethic. While Vince Young (or to revert to the previous example, Michael Vick), had all of the physical tools necessary to succeed, they both lacked the mental maturity Griffin has shown to have thus far.
Young was a headcase with no work ethic. In his fifth year in the same offensive system, he still had trouble grasping basic concepts. Vick's maturity issues need no explanation.
Griffin will not face those issues. Griffin graduated Baylor with a 3.67 Grade Point Average and appeared on the Dean's List. Reports are that he is already beginning to learn the Redskins' playbook so that he can be prepared from the start. He is a leader, having been team captain of the Baylor Bears.
Finally, let's remember who the head coach of the Washington Redskins is. Despite what Donovan McNabb may think, Mike Shanahan is a quarterback guru. Every quarterback to have started two full years with Shanahan has reached a Pro Bowl. Jake Plummer went 39-15 under Shanahan and Brian Griese posted a QB rating of 102.9.
Robert Griffin III will thrive in Shanahan's system and a return to the playoffs is in the Redskins future.