2012 NFL Mock Draft: Setting the Pro-Bowl Odds for Every 1st-Round Player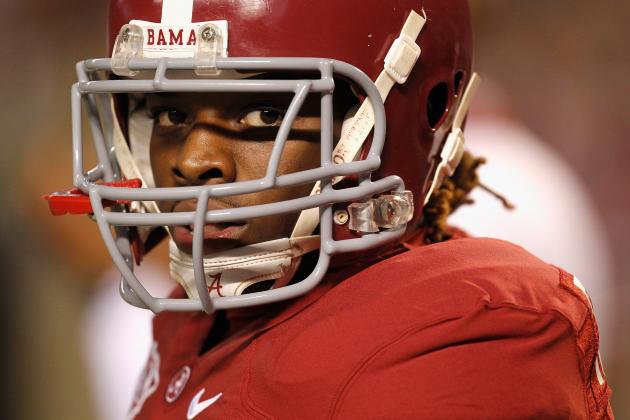 Streeter Lecka/Getty Images
Is Trent Richardson the next Adrian Peterson?
If Trent Richardson wants to be the next Adrian Peterson, he can start by making the NFL Pro Bowl next season.
He would be the first rookie halfback to do so since 2008.
In the last five years, 23 rookies have earned an invitation to the Hawaiian-themed football party known as the Pro Bowl.
This is how they broke down:
Quarterbacks—Two (both in 2011)
Running Backs—Two (2007, 2008)
Wide Receivers—One (2011)
Offensive Tackles—Two (2007, 2008)
Centers—One (2010)
Defensive Tackles—One (2010)
Inside Linebackers—Two (2007, 2009)
Outside Linebackers—Three (2009 - 2, 2011)
Cornerbacks—One (2010)
Safeties—Two (2009, 2010)
Return Specialists—Five (at least one every year since 2008)
Kickers—One (2007)
The breakdown is very well-rounded and reflects the patterns developing in the NFL today. Quarterbacks are at an all-time premium, and there were two rookie quarterbacks in the Pro Bowl last year.
Running the ball has taken a back seat to passing, and we haven't seen a rookie tailback in the Hawaiian scrimmage since 2008, when Chris Johnson made his debut.
Since 2007, 15 of the 17 offensive and defensive rookie Pro Bowlers were first-round picks in the NFL draft.
Who will they be this season?
Begin Slideshow

»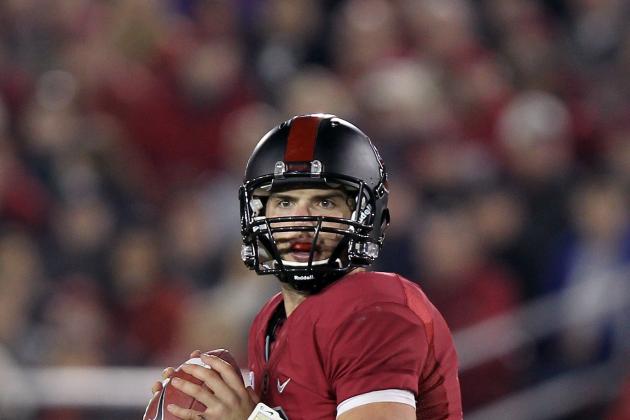 Ezra Shaw/Getty Images
Even Peyton Manning didn't make the Pro Bowl his rookie year.
Odds of Making the Pro Bowl: 20-1

After being selected with the first overall pick in the NFL draft, Andrew Luck will arrive in Indianapolis with huge expectations.
After all, he's replacing legendary Indianapolis Colts quarterback Peyton Manning (did you hear?).
Simply put, this Colts team is bad.
Very bad.
While I expect Luck's natural talent and intelligence to lift the team above its 2-14 2011 finish, there isn't enough talent waiting for him in Indy to expect great things just yet.
Not to mention he'd be competing with the likes of Tom Brady, Ben Roethlisberger, Philip Rivers and none other than Manning himself.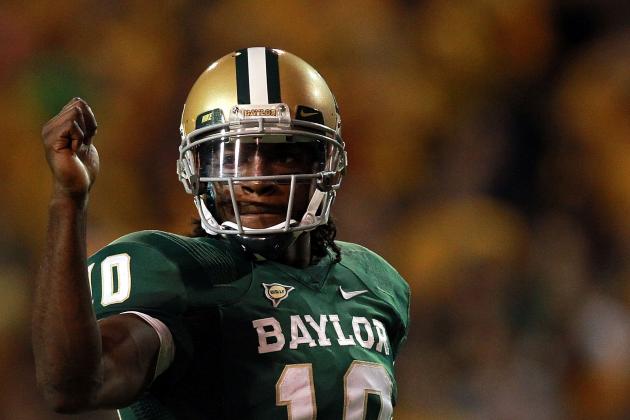 Ronald Martinez/Getty Images
RG3 will be looking to put on a Cam Newton-esque performance.
Odds of Making the Pro Bowl: 12-1
A lot of people will see what Cam Newton did with the Carolina Panthers last year and say "Robert Griffin III is going to do the same thing."
The fact is, they do have a lot in common.
Both are excellent athletes who can make huge plays with their legs.
Both players are (or were) underrated in their passing abilities.
Both players were (or will be) drafted to a team with a former Pro-Bowl wide receiver who has lost relevance while suffering a string of mediocre quarterbacks.
The list goes on.
All of that is fair, and I'm not insinuating that RG3 is going to have a bad year, at all. In fact, I have little doubt he will have better numbers than Andrew Luck next season.
However, Cam Newton shouldn't have made the Pro Bowl last year, either. He was a replacement player for the Super Bowl-bound Eli Manning. Matt Stafford, a 5000-yard passer in 2011, should have been the replacement.
In order for Griffin to make the trip to Hawaii, he will have to beat out two 5000-yard passers, an MVP and the Rookie of the Year from 2011. Not to mention Eli Manning.
Can't exactly blame him if he falls short.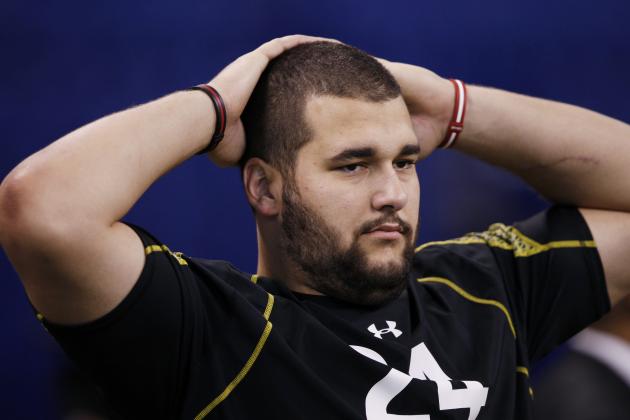 Joe Robbins/Getty Images
Matt Kalil could be the next Jake Long.
Odds of Making the Pro Bowl: 4-1
Barring injury, Matt Kalil has one of the best chances to make the Pro Bowl of any rookie.
Viewed as one of the safest picks in the draft, Kalil will be blocking for a running back that could make just about any offensive line look awesome.
With the running of Adrian Peterson once again taking pressure off Christian Ponder and the passing attack, Kalil should face a fair number of one-on-ones, giving him a great chance to succeed.
His prototypical frame and solid technique make him an instant threat to make the Pro Bowl.
Not to mention the incumbent All-Stars.
Of the three NFC tackles selected last year, Jason Peters is out for the season, while the other two have two combined Pro-Bowl appearances.
The position is wide open.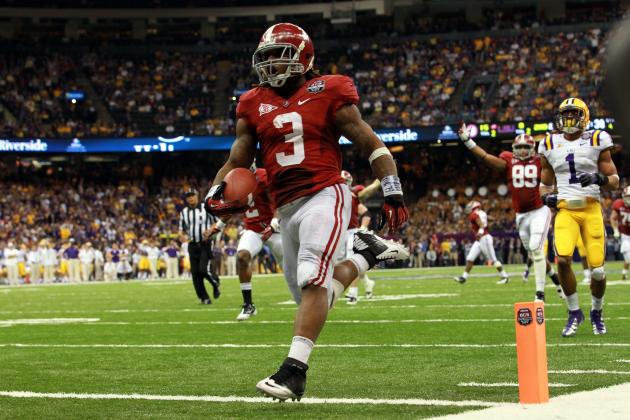 Ronald Martinez/Getty Images
Trent Richardson can prove his worth by making the Pro Bowl next season.
Odds of Making the Pro Bowl: 5-1
Trent Richardson is walking onto a young offense without great quarterback play or weapons on the outside. His team just let their last running back walk in free agency and haven't sent a skill player to the Pro Bowl since 2008.
But he sure is a good player.
While he isn't quite Adrian Peterson, he's being billed at the best running-back prospect since the Viking conqueror came out in 2007.
Add that to the fact that they don't have much else going for them on offense, and you've got a recipe for tons of carries.
He does face an uphill battle, though.
He plays in a division with the Pittsburgh Steelers and Baltimore Ravens, two of the roughest defenses in the league.
He also shares the AFC (in this scenario) with Arian Foster, Maurice Jones-Drew and Ray Rice.
Not to mention Chris Johnson and the rising Ryan Mathews.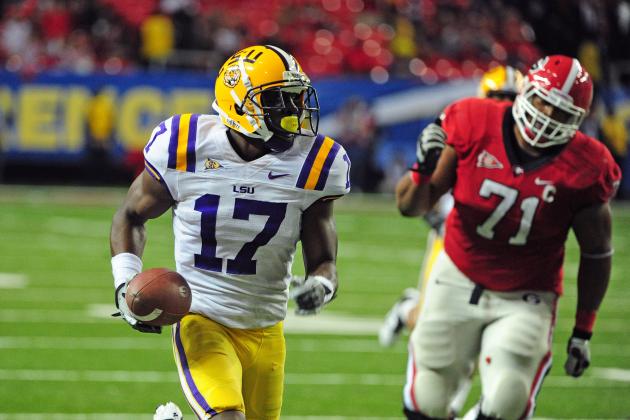 Scott Cunningham/Getty Images
Morris Claiborne's returning ability could get him a Pro Bowl nod.
Odds of Making the Pro Bowl: 10-1
Morris Claiborne is the best corner in a draft full of talented corners, and is considered a future shutdown corner in the NFL.
Despite the fact that his now infamous Wonderlic score of four (out of 50) is making the rounds with NFL pundits, he will almost certainly be a top-six selection in this month's player lottery.
Add the fact that he can return kicks, and we've got ourselves a contender for a Pro-Bowl spot.
Much like his former LSU teammate Patrick Peterson, Claiborne has flashed some ability in the return game. Unlike Peterson, Claiborne has no experience returning punts, only kickoffs.
While that added skill certainly ups his chances, the Tampa Bay Buccaneers already have an established kick returner in Preston Parker that Claiborne would have to unseat.
Considering he only returned 22 kicks last season, that isn't overly likely.
However, his NFC competition for the Pro Bowl is somewhat limited.
Last year's starters include the timeless Charles Woodson, the good-again-bad-again Charles Tillman and good-for-the-first-time Carlos Rogers. Rogers was replaced due to injury by CFL journeyman Brandon Browner.
It's anyone's race.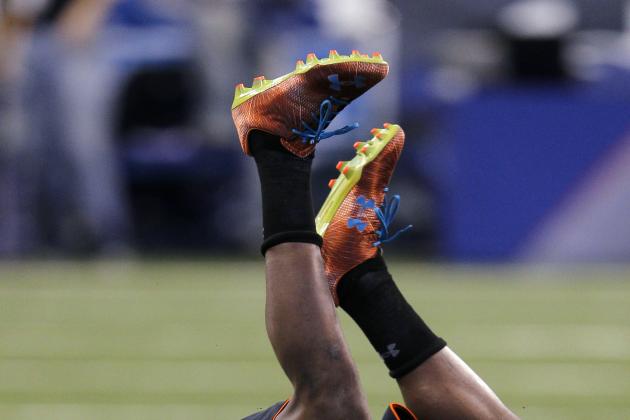 Joe Robbins/Getty Images
Justin Blackmon is going to land hard in the NFL.
Odds of Making the Pro Bowl: 30-1
Unless hell freezes over, the 2013 Pro Bowl will not feature Justin Blackmon.
Historically, first-year wide receivers not named Randy Moss don't dominate the NFL.
Last season, the Cincinnati Bengals' A.J. Green became the first wide receiver to make the trip to Hawaii in his rookie season since Anquan Boldin in 2003.
As if history wasn't enough, Blackmon joins a St. Louis Rams offense that ranked dead last in points scored and 30th in passing yards per game.
And with the departure of Brandon Lloyd, Blackmon will be virtually the only receiving threat on the team. He will face more double teams than most other No. 1 receivers in the league simply because the Rams' No. 2 is Danny Amendola.
At least I think it is. Could be anybody, really.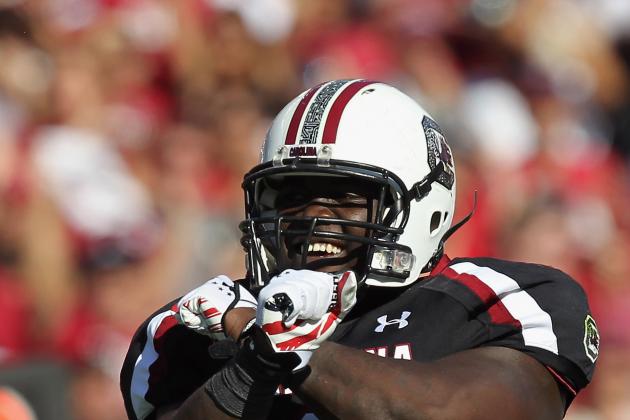 Streeter Lecka/Getty Images
Melvin Ingram's versatility could land him a spot in the Pro Bowl.
Odds of Making the Pro Bowl: 12-1
Melvin Ingram is joining an improving Jacksonville Jaguars defense that retained their top pass-rusher from last season in Jeremy Mincey.
His ability to play anywhere from rush defensive tackle to outside linebacker in a 3-4 is driving his price through the roof, and he has top-10 written all over him.
Regardless of which team drafts him, he will face stiff competition throughout the league. Pass rushers are at a premium right now, and freak athletes are littering every defensive line in the league.
If he plays defensive end (as he would with the Jags), he will go up against Dwight Freeney, Robert Mathis and Elvis Dumervil, among others.
At outside linebacker he would have to overcome Mario Williams, Tamba Hali, Von Miller and Terrell Suggs.
It's a long shot.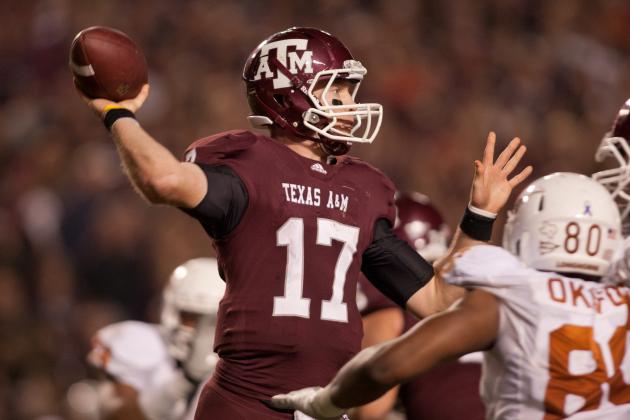 Darren Carroll/Getty Images
Ryan Tannehill won't even sniff the Pro Bowl.
Odds of Making the Pro Bowl: 40-1
The notion that Ryan Tannehill is going to be a top-10 pick in the draft is still hilarious to me. It makes about as much sense as bullet-proofing your hair.
All joking aside, why is this happening?
In this day and age, quarterbacks are the players with the highest premium placed on them. When the draft rolls around every year, there are inevitably five to six teams that feel they need to replace their quarterback.
Unfortunately, there are almost never more than two to three true NFL starting quarterbacks in a given draft class.
Rather than acquiring an experienced veteran, teams talk themselves into believing that players with major flaws (i.e. Tannehill) are future stars. They ignore all the signs of bust-hood, and suddenly a third-round prospect skyrockets into the top 10.
Christian Ponder can attest to it.
Frankly, Tannehill doesn't belong in the top 10, and his play next season will reflect it. Miami Dolphins fans will lament the day they let Chad Henne leave in free agency.
Yeah, that bad.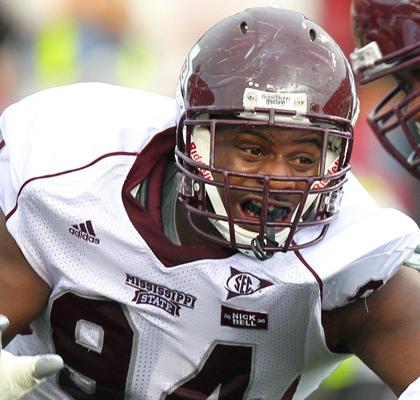 Photo courtesy of Nelson Chenault/US Presswire.
Odds of Making the Pro Bowl: 13-1
Fletcher Cox is an athletically gifted defensive tackle with tons of upside.
While he tends to get upright at the line, his strength allows him to consistently get a strong push on opposing players. This poor form can be fixed, and he will learn to leverage his weight much better.
His quickness and active hands will be his best assets next season, as he is exceptional in shedding blockers and closing on the ball carrier. Run-stuffing is his primary ability at this point in his career, but he has the potential to become an excellent all-around defensive lineman.
He would have to overcome B.J. Raji, Ndamukong Suh and Jay Ratliff among others to make an appearance in the Pro Bowl.
While the position isn't unreasonably stacked in the NFC, the probability that he doesn't make it is based more on the difficult transition for defensive tackles between college and the pros.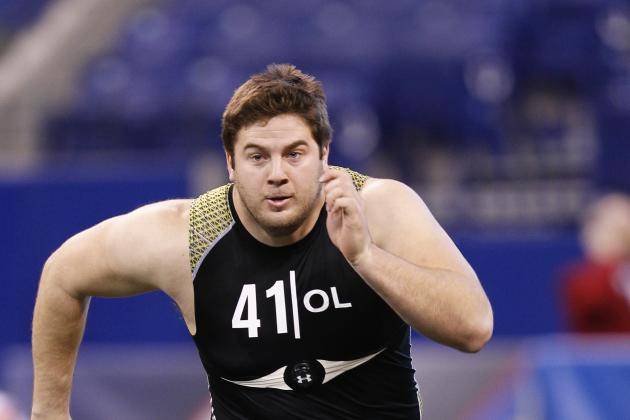 Joe Robbins/Getty Images
Riley Reiff probably won't be making the Pro Bowl next season.
Odds of Making the Pro Bowl: 15-1
After losing Demetrius Bell to the Philadelphia Eagles in free agency, the Buffalo Bills are pretty much forced to draft Riley Reiff at No. 10.
He displayed above-average skills in both run-blocking and pass-blocking last season, though he dominated in neither arena.
Reiff needs to become more consistent if he wants to be in the Pro Bowl. I don't see it for next season.
Joe Robbins/Getty Images
David DeCastro is the most dominant guard in the draft.
Odds of Making the Pro Bowl: 9-1
David DeCastro is clearly the most dominant guard in the 2012 draft class.
Grabbing DeCastro with the 11th pick could solidify the Kansas City Chiefs' offensive line and make them contenders for the AFC.
Despite what their poor record would suggest, the Chiefs weren't terrible in 2011. They suffered season-ending injuries to arguably their two best players in the first two weeks of the season.
With DeCastro clearing the inside, Jamaal Charles' return could be significantly more successful. Peyton Hillis would also benefit considerably from this pick.
Making the AFC Pro Bowl roster as a guard basically means being better than the New England Patriots' and Baltimore Ravens' guards.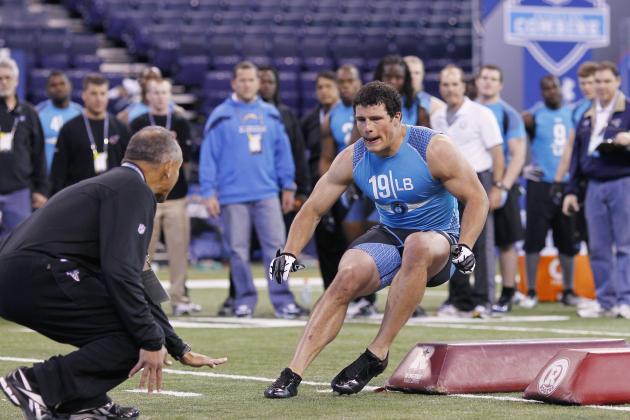 Joe Robbins/Getty Images
Luke Kuechly is the top inside linebacker in the draft.
Odds of Making the Pro Bowl: 7-1
Luke Kuechly has everything it takes to make it as an NFL linebacker.
That doesn't mean he will, but it's not a bad start.
He wowed scouts at the combine with his overall athleticism, notching among the best measurables of all linebackers.
He tacked that onto his two consensus All-American selections and a grip of stunning tape at Boston College.
This kid has it all.
Brian Cushing was the last inside linebacker to make the Pro Bowl as a rookie in 2009. Kuechly has everything it takes to be the next one in 2012.
Unfortunately, he may share the NFC with Patrick Willis, which could severely limit the number of Pro-Bowl nods he gets.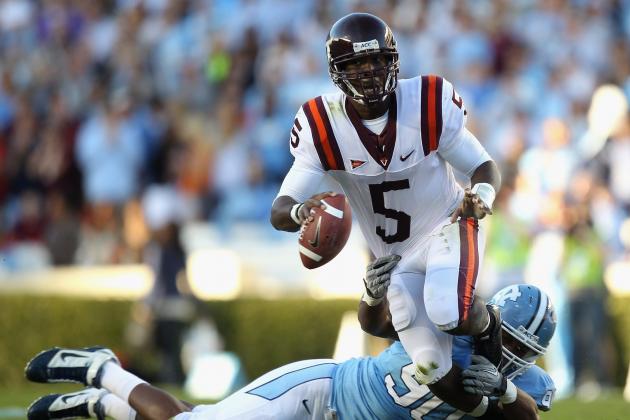 Streeter Lecka/Getty Images
Quinton Coples' athleticism could make him the next outside linebacker rookie sensation.
Odds of Making the Pro Bowl: 8-1
Quinton Coples could be something special. He certainly has the frame.
And his North Carolina pedigree certainly doesn't push away any comparisons to Julius Peppers.
At 6'6" and 285 pounds, Coples can play just about any position in the defensive front seven.
I envision him as the Arizona Cardinals' replacement for 35-year-old outside linebacker Clark Haggans. The Cards' defense was big last year and will only get better through the improvement of young players like Patrick Peterson and Calais Campbell.
With Clay Matthews, DeMarcus Ware and Lance Briggs being voted into the Pro Bowl last year, Coples has some stiff competition.
However, more rookie outside linebackers have made the Pro Bowl than any other position in the past five years, barring kick returners.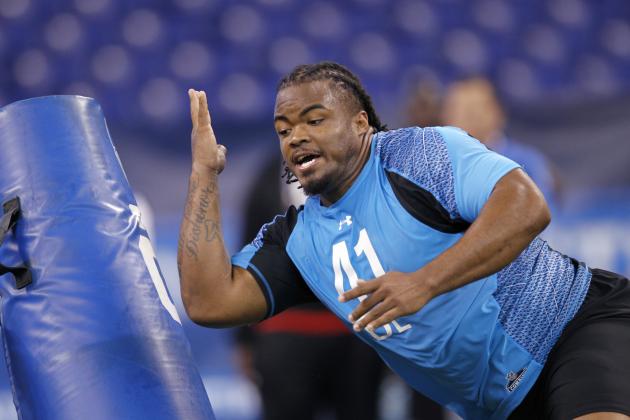 Joe Robbins/Getty Images
Dontari Poe has all the physical tools.
Odds of Making the Pro Bowl: 12-1
Dontari Poe blew up the combine with his combination of size, speed and strength.
After breaking into mock draft top 10s across the country, teams went back to the tape and realized that Poe was about as consistent as he is skinny.
That hasn't dampened the Dallas Cowboys' reported love for Poe, however, and he would be a great fit for them.
His dominating presence in the middle would allow them to move Jay Ratliff to defensive end in their 3-4 scheme. He would clog up the middle and make it much easier for guys like Ratliff, Anthony Spencer and DeMarcus Ware to get opportunities against a single blocker.
If he develops more technical ability (which you would expect a professional athlete to do), then he could be even more effective, collapsing the pocket on quarterbacks with relative ease.
Few men are as big and move as well as Poe.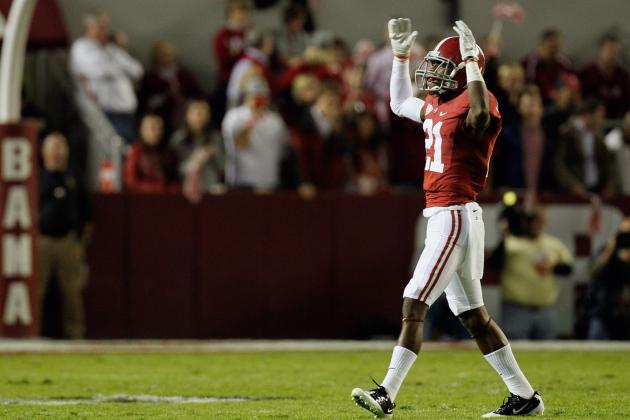 Kevin C. Cox/Getty Images
Dre Kirkpatrick is a dominant corner.
Odds of Making the Pro Bowl: 15-1
The second of what could be five Crimson Tide players coming off the board on the first night of the NFL draft, Dre Kirkpatrick exhibits many of the skills required to become a player like Darrelle Revis.
He's big (6'2", 192 pounds), fast (4.51 seconds in the 40-yard dash) and physical. His greatest asset is his ability to hold up against receivers in man coverage. He has Revis-like anticipation, which allows him to stay with players who are faster or quicker than he is.
He doesn't allow receivers to get an easy release, which takes away a lot of quick throws and disrupts the timing of routes.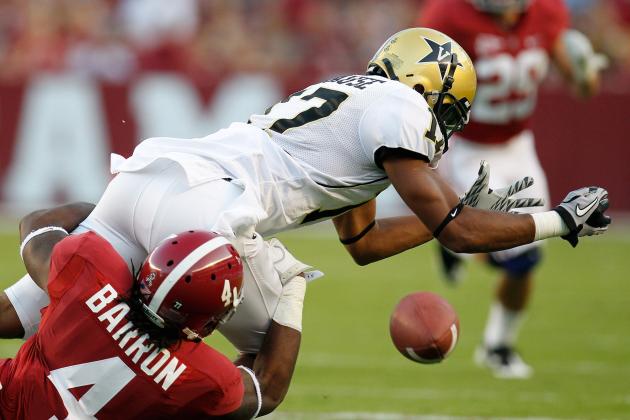 Kevin C. Cox/Getty Images
Mark Barron is far and away the best safety in this class.
Odds of Making the Pro Bowl: 6-1
The only safety with a surefire first-round grade this year, Mark Barron is mean.
The guy plays with reckless abandon, smashing into ball-carriers with no regard for human life.
Oh, and he's underrated in coverage, too.
I'm not saying he's the next Troy Polamalu, but he looks great on tape.
The main reason his odds are as good as they are is because of the team drafting him, the New York Jets.
Barron could reap the rewards of being on such an aggressive, attacking defense. He would be asked to blitz frequently, and the coverages asked of him would often be against tight ends and slot receivers.
While some of the quicker guys might give him trouble (think Wes Welker), he can stick with the majority of the guys he'll be asked to dance with.
I definitely like Barron to make the Pro Bowl next year.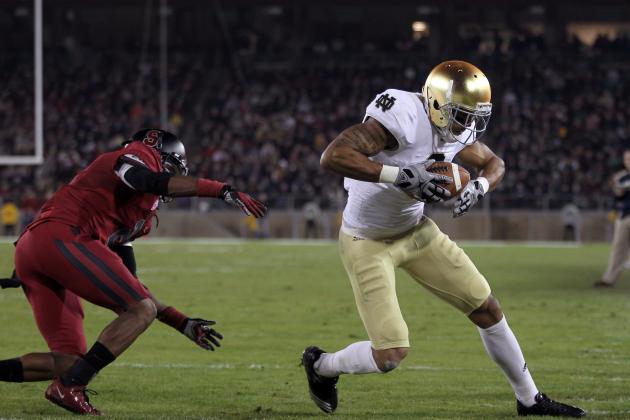 Ezra Shaw/Getty Images
Rookie receivers don't make the Pro Bowl and neither will Michael Floyd.
Odds of Making the Pro Bowl: 28-1
Before you ask, no, I don't think Michael Floyd is better than Justin Blackmon.
I just think the Cincinnati Bengals are 100 times better than the St. Louis Rams.
Not only has Andy Dalton shown more in the NFL than Sam Bradford, but Floyd would also reap the benefit of being the second receiver on the Bengals, behind A.J. Green.
While some may see being the second target as a drawback, I disagree. Just look at what Julio Jones was able to do as the No. 2 receiver on the Atlanta Falcons last year.
The NFL is all about matchups, and matching up against the second best corner on a team is easier than matching up against their best corner.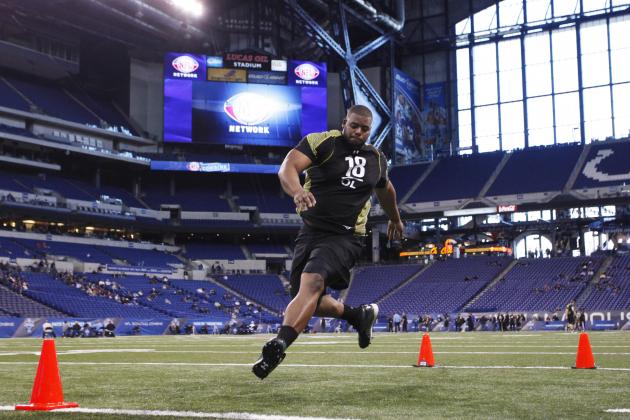 Joe Robbins/Getty Images
Cordy Glenn figures to fit nicely with the Chargers offensive line.
Odds of Making the Pro Bowl: 10-1
Because they have historically had tons of talent but played terribly for long stretches, the San Diego Chargers once again have the luxury of picking a player they don't exactly need.
Their current starter at right guard, Louis Vasquez, is a stop-gap solution waiting to be replaced by a long-term cog.
Cordy Glenn could be that cog.
Glenn is a massive man at 6'6", 345 pounds. He also had the longest arms of any lineman measured at the combine. He did himself a favor there.
After a poor 2011 season, it was important for him to show improvement during the offseason, and he did just that at the combine.
His 31 bench press reps at the combine are extremely impressive, given his long arms.
His heightened Pro-Bowl odds also stem from high-quality of team selecting him. I imagine he will beat out Vasquez for the starting job at some point. If it's early enough, he could ride the Chargers' high-octane offense right into the Pro Bowl.
All he has to do is look good next to a bunch of other Pro Bowlers.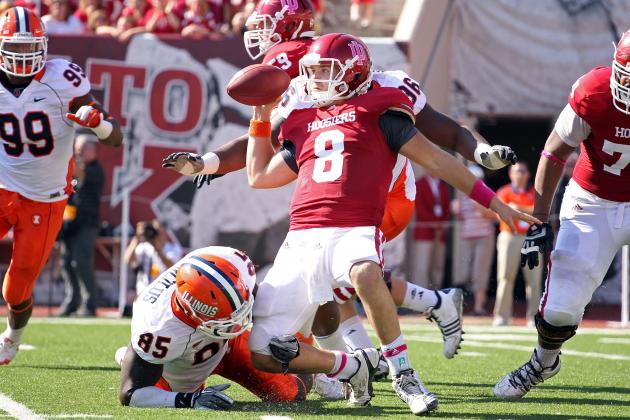 Andy Lyons/Getty Images
Whitney Mercilus was a one-year wonder in college.
Odds of Making the Pro Bowl: 20-1
Whitney Mercilus could turn out to be an extremely good pick and one of the best values of the first round.
But the lack of game tape on him (he only started one season at Illinois) scares teams enough to drop him late into the first round.
He's got excellent size and speed, and his motor runs red hot. This kid can rush for days.
And opposite from Julius Peppers, the Chicago Bears could have a devastating pass rush for years to come.
But the NFC competition for defensive end Pro-Bowl spots is rough. Peppers, Jason Babin, Jared Allen and Jason Pierre-Paul will all be standing between Mercilus and Hawaii.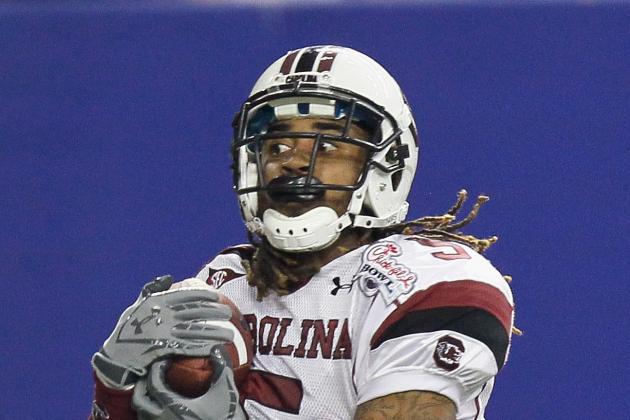 Kevin C. Cox/Getty Images
Stephon Gilmore possesses fantastic ball skills.
Odds of Making the Pro Bowl: 16-1
Though he's probably the fourth best corner in the draft, Stephon Gilmore may rise above Janoris Jenkins based on character concerns.
Gilmore displayed great speed and quickness at the combine, along with average to above-average size.
His biggest assets lie in zone coverage and his ball skills. If he were to bulk up some, he would actually make for a very good safety in the NFL, as he isn't afraid to make tackles. He racked up 46 of them last season, which is very strong for a corner.
The AFC competition for corners appears much tighter than the NFC, featuring world-beater Darrelle Revis, Champ Bailey and Johnathan Joseph. Brandon Flowers will likely also be in the mix next season.
Joe Robbins/Getty Images
Character issues are preventing Janoris Jenkins from being picked higher.
Odds of Making the Pro Bowl: 16-1
Janoris Jenkins' laundry list of off-field issues will drop him this far, if not farther in the draft.
But that won't stop the Bengals, who have shown repeatedly in years past that they are willing to take risks on quality players who display various character concerns.
See: Smith, Andre.
Jenkins is a talented corner with extremely fluid hips. He has slightly undersized at 5'10" but makes up for it with tenacious play. He tracks the ball at an elite level.
I feel that cornerbacks, more than any other position, rely on the rest of the defense to succeed. It's simply impossible to stick with a man forever, and if your team can't get pressure on the quarterback, that's exactly what you'll be attempting to do.
If the Bengals can continue their dominant defensive play, Jenkins could be a major benefactor. However, I'm not entirely convinced they will be able to produce enough pressure on quarterbacks for that to be the case.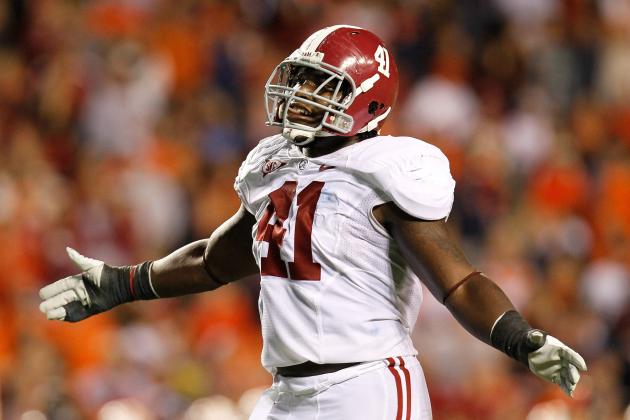 Kevin C. Cox/Getty Images
Courtney Upshaw is a talented pass-rusher.
Odds of Making the Pro Bowl: 12-1
Courtney Upshaw is a very talented pass-rusher who was surrounded by loads of talent at Alabama. He checked in at 6'1" 273 pounds during the week of the Senior Bowl but looked solid rather than overburdened.
He looked primed to launch into Beast Mode.
After a dominant week at the Senior Bowl, however, he disappointed at the NFL combine and sat out the Alabama pro day.
His stock has suffered some as a result. However, that doesn't change his natural ability as a pass-rusher.
I like Upshaw as a sleeper pick for the Pro Bowl, but it could be tough playing for the Browns.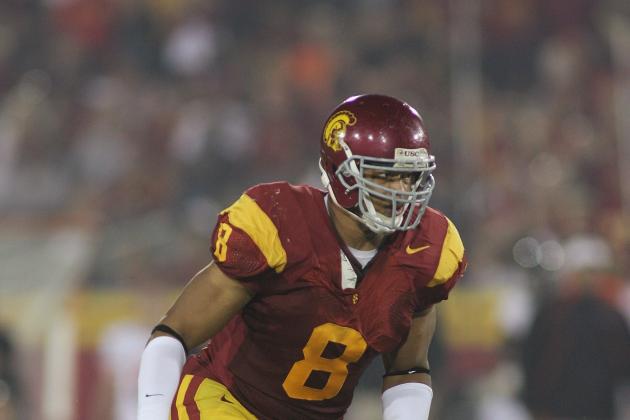 Jeff Golden/Getty Images
Nick Perry is stuck between 3-4 LB and 4-3 DE.
Odds of Making the Pro Bowl: 9-1
Nick Perry has a lot of the tools scouts love to see in prospects. He's strong and fast, has an excellent frame and works extremely hard.
He's a fantastic package.
The one question against him is what position he will play exactly. At USC, he appeared too small to play 4-3 defensive end in the NFL. He showed up to the combine looking as if he'd gained weight, and it showed in his bench press results.
But at his pro day, Perry looked stiff and uncomfortable. That spells trouble if a team drafts him with the intention of making him a 3-4 outside linebacker.
That's not to say he couldn't make the switch. Right now his skills are simply better suited for 4-3 defensive end, while his body is better suited for 3-4 outside linebacker.
Perry should just add some bulk and stick to 4-3 end.
If he does so and joins the Detroit Lions, I see good things for Perry. With Ndamukong Suh and Nick Fairley anchoring the defensive line, I expect he can match or better the numbers put up by Cliff Avril last season.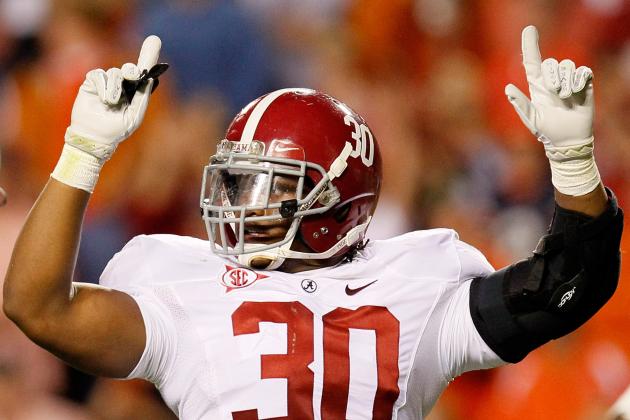 Kevin C. Cox/Getty Images
Dont'a Hightower already looks like a Steeler.
Odds of Making the Pro Bowl: 7-1
As with so many players they draft, the Pittsburgh Steelers look poised to add another guy that looks tailor-made for the Black and Gold.
Dont'a Hightower has been on the NFL radar for years, and now it's time to finish the process.
This kid is vicious, powerful and relentless. He's as big as some defensive ends at 6'4", 260 pounds, and faster than the average starting linebacker in the NFL.
He can blitz on passing downs and is a brutal run-stopper.
He'll be plugged in from day one next to Lawrence Timmons, and the two will form one of the most fearsome inside linebacker tandems in the league.
While he lacks the quickness and coverage skills to be a three-down linebacker in a 4-3 scheme, his skills are perfectly suited for the 3-4 defense.
Steeler Nation will love this guy.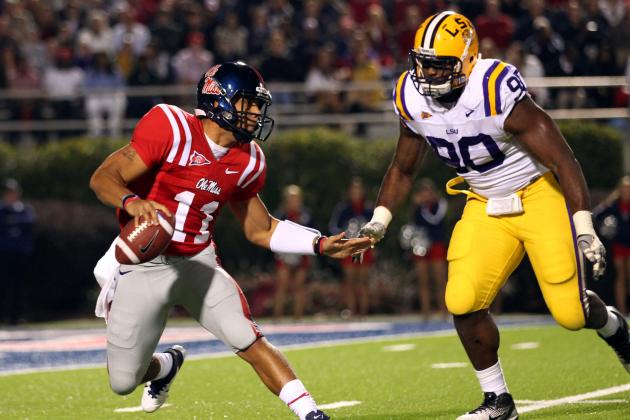 Joe Murphy/Getty Images
Michael Brockers is a dominating figure.
Odds of Making the Pro Bowl: 20-1
Viewed by some as up to the second best defensive lineman in the draft, Michael Brockers is definitely highly touted.
A poor showing at the combine dropped his stock significantly, since he has only one notable year of game tape at LSU.
The Denver Broncos have a variety of pass-rushing talent, between Elvis Dumervil and Von Miller. They really just need a defensive tackle who can suck up blockers and clog running lanes.
He isn't a dominant presence like Ndamukong Suh and thus will never get the publicity needed to make the Pro Bowl next year.
Scott Cunningham/Getty Images
Stephen Hill is a mystery to the NFL.
Odds of Making the Pro Bowl: 35-1
Stephen Hill was the definition of a workout warrior at the combine, posting outlandish measurables that had scouts reeling.
If he played anywhere but Georgia Tech, this guy might be in contention for the top wide receiver spot right now.
But he didn't.
What he did was catch only 28 passes for 820 yards last season.
A mind-numbing 29.3 yards per catch.
We're talking about a 6'4" receiver who ran a 4.36-second 40-yard dash.
Wow.
And opposite Andre Johnson this guy could be a serious weapon.
But you know about rookie wide receivers in the Pro Bowl by now.
Not happening.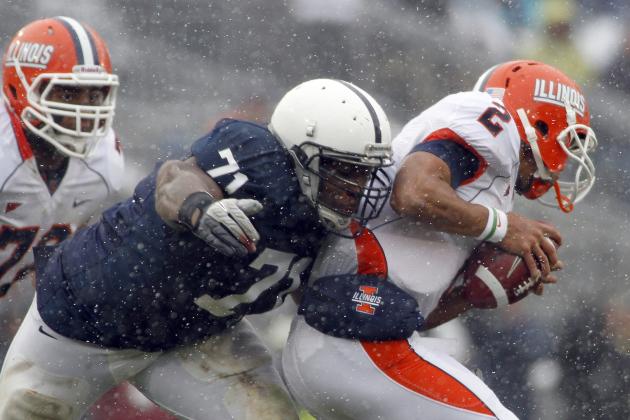 Justin K. Aller/Getty Images
Devon Still is extremely versatile.
Odds for Making the Pro Bowl: 18-1
The New England Patriots are all about versatility and their "do your job" mantra.
And that's why they go with Devon Still here.
Still can slide between the 3-4 defensive end or tackle, making an impact at both positions. He possesses both the size and athleticism to be effective from both spots, something Belichick would love.
I see him as a player who needs to work on his technique before becoming a Pro Bowl-caliber player, but he could get there with Hoodie's coaching.
It's more likely that the Patriots trade the pick, though, as we all know.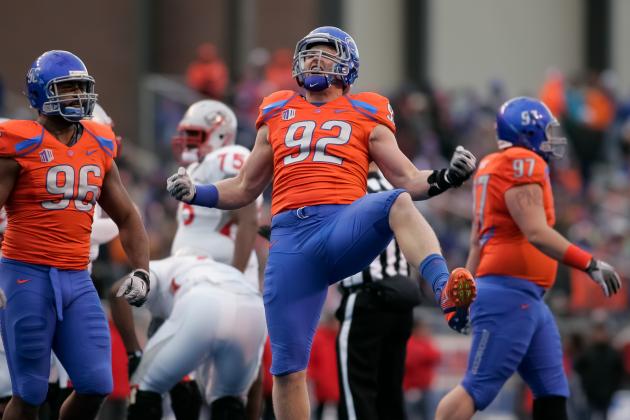 Otto Kitsinger III/Getty Images
Shea McClellin could star opposite Clay Matthews.
Odds of making the Pro Bowl: 11-1
Shea McClellin has been very upwardly mobile throughout the draft process.
After playing mostly defensive end in college, McClellin looks as though he might make the transition to 3-4 outside linebacker at the next level.
That has the Green Bay Packers "very interested."
While I'm not completely convinced that McClellin possesses first-round talent, the Packers have hit a boatload of home runs in the draft recently.
They probably know better than I do.
And with defenses keying in on Clay Matthews (as usual), McClellin could face a huge number of one-on-ones with offensive linemen. He could have a special rookie season if the Packers are right about his ability.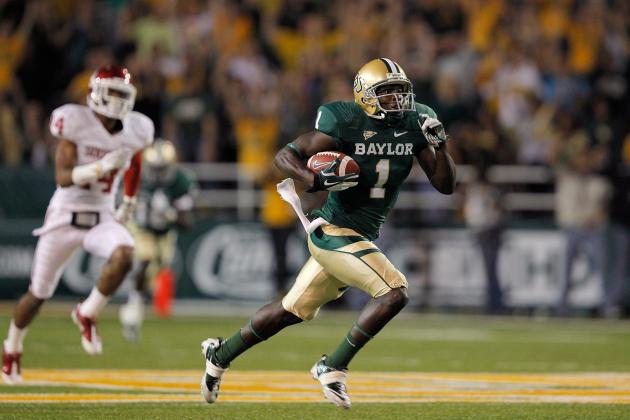 Sarah Glenn/Getty Images
Kendall Wright lit up the Big 12 last season.
Odds of Making the Pro Bowl: 38-1
Is it just me or have the Baltimore Ravens had a need at wide receiver for 10 years now?
Anquan Boldin was a nice pickup, but outside of that it's been a struggle.
Lee Evans was a big disappointment (albeit largely due to injury).
T.J. Houshmandzadeh was a failure.
Derrick Mason was held onto for way too long.
Torrey Smith is intriguing and certainly worth another go in 2012. But he looks like a true wideout, and that leaves room in the slot for another playmaker.
Enter Kendall Wright.
This guy ripped apart the Big 12 last season, and helped vault Robert Griffin III onto the Heisman podium and into the Washington Redskins' immediate future.
Perhaps he could help elevate Joe Flacco's putrid completion percentage.
In any case, he's not going to the Pro Bowl next year.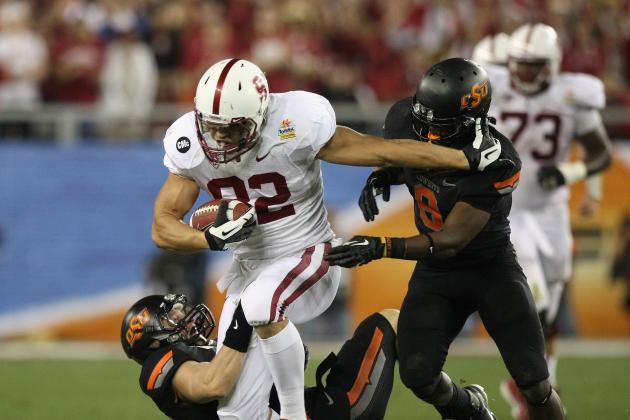 Donald Miralle/Getty Images
Coby Fleener was Andrew Luck's go-to guy last year.
Odds of Making the Pro Bowl: 15-1
Coby Fleener represents an interesting situation. Through the NFL's recent "Rise of the Tight End" trend, guys like Fleener have become in vogue.
Huge pass-catching tight ends with no intentions of blocking anybody are the new black in the NFL.
And the NFC is sort of understocked on these types.
Other than Jimmy Graham and Vernon Davis, nobody really pops out, which is why this projection ends up too bad, so sad for Fleener.
Drafted to almost any other team, Fleener would have a fairly decent chance of making the Pro Bowl. But drafted to the San Francisco 49ers, he's going to be buried by Davis' recent psychic connection with former bust Alex Smith.
Here's hoping the 49ers leave Fleener for the New York Giants or the Indianapolis Colts. Seeing Fleener back with Andrew Luck would be cool.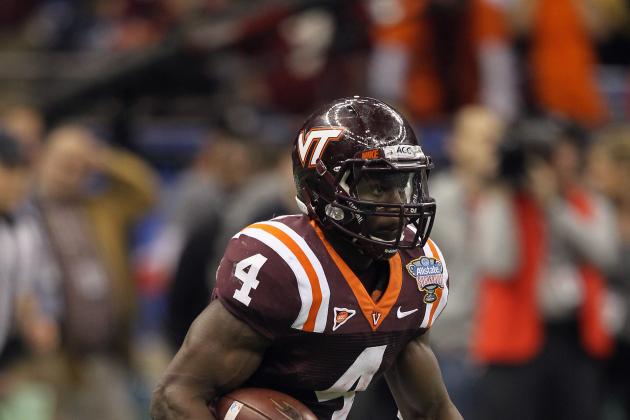 Matthew Stockman/Getty Images
David Wilson could add some zip to the Patriots backfield.
Odds of Making the Pro Bowl: 25-1
I honestly see David Wilson as a quality back with plenty of potential.
But he's sharing a backfield with no less than 35 other players in any given game with the Patriots. From Stevan Ridley to Danny Woodhead, and even including Aaron Hernandez, I just can't see a ton of production from Wilson in year one.
But he gives them an element they haven't shown with any of their running backs in his burst.
I suspect Shane Vereen has similar movement abilities, but the Patriots must not see enough ability in him overall. He hasn't received a great deal of playing time to date.
Once again, there's a very good chance the Patriots move this pick or the 27th pick, if not both. Belichick is the master of draft-day trading.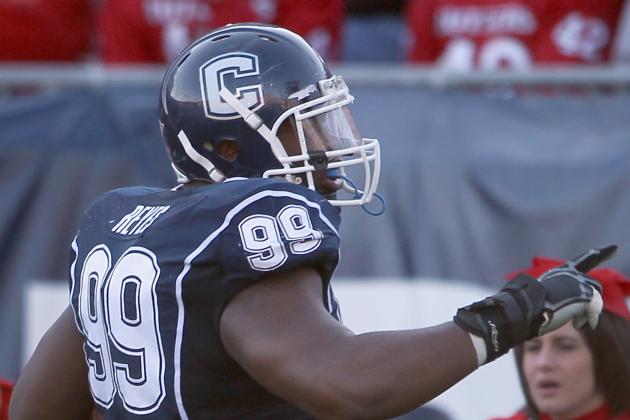 Elsa/Getty Images
Kendall Reyes could be a steal.
Odds of Making the Pro Bowl: 16-1
The defending Super Bowl champion New York Giants pride themselves in the quality of their defensive line.
Why not add another talented lineman here?
Though they signed Martellus Bennett to fill their need at tight end, I still think they would look to draft Coby Fleener at this spot if he were available. Bennett isn't the receiving threat that Fleener is, and they certainly wouldn't mind having both.
In the meantime, Reyes fits the G-Men well. His pass-rushing is top-notch, as he gets off the ball extremely quickly and uses a variety of speed rushes to blow past opponents. He has a surprising bull rush, too.