2012 NFL Offseason Becoming One of Increased Embarrassment
Roger Goodell has some big decisions to make on how the NFL wants to be viewed in the coming months...
This offseason has been filled with exciting trades such as the Rams trading out of the No. 2 overall pick, Brandon Marshall being traded to the Bears, as well as monster contracts like the ones Vincent Jackson and Mario Williams received from Tampa Bay and Buffalo, respectively.
Looking at the other side of the spectrum, there have also been an unusual amount of issues with NFL players violating rules and laws, both in the NFL and legally. The Saints bounty scandal has taken center stage, allowing for some of the other violations to go relatively unnoticed by the public (unless you're a fan of the team in which it effects).
Let's take a look at some of the other possible suspensions and or fines Roger Goodell is going to have to address as soon as the storm calms and the bounty scandal is taken care of.
Begin Slideshow

»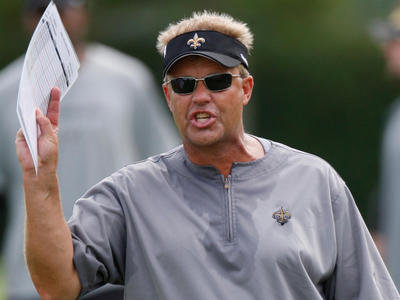 Greg Williams himself is facing a possible lifetime ban from the NFL.
When news of the Saints bounty program that was supported by defensive coordinator Greg Williams became public, it rocked the NFL. Tapes of Greg Williams were recently released sharing audio of a speech before the 36-32 playoff loss to the San Francisco 49ers. A few quotes from the tapes via Fox Sports: "We've got to do everything in the world to make sure we kill Frank Gore's head."
"Little 32, we want to knock the [expletive] out of him. We've got to turn that [expletive] over… Go and get that [expletive] on the sidelines."
This was in reference to Kendall Hunter.
Greg Williams also alluded to aiming for Vernon Davis' previously injured ankle, urging players to "clip" him.
The ACL of Michael Crabtree was another target Greg Williams gave to his players in the pregame speech, being quoted telling his players to "Take out that outside ACL."
For Kyle Williams, a player who had already had an issue with a previous concussion, the defensive coordinator said: "We need to find out … about his concussion. We need to put a lick on him."
For a league that's invested a lot into changing rules to reduce the risk of concussions, that's a pretty serious statement.
Suspensions already dealt by the NFL include a season-long suspension for head coach Sean Payton, an eight-game suspension for GM Mickey Loomis, and a six-game suspension for assistant head coach Joe Vitt. Greg Williams has been suspended from the NFL indefinitely, and many are calling for a lifetime ban.
Other punishments for the organization include the loss of the second-round draft picks for for 2012 and the 2013 draft, and a $500,000 dollar fine for the Saints.
The punishment of the 22-27 players that were involved with the bounty program has yet to be announced. It should also be known that head coach Sean Payton has filed and presented an appeal of his season-long suspension.
The ruling has yet to be announced.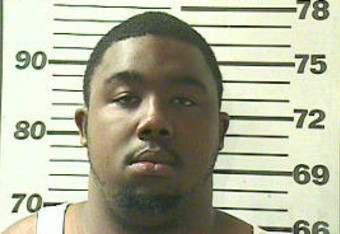 Nick Fairley was just one of three Lions players to be charged on marijuana related incidents. In 3 months.
The Lions organization has had three marijuana related incidents since January, all of which have yet to addressed by Roger Goodell.
Johnny Culbreath was charged for the possession of marijuana on January 23rd after a hotel clerk at the Country Inn and Suites had reported to the police that a hotel guest had been smoking marijuana. When the police arrived, they viewed a surveillance video of Culbreath putting something into a drawer in the hallway.
When asked what Culbreath put into the drawer, he replied "two blunts." When police checked the drawer, they found a small bag of pot. Following the arrest, Culbreath paid a $412 fine (according to the Times and Democrat).
On April 2nd, Dave Birkett of the Detroit Free Press reported that running back for the Lions. Mikel Leshoure, had been charged twice in less than a month for marijuana related charges. On February 18th, Leshoure was stopped by police while with a friend, and as the police approached the car witnessed him attempting to eat the marijuana. Leshoure was told to spit out the marijuana, and complied. More had also fallen down the front of his shirt as detailed in the police report.
Following this incident, Leshoure appeared in court on March 1st and pleaded to a lesser charge of consumption of marijuana, as well as paid a $485 fine.
Again on March 12th, Leshoure was charged in Michigan after another incident with marijuana and is facing a charge of possession of marijuana/second offense which is a felony and can carry a punishment of up to two years in prison.
Finally, we come to Nick Fairley, the Lions 2011 first-round draft pick. The day after news of Mikel Leshoure's legal troubles, Nick Fairley was arrested and charged in his hometown of Mobile, Alabama on a misdemeanor possession of marijuana charge.
Now, Fairley and Culbreath's incidents most likely won't receive a suspension but Leshoure's very well could. The bigger issue here is the view it casts on the Lions organization. Anytime an organization has three players in the span of three months arrested for drugs, it never bodes well.
Ironically enough, all three players were picks by the Lions in the 2011 NFL draft. Maybe they should put a bit more time into researching players' characters.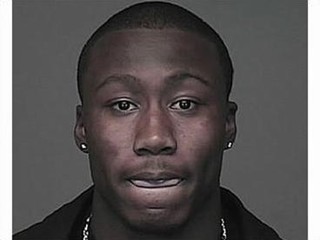 Brandon Marshall's legal troubles have yet to regress.
The only thing more consistent about Brandon Marshall than his ability to find trouble are his receiving stats.
On March 12th, Brandon Marshall, his wife, and a few close friends went to a New York nightclub after speaking at a charity event. While at the nightclub, an altercation between another party broke out, and as Marshall and his wife attempted to leave, Marshall's wife was struck in the face with a beer bottle. Marshall's wife suffered a serious injury at which time Marshall rushed his wife to the hospital.
That was the story Marshall's lawyer provided.
Later, Marshall had assault charges filed against him after being accused of hitting a woman outside the nightclub (CBS Chicago). Apparently, a fight had developed between Marshall and Christin Myles', the reported victim, friends inside the nightclub. After being kicked out by bouncers, Marshall and Myles' friends continued the argument outside, at which point it is reported that Marshall struck Myles in the left eye.
Myles filed a police report but has not been heard from since which leaves room for doubt in regards to her story. If Myles story proves true, Marshall could be facing another suspension.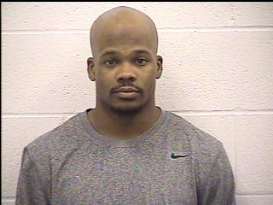 Jerome Simpson faces harsh penalties from the NFL.
On March 1st, Jerome Simpson was sentenced to 15 days in jail after he received over two pounds of marijuana in the mail. Prosecutors in the plea agreement suggested a 60 day sentence, but the judge reduced the sentence to just 15 days. A postal office in Sacramento had flagged the package, after which police busted Simpson receiving the package.
This event happened back in September, at which time police also found six pounds of marijuana and scales in his home. Following the event, Simpson was indicted on a felony charge of marijuana trafficking, which was later dropped to a prohibited act related to controlled controlled substances due to a plea agreement.
Simpson has yet to receive the attention of Roger Goodell, but it is assumed Simpson will be suspended. The question is for how long?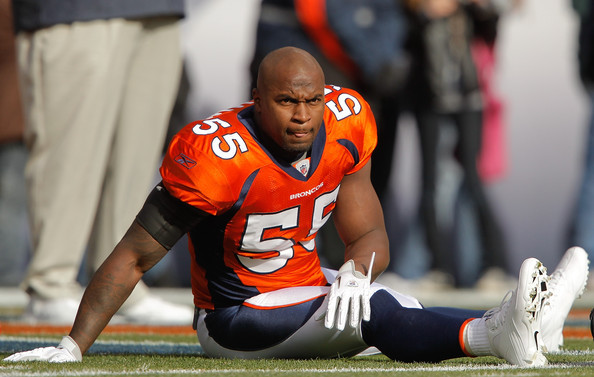 DJ Williams has filed a federal lawsuit against the NFL following his suspension.
D.J. Williams and Ryan McBean have both been suspended for six games without pay for reportedly failing a drug test given by the NFL (via ESPN). The failure of the drug test was due to the specimen provided by each player reportedly being not human urine.
Where this gets interesting is Williams and McBean are now filing a federal lawsuit against the NFL to overturn the suspension on the grounds that the specimen had been a human specimen. Williams' lawyer contests the notion that the sample was not from a human by stating that the collector said he watched as Williams provided the sample, making it impossible to provide fake urine.
Two things should also be noted. One is that following this incident, the NFL fired the collector for not following proper procedures, and the second is that the tested urine did not come back positive for either narcotics or performance enhancing.
Vigil Green has also been suspended for failing a drug test after not getting his ADHD medication cleared by the NFL prior to the test. His medication has since been cleared, but his suspension will not be lifted.
It will be interesting to see how this plays out over the next few months.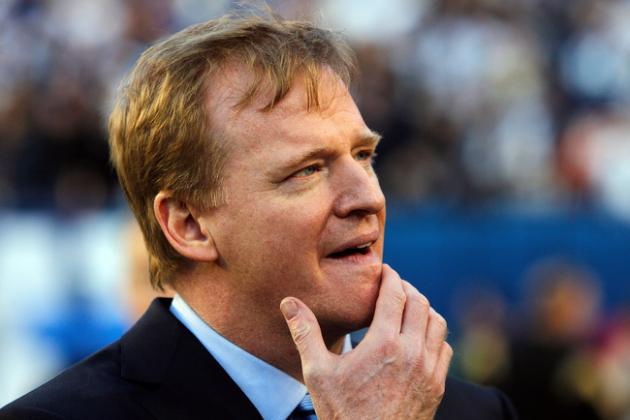 Big decisions coming in the upcoming months.
After all these incidents, it's necessary to wonder if NFL needs to start making the punishments for these violations more severe. Players are bound to make mistakes, but it seems they are happening more frequently.
NFL players are professionals. They are paid to preform on the football field and uphold a level of integrity that most people aren't. They are looked at by children as larger than life, and because of that they need to present themselves in a way that will not embarrass the NFL.
If someone fails a drug test at a corporate job, they lose said job.
I'm not saying that should be the case with the players, but does Goodell need to do something more to deter these players from making these mistakes?