Top 33 Christian Pregame Pump-Up Songs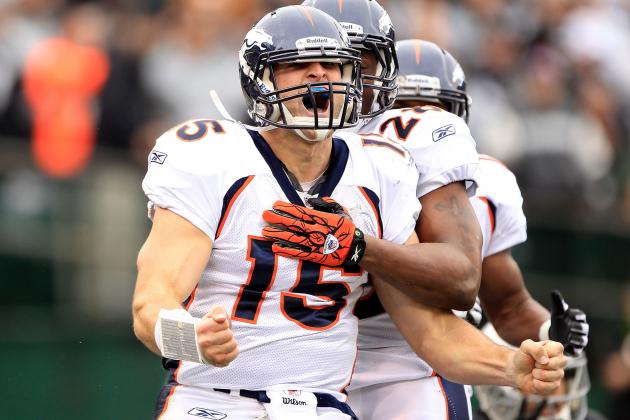 Ezra Shaw/Getty Images

Imagine Tim Tebow listening to Disturbed to get hyped.
You can't? Yeah, me neither.
Happy Easter, readers! While candy, bunny rabbits and candy bunny rabbits highlight the vast majority of the world's day, Christians are celebrating the resurrection of Jesus Christ—it's kind of like a big deal. You'd be hard-pressed to find a better reason to get pumped up.
And on that note, here's a holiday special. Prepare for the big game like Tebow, Jeremy Lin and other Christian athletes that don't listen to mainstream music to get in the zone. Here are the top 33 Christian pregame pump up songs in honor of the Easter holiday.
Begin Slideshow

»
"Guarantee you're not stoppin' me or blockin' me. All I need is one shot promised you'll be shocked to see."
Why It's Worthy: And speaking of Jeremy Lin, this track was Linspired by him.
"Feel like an animal, I'm ready to lose control."
Why It's Worthy: If adidas isn't using this song side-by-side with their slogan Impossible Is Nothing, somebody contact their CEO.
"I see blood, I see pain, I see hate pointed and aimed at me."
Why It's Worthy: Dwyane Wade needs to make this the Miami Heat's theme song this postseason.
"I've gotta fight today to live another day. Speaking my mind today, my voice will be heard today."
Why It's Worthy: I still hear the echo of Mike D'Antoni singing this to Jeremy Lin.
"They box up they emotion cause commotions. Beyond they act like big fishes in a pond, but really rocks in the ocean."
Why It's Worthy: This belongs on a Dwight Howard highlight reel.
"I'm like terminator. I keep coming back from the dead."
Why It's Worthy: Pettidee's deep, raspy voice alone is enough to terrify a polar bear.
"Sunshine upon my face, a new song for me to sing. Tell the world how I feel inside, even though it might cost me everything."
Why It's Worthy: The lyrics define an adrenaline rush flawlessly.
"We caught you plotting murder and now the tide is turning."
Why It's Worthy: Any song with the word hunter in its title is ideal for Troy Polamalu and Brian Dawkins to meditate to.
"Look before I leap again, skeleton filled with Adrenalin."
Why It's Worthy: Ninety percent of the game is half mental…and ignoring any Plan B gives a competitor a mental edge.
"And they can kill us now, go get the yellow tape. Hey put me 6 feet in the ground and watch a great escape."
Why It's Worthy: Lecrae's punch lines almost make you forget that you're about to go to war.
"This is big like Poppa. Notorious for his honor."
Why It's Worthy: Yeah, that instrumental is from Saw and yeah, you have the urge to throw something through a window.
"We slam dunkin' and keep it jumpin' like jumper cables. And keep the crowd rowdy like Jesus tossin' them temple tables."
Why It's Worthy: This song's been featured in more commercials than Peyton Manning.
"If you can't follow you can't never lead. And you don't run a thing until you run in to the King."
Why It's Worthy: Bowing down to authority isn't a typical message in a pump up song, but I guess rising from the dead isn't typical either.
"You've never been to the place inside, I face my fears, It takes everything I am."
Why It's Worthy: Ironically, my head couldn't stop moving up and down when Move was playing.
"Am I losing? Hurt, feeling like the underdog. Dirt, what they put us under dog."
Why It's Worthy: When Swoope utters the words not over with, adrenaline instantly flows through your veins.
"Beat drop and I'm goin' in. Preach so hard that you know it's Him. He fills me up and then He pours. This might go underneath yo skin."
Why It's Worthy: Would it be corny if I called a siren instrumental flat out fire?
"Face to face with the enemy—giving in to you I refuse. Somebody's gotta win. And I don't know how to lose."
Why It's Worthy: Would you really need any more reason than if I told you Throw Down found the countdown on intro alone?
"It's hiding in the dark. It's teeth are razor sharp."
Why It's Worthy: While the song's meaning is anti-monster, you want to be a monster in competition.
"So we hittin every block with a little pop like we got a glock. We hit em with the rock. Gotta given what they've been needing. We'll never stop."
Why It's Worthy: I only have two words to say: gunshots badadadada.
"You thought you had him Devil, but my God is slicker. You gon' bring some goons, make sure that they bigger."
Why It's Worthy: The instrumental in the intro sounds like something that should be playing when Rocky climbs into the ring to knock out Ivan Drago.
"So don't blink if you wanna come cross the border. Take a look around or come test the water."
Why It's Worthy: The urge Ignition gives you to simply turn on a car is so powerful—just imagine listening to it before you leave the locker room.
"We used to get stoned. Now we just stone Philistines."
Why It's Worthy: Vertical Leap Training 101: Listen to this song—I'll guarantee at least a 17-inch increase.
"And burn away I'll rise today. You won't break me down when I crash through you."
Why It's Worthy: Tim Tebow, LaDainian Tomlinson and Patrick Willis should feel free to listen to this song on game day, but not Tony Stewart.
"Being a man got nothing to do with age. You can be a boy till the day you lay in your grave."
Why It's Worthy: D-Wade, I got another song for you—play this for LeBron when the fourth quarter rolls around.
"Where are the people that accused me, the ones who beat me down and bruised me? They hide just out of sight, can't face me in the light."
Why It's Worthy: Unbreakable—there aren't many adjectives that a competitor would rather be described as.
"Never looking back I wave goodbye. Peace to fear, so long good night."
Why It's Worthy: This song was tailor-made for an athlete to condition to.
"Destroying all rivals. He's over all idols. And I'm feeling like a winner cause He's holding all titles. Feelin good like I'm Pippen with Jordan in the Finals. Or like Fisher with Kobe by his side yo. Because no D can destroy the Triangle."
Why It's Worthy: Pump up songs are often boastful. No Imposters boasts on God, but it has the same effect—supreme confidence.
"Didn't even know that you and I were cross until a sneak attack from the weak side. Unaware that we were in a fight. I guess that's part of the problem but guess what?"
Why It's Worthy: If you aren't ready after listening to this track, check your pulse.
"Now we can start taking the lead just like the Dalai Lama and start going all out like suicide bomber."
Why It's Worthy: I previously mentioned Rocky, and Tedashii makes a direct connection by boxing in the music video.
"We rise to the top, what you want? Just in case you forgot. Rush the stage, grab my mic, show me what you got."
Why It's Worthy: A song that unites the worlds of football and ping pong—enough said.
"This is 9-11 kamikaze inside my mortal body. Not like I'm fighting alone because the Lord got me."
Why It's Worthy: It isn't by D12, but you'll still want to brawl afterwards.
"Stop runnin me down, keep runnin around, I'm fakin you out, would you just, make it what you want it to be."
Why It's Worthy: I was forced to type this slide with one hand because my other was throwing up a rawkfist.
When it's over, we can say, "Well done". But not yet, 'cause it's only begun so, pick up, and follow me, we're the only ones to fight this thing, until we've won.
Why It's Worthy: This track isn't just deserving of a spot on a Christian list—it made the Top 100 Pump Up Songs of All Time.
David Daniels is a featured columnist at Bleacher Report and a syndicated writer.