UFC 146: 5 Reasons Junior Dos Santos vs. Dan Henderson Makes No Sense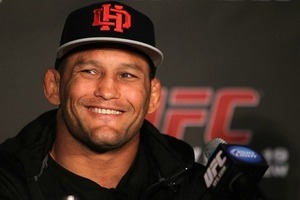 Pictured: Would-be heavyweight title challenger, Dan Henderson. Photo via Getty Images.
MMA legend Dan Henderson has made it known that he would be willing to step in against UFC heavyweight champion Junior Dos Santos at UFC 146.
Dos Santos was originally scheduled to face Dutch kickboxing specialist Alistair Overeem, but a failed drug test from Overeem has put the fight in serious jeopardy—though it is worth noting that UFC President Dana White has not officially called the fight off.
At first, it seemed likely that either Frank Mir or Cain Velasquez would receive the shot, but Dana White has confirmed that neither of these men will receive the title shot and that their bout at UFC 146 remains intact.
On the surface, Henderson stepping in seems like an excellent solution to a puzzling problem.
After all, Henderson is one of the most accomplished MMA fighters of all time, having held major titles in two separate weight classes, and has even fought at heavyweight before.
It seems to make perfect sense that he jump up to heavyweight, take on Dos Santos, and attempt to become the first man to ever win major titles in three different weight classes.
However, under closer inspection, the fight makes little to no sense at all.
Here are five reasons why Dan Henderson should not fight Junior Dos Santos.
Begin Slideshow

»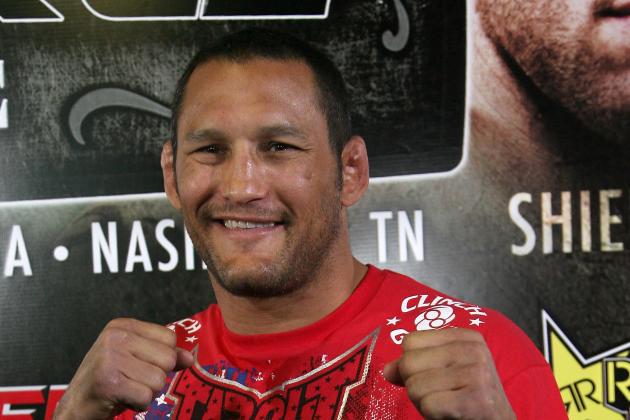 Valerie Macon/Getty Images
Dan Henderson. Photo via Getty Images
It's true that Dana White has guaranteed Hendo a title shot at either middleweight or light heavyweight, but that does not give him a free pass to a title shot in whatever weight class he wants.
The fact is, Henderson has never fought in the UFC's heavyweight division and has only fought once as a heavyweight ever—though he has had several open-weight matches against heavyweights.
One heavyweight fight outside of the UFC—even an impressive knockout over heavyweight legend Fedor Emelianenko—does not quality Henderson for a shot at UFC heavyweight gold.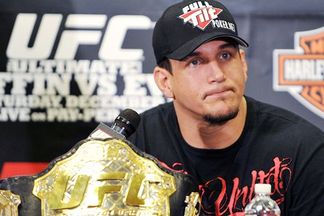 Frank Mir. Photo courtesy of MMAlinker.com
A Henderson-JDS title bout would not be fair to mainstay members of the division who have done more to earn their own crack at the gold.
More specifically, former UFC heavyweight champ Frank Mir is currently riding a three-fight win streak that includes a KO victory over Mirko Cro Cop and a submission win over Antonio Rodrigo Nogueira. Without a doubt, Mir deserves a shot more than Henderson.
Even fighters who are further down the ladder, like Mark Hunt and Fabricio Werdum, who are both coming off big victories, have to done more than Henderson to earn a title shot.
In the line for a title, there should be no cuts.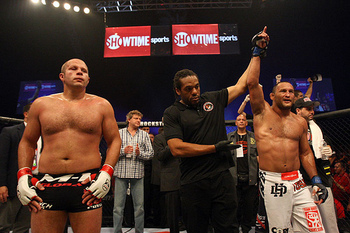 Henderson celebrates victory over Emelianenko. Photo by Esther Lin.
A lot of people are probably thinking, "If Henderson beat the consensus No.1 heavyweight of all time, that means he has what it takes to compete with the best heavyweights in the world."
Well, it's not as cut and dry as that.
First off, Henderson beat an out-of-prime Fedor who was coming off two losses.
Secondly, Fedor is a small heavyweight who could make light heavyweight if he got in shape. Fedor is around 233 lbs, with considerable flab on his frame. Dos Santos weighs in at a chiseled 240 lbs.
I'm not saying the victory over Emelianenko wasn't impressive—I'm saying beating a chubby heavyweight who used to be the best does not qualify you to take on an in-shape heavyweight beast who is currently the best.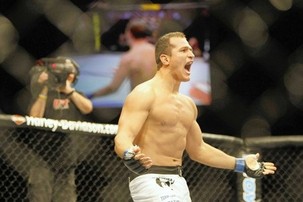 UFC heavyweight champion Junior Dos Santos. Photo courtesy of MMAmania.com
If Henderson wins, he proves that age and size mean nothing, while simultaneously becoming the first man ever to hold major titles in three weight classes. If he loses, it's a harmless defeat at the hands of a much younger and larger opponent.
If Dos Santos wins, he beats a much smaller, older and passed-prime legend. If he loses... you get the idea.
Dos Santos is an honorable champion and will surely fight anyone the UFC asks him to. But in terms of positives vs. negatives, this is one of the worst matchups the UFC brass could offer him.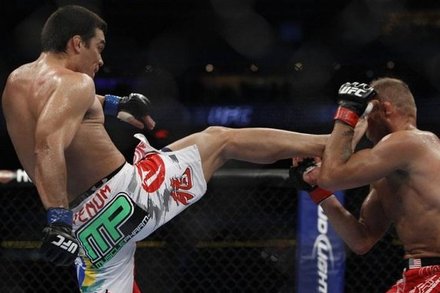 Every now and again the UFC matches up a fading legend with an up and comer.
Sometimes, amazing things happen and the legend wins. Case in point, Randy Couture vs. Tim Sylvia.
However, most of the time the legend is dominated, and it's hard for fans to watch. For example, Josh Koscheck vs. Matt Hughes and Lyoto Machida vs. Randy Couture.
Am I saying Henderson can't win? No.
However, the likeliest scenario is that he will be thoroughly outclassed and handed his first ever knockout defeat.
The fight seems exciting now, but people might feel differently when Henderson is lying on the canvas, staring up at the lights.
Andrew Barr is a Featured Columnist for BleacherReport.com. For updates on what's happening in the world of MMA, follow him on Twitter @AndrewBarr8.