NFL Trade Speculation: Greg McElroy and 10 Other QBs Who Could Be Moved
Jim McIsaac/Getty Images

Peyton Manning is a Denver Bronco, Tim Tebow is a New York Jet and Matt Flynn got his big break and became a Seattle Seahawk this offseason. Quarterbacks shook up the NFL free-agency period, but the deals aren't done yet.
Several QBs find themselves at the bottom of the depth chart with new faces arriving through free agency and trades. Others could end up on the trading block as a result of poor performances in 2011. And there's always the possibility of a few starters losing their jobs to incoming rookies in the draft.
All of these scenarios are reason for some potential QB trades to take place on draft day or in the weeks leading up to the trade deadline. Teams with an excess of QBs on the roster should look to deal the dead weight now and get value back while they still can.
Based on the likelihood of them being traded, here are 11 QBs who could be moved this season.
Begin Slideshow

»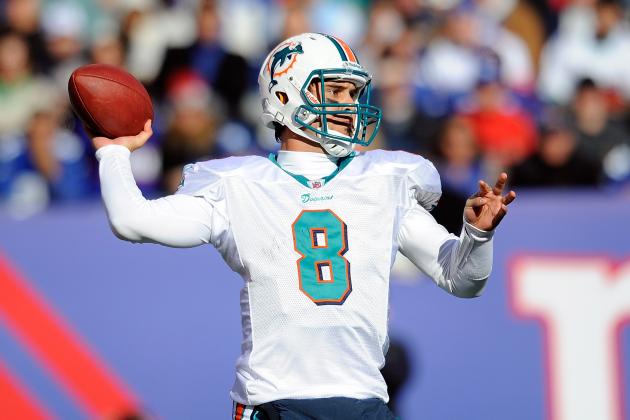 Patrick McDermott/Getty Images
QB Matt Moore - Miami Dolphins
Matt Moore's dismissal from the Miami Dolphins is strictly speculation right now. The Dolphins signed former Jacksonville Jaguars QB David Garrard to a one-year contract last March to compete with Moore for the starting job. On top of that, Miami is seriously contemplating selecting Texas A&M QB Ryan Tannehill in this year's draft.
Moore excelled in his first season with Miami, throwing for almost 2,500 yards and 16 touchdown passes. Garrard, on the other hand, took the year off after being released by Jacksonville five days before the start of the 2011 season. Chances are that Moore will get first crack at the starting job, but Garrard's previous experience makes him a viable candidate to lead a team as well.
Moore being traded really comes down to two scenarios, one being his performance in camp and the preseason. If Moore wins the starting job and keeps Garrard on the bench, then it's likely Miami will keep him. But if Moore struggles and loses the job to Garrard, then Miami should look to get value for him. Moore is scheduled to be an unrestricted free agent after the 2012 season.
The second scenario of Moore being traded comes with Miami's decision in the draft. Tannehill's stock has been rising in the first round, and it's probable he may not be available at the No.8 slot. The Cleveland Browns have also been showing interest in Tannehill with the No.4 pick. If Miami is truly set on drafting Tannehill, then Moore could be used as trade bait.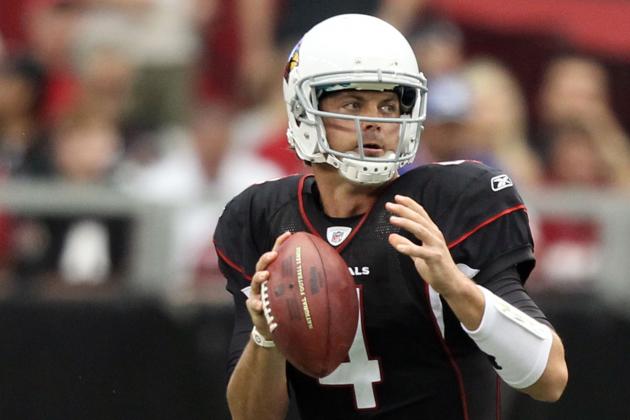 Christian Petersen/Getty Images
QB Kevin Kolb - Arizona Cardinals
The Arizona Cardinals were one of several teams in the Peyton Manning sweepstakes even though they signed Kevin Kolb to a five-year deal in 2011.
In his first start with the Cardinals, Kolb played like a QB deserving of a $63 million contract. The former backup to Michael Vick in Philadelphia threw for more than 300 yards with two touchdowns and had a passer rating of 130.0 in a 28-21 win against the Carolina Panthers.
Too bad that success didn't last over the course of the season. Kolb lost several consecutive games following that win and succumbed to injuries at the halfway point of the season. Second-year backup John Skelton took over the reins in November and went 6-2 as a starter.
Arizona waited until the last minute to pay Kolb his $7 million roster bonus after Manning took the Cardinals off his free-agency wish list. While it's definitely possible Kolb could perform better with a full offseason in Arizona, there's still a chance he could be moved before the deadline.
The Miami Dolphins and Cleveland Browns are both in the market for a QB this season, and a 27-year-old veteran would sit better than entrusting a potential rookie with a struggling franchise. That is, unless Andrew Luck or Robert Griffin III is that rookie.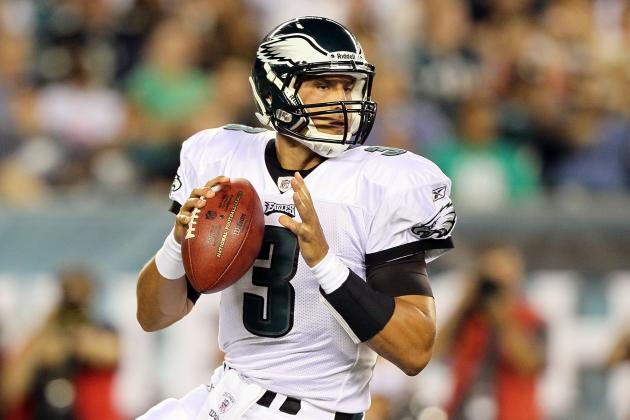 Jim McIsaac/Getty Images
QB Mike Kafka - Philadelphia Eagles
After backing up Michael Vick and Kevin Kolb in Philadelphia during the 2010 season, second-year QB Mike Kafka was forced down the depth chart with the signing of Vince Young in 2011. Because the Young experiment failed miserably last season, the Eagles disregarded Kafka's potential as a backup yet again with the signing of ex-Buffalo Bills QB Trent Edwards in the offseason.
The Eagles' coaching staff raved about Kafka coming out of Northwestern University. In fact, offensive coordinator Marty Mornhinweg said Kafka was the best rookie he had ever had in 16 years—strong words for a fourth-round QB. Nonetheless, Philadelphia continues to doubt his potential by signing more experienced players to be Vick's No.2.
One interesting thing to note about Kafka is that he's no stranger to trade rumors. Just last season, it was reported that Philadelphia had been receiving trade offers for Kafka's services. If Edwards shows coaches he can still play and be a reliable backup to Vick, then Kafka easily becomes expendable.
Jim McIsaac/Getty Images
QB Stephen McGee - Dallas Cowboys
Dallas Cowboys third-string QB Stephen McGee was probably relieved to hear that Jon Kitna was retiring after last season. Kitna's exit left the backup role to Tony Romo wide open for McGee, but the job didn't stay open for long. Dallas signed former Kansas City Chiefs QB Kyle Orton in free agency and reclaimed Rudy Carpenter off waivers.
There has also been speculation that Dallas could be drafting a QB in preparation for Romo's contract expiring after the 2013 season. If that's the case, McGee's days as a Cowboy are numbered.
At the end of this season, McGee will become an unrestricted free agent. There isn't a big market for a No.3 QB this season, but McGee will become a work in progress to any team that pursues him. Dallas will try to get value for McGee, but if there are no takers, he could end up walking after this season.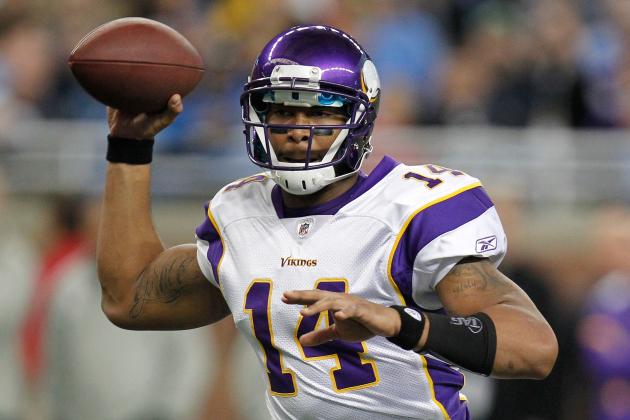 Gregory Shamus/Getty Images
QB Joe Webb - Minnesota Vikings
The Minnesota Vikings have decided that Christian Ponder is their QB going forward, and the re-signing of veteran backup Sage Rosenfels is a pretty good indication that Joe Webb is going to get better opportunities elsewhere.
There's a possibility the Vikings will keep Webb despite the other two QBs, but general manager Rick Spielman has said that Minnesota could go with only two QBs on the active roster and a developmental player on the practice squad. Webb is still a young player with room for growth, but he has improved enough to be considered for more than a role on the practice squad.
Originally drafted as a wide receiver prospect, Webb impressed in his rookie season backing up Brett Favre. Although it wasn't enough to stop the team from drafting Ponder last year, Webb has the talent and skill sets of a young Michael Vick, but he needs to work on his throwing accuracy if he wants to be under center in the NFL. I don't see why teams wouldn't be interested in trading a low draft pick to acquire his services, at least.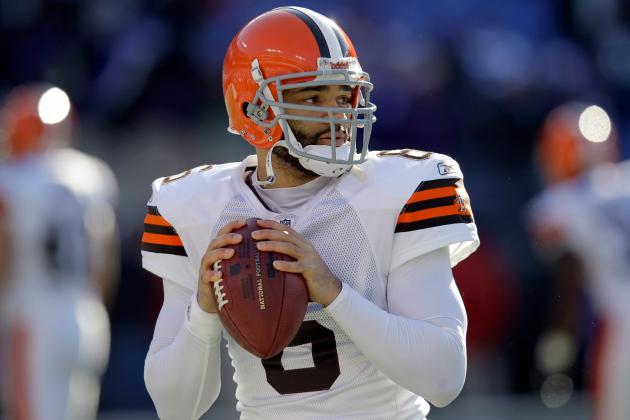 Rob Carr/Getty Images
QB Seneca Wallace - Cleveland Browns
The future of both Seneca Wallace and Colt McCoy in Cleveland rests on what the team does in the draft. McCoy looked average in his first full-fledged season as the starter, and Wallace has shown that he can't be anything more than a backup at this point in his career.
The Browns have two very big decisions to make with the No. 4 and No. 22 picks in the draft. First of all, they need to decide if they want to stick with McCoy as the starter in 2012. That alone will tell us what they have in mind for the draft.
Cleveland has been linked to Alabama running back Trent Richardson, Oklahoma State receiver Justin Blackmon and Texas A&M QB Ryan Tannehill for the No.4 pick. Blackmon and Richardson have the biggest upside at their positions while Tannehill has been viewed by teams as a future starter.
Cleveland also has the 37th pick in the second round, and some intriguing QB prospects should still be available at that spot as well. If Cleveland does take a QB at some point, then Wallace's future as the backup will come to an end. Wallace is better suited to be a No. 2 QB on a team rather than a No. 3.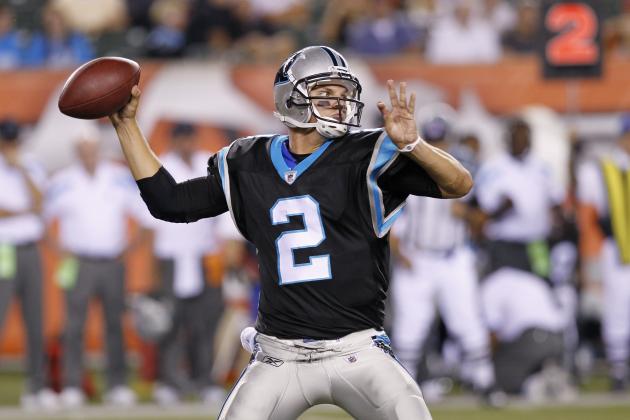 Joe Robbins/Getty Images
QB Jimmy Clausen - Carolina Panthers
It only took one season for 2011 No.1 overall draft pick Cam Newton to show the Carolina Panthers he's ready to be the starter. Newton's breakout season shut down any chance of Jimmy Clausen getting another chance at the job.
To make things worse, the Panthers re-signed veteran Derek Anderson to be Newton's backup once again. I wouldn't say Clausen is a lost cause yet, though. At just 24 years old, Clausen hasn't had the time to properly develop in the NFL.
With the QB situation already set in Carolina, I wouldn't be surprised to hear that the Panthers are shopping Clausen around this season. At such a young point in his career, Clausen is still a player worth taking a chance on.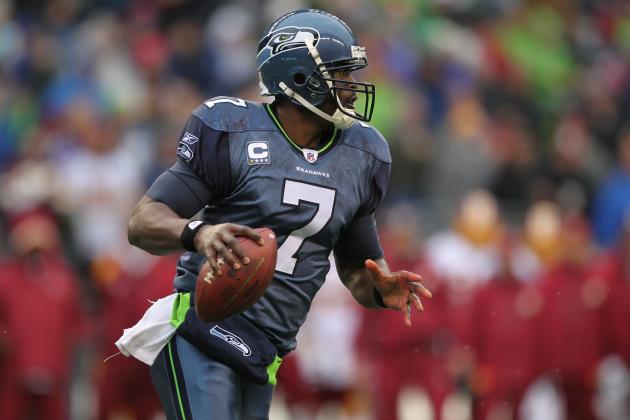 Otto Greule Jr/Getty Images
QB Tarvaris Jackson - Seattle Seahawks
Tarvaris Jackson just can't seem to catch a break getting a consistent starting job in the NFL. As a member of the Minnesota Vikings, Jackson had his chances to win the job but struggled with consistency. Brett Favre's arrival in 2009 put an end to any more chances for Jackson in Minnesota.
Then, in 2011, Jackson tried his luck with the Seattle Seahawks. The former second-round pick had the best season of his career, throwing for more than 3,000 yards and 14 touchdown passes. Not a great year compared to the rest of the league's starting QBs, but Jackson was thought to have done enough to keep the job next season.
That all changed when Seattle signed Green Bay Packers backup Matt Flynn.
Flynn was one of the hottest QBs in free agency next to Peyton Manning, but he has a lot to prove after having just two successful NFL starts in his career. Flynn's stock hit the roof after a six-touchdown performance against the Detroit Lions last season.
Jackson and Flynn are both set to compete to be the starter in 2012, but Flynn says he's ready to win the job in Seattle. Should Flynn follow through on that prediction, Jackson becomes another wasted asset in Seattle. Something tells me he wouldn't be too happy taking the back seat yet again.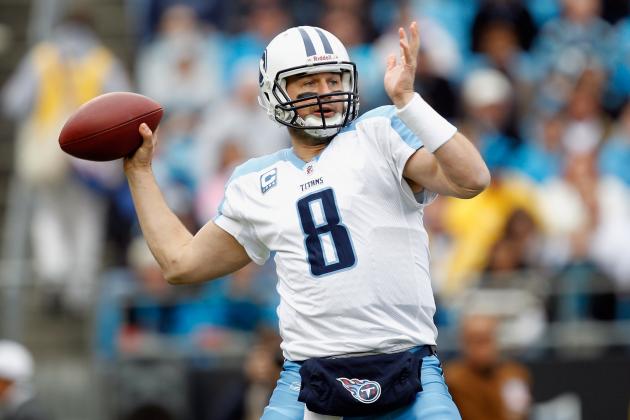 Streeter Lecka/Getty Images
QB Matt Hasselbeck - Tennessee Titans
Thirteen-year veteran Matt Hasselbeck is more than qualified to be a leader for the Tennessee Titans, but the team still heavily pursued Peyton Manning this offseason. Then again, who could blame them? The Titans were the favorite to land Manning with Tennessee being his collegiate home.
After Manning made the final decision to sign with the Denver Broncos, the Titans were left with Hasselbeck, 2011 first-round pick Jake locker and second-year man Rusty Smith. Hasselbeck had a decent year by his standards, throwing for over 3,500 yards with 18 touchdowns passes and 14 interceptions. Meanwhile, Locker got a small taste of the NFL, throwing for 530 yards, four touchdown passes and no interceptions through three games.
At some point, Tennessee will want to hand over the reins to its QB of the future in Locker. The Titans wouldn't have drafted him with the No. 8 overall pick in 2011 if they didn't have plans for him being the starter eventually. Hasselbeck could really benefit from a team looking for an experienced backup or an immediate starter. If Locker finds a way to win the job early in the season, Tennessee could be fielding offers for Hasselbeck midseason.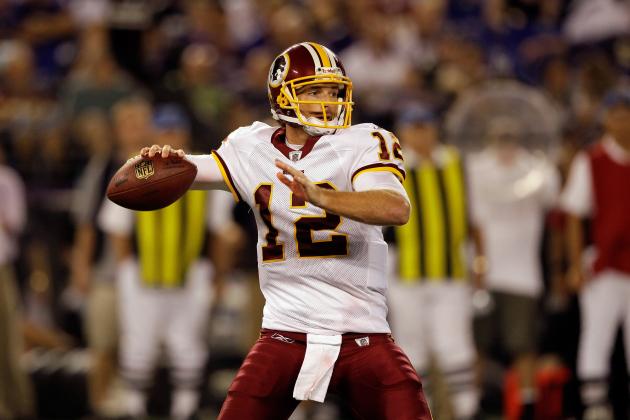 Rob Carr/Getty Images
QB John Beck - Washington Redskins
The QB battle in Washington during the 2011 preseason was fierce between John Beck and Rex Grossman. Redskins head coach Mike Shanahan waited until the very last minute to choose a starter, handing Grossman the job just six days before the first regular-season game. Beck, however, did get some starts after Grossman struggled.
Neither man played well enough to keep the Redskins from finishing the season 5-11, and now a new era is set to begin with Robert Griffin III presumably coming to Washington in April.
With Grossman already re-signed to a one-year contract for this season and a rookie coming through the draft, Washington will most likely be shopping Beck to possible suitors in need of a solid backup. Beck is scheduled to be an unrestricted free agent after this season, and Shanahan has already shown he has trust in Grossman to lead this team.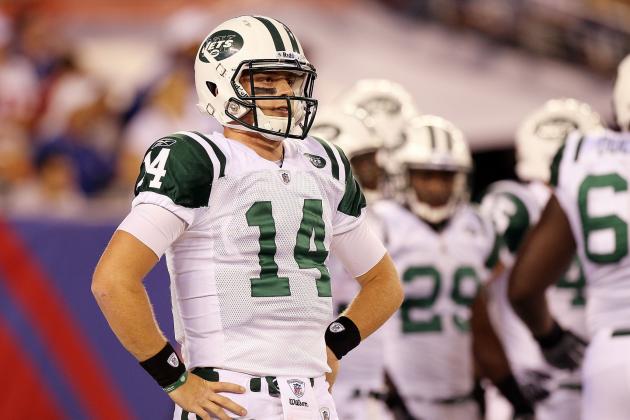 Jim McIsaac/Getty Images
QB Greg McElroy - New York Jets
The mess in New York last season was ugly, to say the least. The Jets missed the playoffs, and the team imploded internally.
The player who suffered the most punishment was QB Mark Sanchez. There was speculation that the Jets weren't confident in his abilities as the starter, which prompted the trade for one of the biggest names in the NFL: Tim Tebow. Upon hearing that news, newly-signed backup Drew Stanton demanded a trade to another team. Stanton knew that Tebow's arrival meant that he would never set foot on the field.
Stanton got his wish, and he was shipped to the Indianapolis Colts. One backup got out, but the other still remains. Greg McElroy spent most of his rookie season on injured reserve, but he figured he would have a chance to compete for the backup role when he returned next season.
Not only is there stiff competition ahead of him, but McElroy isn't exactly the most well-liked player in the Jets' locker room these days. The rookie publicly criticized his own teammates for being selfish on an Alabama radio show. For his own well-being, the Jets should consider trading McElroy to a team willing to develop him.