NFL Draft 2012: Jim Irsay's 'Open-Minded' Approach Another Example of Empty Talk
April 7, 2012

Sean Gardner/Getty Images
Jim Irsay's tweets and public promises about the Indianapolis Colts and their future represent empty rhetoric. All such communications from the Colts owner should be classified as Ir-Say going forward.
The most recent example of Ir-Say is this tweet concerning the Colts' draft plans:
ColtsFans,roster reshaping exciting n producing a very physical MONSTER!Things have always pointed toward #12 but eval process is OpenMinded

— Jim Irsay (@JimIrsay) April 7, 2012
Really, Jim?
Everyone with half a brain knows the Colts are selecting Andrew Luck with the top pick. What do you take us for?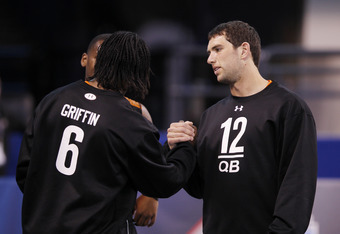 Joe Robbins/Getty Images
Even Robert Griffin III knows Jim is full of Ir-Say. This could be the reason the Heisman Trophy winner declined a private workout with the Colts, as tweeted by the Indianapolis owner. Why risk injury or a poor showing working out for a team who isn't going to draft him anyway?
Good job, RG3—don't believe the Ir-Say.
Think back, or allow me to refresh your memory.
Before the inevitable Peyton Manning release took place, Irsay was quoted by the LA Times saying,
"We can make it work if he wants to be here. We'd be excited to have him back and finish his career with us."
Did anyone watching that final press conference ever doubt that Manning wanted to remain a Colt?
Me neither...Ir-Say.
Lorenz Arguello of Business Insider Sports Page points out that Manning and Irsay had different opinions about what caused Manning's departure:
Colts owner Jim Irsay spoke first saying "salary cap problems" and the team's "rebuilding" status were to blame for the split.

But then in answering a reporter's question, Peyton had this to say:

"Contract and the money was never a factor."
Which one is it?
More Ir-Say.
Just like Irsay's desire to let Manning decide his path was untrue, so is his apparent "open mind" about the use of the top pick. It would take some major gall to take RG3 over Luck at this point. 
You have released one of the greatest QBs in league history. Replacing him with a dynamic athlete—one whom many folks are still unsure of—would not fly.
We know it, RG3 knows it and so does Jim Irsay. This is a pointless tweet and declaration. Does he want attention that badly?
Somebody take Irsay's smart phone from him so that we're spared any more examples of Ir-Say.