Orlando Magic: Why Dwight Howard's Antics Have Ruined Their Season
April 7, 2012

A franchise player doesn't give up when times are tough. A franchise player steps up his game when his teammates need it most. A franchise player isn't a distraction; he's a force that brings everyone on the team together.
Dwight Howard isn't a player I'd want to build my franchise around. He's a guy that's proven to be an unstable disturbance among his team.
According to Stan Van Gundy in a press conference before the Magic's game against the Knicks last Friday, Howard has told ownership that he wants the head coach to be gone. If this is true, which based on Howard's reputation is likely, then this is just another in a long line of selfish acts by the Magic center.
During the actual game against the Knicks, Howard was a complete no show. He appeared disinterested throughout the contest and scored just eight points including zero in the first half.
Howard is easily the league's most talented big man. There are few quality centers in the league, and Howard should be dominate on a nightly basis. The pedestrian performance he put up against the Knicks can only be attributed to the fact that he simply didn't care.
Howard is supposed to be the leader of the Magic. Why would any of his teammates follow a player he doesn't exude all his effort game after game?
Not only does Howard not bring his A-game on a nightly basis, he also has been a major distraction this season.
Until a few weeks ago when he was forced to make up his mind, the dominating headline in the NBA this season was where was Dwight Howard going?
Howard gave the Magic a list of team's he'd want to be traded to and told them these were the only franchises he would deal with. It's not Howard's decision where he gets traded to. The Magic have a responsibility to their fans to look for the best deal possible for the franchise, and not just simply appease Howard's wishes.
After months of changing his mind, Howard finally decided he wanted to stay in Orlando. You would think Howard would want to sign a long-term extension with the Magic so he could end all the drama and fully commit to the team.
That's not how Dwight does things. He instead committed to the Magic only until the end of next season, meaning he will become a free agent in 2013. That means next season we will be forced to once again go through the soap opera of whether Dwight will stay or go.
If a team doesn't have the commitment of their best player, they are doomed to fail. The Magic got out off to a great start this season. They were somehow able to fight through all the distractions and make their way to the third best record in the Eastern Conference.
However, a team can only take so much. The Magic have lost five straight games and have fallen to sixth place in the conference.
There have been other examples of elite players becoming a distraction. Prior to the '08 season, Kobe Bryant made headlines after requesting a trade from the Lakers. The team had struggled ever since Shaquille O'Neal left and Bryant seemed to have given up hope that they would ever become a championship contender.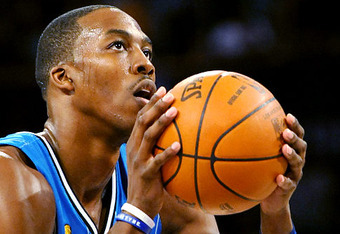 As opposed to Howard, Bryant was able to put his frustrations aside when the season began and his attention and effort was solely on winning. The Lakers were able to make a major acquisition at the deadline by acquiring Pau Gasol, and made it all the way to the NBA finals that season.
The Magic were unable to even consider making any moves to improve their roster at the trade deadline this season because they had to focus their attention on keeping Howard. The focus for Howard hasn't been on winning, his focus has been on getting his way no matter what affect it has on the team.
Dwight Howard is exactly what fans hate about professional athletes. He is supremely talented, but also selfish and self-centered and his primary focus is on his own needs instead of simply winning.