NBA Draft 2012: 5 Players Who Should Have Stayed in College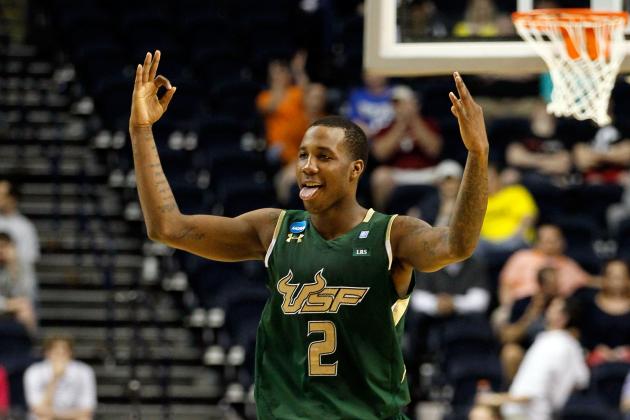 Kevin C. Cox/Getty Images
South Florida's Victor Rudd Jr. is one player who would have benefited from some more time in college.
Every year, the NBA Draft is full of players who were exceptional college basketball players. Players like Derrick Rose, Kyrie Irving and, in the case of 2012, Anthony Davis were all destined to entertain us for one season before taking their talents to the NBA.
But for every Irving, there is a Tobias Harris. Some players that leave the college ranks early and leave us all wondering why they would make such an enormous jump when they simply aren't ready.
As of this writing, 23 underclassmen have declared for the 2012 draft, and the balance between "no-brainers" and "head-scratchers" is just as even as always.
South Florida's Victor Rudd Jr. (pictured above) may be the leader of the "head-scratcher" group, but here are five more players that I believe are leaving the most on the table by leaving early for the NBA.
Begin Slideshow

»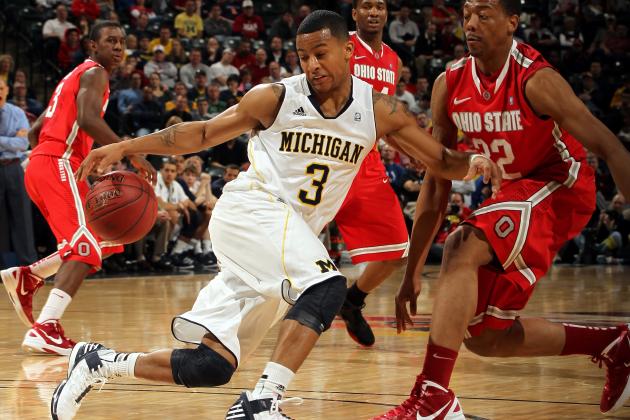 Jonathan Daniel/Getty Images
Trey Burke split the Big 10 Freshman of the Year honors with Indiana's Cody Zeller.
The Big 10 Co-Freshman of the Year, Burke led the Wolverines in scoring (14.8 PPG) and assists (4.6 APG) this season, while asserting himself as a leader for a Michigan team that overachieved. He managed to strike a balance between scoring and facilitating that we rarely see from such young players.
Burke is a perfect Big 10 point guard because he shoots the ball well (43.3% FG) and doesn't turn the ball over too much. He is also a very good perimeter defender, which, as we saw with Ohio State's Aaron Craft, is invaluable for winning games in that conference.
Unfortunately, Burke is still just a little too small. At 5'11" and 180 pounds, he would be on the low end of the spectrum for NBA point guards. A few more years in college could have worked to negate this as he get stronger and learned to use his body to score against larger defenders.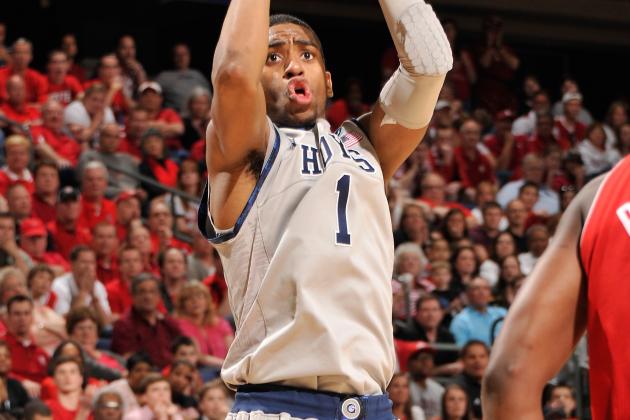 Jamie Sabau/Getty Images
Hollis Thompson was the Hoya's second leading scorer in 2012.
Thompson was the youngest of an experienced group of Hoya players who made a run at a title this year but fell just short. Along with Jason Clark and Henry Sims, both seniors, Thompson led Georgetown to a fine season that ended prematurely (again) with a loss to North Carolina State.
Thompson had a good season, averaging 12.8 points per game and leading the team in three-point shooting at 43%, but his game has always lacked that killer instinct that you like to see from future NBA players. At 6'8" and 212 pounds, Thompson certainly has the body for the NBA, but I'm not sure he has the mind.
Another year at Georgetown would have given Thompson a chance to be "the man," as the Hoyas will be much younger next year. Thompson and Otto Porter would have formed a tandem that would have been fun to watch, and Thompson would have helped in the growth of this new class.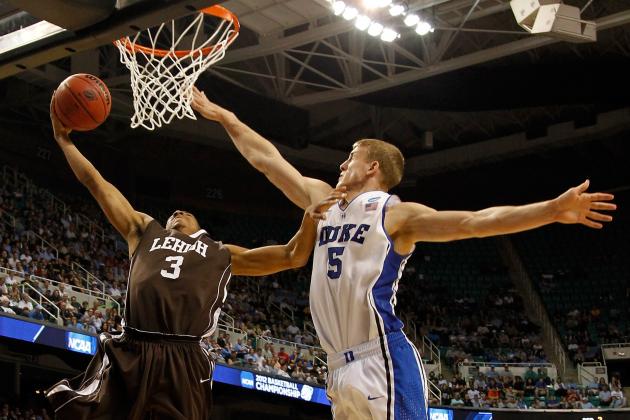 Mike Ehrmann/Getty Images
C.J. McCollum was electric during Lehigh's second-round upset of Duke.
McCollum was one of the darlings of the NCAA tournament after leading Lehigh to an upset of second-seeded Duke in the second round. McCollum showed off his sweet shooting stroke and his big-game demeanor as he scored 30 points on the biggest stage.
McCollum has the body to play point guard in the NBA (6'3", 190 pounds) but his game lends itself more to the shooting guard position. Without a ready-made NBA position heading towards the draft, McCollum will likely fall further than he would have had he stayed an extra year.
This situation is not unlike that of Stephen Curry a few years ago. Curry burst onto the scene during the NCAA tournament and proved to everyone he could score at an elite level. However, Curry's frame meant he would need to play the point in the NBA, so he went back and improved his point guard skills.
McCollum would have benefited from another year of honing his skills as a floor general, which would make him more appetizing for NBA teams.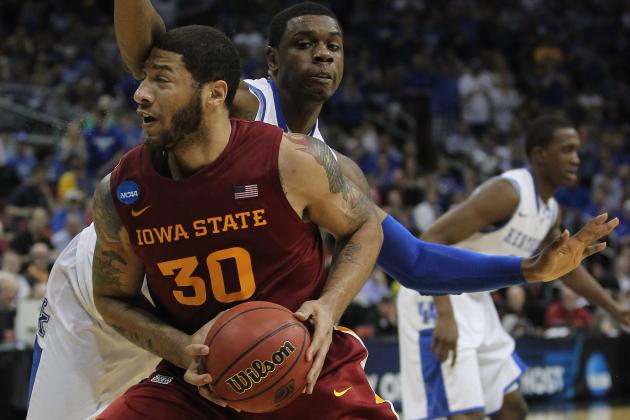 Jonathan Daniel/Getty Images
Royce White made a name for himself with several good games during the NCAA Tournament.
White falls into that dangerous middle ground where he is too small to be an NBA power forward but he does not have the skill set to play the small forward. We have seen this many times over the past few years with some players finding a way to make it through.
Players like Glen "Big Baby" Davis and Brandon Bass have done so through developing a mid-range game, while players like Kevin Love and Kenneth Faried have carved out niches as elite rebounders. White would appear to fall into the latter category after averaging 9.3 rebounds per game this year at Iowa State.
White began his college career at Minnesota in 2009-10, but left the team before any competition had taken place and transferred to Iowa State. He then sat out last season as a redshirt before playing this past year.
Essentially, White only has one year of college basketball under his belt. He has a lot of potential, and another year or two at Iowa State would have developed him into that mid-range assassin or elite rebounder that would get him on the floor in the NBA.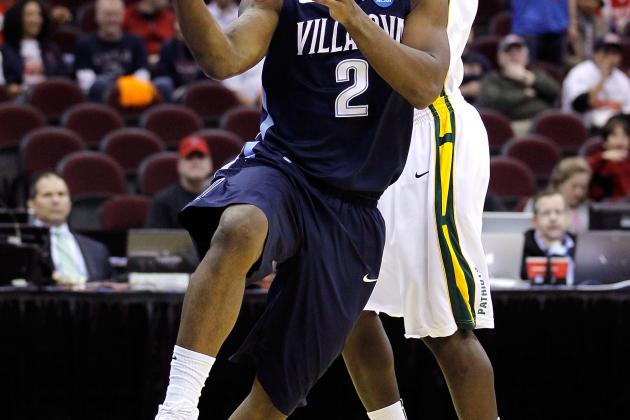 Gregory Shamus/Getty Images
Maalik Wayns did not do much to change the perception that he is a shoot-first point guard.
Wayns is what we like to call a "volume shooter." When talking about someone like Kobe Bryant, this title does not carry much weight, but when you apply it to someone who is not one of the elite scorers on the planet, it starts to look a little dubious.
Wayns managed to improve his numbers across the board this year, but his shooting percentages remained too low to justify the amount of shots he takes. He shot 41.4% from the field and 29.8% from three while averaging 17.6 points per game this season.
He is a point guard by position, but a shooting guard by nature. This could lead to problems in the NBA because, as we have seen with Monta Ellis, teams like their point guards to be distributors first and scorers second.
Wayns improved his assist numbers just slightly (4.6 in 2012, 4.5 in 2011), but another year would have given him the opportunity to become a more effective floor general.
Every player could use another year of preparation for the NBA, but these five players had the most to gain. To be an NBA player, you need to do several things exceptionally well. All of these players do at least one thing exceptionally well, and another year would have given them the chance to find out what else they could bring to an NBA team.