2012 Masters Champion: Can Previous Masters Results Predict This Year's Champ?
April 7, 2012

David Cannon/Getty Images
So here's the question: Can how a golfer played in the previous Masters predict how he will do in this year's event? Do first-time winners of the Masters take a similar path to the green jacket? Can we predict the winner based on who is leading after 36 holes?
To see if the stats can help us forecast this year's winner, let's take a look at the past 12 Masters winners (2000-2011) and see what their numbers looked like the previous year before their win, and their standing after 36 holes in the year they won. Can we make any connections?
One to consider: Charl Schwartzel finished in 30th place in the 2010 Masters (his first Masters appearance) and then won it the following year. This year, Jason Dufner is tied for the lead after two rounds. Dufner finished in 30th place last year in his first Masters. Can Dufner repeat Schwartzel's journey to his first Masters?
2011, Charl Schwartzel: The 2011 Masters was only his second Masters. As noted above, the previous year he finished in 30th place. He was six strokes back, at four-under, in 2011.
2010, Phil Mickelson: He finished in fifth in 2009 (Note: He finished in the top ten each year before winning his three Masters). He was at six-under, two strokes back after the second round. This was his 18th Masters start.
2009, Angel Cabrera: Another first-time winner. Cabrera finished in 25th place the previous year. He won in his 10th Masters appearance. He was only one shot out of the lead after 36 holes.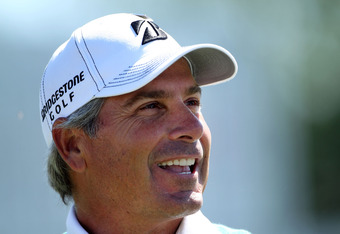 Jamie Squire/Getty Images
2008, Trevor Immelman: Was playing in his sixth Masters, winning for the first time. He was 55th place the previous year. He is the last golfer to lead the tournament after 36 holes to win the Masters.
2007, Zach Johnson: He won this year in his third Masters start. He is one of only five Masters' champs in the last 30 years to win the event and not be under par after 36 holes. He finished in 32nd place in 2006.
2006, Phil Mickelson: Won his second Masters in his 14th start. He finished 10th the previous year. He was four shots back at two-under-par after two rounds.
2005, Tiger Woods: This was the last time he won a Masters. He finished 22nd the previous year and was six strokes back at four-under par after 36 holes. This was the third time Tiger shot 66 in the second round in the years he has won the tournament. This was his 11th Masters.
2004, Phil Mickelson: Phil's first Masters win in his 12th start. He finished third the year before. He was three strokes back at three-under-par at the halfway point.
2003, Mike Weir: A first-time winner, Weir was playing in his fourth Masters. He finished in 24th place in 2002, has was the second round leader at six-under.
2002, Tiger Woods: The third of his four Masters' titles. He won the tourney the previous year. He was four shots back after 36 holes.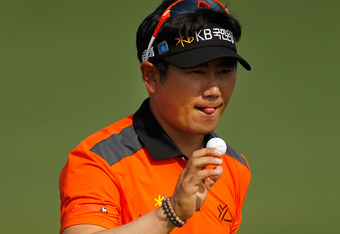 Streeter Lecka/Getty Images
2001, Tiger Woods: He finished fifth the previous year. He was at 136 (eight-under) after two rounds. This was the second time he was at 136 at the midway point; he was at 136 when he won in 1997.
2000, Vijay Singh: Won his first Masters in his seventh start and finished in 24th place the previous year. He was only one shot back after 36 holes.
So did we learn anything? Here are a few stats from the above summaries…
* The average Masters' champion in the last 12 years finished in 20th place the previous year.
* The average Masters' champion in the past 12 years was playing in his 10th Masters.
* The average Masters' champion in the past 12 years was five-under after two rounds.
Do any of this year's leaders fit the above criteria? Fred Couples and Jason Dufner are the only two players at five-under, this year, after two rounds. Four players finished in 20th place last year: Ryo Ishikawa, Ricky Barnes, Y.E. Yang and Martin Laird (Yang is at -1; Laird is +4, Ishikawa missed the cut and Barnes did not play). Of the players who are at even par or better, no one is playing in their 10th Masters. The closest to meeting this criteria is Charles Howell, Ian Poulter and Zach Johnson who are all playing in their eighth Masters, and Lee Westwood and Padraig Harrington who are playing in their 13th Masters.