Fantasy Baseball Waiver Wire: Early Standouts You Must Pick Up
April 7, 2012

Rob Tringali/Getty Images
With the first week of the Major League Baseball season almost coming to a close, it is time to check your waiver wire and pick up that potential bench player who will soon be a fantasy must-start. 
This first player has been amazing in minor leagues and even better in spring training this season, hitting nearly .391. He also just happens to be  the No. 2 bat in the Kansas City Royals' lineup: center fielder Lorenzo Cain.
Now I know what you are going to say: spring training is nothing. However, this 25-year-old will provide a right-handed bat between leadoff man Alex Gordon and No. 3 hitter Eric Hosmer, both lefties. This will skyrocket Cain's fantasy value as he will not only receive more at-bats but he would be on base in front of more accomplished hitters. 
Cain also has a ton of upside in terms of power, speed and can hit for a high average as well. He's projected to hit 15 home runs this season and has potential to get 20-plus stolen bases and a .280 batting average. He has had seven successful seasons at the minor league level with a career batting average of .295.
Even in the major leagues, Cain didn't sweat: He had a batting average of .306 with seven stolen bases in just 43 games playing for the Milwaukee Brewers in 2010.
Kansas City is giving Cain a full-time gig now and he will get playing time everyday. More importantly, he is owned in just 39 percent of ESPN Fantasy Leagues. 
The second player of today's must-pick-up fantasy stars happened to play 134 games, had over 464 at-bats, hit 16 home runs, drove in 51 RBIs, and had a batting average of .259 while battling hand and wrist injuries all throughout last season: Texas Rangers first baseman Mitchell Moreland.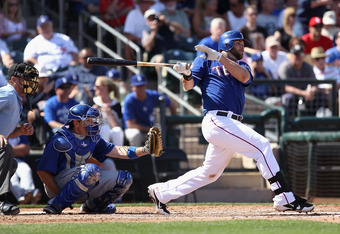 Christian Petersen/Getty Images
This power hitting lefty was on fire in the early part of last season before fading down the stretch due to the hand and wrist ailments mentioned above.
Moreland had surgery in the offseason to repair those injuries and is back to 100 percent and will look forward to getting a ton of at-bats this season. 
The trouble with Moreland is, because he is left-handed, he struggles against left-handed pitching: In his career against lefties, he's hitting just .229 with one home run and 13 RBI in 131 at-bats. So be prepared to play him on a match-up basis.
That was evident when Rangers manager Ron Washington took Moreland out of the lineup this past Friday because the Chicago White Sox were starting left-hander John Danks, and Washington said he wanted as many right-handed hitters in the lineup as possible.
Moreland is a worthy pickup, especially against right-handed pitching and is owned in 81 percent of ESPN leagues. He is also the third most-added first baseman this past week. 
Next on our list, and least-owned (available in 95 percent of ESPN leagues) is San Diego Padres starting pitcher Edinson Volquez.
Baseball fans might remember Volquez from his days as a Cincinnati Red when he was selected to represent the NL in the 2008 MLB All-star game. That season, Volquez was 17-6 with a 3.21 ERA, striking out 206 batters in only 196 innings. Since then, he has been battling injuries, failing to put together a full, healthy season.
The right-handed Volquez came to San Diego in an offseason trade for Mat Latos and moved right into the Opening Day role after Tim Stauffer was placed on the DL. In his first start this past Thursday, Volquez gave up three runs on three hits, but struck out seven batters and was stuck with the loss. 
However, it was a solid performance and the move to San Diego's Petco Park makes this high-strikeout righty worth a look in all formats. Petco Park is a pitcher's ballpark, and as long as Volquez remains healthy he will be a solid starter to add to your rotation.
Stop whatever it is your doing and get on your laptop or cell and immediately pick up one of these fantasy gems. If you are at a family event or church for Easter, just excuse yourself to use the bathroom and then just add, drop and these players will take care of the rest.