Gael Monfils: Ranking the 5 Most Impressive Shots of His Career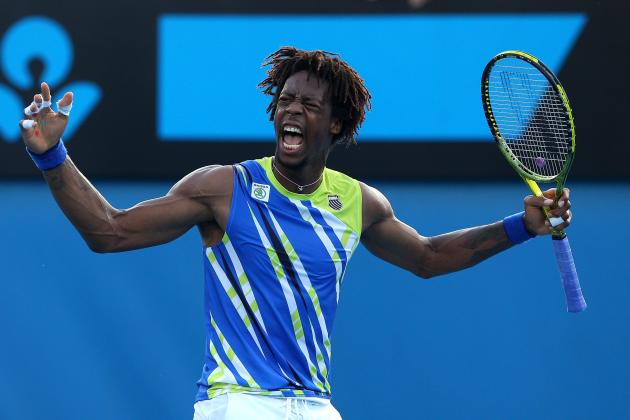 Cameron Spencer/Getty Images

Frenchman Gael Monfils has yet to win any major tournaments, but he is often a fan favorite. What is it that makes watching an average player so entertaining for the tennis world? Most likely, it is the fact that he is widely considered the best showman in the sport.
Throughout his career, Monfils has thrilled audiences with his agility and acrobatics, often winning big points and matches in the process. Here's a look at some of his most impressive shots to date.
Begin Slideshow

»
In this point, we see Monfils exhibit his strength and showmanship while in the air.
With basketball-esque form, he leaps to smash the ball down in such a way that Grigor Dimitrov physically cannot reach it. He does try, though, and his momentum carries him into the stands.
This shot really exemplifies the Frenchman's ability to win over the crowd with his acrobatics.
In a situation where many pros would have used a tweener, Monfils takes a different approach. He runs it down and snaps his wrist backward to hit a perfect winner down the line.
Had the shot been returnable, it wouldn't have been particularly impressive. However, his ability to punch it right down the line away from his opponent without looking made it a truly phenomenal point.
Once again the amount of power that Monfils is able to produce with his feet off the ground is insane. He comes up to the net and hits an absolutely perfect forehand while completely airborne.
The form was impeccable, and his opponent simply had no chance of returning that ball.
This point is undoubtedly one of Monfils' finest. His first two shots after the return were not easy gets by any means, and most players on the tour would probably have given up.
Instead, Monfils pops the first over the net with a sliding one-handed backhand, and then makes an unbelievable dive after shifting his momentum on a dime.
Almost as impressive in this point is his ability to quickly get back on his feet and rush to the net, where he uses an approach and a smash to put the point away.
This shot, from the 2011 U.S. Open, is definitely the most awe-inspiring of Monfils' career so far.
It isn't the prettiest shot by any means, but the fact that he is able to make any kind of solid contact underneath his legs in a sitting position—in the air—is simply unbelievable. And he wins the point!
Unfortunately for the crowd, which was understandably on his side for the rest of the match, Monfils couldn't pull off the win in a five-set marathon. One thing is for sure, though, his new fans were thoroughly entertained.