Bulls vs. Knicks: TV Schedule, Live Stream, Spread Info and More
April 7, 2012
Jonathan Daniel/Getty Images
On Sunday, the New York Knicks and Chicago Bulls will meet up in a crucial Eastern Conference clash.
New York is barely hanging on to the eighth and final playoff position in the Eastern Conference, and the Bulls are three games ahead of the Miami Heat for the overall No. 1 seed.
Certainly, for the Knicks, taking care of home court is paramount to make the postseason. They will be in for a tough test on Sunday, however.
Here is everything you need to know.
Where: Madison Square Garden

When: Sunday, April 8 at 1:00 p.m. ET

Watch: ABC

Live Stream: NBA League Pass

Betting Line: No line available

 
Key Injuries (via CBSSports.com)
Bulls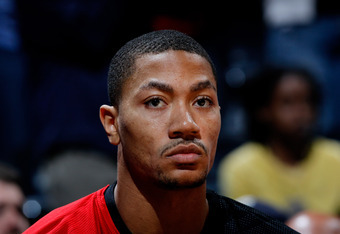 Kevin C. Cox/Getty Images
Derrick Rose, PG: questionable with a groin injury
Knicks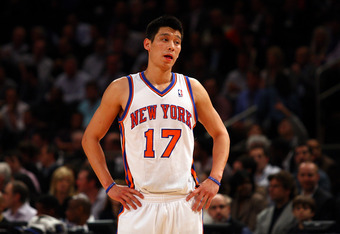 Chris Chambers/Getty Images
Jeremy Lin, PG: out until at least early May with a knee injury
Amar'e Stoudemire, PF: out with a back injury
Jared Jeffries, PF: questionable with a knee injury
Bill Walker, SG: out until at least mid-April with elbow injury
What They're Saying
According to Shams Charania of ChicagoNow, Rose may give it a go on Sunday:
"For sure. If I don't play now, I'm sure [on Sunday]," Rose told reporters after the team's shoot-around Thursday morning.

"I feel a little bit [of] discomfort," said Rose, who was a game-time decision Thursday and will surely be one Sunday. "But if I'm feeling good, I'm definitely going to play.
Most Important Player to Watch for Bulls: Luol Deng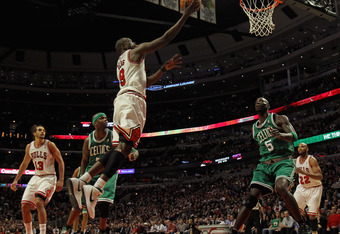 Jonathan Daniel/Getty Images
Luol Deng has scored 50 points in the past two games and has scored over 20 points in four of five. He is averaging 15.7 points per game to go along with 6.4 rebounds and 2.9 assists.
Deng is one of the most active players in the league with how much production he can give on both sides of the floor. He can score, rebound, defend and lead by example.
Without Rose in the lineup, Deng has proved that he can be the leader of the Bulls.
Most Important Player to Watch for Knicks: Carmelo Anthony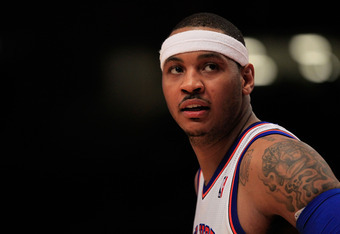 Chris Trotman/Getty Images
Since Lin went down with injury, Carmelo Anthony has looked like his old self. He is averaging 27.6 points per game, including two games where he scored 36 and 39 points.
In those two games, however, Anthony took an average of 27.5 shots per contest.
Without Amar'e and Lin, the Knicks will be most competitive when Anthony is a volume shooter. I'm expecting the same amount of shot production on Sunday.
Key Matchup: Knicks offense vs. Bulls defense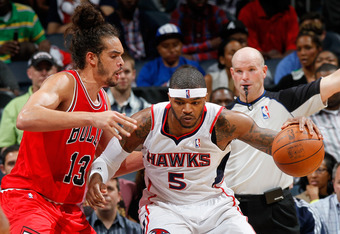 Kevin C. Cox/Getty Images
Both teams find themselves in the middle of the pack offensively, but the Bulls clearly have the edge defensively.
How will New York combat that?
Anthony is going to get his shots up; we already know that. Will he be able to find the open man if a double-team comes? Will he bail Chicago's defense out by producing contested jumpers? Will he be able to find the open man on the perimeter when Chicago's defense focuses on him in the post?
Maximizing possessions by taking care of the ball, taking good shots and scoring in transition will have to be priorities for New York to win its second straight game
Prediction: Chicago 95, New York 90 
Chicago's defense carries it to a victory at Madison Square Garden.