Top Storyline for Each MLB Team Entering the 2012 Season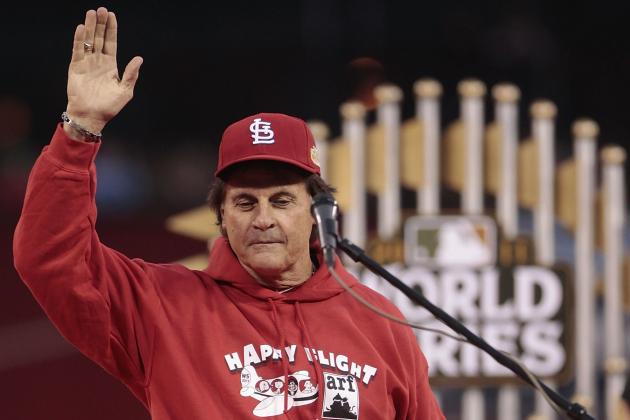 Whitney Curtis/Getty Images
Former Cardinals manager Tony LaRussa
Following a terrific 2011 World Series and an offseason filed with major stories, the 2012 MLB season is finally here.
Almost every team has a glimmer of hope at this point in the year, so it's a good time to look at the top story for each of the 30 major league franchises heading into the new season.
Begin Slideshow

»
Jorge Lemus/Getty Images
Orioles Manager Buck Showalter
This may appear to be an attempt at sarcasm, but it's honestly a legitimate question. The Orioles have been so bad for so long now that it begs the question of whether or not they are still relevant, even to the citizens of Baltimore.
After years of absolutely atrocious management, it does seem like the Orioles at least have a clue. First-year manager Buck Showalter had an immediate positive impact on this team last season by inspiring his players to approach the game in a professional manner and play ball the right way.
The Orioles were fairly competitive until late June last year, when their overmatched talent simply couldn't keep up anymore.
Matt Weiters and Adam Jones both took significant strides towards living up to the hype they had when they first entered the league. Veterans J.J. Hardy and Mark Reynolds also rediscovered their power strokes in 2011, giving the O's an offense worthy of respect.
Unfortunately for Baltimore, a pitching staff that is anything but major league-ready will once again keep it in the AL East cellar.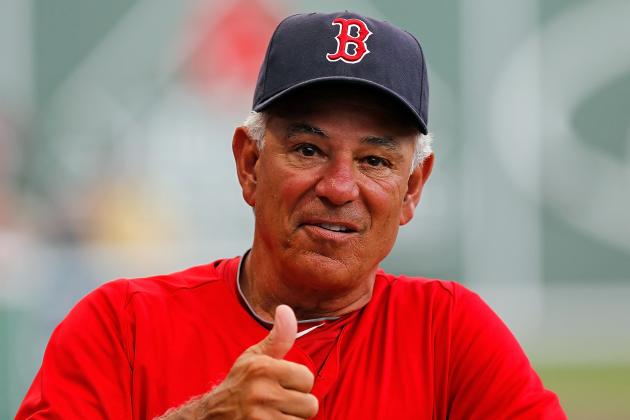 J. Meric/Getty Images
Red Sox Manager Bobby Valentine
Well, that didn't take long. We didn't even make it through March before Bobby Valentine started ruffling feathers in Boston.
First, he didn't enforce his own rule about all players riding the bus to and from games during the spring; starter Josh Beckett took a limo home from a recent game without punishment, as reported by the New York Daily News.
If that wasn't enough, the Boston Globe reported he and Red Sox general manager Ben Cherington were at odds over how to use pitcher Daniel Bard, per CBS Sports. For the sake of my fantasy team, I'm glad Cherington seems to have won this battle for now since Bard will start the season in the starting rotation.
A lot of people questioned whether Valentine's me-first style would play well with a mostly veteran group in Boston. It appears we may not have to wait long to find out the answer to that question.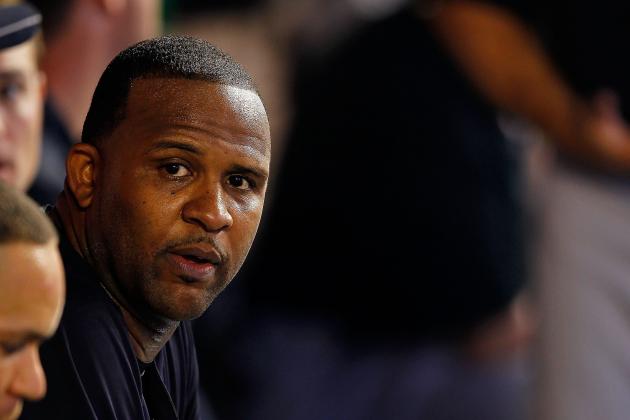 Mike Ehrmann/Getty Images
Yankees Pitcher C.C. Sabathia
The Yankees managed to win another division crown in 2011, but their lack of elite pitching undid them in the postseason. Ironically, the biggest move they made to address the holes in their rotation may end up being the worst.
When New York made the trade with Seattle to acquire young flamethrower Michael Pineda in exchange for top hitting prospect Jesus Montero, it looked like the Yankees had their No. 2 spot in the rotation locked down for the foreseeable future. Now, the New York Times' David Waldstein reports Pineda might not even crack the starting rotation and he's already struggling with shoulder trouble.
Add to that manager Joe Girardi's leaning towards giving 2011 surprise Ivan Nova's rotation spot to Freddy Garcia, the uncertainty surrounding Phil Hughes, Andy Pettite's abrupt decision to unretire, and the trade of A.J. Burnett, and the Yankees' rotation is in a state of flux behind ace C.C. Sabathia.
New York's lineup, while potent, isn't getting any younger, so they'll need to rely more heavily on pitching if they wish to defend their AL East crown. All the turnover makes it impossible to know if that's a reasonable expectation for 2012.
J. Meric/Getty Images
Evan Longoria's 2011 Walk-Off Home Run vs Yankees
The Rays were smack in the middle of 2011's epic final day of the season that may have been the best in baseball history, rallying from a 7-0 deficit in the 8th inning to finally defeat the Yankees in the bottom of the 12th with Evan Longoria's walk-off home run.
With most of their roster returning, the Rays will look to build on last season's success and turn that momentum into a division title.
Longoria should bounce back from what was, outside of his final regular season day heroics, a subpar 2011. The Rays also have the benefit of perhaps the Majors' deepest rotation, which will benefit from a full season of rookie phenom Matt Moore, and the continued development of reigning AL Rookie of the Year starter Jeremy Hellickson.
Add to that the return of onetime Ray Carlos Pena, and a full season of another future star in left fielder Desmond Jennings, and the Rays could be poised for greatness in 2012 and beyond.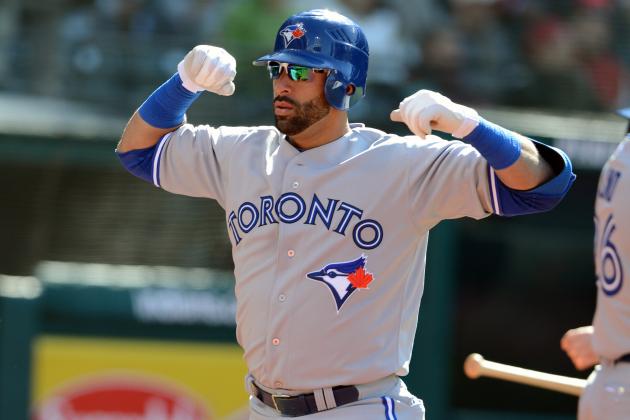 Jason Miller/Getty Images
Jose Bautista
There are other intriguing questions surrounding the Blue Jays, but by August 1st, this may be the only one worth paying attention to.
There's a ton of hype surrounding their young third baseman Brett Lawrie, and plenty of people are predicting a solid year from Colby Rasmus in his first full season north of the border. But even if those two exceed expectations, and first baseman Adam Lind returns to his 2010 form, it may not be enough to challenge the Yankees, Rays, and Red Sox in the AL East race.
Bautista has led the Majors in home runs in each of the past two seasons, despite a 20% drop-off (from 54 to 43) from 2010 to 2011. The trade-off in power came with Bautista becoming a much more complete hitter last season, so I'm sure neither he nor the Blue Jays were complaining.
With Giancarlo Stanton on the rise, Albert Pujols shifting to a more hitter friendly park, Prince Fielder moving to a far worse division, and Carlos Pena back in the place where he resurrected his career, Bautista could see some strong challengers to his reign of power.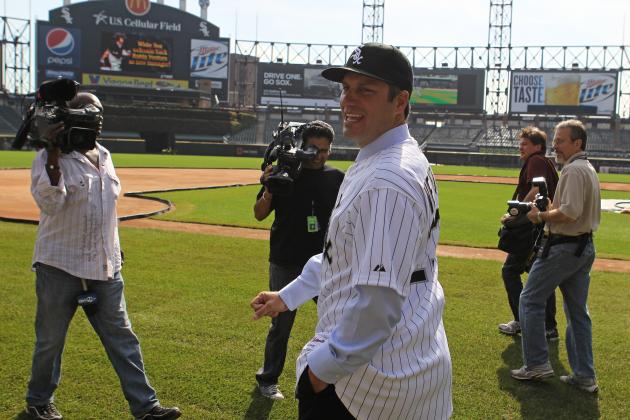 Jonathan Daniel/Getty Images
White Sox Manager Robin Ventura
With polarizing manager Ozzie Guillen taking his talents to South Beach, former White Sox third baseman Robin Ventura gets his first shot at managing at any level as the new skipper for the north-siders. Expectations will not be very high for the team this year, so Ventura should be able to ease into the role.
A best case scenario for the Sox would be for Adam Dunn and Alex Rios to have big bounce back seasons, Paul Konerko to avoid the natural aging process for one more season, and for new starters Brent Morel (3B), Dayan Vicienzo (LF), and Alejandro De Aza to respond positively to full-time duty at the Major League level.
For the pitching staff, it would help to have Jake Peavy once again be among the league's top pitchers, and for talented pitcher Chris Sales to have a seamless transition into the starting rotation.
That's an awful lot to have go right in one season, so Chicago fans shouldn't hold their breath.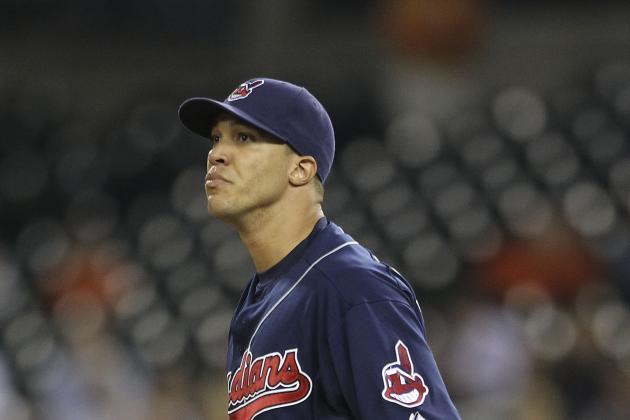 Leon Halip/Getty Images
Indians Starter Ubaldo Jimenez
The Indians got off to a surprisingly strong start in 2011, thanks largely to the development of young shortstop Asdrubal Cabrera. However, injuries and talent eventually caught up to Cleveland as they stumbled to a respectable 80-82 record.
While no one is expecting the Tribe to challenge Detroit for the Central division crown, improvement over last season is not unrealistic.
Cabrera faltered down the stretch, but he should be able to build off of his breakout 2011 success to emerge as the AL's preeminent short stop. Right fielder Shin Soo-Choo is also expected to have a better year after struggling with injuries and personal issues for most of the season.
Young center fielder Michael Brantley filled in adequately for the oft-injured Grady Sizemore in 2011, and should continue to blossom as he enters 2012 as the undisputed starter.
The offense should be solid, but if Cleveland hopes to make significant progress this year, they'll need starting pitcher Ubaldo Jiminez to rediscover the form that made him a Cy Young candidate in 2010. Once he returns from a five-game suspension for throwing at former teammate Troy Tulowitzki,he'll be counted on to stabilize an otherwise unspectacular rotation.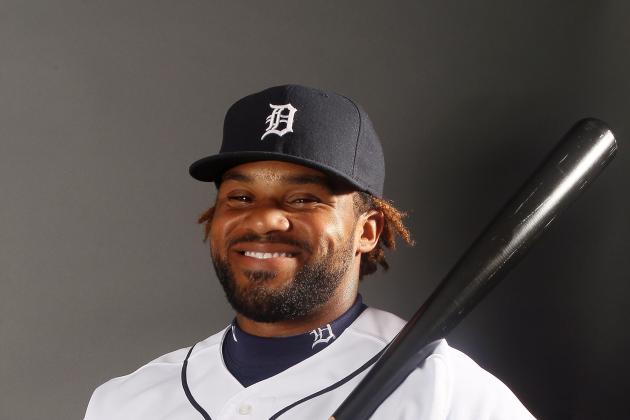 Elsa/Getty Images
Tigers First Baseman Prince Fielder
Whatever lingering memories the Tigers had of the 2006 World Series have been completely erased from their brains. How else to explain Detroit's belief that they can completely ignore an entire facet of the game (fielding), and still compete for a World Series?
If you lose Victor Martinez for the year and have a chance to replace his bat with Prince Fielder's, you gotta jump on that right? Sure, but even the addition of Fielder's bat may not make this team's offense so formidable that an awful defense will get it past the AL's best in the postseason.
Detroit likely won't be tested during the regular season in a weak AL Central, so perhaps the thinking is that they can afford to see how this thing plays out before tinkering with the roster later in the year. That could work out for them, but by the time they figure out how bad the problem is, it may be too late to fix it.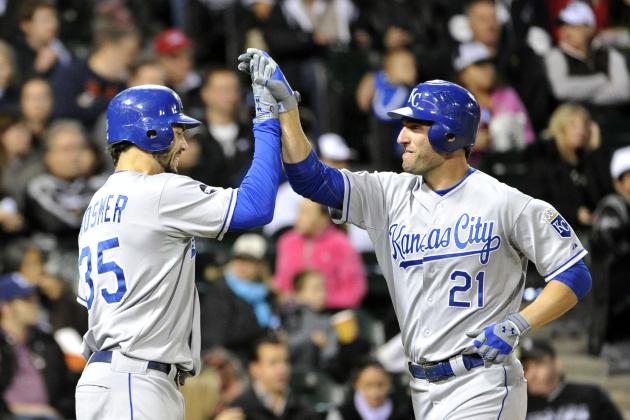 Brian Kersey/Getty Images
Royals First Baseman Eric Hosmer and Outfielder Jeff Francoeur
Even without a salary cap, baseball does a pretty good job of achieving league parity. It's not on par with the NFL, but MLB seems to be good for having at least one came-out-of-nowhere team make a postseason push every season, and the Royals could be this year's team.
Kansas City made strides last year, so they aren't exactly coming out of nowhere, but they have a couple of young players that could take a big enough step forward to put them in wild card contention through the season's final days.
If players like Jeff Francoeur, Alex Gordon, and Billy Butler simple repeat last year's number's the Royals would be ecstatic. But if that production is backed by the big seasons many predict for first baseman Eric Hosmer and third baseman Mike Moustakas, this team could be scary good!
Even Kansas City optimists will question the ability of the team's pitching staff to hang with the offense, but they don't have to be spectacular for this team to achieve big things in 2012.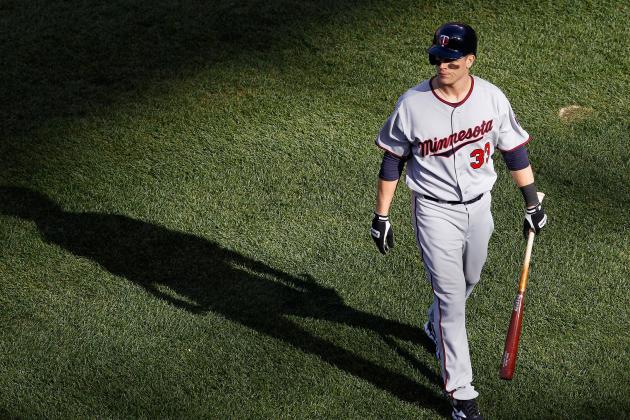 Rob Carr/Getty Images
Twins Designated Hitter Justin Morneau
The biggest questions surrounding the Twins will be the ability of Joe Mauer and Justin Morneau to bounce back from injury plagued seasons that have put their baseball careers in jeopardy.
Morneau has battled a couple of injuries over the past two seasons that have completely derailed his career, but none has been of greater concern than the recurring concussion symptoms that he hopes are finally behind him. He's looked good this spring, and there are hopes that removing the strain of playing first base every day will allow the former MVP to get back on track, as he's still only 30.
Mauer also seems to be healthy following a 2011 during which he suffered from an assortment of ailments, including a leg injury that restricted him to only 82 games played.
He hit .340 this spring so the swing is still there, but the Twins are still planning to use Mauer primarily at catcher, so the risk for recurring injury is still there.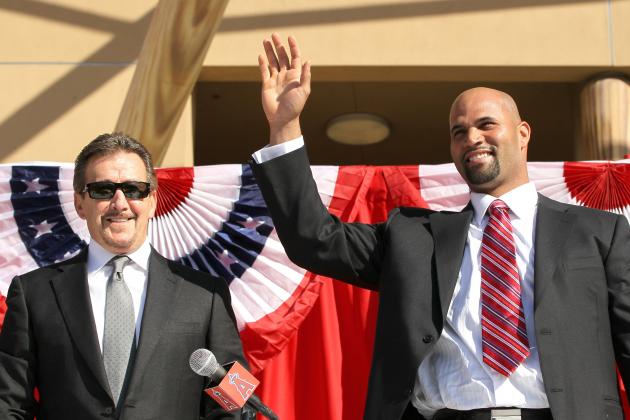 Stephen Dunn/Getty Images
Angels Owner Art Moreno and First Baseman Albert Pujols
If Angels owner Art Moreno is allowed to claim the Los Angeles market, then I can be liberal with my geography as well!
With the offseason acquisition of Albert Pujols to bolster an offense that struggled to consistently score runs last season, 2012 is basically World Series or bust for the Angels.
Age, injury and the switch to a new league have been thrown out as possible concerns about the games best hitter, but his career .347 inter-league average, move to a more hitter friendly home park, and ability to takes "days off" as an occasional DH should ute those concerns, at least in 2012.
The successful return of designated hitter Kendry Morales from a 2010 ankle injury will provide some protection for the newly acquired slugger, but Pujols' presence alone will have a ripple affect throughout the whole lineup.
The Angels also added starter CJ Wilson to what was already one of the AL's best staffs, but if the offense doesn't provide more run support, Anaheim will have little chance of ending the Rangers' stranglehold on the division.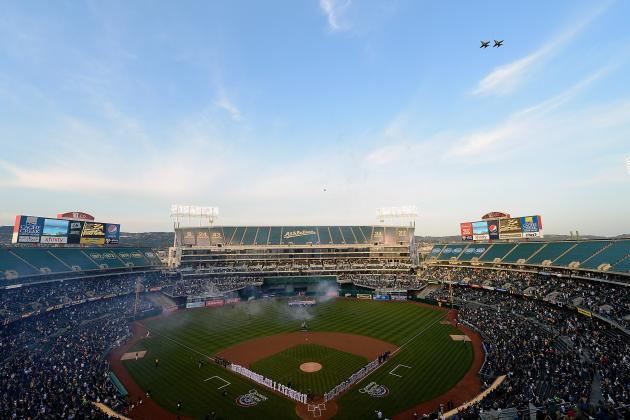 Thearon W. Henderson/Getty Images
Oakland-Alameda County Coliseum
This once-proud franchise is headed nowhere fast, and there's no indication that it will turnaround anytime soon.
Other than speedy second baseman Jemile Weeks, there are no major prospects on the way to provide excitement around a brighter future. The team scrambled to sign Cuban star Yoenis Cespedes to create some buzz around the team, to say nothing of the publicity stunt that is the Manny Ramirez signing.
The A's play in perhaps the league's worst stadium, and their attempts to relocate to new digs in nearby San Jose have been in limbo for the past three years. While they hope to get a final decision on their future plans soon, the lame duck status has led to a rapidly declining fan base, and an owner unwilling to spend significant dollars with so much uncertainty surrounding the franchises future.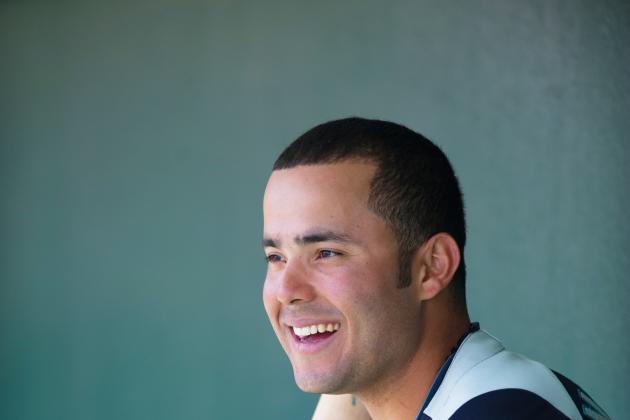 Rob Tringali/Getty Images
Mariners Designated Hitter Jesus Montero
After spending the last few years trying to build a pitching-dominant team that capitalized on the cavernous dimensions of SafeCo Field, the Mariners have suddenly done an about face. I guess they finally realized that the object of the game is to outscore your opponent.
The plan won't work overnight, but the 2012 season should provide a good indication as to whether or not the change in approach can be a successful one.
Seattle traded young flamethrower Michael Pineda to the Yankees in exchange for top hitting prospect Jesus Montero, and are counting on rookie second baseman Dustin Ackley to blossom into a star.
They've also moved right fielder Ichiro Suzuki down to the third spot in the lineup in hopes of reviving a career that seemed to be on the downturn in 2011. A 2012 revival would go along way towards validating the Mariners' new approach to playing winning baseball.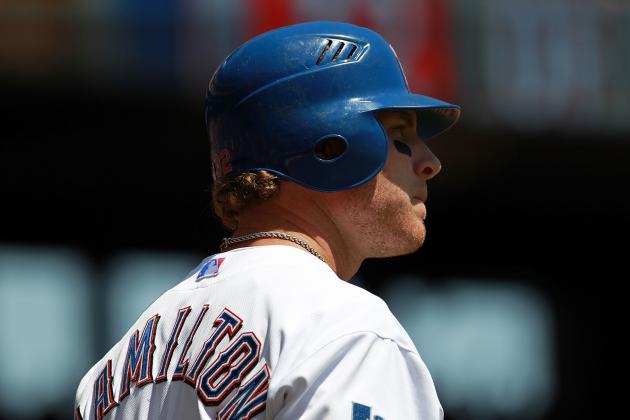 Ronald Martinez/Getty Images
Rangers Center Fielder Josh Hamilton
The numbers don't support the idea that players tend to perform better in their contract years. Yes, many players take their off-season preparation more seriously leading up to a contract year, but there's no evidence to suggest that the more serious approach consistently results in players having a better season.
Much was made of the relapse Hamilton had with his well-documented battle with drug and alcohol addiction this off-season. However, since reemerging in the Majors in 2008, injuries, and not personal demons, have been the only thing preventing Hamilton from putting together a monster season.
Even during a 2010 season during which he played in only 135 games, Hamilton did enough over that time to win the American League MVP.
The Rangers organization has gone above and beyond and reasonable expectation of team loyalty in supporting Hamilton through out his career, and the player has shown appreciation for that. He also recognizes that this is still a business, and that he owes it to himself and to his family to put himself in the best position possible to get one last big contract before his career ends.
If Hamilton has a career year, it'll be due to good health, not some spell cast by the walk year Gods. I have a feeling that after all he's gone through, he will manage to play at least 145 games for the first time since 2008. Whether or not the Rangers decide to reward him for that beyond this year is another discussion for another day.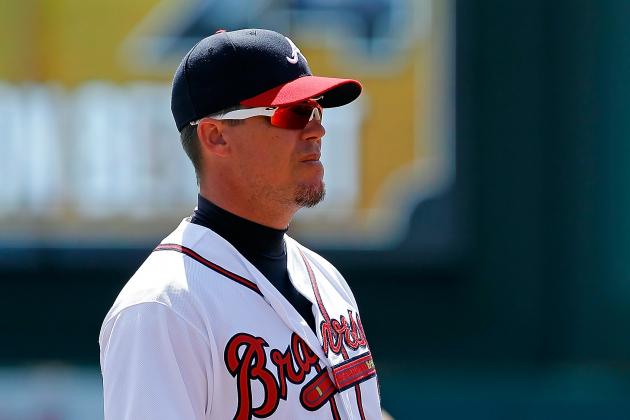 J. Meric/Getty Images
Braves Left Fielder Chipper Jones
In a tearful press conference held on March 22nd, future Hall of Famer Larry "Chipper" Jones announced that 2012 would be his last season in an Atlanta Braves uniform. Of course in true Chipper fashion, that season will have a delayed start thanks to knee surgery that will keep him out at least the first week of the regular season.
Love him or hate him, Jones is definitely one of the last of a dying breed in sports; the rare player of any caliber that spends his entire career with one franchise.
The Braves just missed a shot at the playoffs in 2011 with a September collapse surpassed only by that of the Red Sox, but there are plenty of reasons to believe that this season will turn out quite differently.
Dan Uggla should get off to a much better start than he did in 2011, staff ace Tommy Hanson starts the year healthy, emerging stars Freddie Freeman and Craig Kimbrel look poised to improve on stellar rookie campaigns, and right fielder Jason Heyward can't possible be as awful as he was during his sophomore year.
Put it all together and the Braves could very well send Chipper off with a second World Series ring, the sweetest of parting gifts.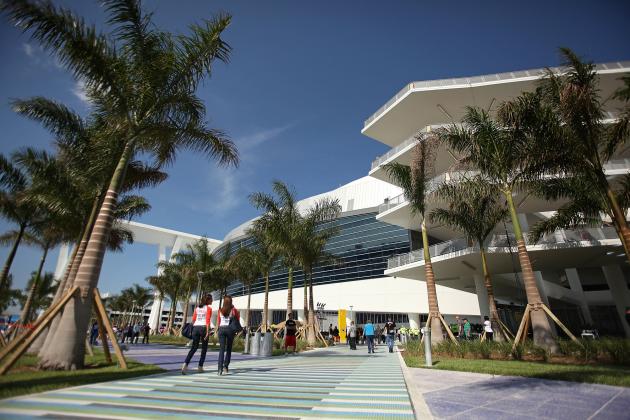 Sarah Glenn/Getty Images
Marlins Park
I'll give the Marlins this much: when they decide to make a statement, they definitely do it Miami style!
From the new stadium, to the multiple free agent signings, and the hiring of flamboyant manager Ozzie Guillen, the team will not want for attention, even if they lack for wins.
The addition of short stop Jose Reyes, the continued growth of young outfielders Giancarlo Stanton and Logan Morrison, and the rejuvenation of Hanley Ramirez should be enough to make Miami's offense as dynamic as any in baseball.
If Josh Johnson can stay healthy as the staff ace, new additions Mark Buehrle and Heath Bell should help stabilize the back of the rotation and bullpen respectively.
Put it altogether and you have a recipe for a NL East contender in 2012.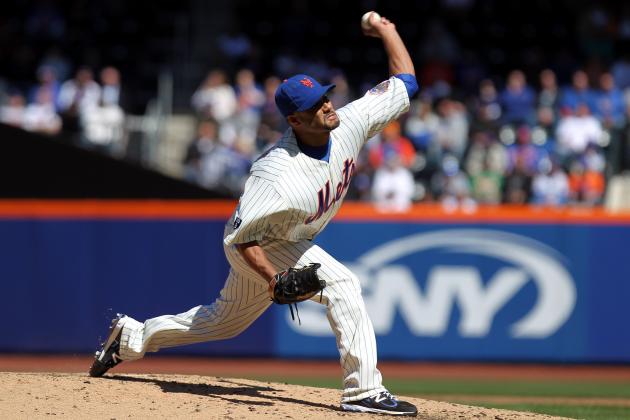 Nick Laham/Getty Images
Mets Pitcher Johan Santana
Even the most optimistic Mets fan has to have his doubts about this one. Santana's Opening Day start against the Braves was encouraging, but how long his health holds up during this 2012 campaign will be paramount to the success of this year's club.
Santana isn't the only former star with health concerns entering 2012. David Wright is hoping to overcome a back injury that cost him 53 games in 2011, and return to his former All-Star form.
Young first baseman Ike Davis also saw his development stunted by an ankle injury that caused him to miss all but 36 games last year. After starting spring training off slowly following a bout with Valley Fever, Davis appears ready to get off to another hot start this season.
It'll be tough for the Mets to avoid the NL East cellar, but if Santana can make 30 starts, and Wright and Davis play 145-plus games each, the Mets may actually surprise their fans.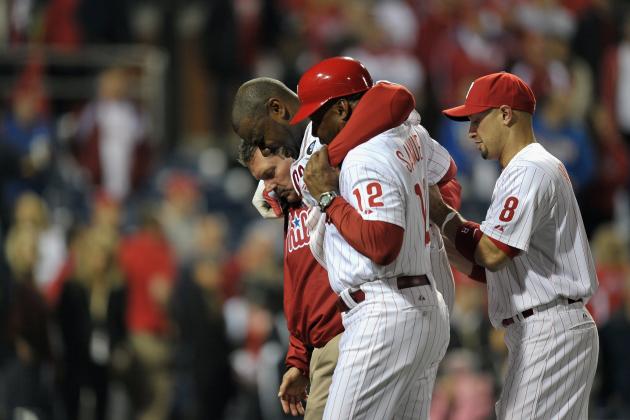 Drew Hallowell/Getty Images
Phillies First Baseman Ryan Howard
Philadelphia failed to capitalize on a franchise best 102-win season in 2011. Now, their ability to even make it back to the playoffs will depend on the ability of two star infielders to return from injuries.
Questions about first baseman Ryan Howard's declining power were already growing prior to the ruptured Achilles tendon that he suffered during the final play of the Phillies season; a Divisional round playoff loss to the St. Louis Cardinals.
The injury is expected to keep him out until mid-June, and there's no guarantee he'll return to the same form that made him a perennial threat to lead the Major's in RBIs and home runs.
If that weren't enough, second baseman Chase Utley has had his career slowed by balky knees, and will miss the start of the 2012 season as he recovers, with n o specific timetable for his return.
Philadelphia's starting pitching is still among the best in the Major's but if Utley and Howard aren't reasonably close versions of their former selves when they return, it's gonna be a long summer for the Phillies faithful.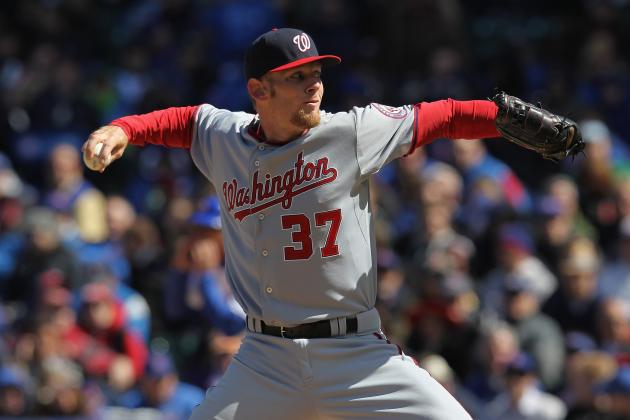 Jonathan Daniel/Getty Images
Nationals Pitcher Stephen Strasburg
Technically, Stephen Strasburg made a successful return from Tommy John surgery last season, making 11 combined starts in the Minor and Major leagues. That small sample size provided just enough to whet our appetites for an entire season of the fully-mended phenom.
Although Strasburg is expected to be on an inning's pirtched limit of about 160 for the 2012 season, he is still the ace of Washington's staff, and will play a critical role in their quest to compete in the tough and deep NL East this year.
Despite the $100 million contract extension given to third baseman Ryan Zimmerman, Strasburg and outfield prospect Bryce Harper are the future of the Nationals franchise, and that future officially started on Thursday with a victory over the Cubs.
With reigning NL Cy Young winner Clayton Kershaw still improving, the trio of aces in Philly still performing at peak levels, and two-time Cy Young winner Tim Lincecum still humming along in San Francisco, the Senior Circuit is stacked with incredible pitchers. It will be interesting to see if Strasburg can do enough in his limited opportunities to be considered one of their peers by the end of the 2012 season.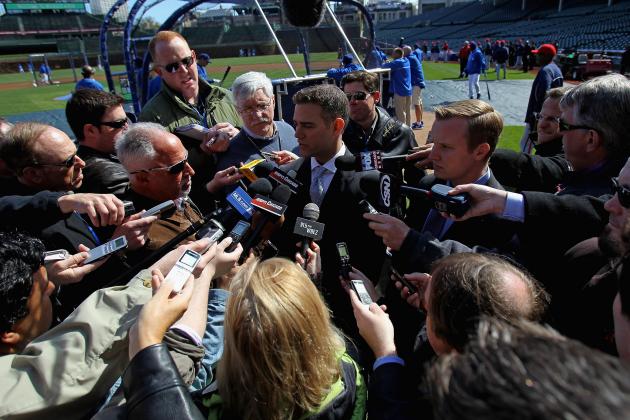 Jonathan Daniel/Getty Images
Cubs President Theo Epstein
This really isn't a 2012 storyline at all, as no reasonably knowledgeable baseball observer expects the Theo Epstein's turnaround of the Cubs to show up on the field this year. However, it's a good bet that the organization will shed the "lovable losers" tag very soon.
After restoring the Red Sox to their long-forgotten glory days, Epstein accepted the only challenge left in baseball that would top bringing the World Series back to Boston.
Epstein cleaned house in the front office and in the club house by bringing in general manager Jed Hoyer and hiring new manager Dale Svuem. He also bid adieu to big named, big contract players like Carlos Zambrano, Aramis Ramirez and Carlos Pena, to expedite the rebuilding process.
2012 will serve as no more than an assessment period for Theo and company. The real fun may not begin until the offseason.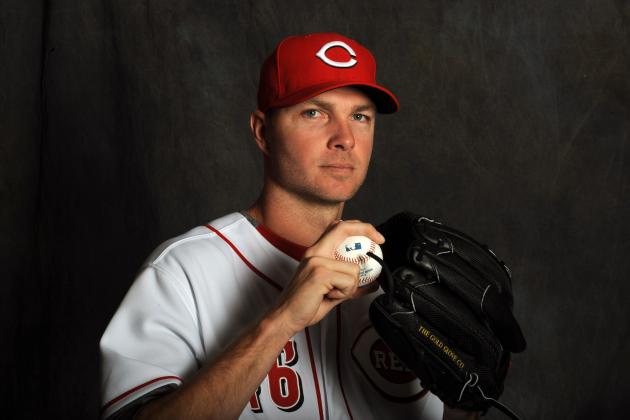 Rich Pilling/Getty Images
Reds Closer Ryan Madson
Despite the 10-year, $225 million contract extension just given to All-Star first baseman Joey Votto, the No. 1 story for the Reds will be there ability to bounce back from the elbow injury that will keep newly acquired closer Ryan Madson out for the entire 2012 season.
The ripple effect that the injury has on the rest of the pitching staff could very well dictate whether or not the Reds can get back to the playoffs after failing to defend their 2012 NL Central division title.
Expected set-up man Sean Marshall will slide into the ninth inning role, while starter-in-waiting Aroldis Chapman will now return to a relief role. This series of moves puts even more pressure on new ace Mat Latos and emerging star Johnny Cueto to an otherwise questionable starting rotation.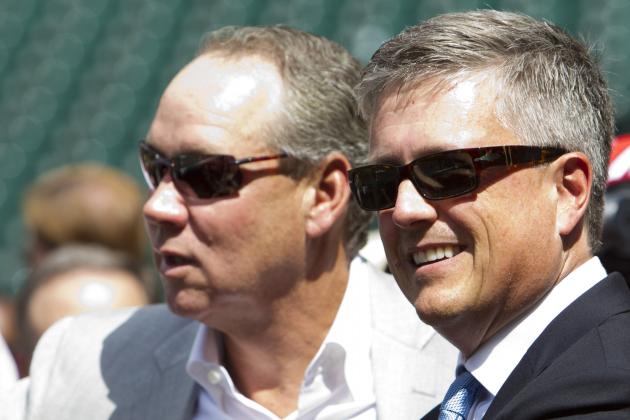 Bob Levey/Getty Images
Astros Owner Jim Crane
You gotta feel bad for the Houston Astros. Not only do they have to suffer the indignity of playing out the 2012 season as lame ducks in the National League as possible the worst team in baseball, but they don't even get to escape Albert Pujols when they move to the AL West next season. No wonder Lance Berkman thinks they got a raw deal.
This move isn't all bad for the Astros' immediate or long term futures. They'll develop a natural intrastate rivalry with the Texas Rangers, one made better by Rangers president Nolan Ryan having pitched for both clubs.
If all goes wrong for the Astros in 2012, and they approach 100 losses, at least they can rejoice in the fact that they'll be free of Carlos Lee's contract after this year.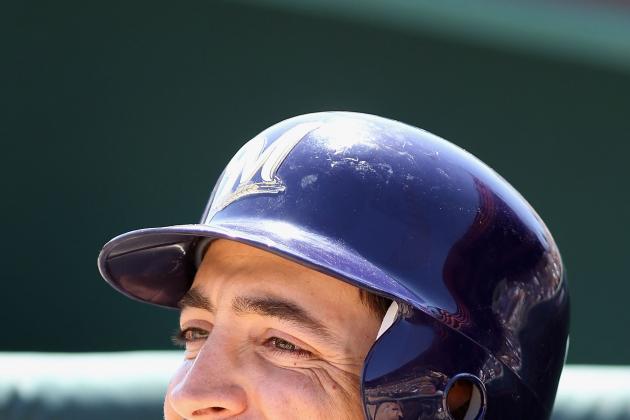 Christian Petersen/Getty Images
Brewers Left Fielder Ryan Braun
Simply put, this season will be tougher for Ryan Braun than any off-season scrutiny he received for his initial positive drug test, and the suspect circumstances surrounding his successful appeal.
Braun is one of the games' brightest young stars—and by all accounts, a pretty nice guy—but no matter how he performs on the field, questions about his connection to performance-enhancing drugs will not go away anytime soon.
If he continues to post the type of MVP-caliber numbers that we are accustomed to seeing from him, cynics will see it as proof that he got away with murder by winning his appeal on what was, essentially, a technicality.
If he falters-and we aren't talking about a major drop off-critics will view it as proof that he is no longer receiving the benefits of illegal substances, never mind the fact that he no longer has Prince Fielder protecting him in the lineup.
I've seen enough over the past few years to have a hard time predicting what we'll get from Braun in 2012, but I was shocked when he fell to me with the ten pick in a recent fantasy draft.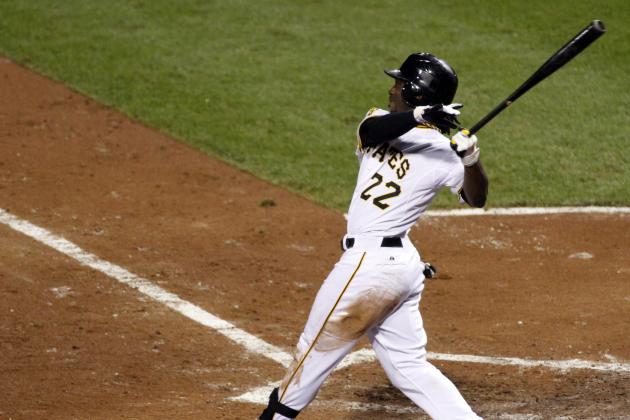 Justin K. Aller/Getty Images
Pirates Center Fielder Andrew McCutchen
But when? The Pirates provided a glimmer of hope for their long-suffering fan base, leading the NL Central as late as July of last season. But they were unable to sustain that success, instead ending 2011 with their 19th consecutive losing season.
Pittsburgh made a number of subtle moves in the offseason that may not be enough to push them to a division crown in 2012, but could prevent the woeful streak from reaching 20.
They traded for beleaguered Yankees pitcher A.J. Burnett who could benefit from a less pressure-filled environment and a return to the National League. They further bolstered the pitching staff by bringing in talented, but oft injured Erik Bedard.
If the two veterans can pitch well, and five tool center fielder Andrew McCutchen can lead the offense, a shot at the wild card could be a possibility.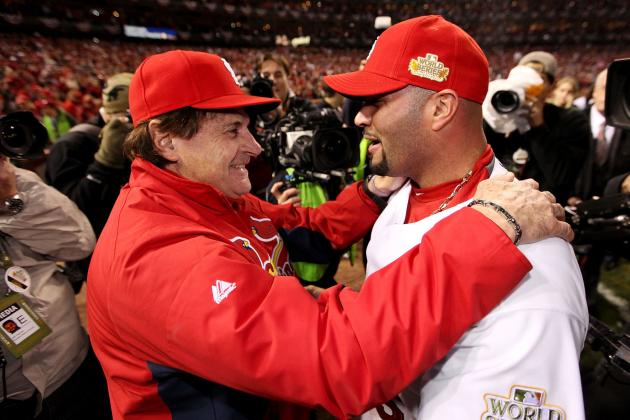 Jamie Squire/Getty Images
Tony LaRussa and Albert Pujols
Cardinals fans, perhaps more than any other franchise in baseball, have traditionally shown an uncanny allegiance to the name on the front of the jerseys. There will be no greater test of that theory than the 2012 season, when the franchise's latest great player—Albert Pujols—and manager—Tony LaRussa—will no longer be calling Busch Stadium home.
LaRussa chose to retire on top after winning his third World Championship, and Pujols took the money and ran all the way out to the west coast, signing a ten-year contract with the Angels.
The loss of Pujols was met with mixed reactions from Cardinals Nation, but the club made a number of subtle, yet important moves to improve the club this offseason, intent on proving that the franchise is better off sprinkling the money that would have been spent on Pujols over a number of positions.
It may not be enough to lead the Cardinals back to the World Series this year, but a return trip to the postseason is certainly not unrealistic.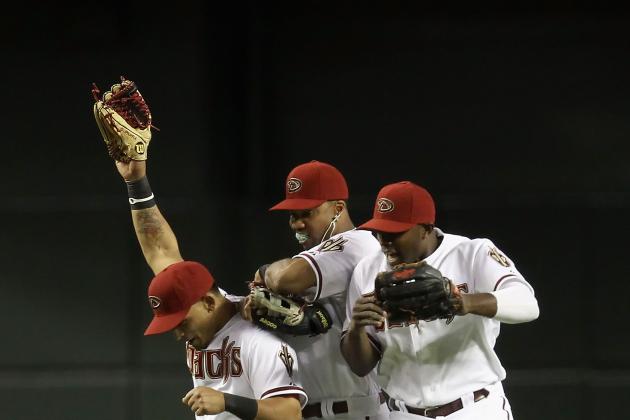 Christian Petersen/Getty Images
Diamondback Outfielders Gerrardo Parra, Chris Young, and Justin Upton
The D-Backs shocked everyone with a worst-to-first turnaround in 2011, eventually winning the division by eight games. Everything went right for Arizona last year with Justin Upton taking a huge step forward in his development, Ian Kennedy finally delivering on the promise he showed as a Yankees' prospect, and Daniel Hudson emerging as a reliable No. 2 behind Kennedy.
With expectations high in the desert this spring, the question is will this still young group be able to deliver with the spotlight on them all season?
Upton, Kennedy and Hudson are all expected to at least repeat last year's performances, if not improve on them. The team also made other moves to strengthen the roster, signing free agent outfielder Jason Kubel to bolster the offense, and adding starting pitcher Trevor Cahill to add depth to the rotation.
All signs point to another strong season for the Diamondbacks, but they certainly won't be sneaking up on anyone.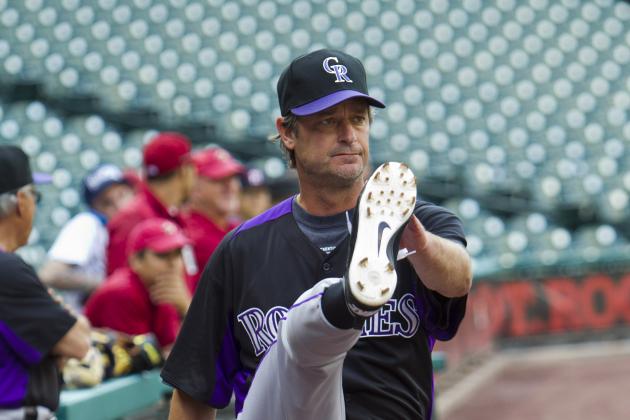 Bob Levey/Getty Images
Rockies Starter Jamie Moyer
Other than watching short stop Troy Tulowitzki and center fielder Carlos Gonzalez put up video game numbers while flashing sick leather, there isn't much reason to pay attention to the Rockies this year.
Cue the Jamie Moyer comeback.
After missing the entire 2011 season recovering from Tommy John surgery, the 49-year-old Moyer not only chose to return to baseball rather than retire, but he managed to earn the No. 2 spot in Colorado's rotation during spring training.
I wish Moyer nothing but the best, but that tells you about all you need to know about the quality of the Rockies' starting pitching.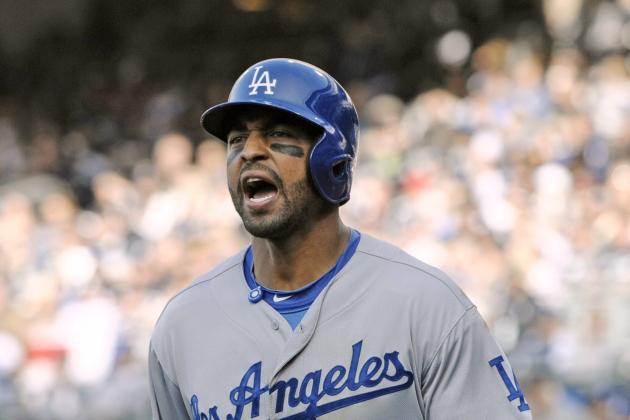 Denis Poroy/Getty Images
Dodgers Center Fielder Matt Kemp
I won't be holding my breath in anticipation of Kemp reaching the unprecedented 50 home run, 50 stolen base plateau. But the fact that Kemp threw it out there as an attainable goal speaks volumes about his approach to the game and the belief he has in his own talent, and the outcome could be a better season than last year's surprising turnaround.
Scouts and fans alike have marveled at Kemp's raw talent for the past six season, but his lackluster 2010 left many feeling that he'd be another wasted physical talent lacking the mental toughness and work ethic to put it all together.
Kemp quickly put those fears to rest by posting career bests in every major batting category, while coming one home run shy of becoming just the fifth player to reach the 40 home run, 40 stolen base marks in the same season.
What's even more refreshing about Kemp is that he appears to take the teams success even more seriously than his personal achievements. Without another clear veteran presence on the team, that attitude will be important if the Dodgers hope to contend in the NL West this year.
The $160 million contract extension he received during the offseason and the recently resolved ownership situation surrounding the Dodgers will only eliminate potential distractions, allowing him to take another step towards establishing himself as Major League Baseball's best player. If new owner Magic Johnson has any impact on Kemp's development, it won't take long for that title to stick.
Christian Petersen/Getty Images
Padres First Baseman Yonder Alonso
I'm pretty sure we've seen this movie before. The Padres inch ever so close to respectability, only to trade away their best players rather than retain and build around them.
The 2012 version of this film stars Yonder Alonso as the hot new prospect, acquired in the offseason trade that sent staff ace Mat Latos to the Cincinnati Reds for a haul of prospects, and Heath Bell as the talented closer who was allowed to leave via free agency.
The Padres will struggle to field a team that even their own fans will recognize as they look destined to spend another year in the NL West basement. Watching the development of Alonso and exciting center fielder Cameron Maybin may be the only two reasons to watch this club this year, unless you happen to be related to any of the other 23 players on this roster.
If so, I apologize.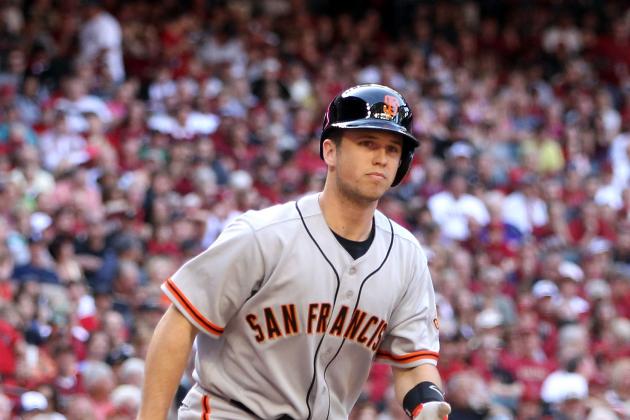 Christian Petersen/Getty Images
Giants Catcher Buster Posey
I swear it's a coincidence that my predicted 2012 World Series champion—they'll beat the Red Sox in 7 games, if you're curious—is the last team on this list. The accuracy of the prediction, however, will hinge largely on the health of catcher Buster Posey, specifically how long it takes him to knock the rust off after missing most of the 2011 season.
The strength of San Francisco's starting rotation is well known, with the trio of Tim Lincecum, Matt Cain and Madison Bumgarner replicating the early-2000's Oakland trio of Tim Hudson, Mark Mulder and Barry Zito on the other side of the Bay.
As good as that trio is, my postseason prediction is predicated on the belief that Posey will be good enough by the end of the year to help lead a vastly improved San Francisco offense.
It won't be mistaken for the NL version of the Texas Rangers, but a healthy Posey, combined with the additions of Melky Cabrera, Angel Pagan and the eventual presence of Brandon Belt in the lineup will be enough to lead the Giants back to the top of the MLB mountain in 2012.