2012 NFL Draft: Dontari Poe Is a Destroyer of Worlds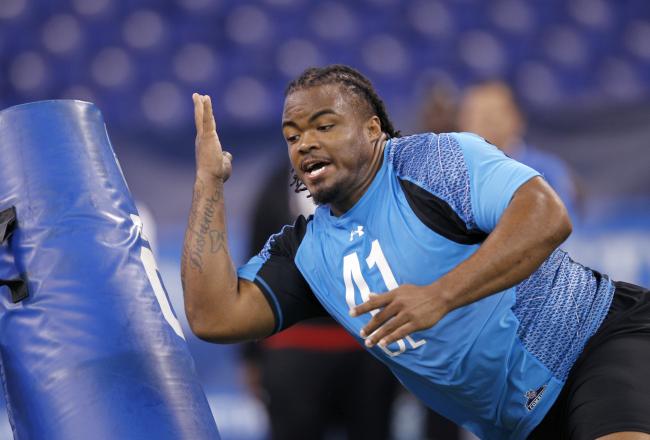 Joe Robbins/Getty Images
The Dallas Cowboys have been rumored to be extremely interested in Dontari Poe ever since he put up eye-popping numbers at the NFL Combine.
If this is true, then Cowboys fans who don't have religion should get religion, because they need to get on their knees and pray that Poe is already gone before the Cowboys pick. Any NFL scout worth his salt will tell you that the combine only exists to confirm what you have already seen by studying hours and hours of film on a player.
You never, ever, under any circumstances, want to talk yourself into a guy based upon numbers he put up at the combine if he didn't produce in college.
And make no mistake about it, Dontari Poe didn't produce in college. In fact, if he hadn't participated in the combine, he would be projected as a fifth-round pick or worse. If you want to list reasons why Poe should be voted "most likely to be a bust," just Google the guy's name and sift through the long list of websites with damning evidence against his interest in playing football.
Poe does not compare favorably to DT Fletcher Cox. In 2011, Cox had 56 tackles, 14.5 tackles for loss and 5 sacks, playing in the SEC. Poe had 33 tackles, 8 tackles for a loss and only one sack--playing in Conference USA--a weak conference.
Poe looks like a classic example of a guy who will work his butt off to get in great shape for the combine because he knows that is where he will cash in, but has never really been interested in actually playing the game with heart. Blue chip players have blue chip psychology--they compete hard on every play. I'm not sure you can say that about Poe.
For starters, Poe played in Conference USA and put up very mediocre numbers against relatively weak competition. That should be enough right there to scare off any GM with an ounce of intelligence.
Exhibit A: Lots of Film of Poe Doing Almost Nothing
Here is what Drew Boylart had to say in The Huddle Report:
At least Vontaze Burfict LB Arizona, is the type of player that isn't fooling anyone and what you see is what you get. Dontari could be the next Albert Haynesworth and to me, that's worse. When you disregard a player's play on the field, hold his workouts in higher esteem than his statistics and think you're going to "coach him up", you run the risk of drafting (in any round) a big fat KABOOOM and a BUST. The loudness of that KABOOOM is directly related to what round that player is drafted in, but make no mistake, in this case the KABOOOM will be heard no matter what round. All because of those combine numbers.
Boylhart also draws a great comparison that is worth including here:
Dontari Poe DT Memphis - 2011 season - 22 total tackles, 1 sack, 0 forced fumbles, 0 interceptions.

Now, let's put them against the same stats from Nadamukong Suh's Senior 2009 season at Nebraska:

Nadamukong Suh - 2009 season - 85 total tackles, 12 Sacks, 1 forced fumble, 1 interception.

That doesn't mention Suh's 24 tackles for losses and that's more than Poe's total tackles for the year.
Nndamukon Suh Nebraska Highlights
The last bit is worth repeating: Suh had more tackles for a loss than Poe had of any kind of tackle all year. And let me add my own stat to this comparison. In 2009, Suh's total number of sacks (12) was more than double Poe's sack number for his entire college career. Poe's college career total is five.

The reason I say in the title that Poe is a destroyer of worlds is to reference Robert Oppenheimer in his comment about the atomic bomb. He stated that it reminded him of a line in the Bhagavad Gita: "Now, I am become Death, the destroyer of worlds." ...
Only in this instance, ground zero would be Valley Ranch, the nerve center of the Dallas Cowboys franchise. Selecting Poe would destroy any and all credibility the Cowboys have built up through their recent improvements in selecting talent.
Selecting Poe would be a clear signal to the entire organization and the NFL and all its fans that this organization is too desperate to make solid decisions. There is simply no way that qualified NFL scouts could possibly recommend risking a first-rounder (or second, third or fourth) on this guy.
The Cowboys have made great strides in finding talent the last few years. Sean Lee, Tyron Smith, DeMarco Murray, (hopefully) Bruce Carter, Sean Lissemore and Dez Bryant are all picks that appear to be working out quite well, but if the Cowboys blow their first pick on Dontari Poe, it will mean several smarter minds were overruled and the likely result will be a plummeting of morale throughout the organization.
Let's hope for the sake of Cowboy fans that Poe is just a smoke screen and not the coming of Armageddon.

This article is
What is the duplicate article?
Why is this article offensive?
Where is this article plagiarized from?
Why is this article poorly edited?

Dallas Cowboys: Like this team?