2012 NFL Draft: Flexibility Equals Strength for Miami Dolphins
April 7, 2012

Chris McGrath/Getty Images
As a student of "internal" martial arts as a student, I have learned that flexibility equals strength. However, there is no trademark on this that belongs to any Tai Chi or Kung Fu organization.
You can see this in the world around you in almost anything. All one has to do is watch footage of Muhammad Ali or Sugar Ray Leonard to see their ability to flow. The idea worked pretty well for those guys.
And so it was at the closing of the Dolphins' 2011 season. I much preferred the idea that Matt Moore's quarterbacking abilities left a good impression on the team, leaving them with the leverage to seek out improvements at the QB position on their own terms.
This is why I never liked the cry of "We have to get a franchise quarterback," or "We have to fix the quarterback problem." These negative affirmations were the opposite of flexibility, and in a sense created a problem where there may not be one. 
What's even worse is the propensity to let the past effect the present mentality. These present guys on the Dolphin's roster are not Jay Fiedler or Chad Henne or any of these past players. It is a new era in Miami, and I wonder how much better our mindset might be if we all took a deep breath and proceed with cautious optimism.
The team did not "whiff" on Peyton Manning. For whatever reason, the man simply did not have Miami on his radar. It also seems that the Dolphins did not have the payroll to spar with these teams willing to pay Manning as if he were ten years younger. With a sigh of relief, I say "good luck with that." In addition, I give kudos to Ireland and Ross for not overpaying for Matt Flynn and his two starts.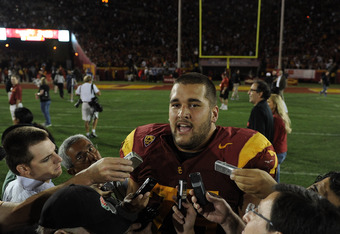 Harry How/Getty Images
Now we have the draft and much ado about Ryan Tannehill.
Once again, I like the idea of proceeding with cautious optimism. I have mixed feelings about the Dolphins targeting the man in the first round, and I certainly don't think they should trade up for him.
Still, if the Dolphins stay put at No. 8 and decide that he's their guy, I won't cry about it. I'll cross my fingers and hope for the best. If the Dolphins trade up and still draft Tannehill, I'll believe that they are really jumping the shark.
Don't do it—there's a lot of talent up there in the top ten.
Tannehill's rising stock might actually help the Dolphins in two possible ways. One: the Dolphins actually do land the Texas A&M prize and his stock pays dividends. Or two: A team like the Browns actually take Tannehill with an early pick, leaving the Dolphins with some nice choices at No. 8.
This isn't a draft where we have to hope that one name falls through the cracks at 3, 4, 5, 6 or 7. Last I checked the talent level was pretty high with guys like Richardson, Blackmon, Ingram, Cox and Claiborne, to name a few.
The latest rumor floating out there is that the Vikings may possibly shop around their No. 3 pick. As far as I am concerned, what this means to the Dolphins is that they can add OT Matt Kalil to their list of targets.
Martial Arts is also about seeing the opponent's weakness and attacking. (I mean this as an analogy, NOT as a proponent of violence!) In this case the Dolphins should see where another franchise overrates or undervalues a particular position or player—then pounce on that mistake. That's my mentality on the upcoming draft.