2012 NFL Mock Draft: Buffalo Bills Ultimate 7-Round Mock Draft with Plans A & B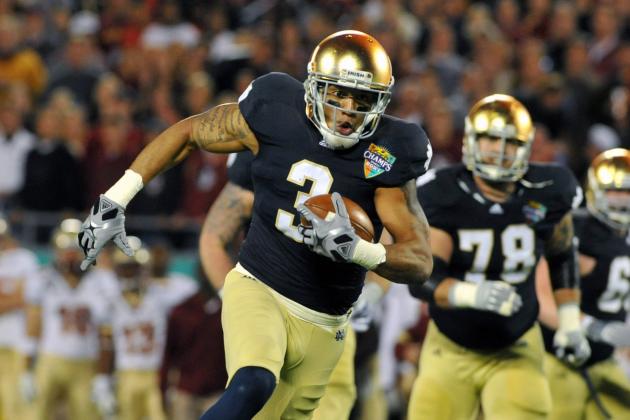 Al Messerschmidt/Getty Images

The Buffalo Bills have had up-and-down results in the draft over the last few years, grabbing talented players with their early picks but striking out in later rounds.
The Bills have struggled to find key starters in the last two drafts, only projected to, next year, start Marcel Dareus of all of their picks in the last two drafts.
This year, it's time to find players who can make a difference early and often. This mock includes comprehensive analysis and Plans A and B for each pick that the Bills have.
Begin Slideshow

»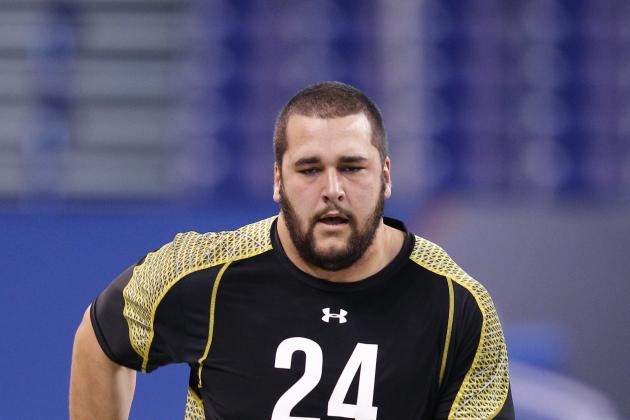 Joe Robbins/Getty Images

Reports have the Bills going after a trade up in which they'd grab the third overall pick and take Matt Kalil.
Kalil is a natural knee bender and he has good feet when setting the edge of the pocket.
Demetress Bell (new spelling) is now gone, and the Bills could plug in this USC tackle as their Day One starter.
Pick Grade: A-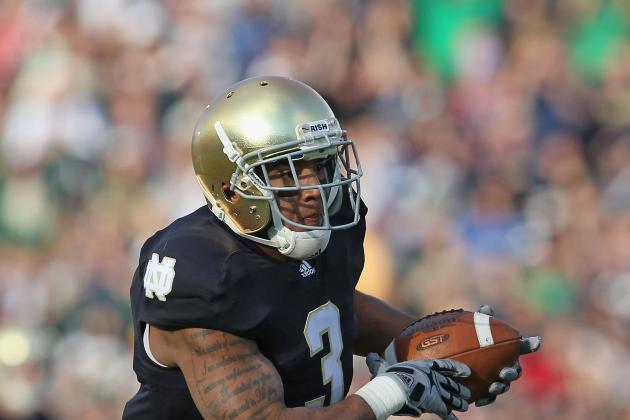 Jonathan Daniel/Getty Images

If the Bills are looking for a player to make an early and noticeable impact, Michael Floyd is their guy.
Floyd's frame and strength will help him win battles against NFL cornerbacks, but I see suspect hands when I watch the Notre Dame wideout on tape.
Buffalo already has a receiver, Stevie Johnson, who has issues with drops—Floyd could be a bad fit and that significantly lowers his pick grade.
Pick Grade: C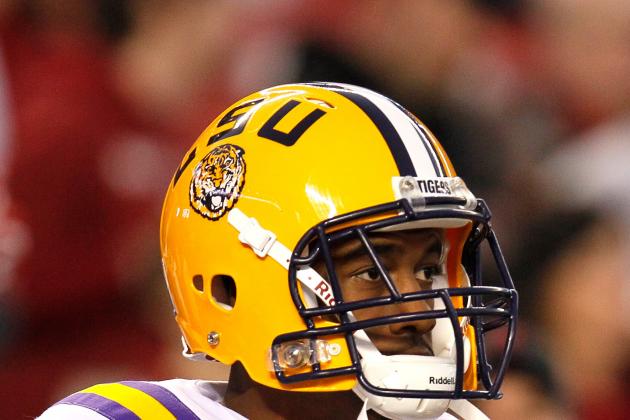 Kevin C. Cox/Getty Images

Buffalo needs a receiver with Rueben Randle's ability at the "X" wide receiver position and he's a great fit here.
Randle's flaws (below average routes, ability to beat press coverage) are very coachable and look for Chan Gailey to refine this wideout's skill set.
This pick is exactly the value selection that could turn the Bills' passing game around, taking pressure off of Stevie Johnson and giving Ryan Fitzpatrick a legitimate second option.
Pick Grade: B+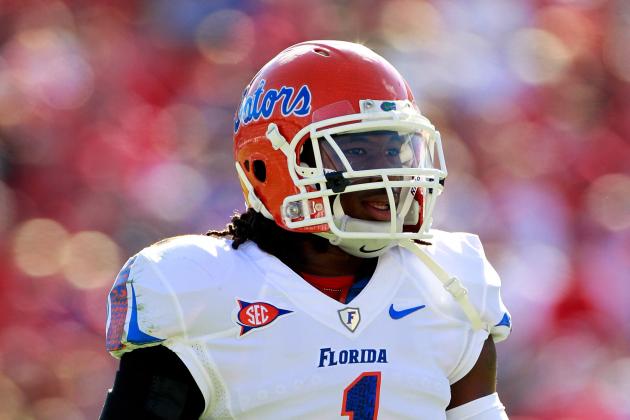 Sam Greenwood/Getty Images

According to this draft value chart that Pro Football Weekly put together, Janoris Jenkins could be on the board at No. 41.
The Bills are trying to win football games, not awards for high character—the team can't afford to pass up a talent like Jenkins with the 41st pick.
This corner has top-10 talent, and if he can sort out his issues, he could be a lockdown cornerback for years to come.
Pick Grade: B-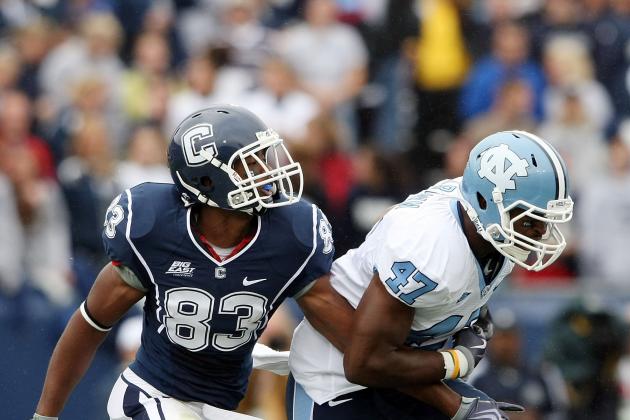 Elsa/Getty Images

If Zach Brown falls to pick 71, the Bills would be well-suited to snatch up this 4-3 outside linebacker.
Brown has the athleticism to make plays in space but he also has the discipline to be a pass-covering linebacker in the new Buffalo defensive scheme.
New defensive coordinator Dave Wannstedt needs to bring in players who will help the team make an easy transition to a 4-3 front.
Pick Grade: A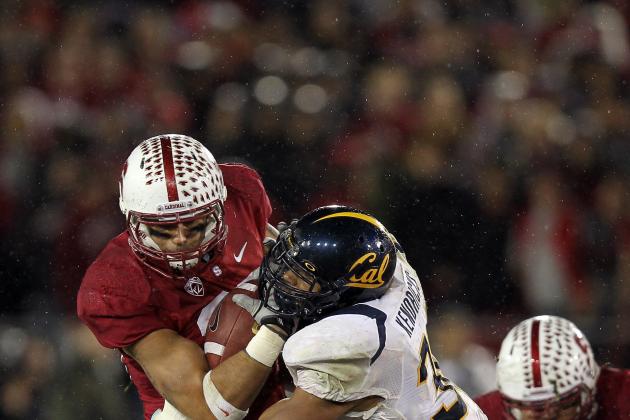 Ezra Shaw/Getty Images

Mychal Kendricks is a bit undersized, but he's the perfect iso-type linebacker who will bludgeon any rusher between the tackles.
Buffalo needs a middle linebacker to set the tone and Kendricks is a force in the middle who is great against the run.
He grades out well and has superior athleticism, so he'd be a nice pickup here as the Bills aim to get a linebacker in round three.
Pick Grade: B-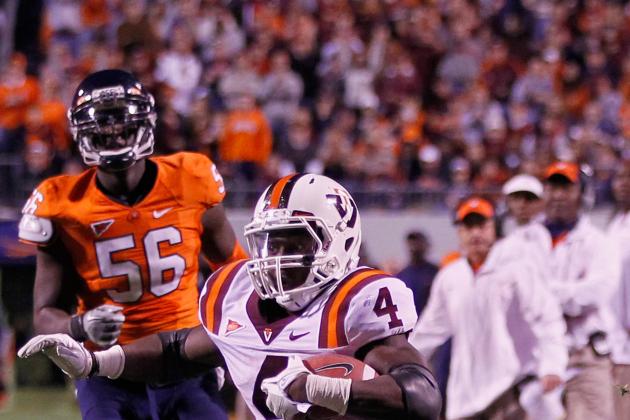 Geoff Burke/Getty Images

The Bills have brought in two solid pass-rushing defensive ends this offseason with the acquisitions of Mario Williams and Mark Anderson.
The team will need a third lineman to rotate into the lineup as necessary—Cam Johnson certainly fits the bill there.
Buffalo could grab a very solid defensive lineman with their fourth-round selection, which would be the optimal scenario here.
Pick Grade: B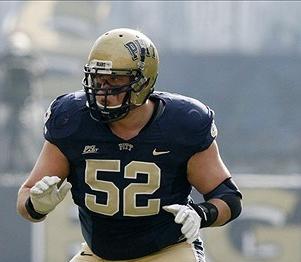 A tough mauler who gets to the second level, Lucas Nix would reaffirm the commitment to running the football in Buffalo.
Between-the-tackles runner Fred Jackson would love to see this pick, as Nix could clear lanes for the Bills' rushing attack whenever he gets in.
Though he might not be a starter from Day One, Nix could be a nice pickup for a Bills team that ran the football well in 2011.
Pick Grade: C+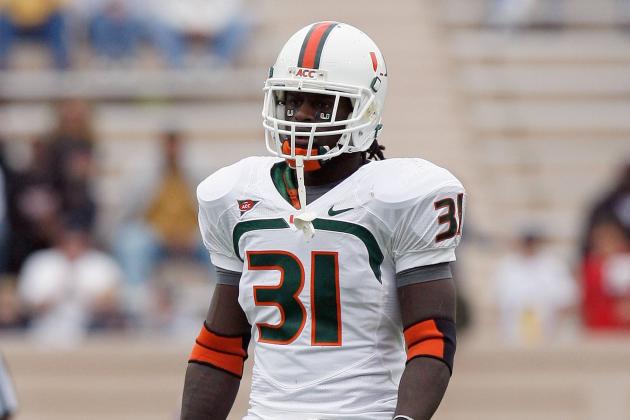 Kevin C. Cox/Getty Images

Buffalo needs versatile linebackers to ease their transition into a 4-3 front and Sean Spence is the perfect player in such regard.
An above-average tackler, Spence could have an immediate impact from the onset of his career and I wouldn't be surprised if he worked his way into a starter's role as a rookie.
Though he can be overpowered, this player knows what it takes to make a positive impact on a football roster.
Pick Grade: B-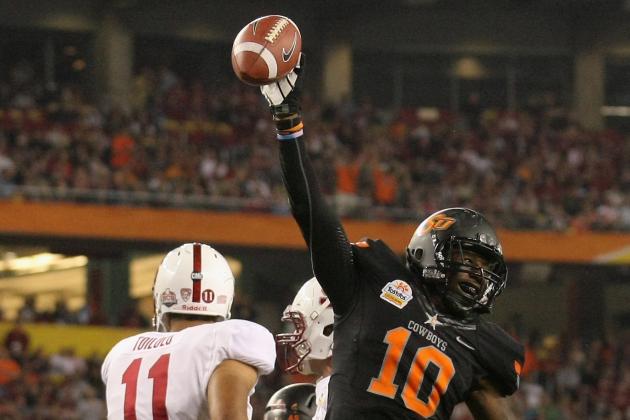 Donald Miralle/Getty Images

With two solid starters in Jarius Byrd and George Wilson, the Bills would be well-suited to bring in some solid depth at the safety position.
Markelle Martin has experience against top-notch quarterbacks like Andrew Luck and Landry Jones, while he's also a ballhawk who could provide a similar look to Jairus Byrd in limited time.
More of a luxury pick, drafting Martin would give the Bills an above-average backup at free safety.
Pick Grade: C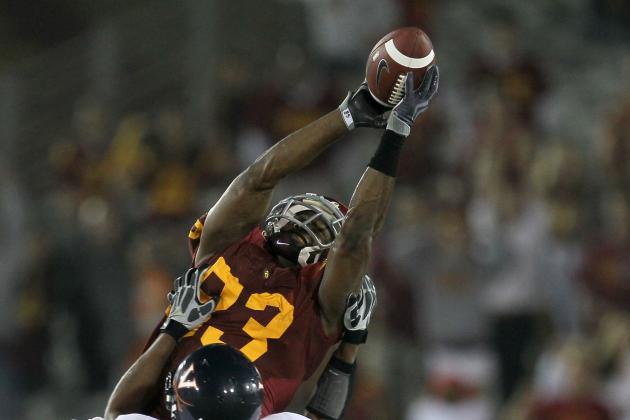 Stephen Dunn/Getty Images

The Bills could fill two needs with this pick as they grab a nickel corner and a special teams ace with the Virginia cornerback Minnifield.
This former Cavalier does the little things right and he can make an impact all over the field.
Solid in coverage and a seasoned special teamer, this prospect is a good bet to be productive in the NFL.
Pick Grade: B+
Christian Petersen/Getty Images

Travis Lewis fell down draft boards this season after being exposed for his tight hips and limited ability in pass coverage.
This instinctive linebacker would still be a great fit in 4-3 defenses as an outside backer and he could be a good backup option for Buffalo.
Look for the Bills to consider Lewis in the fifth round if he's still on the board, as he'd be a solid pickup for a new-look defense.
Pick Grade: C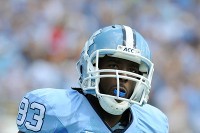 The last two lengthy UNC receivers to enter the NFL draft, Hakeem Nicks and Greg Little, have had a good amount of success at the highest level.
Taking a chance on Dwight Jones would be ideal for the Bills, as he could bring an added dimension to the offense at 6'3" and solid athleticism.
If anything, Jones could provide needed depth at a thin position for Buffalo as the team aims to return to the vertical passing days of the 1990's.
Pick Grade: C+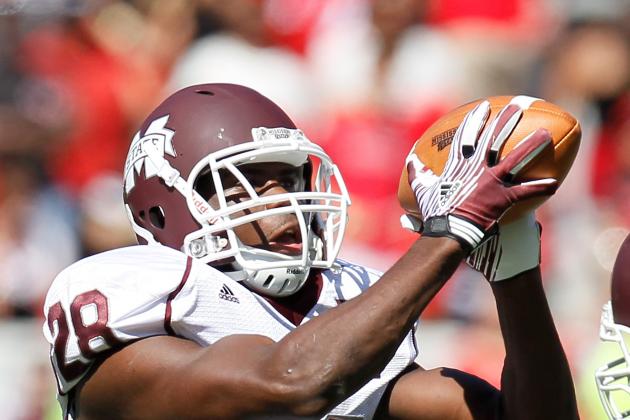 Kevin C. Cox/Getty Images

The Bills got this pick as a result of trading Marshawn Lynch to Seattle, so it's certainly a possibility that the team drafts Lynch's replacement here.
Ballard is a tough runner whose draft stock has fallen after a lackluster combine—Buffalo could grab a nice back in the late rounds.
Though the team doesn't exactly need another running back, it's certainly a possibility with their second fifth rounder.
Pick Grade: D-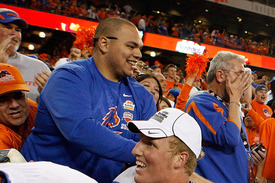 Pro Football Weekly gave Potter a late-fifth round grade, so there's a chance he falls to the Bills in the early sixth round.
After Boise State already produced a solid pass blocking left tackle with Ryan Clady, the Bills should take notice of his solid successor Potter.
The team can use as many pass-blocking left tackles as it can get and Potter is a great fit with this pick.
Pick Grade: B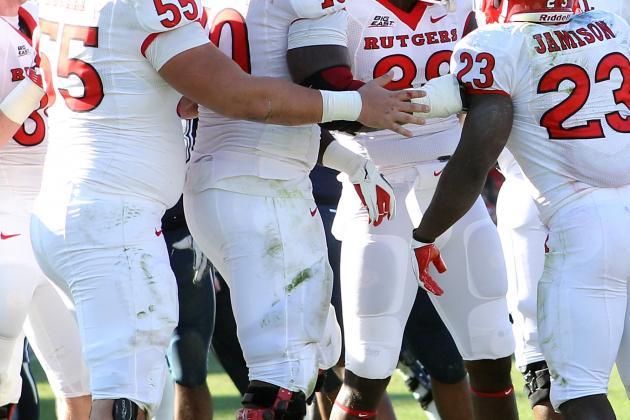 Elsa/Getty Images

If Buffalo can't grab a pass blocker in the sixth round, they may as well go after some depth and add a run-blocking guard here.
Wynn was a solid player for Rutgers and his skill set translates well to the NFL.
He's a cold weather player and could be a solid pick in the later rounds for the Bills if they strike out on tackles.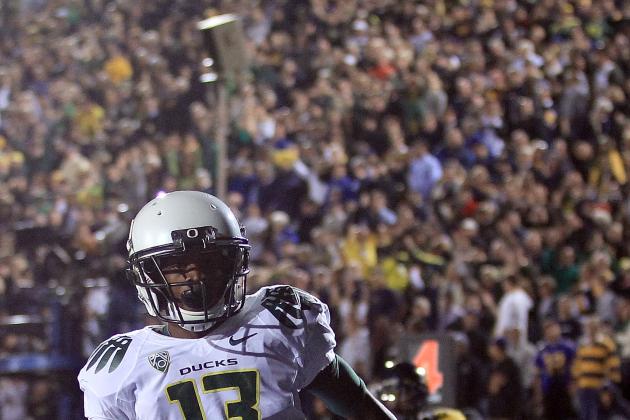 Ezra Shaw/Getty Images

Harris has had a lot of off-the-field issues this past season, but he is a top-notch talent and the Bills would be well-suited to take a late flier on this player.
The former Oregon Duck could contribute on special teams over the next few years, which Buffalo needs after losing Reggie Corner, Jon Corto and Roscoe Parrish this offseason.
The Bills have solid veteran leadership with players like Terrence McGee and Nick Barnett, so I could see the team taking Harris under its wing and making him a contributor.
Pick Grade: C+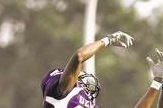 As a low-risk low-reward player, Jeremy Lane has the speed and athleticism to compete for an NFL roster spot.
A small-school player, Lane played up when his team faced LSU and he could be a solid player for Buffalo at the next level.
I wouldn't be terribly surprised if Lane goes to the Bills here, as the team needs corners, as well as player to contribute on special teams, and he could fill both needs.
Pick Grade: C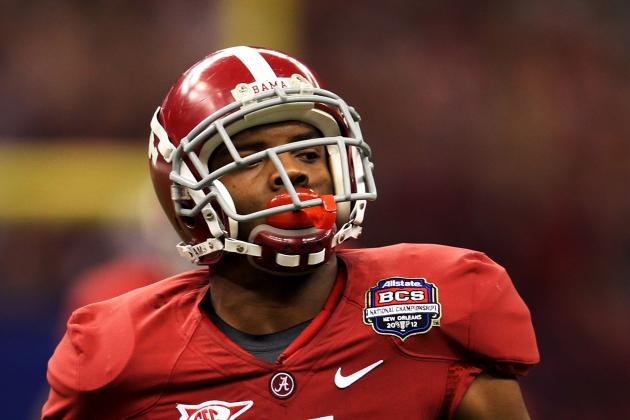 Andy Lyons/Getty Images

Chan Gailey loves versatile players and Maze has seen time at receiver, quarterback, defensive back, running back and special teamer.
This Alabama product would make a seamless transition to a special teams role in the pros and be a big-factor on kickoff coverage in his first few seasons.
I like Maze's winning track record and he looks like a safe pick here.
Pick Grade: B+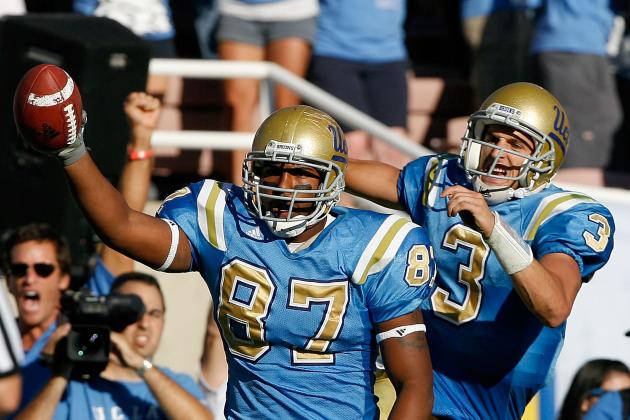 Harry How/Getty Images

Though I think Maze will be around at this pick, if the Bills can't nab the Alabama receiver, look for the team to explore options at tight end.
Buffalo needs a blocker, almost a sixth lineman in a sense, and Harkey brings that to the table as a tight end/fullback type.
A big, hulky guy, he's not very good in the open field when it comes to catching to ball or making plays, but he's solid in the run game and will be in play with this pick.
Pick Grade: D+