NFL Draft: Best First-Round Quarterbacks Since 1998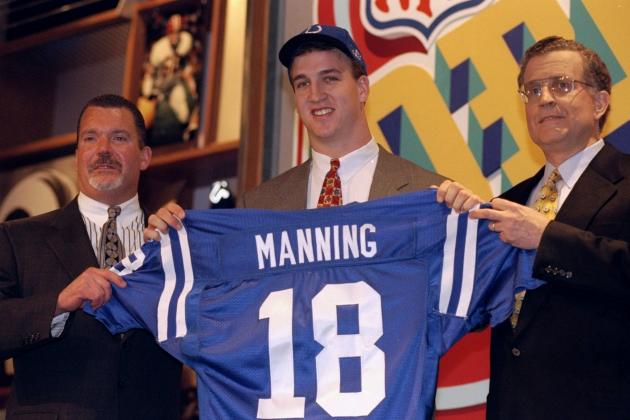 Ezra Shaw/Getty Images
Peyton Manning was the first pick of the 1998 NFL draft.
No position in any sport is as important as the quarterback is to a football team.
Without a rock-solid No. 1 quarterback, a team is in trouble.
Fourteen years ago, the Indianapolis Colts selected quarterback Peyton Manning with the first pick of the 1998 NFL draft. He has set the standard for what an NFL quarterback should be.
Counting that 1998 draft, up until 2011, 26 teams have selected 39 different quarterbacks in the first round. In that time, some teams have selected more than one first-round quarterback.
Some were hits, some were misses.
These are the best of the "hits."
Begin Slideshow

»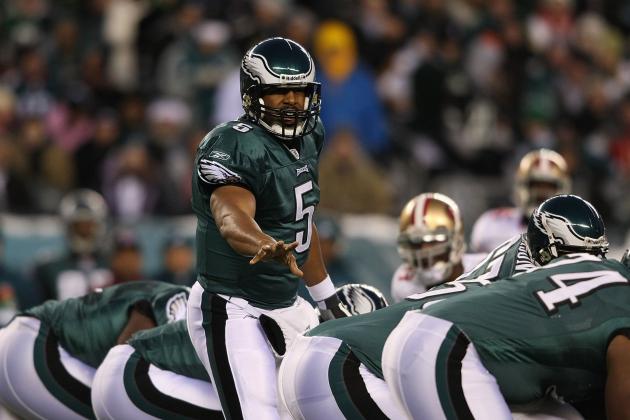 Nick Laham/Getty Images
Donovan McNabb commanded the Eagles offense for 11 seasons.
Though his career is most likely over, Donovan McNabb was the franchise quarterback in Philadelphia for 11 years.
Selected with the second pick of the 1999 NFL draft, McNabb threw for 37,276 yards and 234 touchdowns in his 13 seasons. He led the Eagles to the NFC Championship Game five times.
His best season was 2004 with 3,875 passing yards, 31 touchdowns, eight interceptions and a rating of 104.7. The Eagles lost the Super Bowl that year to New England.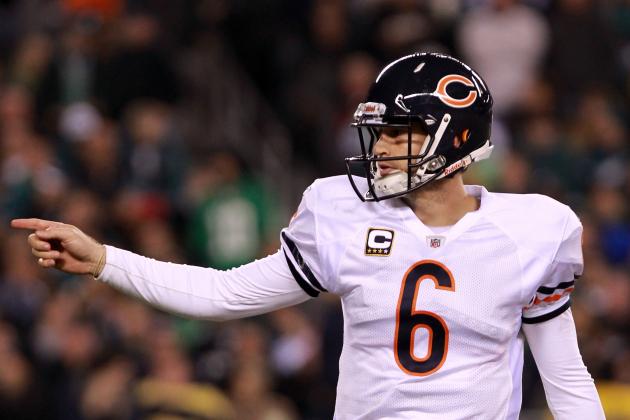 Nick Laham/Getty Images
Jay Cutler's injury derailed the Bears 2011 playoff hopes.
While his toughness has been questioned, Jay Cutler has proven worthy of being a first-round selection. He was chosen by Denver in 2006.
Under Mike Shanahan in 2008, Cutler threw for over 4,500 yards and had 25 touchdown passes.
Following a dispute with Shanahan's replacement, Josh McDaniels, he was traded to Chicago in 2009.
Though his stats haven't been as impressive in Chicago, he did lead the Bears to the NFC Championship Game in 2010.
In 2011, he had the Bears on the playoff track before his season was cut short by a broken right thumb.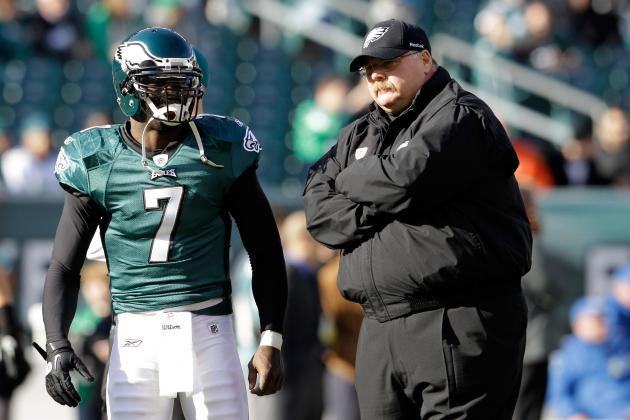 Rob Carr/Getty Images
Working with Andy Reid has made Michael Vick a better passer.
Michael Vick was the first pick in the 2001 draft, selected by the Atlanta Falcons. He was the starter from 2002 until 2006, before going to prison on a dog-fighting conviction.
Following his two-year prison sentence, he signed with Philadelphia. After one season as Donovan McNabb's backup, he became the starter in 2010.
Vick had a 1,000-yard rushing season in Atlanta in 2006, and has scored 33 career rushing touchdowns.
His passing has improved while working with Andy Reid. He threw for over 3,300 yards last year in only 13 games.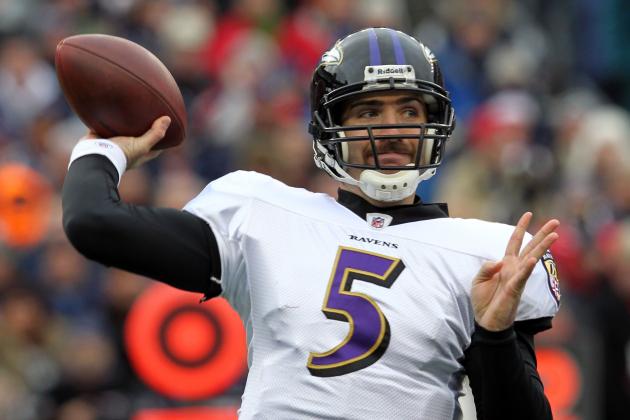 Jim Rogash/Getty Images
Joe Flacco has never missed the playoffs in his career.
Joe Flacco was drafted by Baltimore in 2008, and has started every game of his career. His record as a starter is 44-20.
Flacco is the only quarterback in the NFL to lead his team to the playoffs each of the last four years. The Ravens have won a playoff game each of those years, and Flacco has led them to the AFC Championship Game twice.
His best season was 2010. He threw for 3,622 yards, 25 touchdowns, 10 interceptions and a rating of 93.6.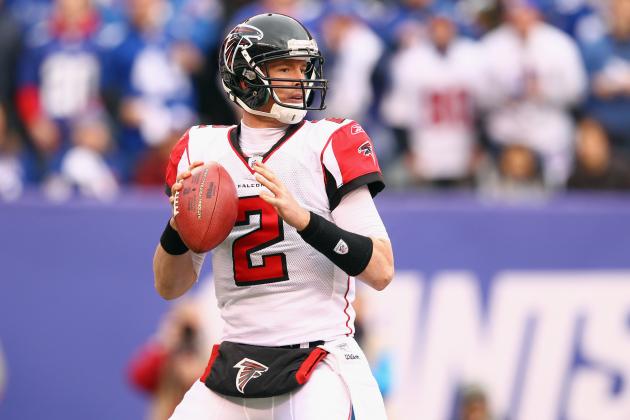 Al Bello/Getty Images
Matt Ryan has made Falcon fans forget Michael Vick.
Though often knocked for his lack of playoff wins, Matt Ryan has been a solid quarterback for Atlanta.
Drafted third overall in 2008, Ryan was asked to pick up the pieces following Michael Vick's imprisonment.
He has more than done that, leading the Falcons to the playoffs three times while compiling a 43-19 record as a starter.
Ryan continues to get better.
In 2011, he had a team record 4,177 passing yards, 29 touchdowns, 12 interceptions and a rating of 92.2.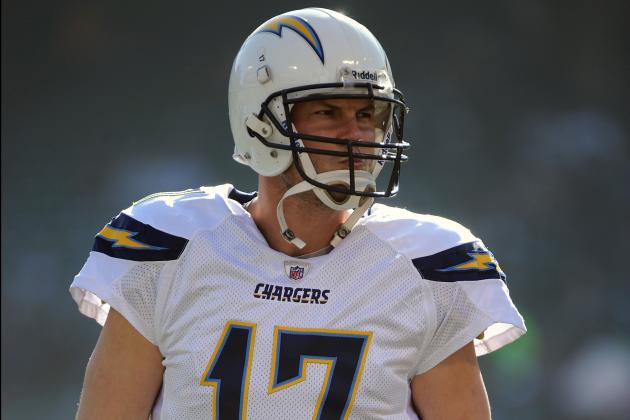 Thearon W. Henderson/Getty Images
In a "bad" year, Philip Rivers still passed for 4,624 yards.
Philip Rivers was selected with the fourth pick of the 2004 draft by the New York Giants. He was then traded to the Chargers for Eli Manning.
He sat behind Drew Brees for two years. He has started every game for the past six years.
He may be the best current starting quarterback that hasn't played in a Super Bowl.
Rivers has a career rating of 95.5, and had a season rating over 100 from 2008-2010.
He has passed for over 4,000 yards each of the last four years, and even though 2011 was considered bad for him, he still had 4,624 passing yards.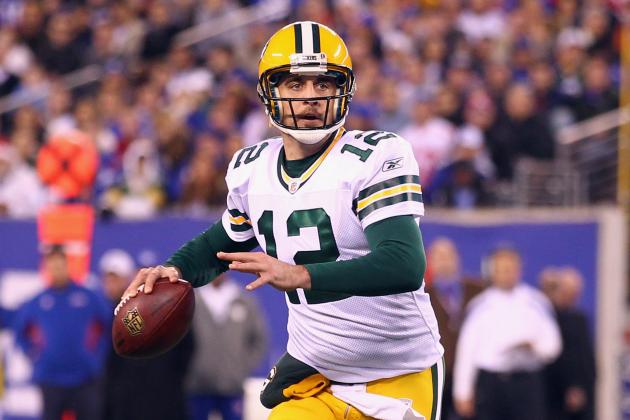 Al Bello/Getty Images
Aaron Rodgers was MVP in 2011.
If only the 2011 season was considered, Aaron Rodgers would top this list.
For some reason, Rodgers fell all the way to the 24th pick in the 2005 NFL draft. The Green Bay Packers, preparing for Brett Favre's retirement, had the wisdom to select Rodgers.
In the past two years, he has been Super Bowl MVP and NFL MVP in 2011.
Rodgers set the season record for quarterback rating last year with 122.5. He is 41-21 as a starter.
In 2011, he had 4,643 passing yards, 45 touchdowns and only six interceptions.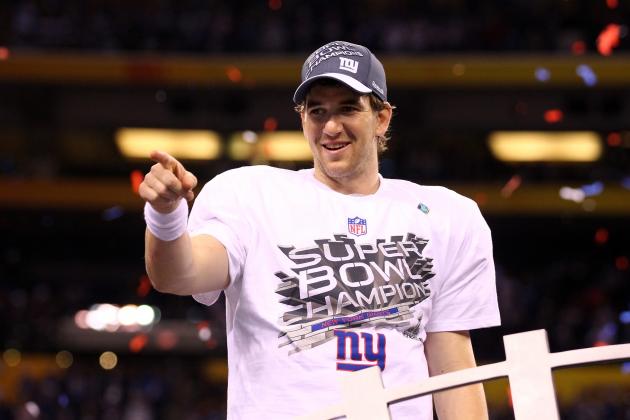 Al Bello/Getty Images
Eli Manning celebrates another Super Bowl win.
Picked first overall by San Diego in 2004, he was traded to the Giants for Philip Rivers.
He was the starter before the end of his rookie season, and is now the NFL Ironman, having started 119 straight regular season games.
He has also won two Super Bowl MVP awards, including last season.
While his "elite-ness" has been questioned, he has compiled three consecutive 4,000-yard seasons, including 4,933 in 2011.
It is in the playoffs, though, that he has been clutch.
He is 8-3 in the playoffs, with two Super Bowl wins. He has won two NFC Championship Games on the road, both in overtime.
In his two Super Bowl runs, he has thrown 15 touchdown passes and only two interceptions.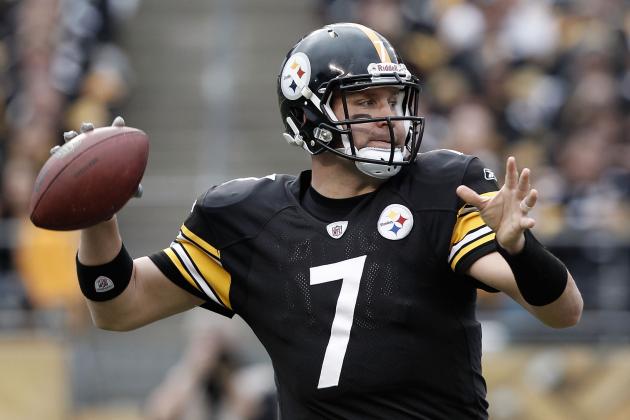 Jared Wickerham/Getty Images
Ben Roethlisberger has won two Super Bowls.
When a conversation regarding who the best NFL quarterback is held, Ben Roethlisbereger's name is rarely near the top of the list.
However, anyone who doesn't consider Roethlisberger elite is ignoring facts.
No quarterback has appeared in more Super Bowls (3) than Roethlisberger since his being selected as the 11th pick in 2004.
Only Eli Manning has won as many as Big Ben.
His best season was 2009 when he completed 66 percent of his passes for 4,328 yards and 26 touchdowns.
Even though his regular season numbers may fall short of others, he is near the top of this list because of his two Super Bowl wins.
Doug Pensinger/Getty Images
Now in Denver, Manning hopes to add to his legacy in 2012.
The Colts selected Peyton Manning with the first pick in 1998. It changed their franchise and NFL history.
Perhaps no player in NFL history has been so universally loved. There is really nothing bad to say about Manning, except that maybe he should have won more than one Super Bowl.
The entire NFL seems to revolve around Manning.
The neck injury that forced him to miss all the 2011 season was the year's biggest story. Offseason headlines were all about his release from Indianapolis, his courtship and signing with Denver.
Statistically, he is above any other active NFL quarterback. He has won more regular season games than any other active quarterback.
He has thrown for over 4,000 yards 11 times in 13 seasons. He has been league MVP a record four times.
Only Brett Favre and Dan Marino are ahead of him in career passing numbers.
In his career, he has 4,682 completions, 54,828 passing yards and 399 touchdown passes.
He is the best first-round quarterback since 1998, and he might be the best player ever drafted in the first round of any draft.