Barrett Ruud Signs with Seattle Seahawks: How It Affects the 2012 NFL Draft
April 6, 2012

Grant Halverson/Getty Images
The Seattle Seahawks announced the signings of three veterans today on their website, including inside linebacker Barrett Ruud, the former Titan and Buccaneer.
Originally a second-round pick of Tampa Bay in the 2005 NFL draft, Ruud spent 2012 with Tennessee. He registered 57 tackles and a pick in an injury-shortened season.
He now gets another shot to settle in, this time with the Seahawks, who recently lost run-stuffer David Hawthorne to the Saints via free agency.
Middle linebacker was already an area of need for Seattle prior to Hawthorne's departure, but how does Ruud's signing impact the draft?
Well, in one of two ways.
1. The Luke Kuechly Scenario
Perhaps no defensive prospect outside of Morris Claiborne is ready to transition to the NFL as seamlessly as former Boston College linebacker Luke Kuechly.
He captured nearly every major defensive award in college football last season, and answered any questions about athleticism concerns with a strong showing at the combine.  
First-round inside linebackers don't come around in the draft all that often, so he has surely attracted the attention of the many needy teams in the top half of the order. Based on needs and who else will likely be available, potential suitors for Kuechly include Carolina (pick No. 9), Buffalo (No. 10), Kansas City (No. 11) and Seattle (No. 12).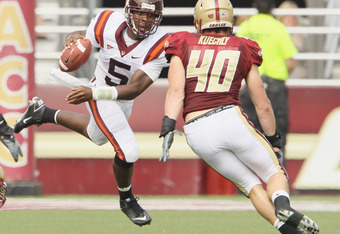 Elsa/Getty Images
Despite the fact that the three teams in front of the Seahawks share an inside 'backer need, it's not at all impossible that they'll each opt to address other roster needs (each certainly has them).  
So, with a little bit of luck, Kuechly could be had at pick No. 12. If so, he immediately becomes the starter inside, and Ruud is likely relegated to a backup role that will include leadership development for Kuechly.
Ideally, this is how the board shakes out for Seattle. While the team isn't without needs besides the linebacker spot, few players would offer better value than Kuechly.
2. The "Bide Your Time" Scenario
So say (and again, this isn't going out on much of a limb) someone in front of the 'Hawks snags Kuechly before they have a chance to. Then what? 
The answer isn't to simply take the next best inside linebacker on the board (which is probably Dont'a Hightower from Alabama), but rather address another need (how about a guard? Or perhaps wide receiver Michael Floyd from Notre Dame?) and proceed with the knowledge that Ruud can be a serviceable starter for 2012.  
Is he the same player that registered over 500 tackles in four seasons at one point in his career? No, but he's got enough left in the tank to be a placeholder starter for Seattle and get by with instincts, toughness and savvy. 
With a supremely talented young secondary behind him, Ruud won't be called upon to shuffle backwards into space and make plays on the ball. Rather, he'll be able to roam near the line of scrimmage and chase down runners like he so effectively did for Tampa Bay.  
Seahawks fans may not be happy if Kuechly goes off the board before the team has a chance to grab him, but with Ruud now in town, things could be much worse.