Weekend Watch: Giants vs. D-Backs, Jamie Moyer's Debut, Highlight Action
April 6, 2012

Christian Petersen/Getty Images
Each Friday, we're going to take a look at the weekend ahead and preview which series and storylines will be worth following.
Which division rivals are facing each other? How will playoff contenders measure up against one another? What looks like the best pitching matchups? Is any player chasing an achievement worth noting?
These are our suggestions for what to watch. What are you going to be following? Please post your thoughts in the comments and keep tabs throughout the weekend. 
Giants-Diamondbacks
The Arizona Diamondbacks and San Francisco Giants finished in the top two spots of the National League West last season, with the D-Backs eventually winning the division by eight games. 
Those same two teams are right back at it to begin the 2012 season, with a three-game series this weekend at Chase Field. The first series of the season is far too early to hold much significance, but it should provide an early barometer of where these teams stand against one another. 
Tim Lincecum starts for the Giants, opposed by Ian Kennedy in Friday's series opener. Saturday, it's Madison Bumgarner vs. Daniel Hudson. And on Sunday, the newly wealthy Matt Cain faces Josh Collmenter. It's probably worth noting that each of the D-Backs' starters had a .500-or-better record against the Giants last season.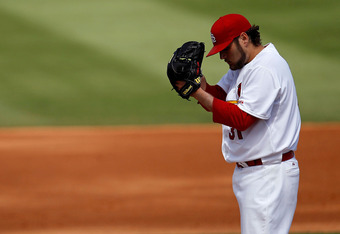 Sarah Glenn/Getty Images
How about a rematch of the NLCS to begin the season? Quite a bit has changed for both teams, with each of their first baseman headed off to the American League for big free-agent bucks. But both also made solid additions that should help make up for the loss and should fight for the NL Central title.
As this is being written, the Cardinals look like they've landed the first blow in this series. Actually, the Cards landed four significant blows, blasting four home runs off the Brewers' Yovani Gallardo.
ESPN.com's David Schoenfield pointed out on Twitter that Gallardo is the first pitcher to serve up four homers on Opening Day since Jeff Suppan and Chris Carpenter did it in 2002. Maybe it's a Brewers and Cardinals thing. 
The most interesting game to watch may be Sunday's, with Lance Lynn starting for the Cardinals. Lynn takes Chris Carpenter's place in the rotation for the foreseeable future as he attempts to recover from nerve damage in his right shoulder. 
Another important divisional matchup to begin the season takes place at Tropicana Field this weekend. The Rays appear to have the starting pitching advantage with James Shields, David Price and Jeremy Hellickson appearing in the three games.
What will we see from the Yankees following CC Sabathia's start on Friday? On Saturday, we'll see right away how Hiroki Kuroda adapts to the American League, as he faces a tougher AL East lineup. Phil Hughes goes for the Yankees to close out the series. Will he have a rebound year and be the No. 3 starter the Yanks need him to be? 
Jamie Moyer Makes His Season Debut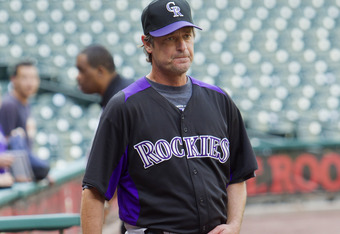 Bob Levey/Getty Images
It's been one of the bigger stories in baseball as the regular season approached, at least from a mainstream point of view. How will 49-year-old Jamie Moyer fare as he begins his 25th major league season, starting for the Colorado Rockies against the Houston Astros on Saturday? 
Working to Moyer's advantage is that he doesn't have to face one of the NL's best teams in his 2012 debut. He'll also be opposed by Lucas Harrell, who's beginning his first full major league season.
It doesn't apply much to Saturday's game because this will be a different Astros lineup than any he's faced before, but Moyer has a career record of 2-1 with a 3.86 ERA in four starts at Minute Maid Park. 
Ubaldo Jimenez Faces Blue Jays
Jimenez appealed his five-game suspension for throwing a pitch at Troy Tulowitzki last Sunday, and he'll pitch in the Cleveland Indians' second game of the season. How will he compose himself after last weekend's fracas with his former teammates, followed by dealing with the punitive wrath of the commissioner's office? 
Or maybe Jimenez will just shake the whole thing off and concentrate on playing baseball.
Jimenez's first tour through the AL wasn't entirely successful. He finished with a 4-4 record and 5.10 ERA. That's not what the Indians were hoping for from their big trade-deadline acquisition, one they gave up several top prospects to acquire. 
Jimenez didn't face the Toronto Blue Jays last season, but they present a potent AL East lineup that could give him problems. Working in his favor might be that this weekend's series is being played at Progressive Field, where Jimenez had a 2.83 ERA in five starts, and not Rogers Centre.