Masters 2012: Tiger Woods and Players Still in Contention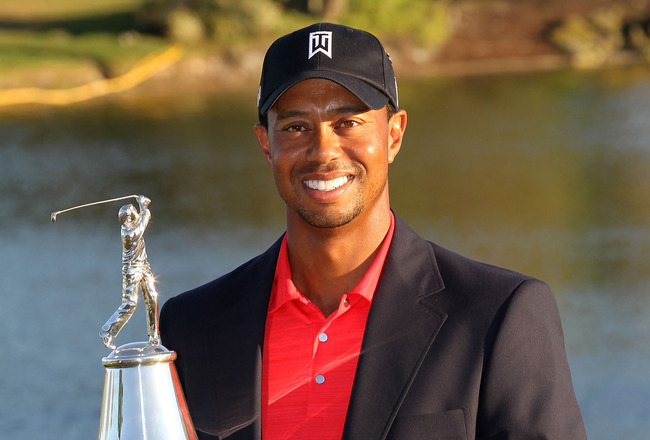 Sam Greenwood/Getty Images
While Jason Dufner and Frederick Couples hold the Masters lead after two days, other golfers like Tiger Woods still can't be counted out.
Both Dufner and Couples are five-under par, but they would need a better cut to win the field.
Dufner has limited majors experience and Couples hasn't won the Masters since 1992, so don't count on them holding the lead.
With that in mind, here are four golfers who can sneak up and win.
Sean O'Hair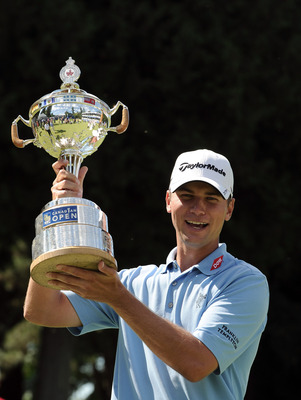 Harry How/Getty Images
Sean O'Hair is another golfer looking for his first majors win, and the Masters might be the time for him.
After two rounds, O'Hair is four strokes off the leaders (one-under par), but he played a strong second round with four birdies.
The 29-year-old O'Hair tied for seventh at the British Open (2010), tied for 10th at the Masters (2009) and tied for 12th in the U.S. Open (2010) and PGA Championship (2006).
The PGA Tour Rookie of the Year in 2005, O'Hair has seven professional wins with four being PGA triumphs.
A talented golfer, O'Hair has the skill and drive to pull off an upset.
Sergio Garcia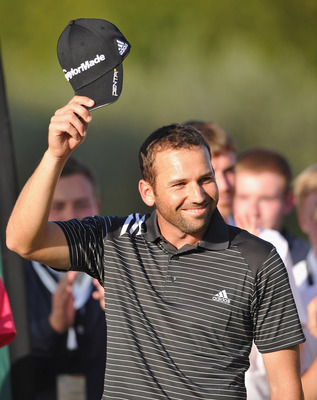 Stuart Franklin/Getty Images
Sergio Garcia is still looking for his first majors win, and the spunky Spaniard could pull it off at the Masters.
Garcia, 32, has been solid through two rounds at Augusta, scoring a four-under par while he scored six birdies on Friday. That's one shot off the lead held by Jason Dufner and Frederick Couples.
Garcia held a Top-10 ranking or higher in the Official World Golf Rankings from 2000-2009. He did get as high as No. 2 in 2008 after winning the HSBC Champions.
In Garcia's majors performances, he finished second in the PGA championship (1999, 2008), the British Open (2007), was tied for third in the U.S. Open (2005) and tied for fourth in the Masters (2004).
A solid golfer, Garcia has positioned himself well to possibly win the green jacket.

Phil Mickelson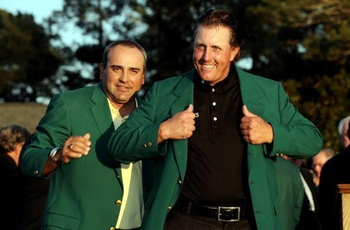 Phil Mickelson is another contender who still can pull off a big victory in the Masters.
The legendary lefty is two-under par, which is only three shots off the leaders.
Mickelson had a strong second round with six birdies that made up for an off first day.
The 41-year-old Mickelson has won four majors tournaments, including three Masters (2004, 2006 and 2010). He also has 48 professional wins.
Don't be surprised if Lefty steals a big win on Sunday.
Tiger Woods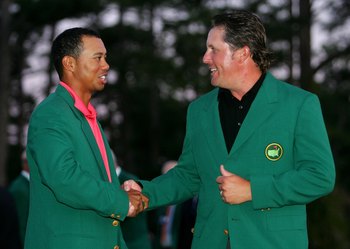 Andrew Redington/Getty Images
Tiger Woods hasn't been himself on the golf course the past two-plus years, but that all changed a couple weeks ago.
Woods snatched his first win in 30 months at the Arnold Palmer Invitational, March 25. That was the first victory since his infamous sex scandal broke out.
Woods has won an incredible 72 PGA Tour wins and has 14 majors victories, including four Masters (1997, 2001, 2002 and 2005).
The 36-year-old Woods has struggled so far in this year's Masters (seven bogeys and counting), but he is still within striking distance.
Keep Reading