Frozen Four 2012: Previewing and Predicting the NCAA Final Game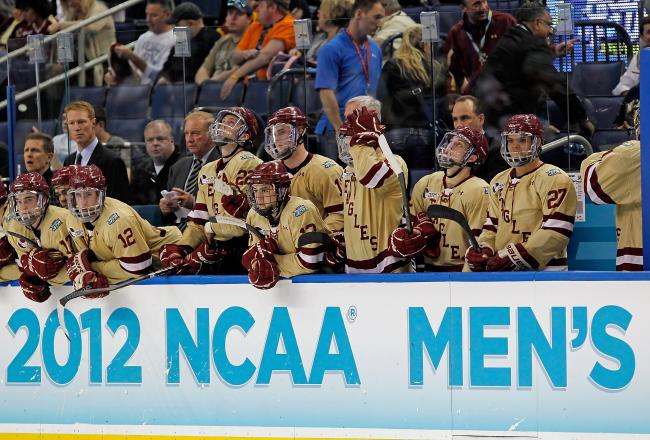 J. Meric/Getty Images
Boston College netminder Parker Milner has allowed one goal in his three national twirls combined. Over his last 17 starts, all part of a personal and team 18-game winning streak, he has not allowed any more than two opposing strikes in a single outing.
And he just had a shutout streak terminated at 192 minutes and 46 seconds amidst his team's 6-1 romp of Minnesota in the national semifinals.
At the other end of Saturday's NCAA men's hockey final, Ferris State senior goaltender Taylor Nelson has allowed no fewer and no more than one goal in each of his three NCAA tournament games.
But it will be primarily on Nelson's praetorian guards to repress what ought to be the top prospective X-factor in this matchup.
Since they endured a 4-0 whitewashing at the hands of UMass-Amherst Jan. 31, the BC Eagles have tallied at least two goals in each of their last 21 games. In that span, they have inserted more than two on 17 occasions and four or more in 12 outings, including four of their last five.
"I think we'll have to make it a defensive battle," Ferris State head coach Bob Daniels said in Friday's press conference.
"There has been a lot of talk about BC's speed and offensive abilities, but having only given up one goal themselves (in the tournament), obviously they're doing very well defensively. And with that in mind and they're ability to score, what we can't do is hand BC chances. Anything that they get, we're going to have to try to make sure they have to earn."
If they have it their way, the upset-minded Bulldogs will simply Xerox the same sequence of events that carried them through the first three rounds of the national dance. Although there will only be so much they can control.
Not counting Aaron Schmit's empty-netter in Thursday's semifinal versus Union, the Bulldogs have consistently subsisted on 2-1 decisions through the duration of this tournament. And granted, two of those wins came against solid strike forces from Union and Denver, both of which averaged more than three goals per game and ranked among the nation's top 10 in that category.
"Certainly, they don't give up that many goals or power-play goals," BC coach Jerry York said of his forthcoming adversary. "When you restrict that many teams to one goal, you're going to win the majority of your games. So we're just going to have to figure that piece of the puzzle out."
In contrast to Union, and maybe even to Denver, BC will pose an elevated challenge to the Bulldogs with its depth and balance. The Eagles have three 20-plus goal scorers in Chris Kreider, Johnny Gaudreau and Barry Almeida. Bill Arnold and Paul Carey are not far behind with 17 strikes apiece on the year.
Conversely, outside of Jordie Johnston and Kyle Bonis, the Bulldogs have no one else with more than 10 goals to his credit.
The Pioneers had Drew Shore and Jason Zucker tied for their team lead with 22 goals apiece, but their other six double-digit goal-getters each had between 10 and 13 to his credit.
And in contrast to the Bulldogs and their preceding opponents, as reliable as it tends to be, the Eagles do not lean quite as heavily on their power play. While they are ranked No. 10 in the nation on the man-advantage, a relatively healthy 73.2 percent of their offensive output has come short-handed or at even strength.
The likes of Denver, Union and Ferris State have logged 72.7, 67.8 and 69.1 percent of their production the same way, respectively.
Special teams could be stalemated in Saturday's match, anyway. FSU's penalty kill is on a success streak of 26 straight shifts, dating back to Feb. 25 tilt with Western Michigan, their CCHA regular-season finale. BC is on a 20-for-20 ride on the penalty kill over its last five-plus games.
On the other side of the spectrum, the Eagles' power play is on a six-game production streak, converting seven of its last 24 opportunities. Since the start of March, the Bulldogs' man-up brigade has gone 5-for-27 over their last six outings.
But besides warding off the formidable Eagles and their own mental errors, Daniels' pupils will need to verify that they their physical fuel is still in healthy stock.
Although they stifled a relatively comparable opponent in Denver to commence the tournament two weekends ago, the Bulldogs are now on the heels of a tight battle with Union. Meanwhile, BC is riding a carbonated wave into familiar territory after throttling Minnesota.
With each national tournament game, the Eagles' output has increased by two goals. That trend is not likely to continue on Saturday, but the odds are overwhelmingly in favor of one of BC's assorted scorers hitting a seam in a timely manner.
From there, they figure to assume a hard-earned psychological stranglehold and pace themselves to a two- or three-goal victory.
Quotes for this story were obtained firsthand at Friday's press conference in Tampa, Fla.

This article is
What is the duplicate article?
Why is this article offensive?
Where is this article plagiarized from?
Why is this article poorly edited?