Derrick Rose: To Win an NBA Championship, It's Isiah Thomas or Bust
April 6, 2012

Jonathan Daniel/Getty Images
Better players than Derrick Rose have gone their entire careers without winning an NBA championship. It's not quantum physics, and it doesn't take a Manhattan Project-type team to figure this out.
It may be unfair to begin comparing the reigning MVP to the ring-less Elgin Baylor, Karl Malone or Charles Barkley since Rose is only in his fourth year of pro ball.
However, there's a giant red flag that can't be overlooked. 
Go back to the history books and name the last great point guard to win an NBA title while being the best player on his team. 
The answer: Isiah Thomas.
And how many years ago?
More than two decades have passed (or flown by, depending on who you are) since a point guard has led his team to the top of the NBA ladder.
And while Rose is a phenomenal player who isn't even yet in his prime, he still isn't in Zeek's realm of NBA lore—yet.
Anyone who doubts that Rose could one day surpass Thomas' career hasn't seen the 23-year-old play. Thomas was never considered to be in the best player argument during his career, and he never won an MVP.
So, for now, let time do its thing before the comparison seeks long-term validity.
It's inevitable to note that, in the last couple years, NBA analysts everywhere have been raving about the point guards in the NBA. And who could possibly blame them?
Since Deron Williams and Chris Paul were drafted in 2005, the league has been flooded with phenomenal point guards of varying skill sets. This list isn't watered down or taken for granted, as it has seen the likes of Russell Westbrook, John Wall and Rajon Rondo all rise to stardom.
But is the position itself overrated, at least in terms of the way it is being talked about?
Maybe. And there's some legitimacy to that argument if you're talking Larry O'Brien trophies.
Despite all the talk about the position, the NBA is not a point guard's league—and it never has been. In the last decade, the best point guard to win an NBA championship in his prime was Tony Parker.
Is he a phenomenal point guard? Yes.
Is he in the same territory as Derrick Rose? Definitely not. And Parker positively was not the best player—and maybe not even the second-best—on his team. Even when Rondo nabbed his ring in 2008, he was considered the fourth-best player on the Celtics.
Only two point guards since Thomas and Magic Johnson have even led their respective squads to the NBA Finals while being the best players on their respective teams.
Jason Kidd led the New Jersey Nets to back-to-back Finals visits in 2002 and 2003, but lost to the Los Angeles Lakers and San Antonio Spurs. Allen Iverson took the the Philadelphia 76ers to the Finals during his MVP campaign in 2001, and depending on who you talk to, he may not even be considered a point guard.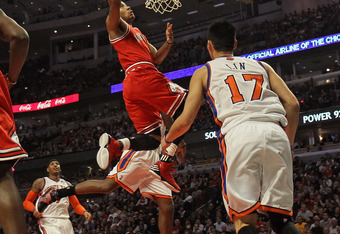 Jonathan Daniel/Getty Images
And for as phenomenal of a career as Steve Nash has had as a two-time MVP and the Phoenix Suns' best player, he's only sniffed the NBA Finals and has never played in the series.
Look at the archetypal point guards who have been part of championship teams; Rose simply doesn't match the description. He's better than Chauncey Billups, Derek Fisher, Kidd of 2011, Rondo, Parker, Gary Payton, Ron Harper, Vernon Maxwell or B.J. Armstrong.
Is Rose better than Thomas or Magic, though? For now, this answer is a no-brainer: absolutely not.
In the end, this league is brutal, its scrutiny relentless and a lot of arguments boil down to one thing: championships. It's been that way forever. Malone knows, as does his point guard counterpart John Stockton—anybody who wants to argue Rose over Stockton this early is in desperate need of a history lesson.
Barkley knows. Baylor knows. Patrick Ewing knows. Walter Bellamy knows.
And none of these guys were point guards.
The truth about point guards and titles is that it takes a good point guard—and not an MVP-worthy one—to win it all. 
So, for Derrick Rose—according to history—it's Isiah Thomas, Magic Johnson or bust.