NFC North Mailbag: Letters from the Frozen North—4/6/2012
April 6, 2012

So today launches a new weekly column, the tried and true mailbag. This is where you, dear reader, get your direct questions answered by I, your happy NFC North writer.
Every Friday I will ask for your questions on Twitter (and shortly on a Facebook page) and post both them and my responses here.
It can be about an article I wrote, one you saw, anything about the teams and the division—as long as it doesn't involve putting a bounty on an editor's head or the illicit sale of panda bears, we're good.
Just a couple today, as we're only getting started.
So let's get this thing going.
QUESTION: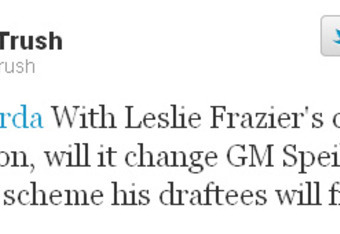 ANSWER: Probably not. While long term planning is always a factor in a team's Draft, most of it is geared towards a "the way things are now" attitude.
Maybe it's early season cock-eyed optimism, but as far as any team is concerned, their coach is their coach and will remain so. Even on the hot seat, it only factors into the Draft so much.
Besides, Speilman will work closely with Frazier in prepping for the Draft, so it'd be hard to get too far off the rails. Beyond that, with no real idea who they would hire to replace Frazier (because apparently only the Dolphins try to hire coaches before they fire the ones they still have), they don't know what scheme a new regime would bring.
The coach is the leader in philosophy for what the team does on the field. There's no way to know what they'd be doing under a new coach, so there's no real point in drafting for it.
The best pick available to help the franchise now is what they care about, because a good pick now will still be useful down the road.
QUESTION: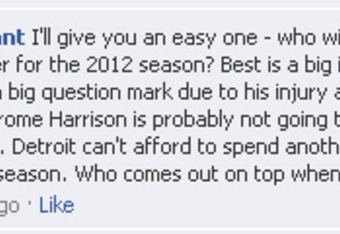 ANSWER: (Will is a great guy from the staff over at Footballguys, so if you want some solid NFL info, you can find his stuff there in season).
I actually disagree that Detroit can't spend another high pick on a running back this year. In fact, I believe they have to. So I guess I could say that the top runner at year's end isn't on the squad.
That said, let's say they don't go for a running back later this month. Who then?
You're right that Jerome Harrison is likely not to return. I have some real doubts that Jahvid Best gets through a season unscathed, as he is prone to more frequent concussions because of the three he's had in two years. So not him.
LeShoure might be a candidate, but we don't know 1) if he'll be suspended and 2) if he's going to be the same back they drafted last year post-Achilles tear.
Many runners come back with diminished burst and explosiveness, both of which were important parts of LeShoure's game.
Kevin Smith is back, but he hasn't finished a season since his rookie year.
If I had to guess, I'd say LeShoure, since even at 75% of what he was, he's likely to stay healthy the longest.
I still say they need to draft a good back though. That group doesn't inspire confidence.