Gophers LB Tinsley Found Dead in Campus Apt.
Use your ← → (arrow) keys to browse more stories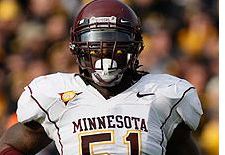 Minnesota linebacker Gary Tinsley was found dead in his campus apartment Friday morning, university officials said. Tinsley, 22, was found unresponsive in his apartment at Roy Wilkins Hall on the Minneapolis campus, team spokesman Andy Seeley said.