When Jeremy Evans Isn't Winning Dunk Contests, He's Drawing
April 6, 2012

Mike Ehrmann/Getty Images
Jeremy Evans won the dunk contest, but he's more than just a dunker.
He's more than just a basketball player, too. In an interview with SLAMonline.com, Evans discussed his other passion with Abe Schwadron. That passion is art. While Evans was gifted with the ability to jump out of the gym he was also given an artistic hand.
Evans uses his other talent as a release away from basketball. From SLAMonline:
Armed with oils, pastels, acrylics and charcoal, Evans draws and paints celebrities, landscapes and anything else that inspires him. Earl Watson, Francisco Elson and Al Jefferson are among a handful of teammates for whom Evans has sketched likenesses on basketballs, and he points to portraits of Michael Jordan and Halle Berry as sources of pride.

"I started drawing when I was 5 years old," says Evans, who turns 24 in October. "And my stick figures were a little different from everyone else's."
Earl Watson tweeted a photo of one of those paintings to his Twitter account today. A baby Watson sits cross-legged in a sandbox, tossing an over-the-head alley-oop to a baby Evans, standing on his toes to dunk on the plastic hoop.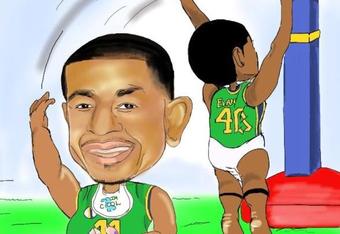 It's not often we get to see the other side of professional athletes. Creativity is a great thing. Now we just need the rest of his teammates to tweet more photos of his artwork.