Why NFL Is To Blame for New Orleans Saints Bounty Scandal
April 6, 2012

Mike Stobe/Getty Images
Gregg Williams and the New Orleans Saints are right to be punished for the bounty scandal, but the NFL is as culpable as anyone else in this sordid episode.
The latest audio recording of the defensive coordinator shows how serious the problem was.
Prior to the NFC Divisional game against the San Francisco 49ers, Williams instructs his players to take out Michael Crabtree's ACL and make sure they hit the previously concussed Kyle Williams.
However, it should never have gotten to this point.
Prior to the playoffs, Saints owner Tom Benson received a warning from the league.
"The point was to make it clear to him that we had new and credible information that a bounty program may exist, and that he should make it extremely clear, beginning with the game the next day, that there should be no bounty system in place while our investigation continues," Goodell said. "We do not want to put our players at risk, and that was the message."
Commissioner Roger Goodell knew there might be a bounty program, but the investigation took so long that more players were put at risk. 
The league is extremely fortunate that no one was seriously injured.
In reality, the problems started long before this warning.
The NFL has prided itself as a physical sport. Every network (included the league owned NFL Network) shows highlight videos of the biggest hits from the week.
Fans like these videos.
It was not until recently that fines started coming down from the league office for dangerous helmet-to-helmet hits.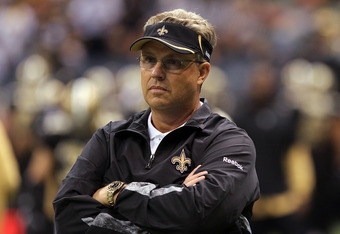 Matthew Sharpe/Getty Images
Does Goodell honestly believe that these athletes are going to change overnight the way have played their entire lives?
The Saints players apparently going after knee ligaments is too far, but fans should not be naive enough to think this is an isolated incident.
Defenders across the league make it their goal to hit the player with the ball as hard as they can. And until recently, there were no official repercussions. 
It is human nature to do as much as one can get away with, and before this month, everyone was getting away with a bounty system.
After years of standing on the sideline, the NFL is finally get involved. 
Hopefully, this new set of penalties will be enough to prevent problems like this in the future.