NBA Draft 2012: Breaking Down the Biggest Potential Busts
April 6, 2012

Jim McIsaac/Getty Images
Rarely does a "sure thing" present itself in the NBA draft on a year-to-year basis.
Most decision-makers are looking for prospects who have had successful college stints as well as tremendous untapped potential, but those players are not always available.
Instead, teams have to make the decision as to who to target when the ideal target is no longer available on draft day.
Despite the depth that the 2012 draft class has, there are a handful of players who have the potential to be monstrous busts at the next level.
Jeremy Lamb, SG, UConn
Lamb is projected to go in the first round, but his draft stock is as volatile as any other prospect who is thought to be a contender to be taken in the first 30 picks.
He really needs to add some strength to his frame in order to contend with bigger shooting guards, and it's not a guarantee he'll be able to do that.
Some team is likely to reach for him with the hope that he turns out to be a stud, but he's going to have to do a lot of work for that to even be a discussion.
Meyers Leonard, C, Illinois
Leonard took on a substantial role in his second season with the Fighting Illini and responded well, but that doesn't mean he's going to have success in the league.
Hasheem Thabeet averaged a double-double in college with over four blocks per game before he turned pro, so the numbers in college can often be deceiving when talking about future success of a particular player.
Leonard has legitimate height, but he's going to be thrown around in the paint and could really struggle against superior defenses at the next level.
Tyler Zeller, F/C, UNC
Zeller is another guy who has impressive size, but he didn't dominate defensively the way he should have in college.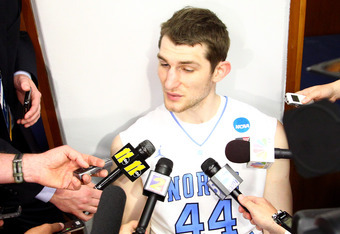 Dilip Vishwanat/Getty Images
He never cracked two blocks per game during his time in school, so it's going to be difficult for him to keep up with more talented opposition in the NBA.
He also never averaged double-digit rebounds while at North Carolina, so how is he going to come in and start doing it in the league?
Jared Sullinger, PF, Ohio State
Sullinger is a solid candidate to be drafted in the lottery as a top-14 selection, but should he really go that high?
He's lazy on defense and isn't the most athletic prospect, and his conditioning could be a major question mark over the course of a full 82-game season.
He doesn't have a ton of upside, and there remains a chance he doesn't develop into anything more than a role player on a good team.
Terrence Jones, F Kentucky
Jones definitely showed off a versatile game while he was in school, but his numbers slightly slipped during his second season at Kentucky.
He's not a good foul shooter, nor is he a threat from behind the arc, so Jones might have a difficult time finding his offense in the NBA.
Jones will have to carve out a niche role to see consistent playing time in the NBA, but there are questions as to whether or not he can do it on a consistent basis.