Dwight Howard Saga Exemplifies Ills of Star Driven League
April 6, 2012

Chris Trotman/Getty Images
The NBA is a superstar driven league, which is why we truly love this game. From Kareem Abdul-Jabbar to LeBron James, we tune in because we love watching freakish athletes do the unthinkable. We love to be entertained.
But for every Bill Walton, every Kevin Durant and every Larry Bird, there is a selfish prima donna who personifies the perils of superstardom.
Ladies and gentleman, I give you Dwight Howard.
In less than two years, Howard has completely besmirched his reputation to the point of no return. The idiocy reached an all-time high Wednesday when Stan Van Gundy confirmed that Dwight Howard had in fact told management he wants his head coach kicked to the curb. 
And then things got even more awkward.
The Dwightmare in the Magic Kingdom is a shining example of why love of the NBA isn't always unconditional. And no, it's not because we have to sit through 50 nationally-televised Knicks games every year.
It's because David Stern, ownership groups and in many cases head coaches have let players dictate the game plan for entire franchises.
Although he is far from the first offender, Howard's actions are particularly pathetic.  His entire legacy now reeks of hypocrisy, thanks to a flip-flopping stance on his early termination option earlier this year that would be tough for any politician to top.
How can an immature 26-year-old be qualified to make decisions? How can the Magic tolerate such insubordination?
The answer is money, fear and a blinding ignorance.
It's All About the Benjamins
Magic ownership finally got a new arena constructed in 2010 in downtown Orlando, after some concern the team would be forced to move to land new digs. Even once the Magic and the city of Orlando agreed on financing, there were concerns the project would crumble.
But thanks to Dwight Howard providing an identity to a franchise that had been drifting since Penny Hardaway and Shaquille O'Neal, things were looking up in Orlando.
Prosperity came at a price.  Rashard Lewis helped Orlando make the NBA Finals, but his $118 million dollar contract handcuffed the team. Then came moves for Vince Carter, Hedo Turkoglu and more than $11 million annually invested in the mediocre point guard tandem of Jameer Nelson and Chris Duhon.
In the end, it all comes back to Howard. Despite some horrid performances and all the turmoil surrounding him this season, the Magic are still a playoff team and will be as long as D12 gives his customary 50 percent effort.
But if Howard were to bolt, which logic suggests will happen after the 2012-2013 season if not sooner, Orlando will be a losing franchise both on and off the court.
Move over New Orleans Hornets, because here come the Orlando Magic.
Fear Factor
Let's face it, becoming the Amtrak of the NBA is not an attractive proposition.
Orlando's ownership cannot risk making Howard unhappy, so there is little choice but to give into his demands, including running Stan Van Gundy out of a job.
D12 also has been critical of teammates at times, hinting he would like an upgrade from the portly Jameer Nelson at the point. Otis Smith made inquiries about Monta Ellis near the trade deadline in hopes of keeping his superstar happy.
Too little, too late.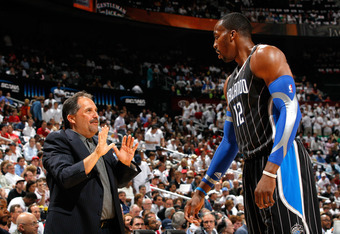 Kevin C. Cox/Getty Images
Ignorance Isn't Bliss
Dwight Howard obviously learned from LeBron James holding the Cavaliers franchise hostage.  We all know how well that ended for poor Dan Gilbert.
It's easy to rip Howard for being selfish and stupid. It's even easier to rip the Orlando Magic franchise for operating with tunnel vision.
Orlando's ownership group is ignoring the writing on the wall. Giving Howard what he wants, whether hand-picking a head coach or altering the roster, won't keep him from flying to a bigger market.
The smart move would be to deal Howard after the season and begin the retooling process with Andrew Bynum, Josh Smith or another All-Star caliber talent.  
Face reality and start damage control before it's too late or watch your franchise go up in smoke.
Why Superstars Won't Always Run This Game
From Magic Johnson to King James, players have made decisions that are in the best interest for their personal legacies.
With social media, ESPN's hype machine and an overabundance of sports journalism pundits, the concept of a legacy is becoming more and more important.
Twenty years ago, being liked didn't equate to millions of dollars. Now, it does.
It's more than just your game, it's your impact on the game and how people view you. LeBron James and Dwight Howard want to be liked, not perceived as being selfish punks.
That's bad business.
James has admitted "The Decision" was not a smart idea and in true LeBron fashion, even commented about how he would like to play for his hometown team again.
How long before Dwight Howard wakes up and realizes he is even more disliked Mr. Decision himself?
While spoiled stars might not wake up, NBA franchises slowly will. The carnage in Cleveland has already inspired the Denver Nuggets to trade Carmelo Anthony instead of losing everything.
The negative public backlash to Howard's antics should be enough to give NBA fans hope. For now, all we can do is scream at our TVs when we see Dwight Howard clanking free throws.  
Here's hoping Dwight Howard will be the final martyr to rewrite the perception of NBA superstars.
That way, we can really love this game.