2012 NFL Draft Predictions: One Bold Prediction for Each Round
Sam Greenwood/Getty Images

Two years ago the Jacksonville Jaguars shocked everyone by selecting California defensive lineman Tyson Alualu at #12 overall in the 2010 NFL Draft.
Well, everyone except me.
As it happens, I had Tyson as the #12 ranked player on my big board. Better lucky than good, I suppose.
As we get nearer the Draft, it's time to take a look at the potential for any similar surprises.
Begin Slideshow

»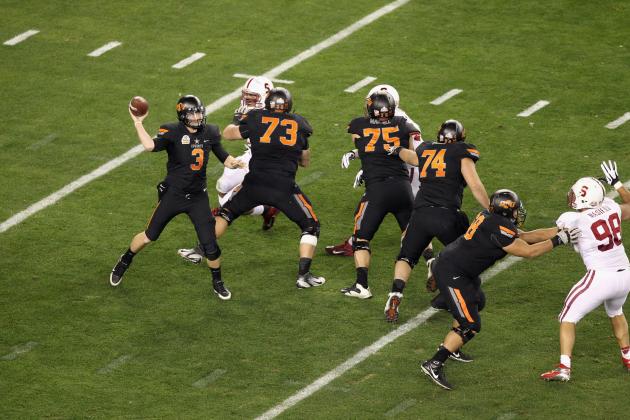 Christian Petersen/Getty Images

Quarterback Brandon Weeden of Oklahoma State has not yet solidified his Draft status.
When it comes to the NFL Draft, quarterbacks play a game of musical chairs, and sometimes certain guys are left without a chair when the music stops. This happened to Ryan Mallett one year ago, as he fell all the way to the 3rd round before the New England Patriots decided they did not care about the presence of Tom Brady and Brian Hoyer on their roster. The No. 1 quarterback on their board in the 3rd round was too good a value to pass up.
There are many who believe Brandon Weeden could suffer the same fate, due to his age.
I believe that, in the end, teams will be more comfortable with a bad birth certificate than with consistent rumors and hearsay of a dirty drug history. They will be more comfortable with Brandon because you can sit in a room with him and come away genuinely impressed, rather than walking away thinking something about the guy just rubbed you a little bit wrong.
I have no illusions about Weeden going in the top 10 of this draft. I believe he will either go No. 22 overall to the Cleveland Browns, or he may go to the Miami Dolphins in a trade down/up scenario.
However, even assuming he makes it beyond the Cleveland/Miami picks, the area of resistance I see in the bottom of his draft stock is focused on a gauntlet from the top of the 2nd round through the middle of the 2nd round. In particular, I believe the following teams would love to snap him up:
No. 37 - Cleveland Browns
No. 41 - Buffalo Bills
No. 42 - Miami Dolphins
No. 43 - Seattle Seahawks
No. 44 - Kansas City Chiefs
No. 45 - Dallas Cowboys
No. 46 - Philadelphia Eagles
No. 51 - Philadelphia Eagles
No. 57 - Denver Broncos
What convinces me that he will go in the 1st round is the clustered nature of the picks. The gauntlet involves enough teams, leaving little enough doubt that Weeden would make it through that gauntlet, to set up the potential for teams jockeying to trade up, similar to when the Buffalo Bills traded back up into the 1st round of the 2003 NFL Draft to take J.P. Losman.
Hopefully, Brandon won't be the next J.P. Losman, but he could very well be the next Joe Flacco, who benefited from a similar trade up by the Baltimore Ravens.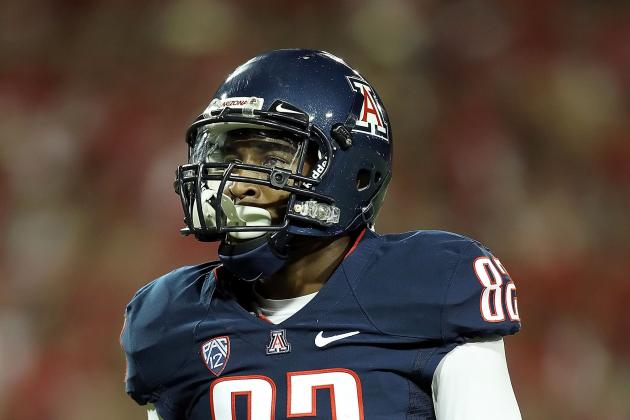 Christian Petersen/Getty Images

Heading into the 2011 season, Juron Criner was well known as one of the best receivers in college football, a true asset for quarterback Nick Foles.
Medical issues derailed him in 2011, but he didn't manage to get too far off the tracks. He still caught 75 passes for 956 yards and 11 touchdowns. Even so, he lost enough luster to be forgotten in what many consider to be a strong receiver class.
Running solidly in the 4.6s in Indianapolis didn't help.
Speed has never been a huge part of Criner's game. His game is predicated on solid foot contact, body control, physicality and the ability to track the ball in the air. Brandon Lloyd is considered a perimeter threat in the NFL, but he never ran better than a 4.6 in a track setting.
I believe the guy that emerged from the week of Senior Bowl will be drafted higher than people think.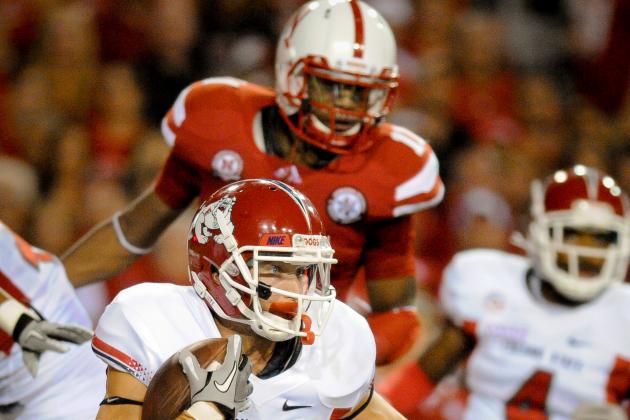 Eric Francis/Getty Images

Devon Wylie has drawn the nicknamed 'Wiggles' from teammates at Fresno State. The nickname will be fitting as a man that entered the Draft season on practically nobody's radar manages to wiggle his way into the 2nd day of the NFL Draft.
Wylie may be the best punt return man in the Draft. I saw him practice in person in St. Petersburg for the East-West Shrine Game, and he is quicker than a hiccup. No other receiver at practice had his feet.
What pleasantly surprised me was his ability to spot the ball in the air early and accurately. When combined with his ultra quick feet, he could adjust on passes in ways that most other guys would find impossible.
Showing up at the NFL Combine and running solidly into the 4.3s helped his stock tremendously as it showed teams that he could be a threat on the outside, rather than just a slot player.
Streeter Lecka/Getty Images

Though considered by many to be a 3rd or even 2nd round worthy player, I expect Bruce Irvin to fall at least into the 4th round of the NFL Draft this April.
Irvin has a history of trouble with the law in his background from his days as a minor. When he got arrested recently for destruction of property, that was a not-so-subtle reminder that Bruce may not have put his troubles fully behind him.
The talent for rushing the passer is obvious. His explosiveness on pass rush plays is off the charts. The problem is, this is only true for perhaps 8 to 11 plays a game. If you force more of a load on him, he wears down considerably, and totally loses his effectiveness.
After racking up multitudes of sacks in 2010 as a sub player, the West Virginia coaches attempted to up his playing time and make him a starter. The results were disastrous. He had one sack in the first five games of the season. During the Connecticut game, the coaches dialed his playing time back down, and suddenly he got more effective and explosive again.
This suggests a potential lack of work ethic which leads to stamina problems. Worse yet, according to what I have heard, Bruce acknowledges this phenomenon and prefers to only come on the field a dozen times in a game. Tell me, which dominant NFL defensive player do you know that wants to be on the bench rather than on the field?
I think Bruce carries a significant buyer beware, despite his obvious explosiveness and movement ability.
Andy Lyons/Getty Images

A year ago, as a South Florida Bulls season ticket holder, I found myself talking often about Mistral Raymond and hearing nothing but crickets from the rest of the Draft community. Many had him as far down their safety board as Mel Kiper infamously had Michael Mitchell, who ended up drafted by the Oakland Raiders in the 2nd round.
Come April, the Minnesota Vikings not only made Mistral Raymond a draft pick, they took him in the 6th round.
I won't pretend to have been banging the drum for Winston Guy for any great length of time. I only just recently took a hard look at him. But, in a safety class I would describe as painfully weak at the top, Winston is a guy (forgive the pun) that impressed me tremendously.
It would not surprise me if four of the best five safeties from this class end up late round picks and/or corner converts.
Winston takes a lot of heat from the Draft community for having run what the National Scouting people claim is a 4.70 at the NFL Combine in February. I can assure you, no scout had Winston timed that high, and no team uses the "official" 40 times provided by National Scouting. Most scouts had him solidly into the 4.5s, and I suspect that many know that he is capable of breaking into the 4.4s when fully healthy.
Winston played a position in 2011 somewhat akin to Teejay Johnson of the TCU Horned Frogs in 2010. Teejay had a 4th to 5th round grade from NFL scouts before abruptly deciding to retire from the sport.
What I saw in Guy was a player that played at or near the line of scrimmage very often as a rover, and unlike most of the safeties in this class, I found that he consistently found the correct angles, filled the correct containment assignments, and showed fantastic pure physicality and will in run support.
I came away from his tape feeling like I could play him at linebacker in place of North Carolina's Zach Brown, and get better linebacker play. His willingness to take on blocks and physically slam himself into the meatiest parts of the pile was very impressive for the kind of player he is.
You may believe me to be exaggerating, but all I can say is, watch the film.
Watch him line up against LSU in a position that looks similar to a 3-4 outside linebacker, take on a straight ahead drive block from one of the top offensive tackles in the country, Chris Faulk. Watch the 6'1" and 218 lbs Guy easily push Faulk downward, putting him on the ground, then get to the inside and pull down Terrence Magee. Watch him blow up fullback James Stampley in the backfield, forcing Alfred Blue to redirect, then get off the block and pull Blue down for a minimal gain.
Oh, and in coverage? I saw only two passes completed into his coverage responsibility in the LSU and South Carolina games combined. I didn't see many other safeties in this class capable of displaying that kind of versatility.
That kind of physicality on a player that can move and cover in man like a slot corner is going to appeal to coaches because they will have a clear vision of the roles they can have him play immediately in their nickel and dime defenses. With his fluid hips and man coverage ability, speed and range, to go along with the physicality, he should be able to play any number of roles in nickel and dime defenses.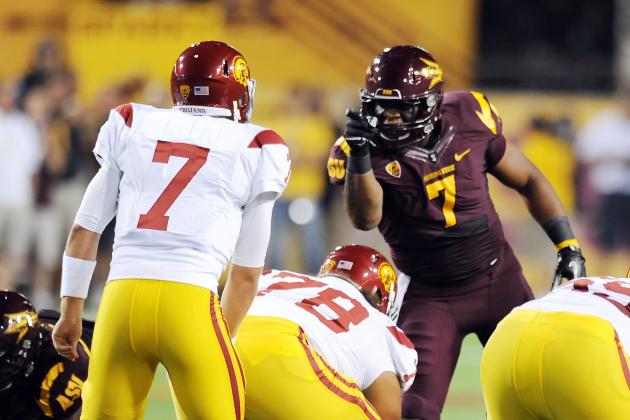 Norm Hall/Getty Images

Once considered to have Ray Lewis-like potential by those who follow the Pac-12, Vontaze Burfict has fallen from an immense height, and he has nobody to blame but himself.
His total inability to play by the rules, accumulating more flags than a United Nations assembly, turned off many NFL teams. It is rumored that Dennis Erickson's inability to control Burfict was among the reasons fired.
In interviews with the press, Vontaze has outwardly blamed his coaches for all his problems, coming off childish and even a bit disturbed. His workouts have been veritable disasters, showing that his personality issues clearly bleed over into his work ethic.
Even worse, I found that on tape, his personality issues bled into his on-field talent. If something rattled him, he was thrown off his game and played hesitant the rest of the way. If he got excited and was feeling the flow, he could be absolutely deadly.
Say what you want, I honestly do not believe NFL psych evaluators are going to give Vontaze a thumbs up. I believe he may actually have some sort of psychological personality disorder, not unlike Brandon Marshall, perhaps even worse.
I think the shock of the Draft will be that when the 6th round opens, Vontaze Burfict is still on the board. And even further, when the 6th round closes, Vontaze may still be on the board.
Will he go completely undrafted? I do not think so. I think some team will see if they can polish him up to play like Brandon Spikes of the New England Patriots. However, this man is set to sink like a stone compared with what he was supposed to be just a short year ago.
Jonathan Daniel/Getty Images

As a South Florida Bulls season ticket holder a year ago, I talked a lot about Mistral Raymond being drafted. To the surprise of many, that ended up happening.
I also talked about Jacquian Williams being very underrated as a coverage linebacker that could sneak into the tail end of the Draft or be a priority free agent. The Giants surprisingly selected him in the 6th round of the NFL Draft, and he ended up with almost 600 snaps of playing time in 2011.
This year, if there is a South Florida Bull that could surprise and be drafted, I believe it is the safety Jerrell Young. He lacks a top gear but he has a knack for making two or three plays a game that make you take notice of him.
When the Bulls upset Notre Dame in the first game of the season, it was Jerrell Young who made a key strip on the goal line as the Irish were about to score, which led to a 99-yard return touchdown by the Bulls that changed the flow of the game. Young also had an interception in that game.
Bill Belichick was on hand at South Florida's Pro Day to watch Young, just as he also kept an eye on Mistral Raymond at South Florida's Pro Day one year ago. The other potentially draftable players on hand at South Florida's Pro Day were offensive linemen Chaz Hine and Jeremiah Warren, as well as tailback Darrell Scott. Of the four, I believe Jerrell Young, who was invited to participate at the East-West Shrine Game, stands the best shot of ending up drafted.