2012 NFL Draft: Solving Denver's Biggest Pre-Draft Need
April 6, 2012

Ronald Martinez/Getty Images
The Denver Broncos have been the kings in free agency this year.
And why wouldn't they be?
They had a ton of money, and were the playoff team with the most holes on their roster. The most publicized and important need was at quarterback...if only there was a franchise guy around in free agency this year.
Enter: Peyton Manning.
Just like that, the Broncos became offensive powerhouses. Although, one extra receiver may not hurt. Another big need was corner. Enter: The man that cost Peyton Manning a championship ring. Tracy Porter may not be the most glamorous signing, but he is an upgrade opposite Champ.
That being said, needs remain at the interior of both the offensive and defensive lines. Upgrades are especially needed at defensive tackle, so here are a few that can help prevent long, gashing runs. Less rushing success means more passes. More passes means more time that Von Miller and Elvis Dumervil can pin their ears back and focus on getting to the passer. And that, is bad news for whoever happens to have the misfortune of lining up against the Denver D.
Aubrayo Franklin
Tipping the scales at a stocky 6'1", 320 pounds, Franklin is one of the best rush-defenders in the league. He keeps his pads low and has a strong punch on first contact. The former Saints defensive tackle can impact a game with his ability to engulf the ball carrier, but he also is known for his ability to keep bodies off of his linebackers. Using him on outside stunts while blitzing Miller to the inside would be a lethal combo.
He is only nine years into his career, so the Broncos could sign him to a three-to-four-year deal with some decent money up front, but at a cheap yearly cost. That will mesh well with Manning's large contract. Also, with the mass exodus coming from New Orleans in the wake of Bountygate, Franklin may be ready to distance himself from that situation. If that is the case, what better place to take refuge than behind Peyton's arm and Elway's smile?
Kelly Gregg
Gregg is similar to Franklin, in that he is an aging tackle who is primarily known for his ability to hold the center of the line and keep blockers off of his linebackers. Gregg has been predominantly a 3-4 nose tackle, so I wouldn't expect much in terms of a pass rush. His shelf-life will be much shorter than Franklin's, and may only be a one or two-year type of player. If they could get him cheap (and I'm almost sure they can), he would be worth a look.
Shaun Rogers
If you think Franklin was big at 320, Rogers rolls in at a solid 350. Though his strength is impressive, he makes this list because of his strong ability to hold a block. Rogers is also another former Saint looking for refuge. He is a load for centers to handle, and will demand a double-team. Lining him up next to Dumervil would be a "pick-your-poison" situation. Heaven forbid, you bring in Porter/Miller/Rahim "The Dream" Moore on the blitz.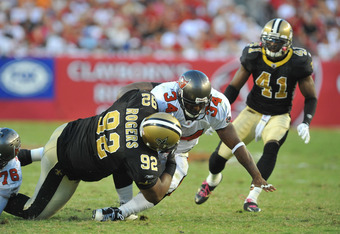 Al Messerschmidt/Getty Images
Albert Haynesworth
This is a bit controversial, but I think Haynesworth is definitely worth the league minimum. He can play full-time in his favorite scheme, the 4-3. Not only that, but if there is someone that can light a fire under him it is Peyton.
Haynesworth is a former Vol, and has respect for the legend that Manning is, among Tennessee fans.
Not only that, but he and Manning were rivals in their primes during their time in the AFC South, so they know just how good the other can be. I believe that Manning knows his time is coming, and will be a big motivating factor for every single player on that roster in the coming years.
If the Broncos can sign one or two of those players, I think they can afford to take best player available in the first round this year. That player could be an explosive wide receiver like Wright, a solid safety like Barron, or a new running back like Lamar Miller or David Wilson. No matter who they pick, they could be in prime position to win now. These moves would be a huge step in that direction.