2012 NFL Draft: Which Players Are Hardest to Project in Mock Drafts?
April 6, 2012

Handout/Getty Images
Any draftnik or writer that has efforted a mock draft, even a one-rounder, knows what a difficult exercise it is.  Although predictive in the nature of its thesis, there is so much blind analysis and impending variables to the two major components for each pick (team and player), it is as much an entertainment piece as one of analytical virtue.
A dedicated mock weaver should be as familiar as possible with the likely pool of targets, respective NFL team needs, as well as personnel men's track records and philosophies.  Bleacher Report's NFL draft lead blogger Sigmund Bloom authored a succinct how-to guide earlier in the season with some excellent pointers.
It is the hope of this writer that many readers and fans, even without dipping their toes into the murky mock draft waters, are able to appreciate the perplexity that accompanies these predictions.
Just from a psychological standpoint, all aspirations for perfection and certainty must be checked at the door.  There is also the humility that comes from opening oneself to the world through equivocation at multiple picks, and over succeeding mock draft slideshows, throughout the process.
This article seeks to deal with the tangible scouting aspects of a mock effort and identify two groupings of players that present specific challenges when attempting to forecast their landing spot in the annual player lottery.
Players that the Author Evaluates Negatively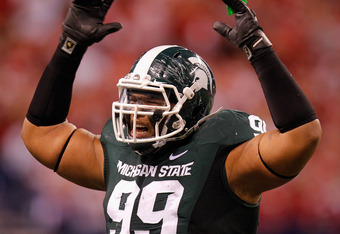 Gregory Shamus/Getty Images
In maintaining optimal mock draft integrity, the writer should be constantly striving to balance his own scouting evaluations and judgements of fit with those being opined and/or reported industry-wide.
I have as much confidence in what I see and project as the next qualified draftnik but it is also arrogant and obtuse to shut out other informed and respected viewpoints and hard intelligence.  And this notion is no more succinctly couched than when the mock drafter carries a player evaluation much lower than the market rate on a guy.
Does he completely stick to his own guns and believe that he will be vindicated during the actual NFL draft when said prospect plummets on the board?  Or in polar respect, does he align his mock projection with the median expectation, feeling confident that at least one team will make the same mistake as the majority of the other analysts?  Something in between?
And is it more important to produce higher accuracy with a mock draft or the ultimate prescience of the player evaluation and what that prospect actually turns out to be?  For most popcorn draftniks, I believe their focus is on nailing the picks and quickly forgetting about it all by the summertime, let alone a year or three down the line.
A more committed evaluator relishes the conviction required to observe, track and understand the development of a prospect before basking in or melting under the light of the end result several years into the future.
Examples: 2012: Jerel Worthy, DT, Michigan State University.  I currently maintain a mid-round grade on him although he is consistently mocked in the late-first and early-second rounds.  I am holding my ground and predict that he will fall at least out of the top 50.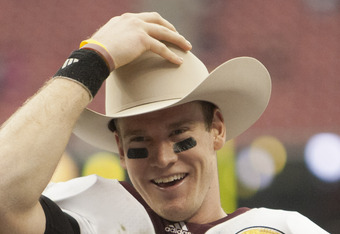 Bob Levey/Getty Images
2012: Ryan Tannehill, QB, Texas A&M University.  He is another wildly popular player, who I have rated in the third round.  But in this case, I have mocked him eighth to the Miami Dolphins because I think their regime will take the dive on his perceived upside.
Injured Players
For somewhat obvious reasons, a player that has been hurt during the majority of his draft-declaring campaign or the pre-draft process can be elusive to nail down in a mock projection.
A lot of questions are inherent to an injured player's evaluation: the timing and severity of the ailment, isolated versus chronic, how much should the medical be factored into his draft stock or are teams wiser just going straight off the film based on the likelihood of his full recovery?
A further complication, however contrived and limited to the draftnik community, can be that when non-star prospects disappear late in the season and/or during the All-Star games and workout phase, they are often dropped on boards for their absence and lack of buzz.
This tends to be the mistake of an inexperienced draft analyst or an overreaction to certain injuries with contextual regard to how it impacts the player's future.
Examples: 2012: Mark Barron, S, University of Alabama.  A double hernia surgery following the national championship game cost Barron his spots in the Senior Bowl and at the combine.  This subsequent void of attention led some draftniks to rate him as a late first- or early second-rounder.
As the premier safety in the class with excellent dual capability, and a comfortable projection that he will see time at both safety spots during his NFL career, I have Barron firmly entrenched in the middle of the first round.
2012: Ryan Broyles, WR, University of Oklahoma.  When Broyles tore his ACL in November 2011, it abruptly ended his college career as one of the most prolific in NCAA history and a likely day-two pick as a slot receiver and return man.
Fast forward to April 2012, with the draft just a few weeks away, and the consensus is that he will fall to day three, possibly as late as the fifth round.  Does the severity of the injury, as a quickness/agility player, justify the downgrade?  Or does Broyles present one of the better value margins in this class because he will likely return to full health and reach his ceiling?
As always, I look forward to your comments below and you may follow me on Twitter at @JeffRoemer.