Pittsburgh Penguins vs. Philadelphia Flyers Is Greatest Rivalry in the NHL Today
April 7, 2012

Bruce Bennett/Getty Images
The Pittsburgh Penguins and Philadelphia Flyers will meet for the sixth time in the NHL playoffs next week. Besides the fact that both teams have a chance to win the Stanley Cup and they both call Pennsylvania home, they have only one other thing in common: hatred for each other.
There are many factors that go into a really great hockey rivalry, but true hatred for an opponent and their coaching staff is essential. Typically, this occurs during a game or in the middle of a season. However, it kicked off early last summer when Jaromir Jagr made it known through an intermediary that he wanted to sign with his old team, the Penguins.
It was going to be a great reunion, except for one thing: Jagr and his agent used Pittsburgh as leverage to get more money from the Flyers. GM Ray Shero was incensed, and Mario Lemieux probably wasn't very happy to be used by his former line mate in this manner. Penguins fans didn't like Jagr much anyway because of his moodiness the last few years while he played with the team, and then when the Penguins got nothing in return when he was traded, they liked him even less.
Still, they would have welcomed him back with open arms, but he burned the very last bridge between him and Pittsburgh with this manipulation.
Typically, a close geographical proximity is also necessary to make for a really heated rivalry. The two cities are approximately 300 miles from each other. Even though Buffalo and Columbus are closer to Pittsburgh, and New York, New Jersey and Washington are right around the corner from Philadelphia, it doesn't matter.
The Battle of Pennsylvania is a blood feud.  
Not to mention, people in Philadelphia are much different from people in Pittsburgh, and vice versa. This leads to each city thinking they are superior to the other, and in turn, their sports teams are an extension of this attitude.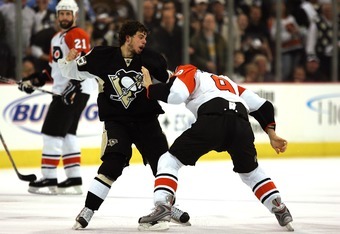 Jim McIsaac/Getty Images
A physical component also must be present. Even if the score is 4-1 with less than a minute to go, neither team's fans will leave the building or turn off the television until the final horn sounds. Take last week in Pittsburgh, for example. Toward the end of a very entertaining game with very few penalty minutes up to that point, things turned ugly.
After a legal check on Daniel Briere was delivered by the Pens Joe Vitale, the two teams combined for 55 minutes in penalties with just over a minute remaining. This included the two coaching staffs yelling at and threatening each other, and continuing the verbal assaults long after the game through the media. 
Which brings us to the final, and most important aspect.
The war of words is usually the most entertaining part of the rivalry. Plenty of salvos were fired this past week, with NBC Sports analyst Mike Milbury taking the side of the Flyers this time around (via PennLive). In years past, there have been some great exchanges—some bizarre and others just plain funny. When Philadelphia owner Ed Snider lost to the Penguins in the playoffs for the second year in a row in 2009, he criticized the them for being so bad in the mid 2000s that it enabled them to draft Sidney Crosby.
Who could forget Max Talbot shushing the Philly fans after a fight during the same series? It seems like it would be tough for these two teams to top what's happened so far, but something tells me greater memories are just around the corner.