College Football Predictions: Matt Barkley Wins Heisman & 49 Other Predictions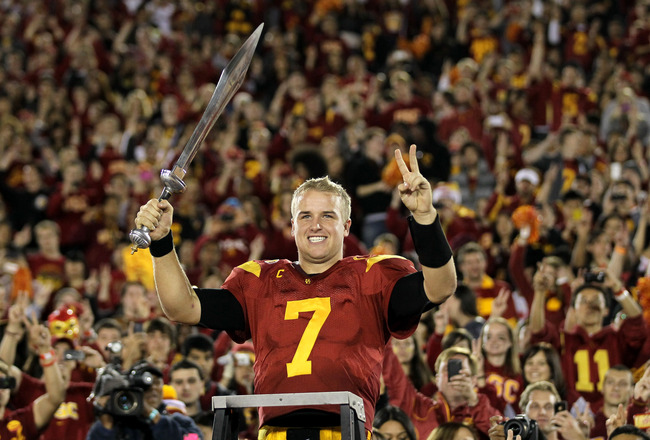 Stephen Dunn/Getty Images
With spring practice well underway for teams around the nation, fans, coaches and players are gaining more insight to how their team will look when the games kick off in the fall.
Now that we have moved another month closer to the season kicking off, many questions begin to get kicked around and people start put together some early predictions.
Here is a look at 50 things that you can expect to see during the 2012 season.
Oregon Wins a Fourth Straight Conference Title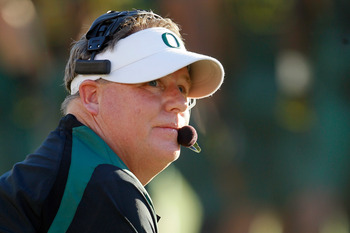 Jeff Gross/Getty Images
Despite the hype that the Trojans are receiving in their first year back from being banned from bowl games, Oregon is still the three-time defending conference champions, and they have a ton of talent coming back.
If the Ducks find a solid answer at quarterback, they will not only win a fourth conference title but may compete for a national title.
Missouri Struggles in the SEC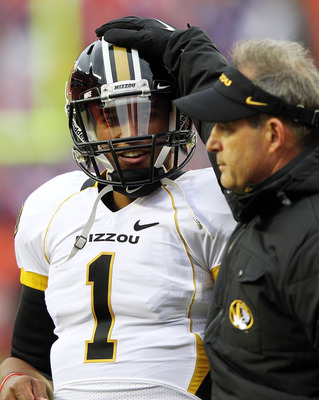 Jamie Squire/Getty Images
After a few conference games, the Missouri Tigers are going to realize that they bit off a lot more than they can chew.
With the strength of their new schedule, look for the Tigers to truly struggle and maybe even miss the bowl season.
Texas A&M Blows More Second Half Leads Than Last Year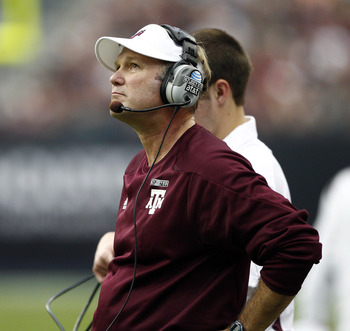 Bob Levey/Getty Images
Last year was a season that all Aggies fans would love to forget. Unfortunately, Texas A&M is in for more of the same in 2012.
While they may be able to compete early on, the size and strength of the SEC will wear them out, leading to second-half collapses.
Game of the Year Will Come from the Pac-12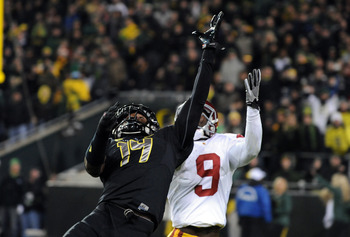 Steve Dykes/Getty Images
Last year Alabama and LSU met up as two of the top teams in the nation, and both were undefeated.
This year, both the Ducks and Trojans have a relatively easy schedule leading up to their November game.
The result should be two undefeated teams in the top five battling it out in this year's game of the century.
Michigan Loses Badly to Alabama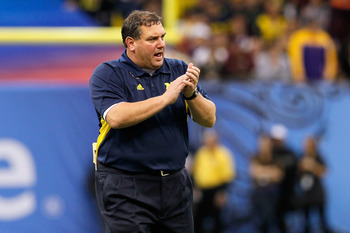 Kevin C. Cox/Getty Images
After an impressive first year as coach, Brady Hoke has his hands full to start the 2012 season.
In the first week, Michigan travels to Texas to take on defending champion Alabama. This is a matchup that will receive a lot of hype but will be over by the half.
Michigan State Finally Wins the Big Ten Outright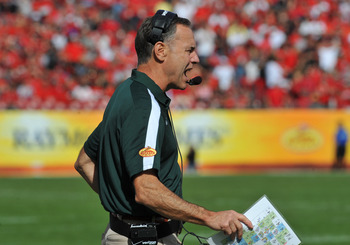 Al Messerschmidt/Getty Images
For the past two years, Michigan State has been knocking on the Rose Bowl's door but has yet to be let in.
This year, with Wisconsin likely taking a step back and Ohio State being banned from a bowl game, the Spartans have a window of opportunity that they will take advantage of.
Temple Competes for the Big East Crown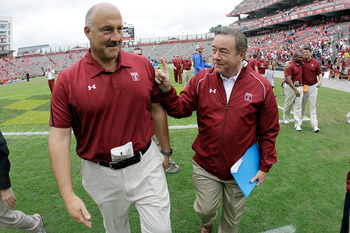 Rob Carr/Getty Images
The most recent team to move conferences was Temple making the move to a Big East conference that had been falling apart.
Last year, the Owls were a surprise team that leaned on their defense and turned some heads. Combined with the strength of the conference—or lack thereof—and Temple's coaching staff, look for them to be a serious threat to win the Big East this year.
Boise State Struggles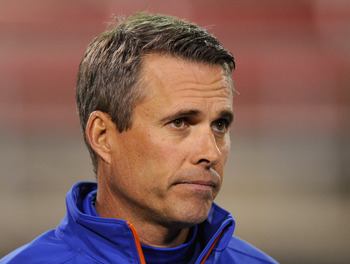 Ethan Miller/Getty Images
Some people have been waiting years for this, which speaks to the success level of Boise State, but the Broncos are going to finally have a down year.
With an opening week game in East Lansing against the Spartans, Boise State's season will start with a loss, and the Broncos will pick up a few more along the way.
Virginia Tech Loses to Clemson...Again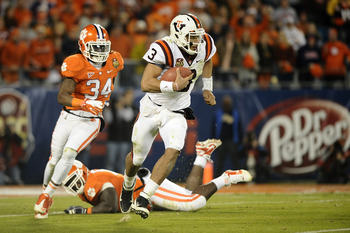 Jared C. Tilton/Getty Images
Last year was rough for Virginia Tech fans when it came to playing Clemson. Clemson did an outstanding job of bottling up their offense and exploiting their defense.
This year the two teams meet up in Clemson and look for the Tigers to make this a third straight win over the Hokies behind the passing attack of Tajh Boyd and Sammy Watkins.
70% of College Fans Won't Realize That New Teams Joined the FBS Division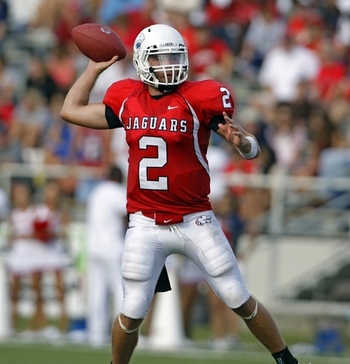 New to the FBS division this year is UMass, South Alabama, Georgia State, Texas State and UTSA. While these four teams will certainly not make an impact on the season, I would be willing to bet that 70 percent of college fans are not even aware that these schools are coming on board this year.
Notre Dame Misses out on a BCS Game...Again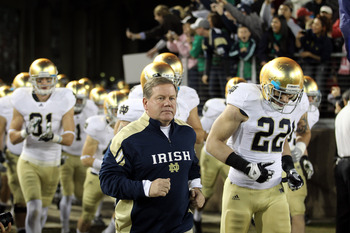 Ezra Shaw/Getty Images
Seems like every year Notre Dame enters the season claiming that this will be the year that the Irish are back. Like most years, this prediction will be wrong.
The Irish should be a competitive team in 2012, but look for them to lose enough games to not earn a spot in a BCS bowl game.
South Florida Wins the Big East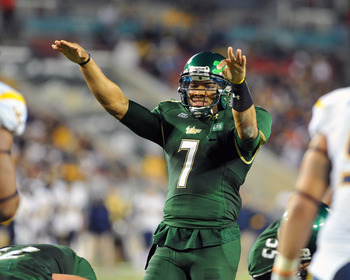 Al Messerschmidt/Getty Images
With all of the changes that occurred in the Big East, one team still has to win it. With the departure of West Virginia, look for B.J. Daniels and the South Florida Bulls to step in and fill the void as they win the Big East this year.
Oregon Proves They Can Play Defense as Well as Offense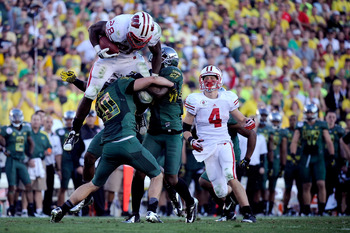 Kevork Djansezian/Getty Images
Seems like every year people are talking about the Oregon offense and downplaying the defense. This year, the Ducks will be breaking in a new quarterback which will give the defense its time to shine.
Look for the defense to step up and grab some attention as they allow the offense time to get into rhythm.
The Duck Will Be the Most Used Mascot on ESPN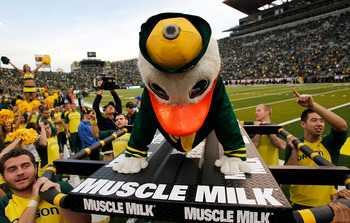 Jonathan Ferrey/Getty Images
Seems like since the 2008 season, the Oregon mascot has been receiving more and more time on ESPN. During the Ducks undefeated regular season in 2010, his popularity spiked to an all-time high.
Look for ESPN to continue to use the Duck as long as Oregon keeps on winning.
Losing Bobby Petrino Doesn't Set Arkansas Back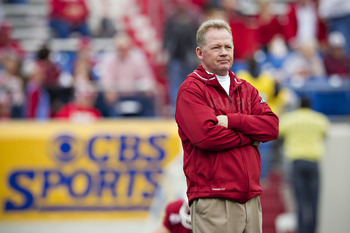 Wesley Hitt/Getty Images
Arkansas came into last season after losing Knile Davis, and this year it will have to enter the year with a new head coach.
The good news for the Hogs is that the amount of talent on this team will make it easy for any coach to take over.
Tyler Bray Is the Most Important Quarterback to His Team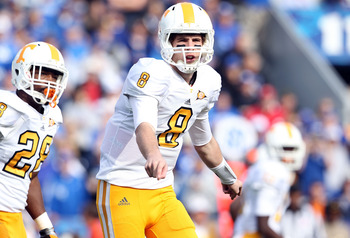 Andy Lyons/Getty Images
With Tyler Bray in the lineup last year, Tennessee looked like a solid team that may make some noise in the SEC. After his injury, things went a bit downhill and never got better.
This year, Bray is back and is healthy and could prove that he is the most important quarterback to his team, more so than any other in the nation.
Clemson Wins the ACC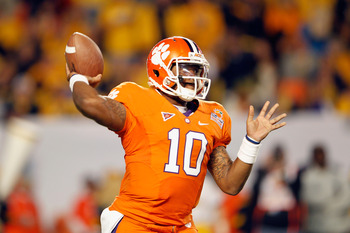 Mike Ehrmann/Getty Images
With its win over Virginia Tech during the regular season, Clemson should punch its ticket to the ACC title game.
Good or bad, the Tigers may end up playing the Hokies for a fourth time in two seasons but seem to have their number, allowing them to win their second straight conference title.
Joe Paterno's Firing Is Still Talked About Midway Through the Season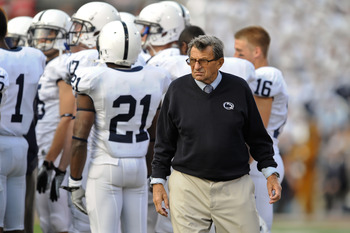 Jamie Sabau/Getty Images
Once the Jerry Sandusky case broke, it was all people were hearing about in the second half of the season. As that story developed, so did the end of Joe Paterno's coaching career and, unfortunately, his life.
This story has enough power that you can expect that people will still be talking about it midway through the 2012 season.
Ohio State Beats Michigan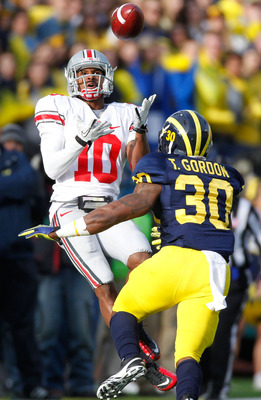 Gregory Shamus/Getty Images
Ohio State knows that entering this year, it is not eligible for postseason play. With that said, Urban Meyer will have this team ready for its game against rival Michigan.
As USC tried to do against Oregon, Ohio State will use this as its bowl game and come out with plenty of emotion.
Lou Holtz and Mark May Go at It in the First Week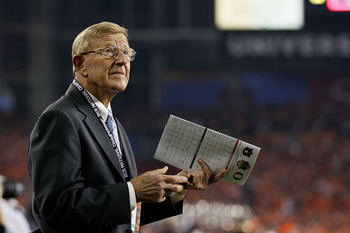 Kevin C. Cox/Getty Images
Like it or not, Mark May and Lou Holtz are back again and will be doing the same song and dance on ESPN. These two consistently go at it with opposing views, and this season will be no different.
Another School Gets Its Time Under the Microscope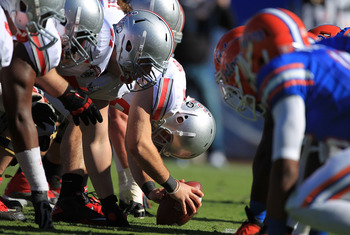 Scott Halleran/Getty Images
Seems like for the past few years, something breaks about a college football power and it spends the entire year under the microscope.
With the increased amount of media coverage, look for another big school to find themselves in hot water due to some breaking news.
Stanford Struggles to Make a Bowl Without Andrew Luck
Doug Pensinger/Getty Images
Stanford is about the realize how truly valuable Andrew Luck was over the past two years. Without the All-American, look for the Cardinal to struggle severely and potentially miss out on making a bowl game.
Baylor Misses the Bowl Season Without Robert Griffin III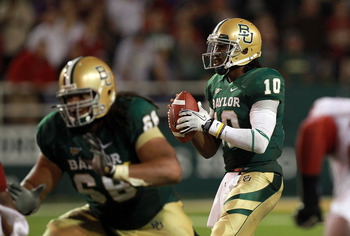 Ronald Martinez/Getty Images
Much like Stanford, Baylor is about to see how good they truly had things now that Robert Griffin III is gone.
Griffin was able to make plays that kept this team in games, and without him, the Bears are going to be a four- or five-win team.
Most Improved Team in the Nation Will Be Washington State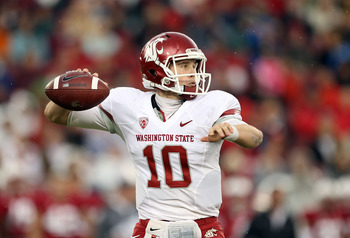 Ezra Shaw/Getty Images
With Mike Leach as their new head coach, the Cougar nation can start to expect good things to come out of the program.
Leach has done wonders with offenses, and with a quarterback like Jeff Tuel, expect that there will be a huge step towards success in 2012.
Oregon State Loses to a FCS Team for the Second Straight Season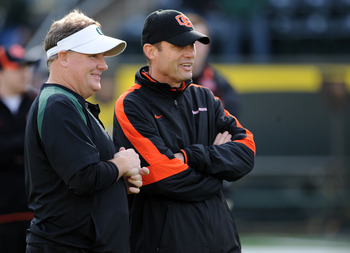 Steve Dykes/Getty Images
In 2011, Sacramento State made the trip to play Oregon State and surprised everyone when it pulled off a 29-28 win over the Beavers.
This year, the Beavers welcome in another FCS team, Nicholls State, and look for Oregon State to hit rock bottom as it loses a second straight time to a FCS team.
College Football's Popularity Will Pass the NFL's
Andy Lyons/Getty Images
While this is debatable, with all of the issues going on in the NFL, college football is going to pass it by in terms of popularity.
When you look at excitement and passion, college is leaps and bounds above the NFL that has gotten stale and slow.
Alabama Loses a Game in September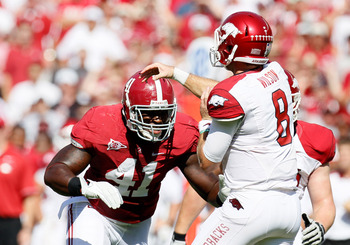 Kevin C. Cox/Getty Images
More specifically, look for Alabama to lose on the road to Arkansas. Last year when the two teams met in Alabama, the Tide had the upper hand.
With this year's game in Arkansas and a healthy Knile Davis back for the Hogs, look for Arkansas to hand Alabama an early season loss.
Alabama Beats LSU at Death Valley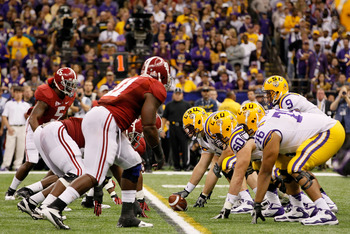 Kevin C. Cox/Getty Images
After an early season loss may have looked like a setback, Alabama starts to rebound nicely as they enter their game against LSU.
Despite the game being played at night at Death Valley, somehow Nick Saban and the Tide find a way to silence the crowd and hand them a stinging loss at home.
Georgia Returns to the SEC Title Game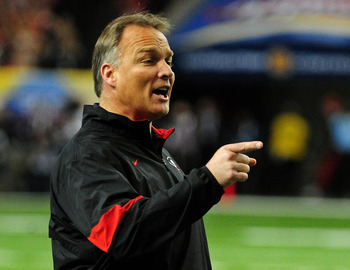 Scott Cunningham/Getty Images
In 2011, Georgia had an awful 0-2 start to the season, but then rattled off 10 straight wins.
In 2012, much of the talent from last year is back, leaving Georgia set up for another run. Look for the Dawgs to take advantage of their schedule and talent and head back to the SEC title game.
Alabama Goes on to Win the SEC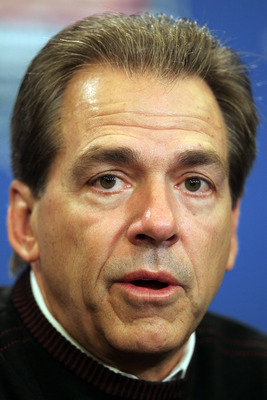 Andy Lyons/Getty Images
Despite the loss, Alabama is still the defending champions and rarely rebuild, but instead it reloads.
Even with the losses to the NFL draft and graduation, look for Alabama to show its dominance by winning the SEC Championship.
Marcus Lattimore Takes a Step Back After Injury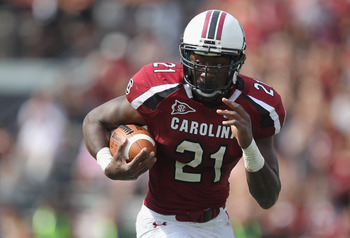 Streeter Lecka/Getty Images
In his freshman season, Marcus Lattimore took the SEC by storm and had an outstanding season. Last year, the back appeared to be picking up where he left off, but a knee injury cut his season short.
With the amount of damage that had been done to Lattimore's knee, look for the back to have a good year but to be nowhere near his prolific season from 2010.
Kenjon Barner Rushes for More Yards in 2012 Than LaMichael James Did in 2011
Harry How/Getty Images
Last year, LaMichael James was the workhorse of the Oregon rushing attack. The load caught up with him as an elbow injury limited his carries late in the year but did make way for Kenjon Barner.
This year, Barner will be the one shouldering the load with James gone. Look for Barner to be just fine as he rushed for more yards in 2012 than James did in 2011.
Washington Takes a Step Back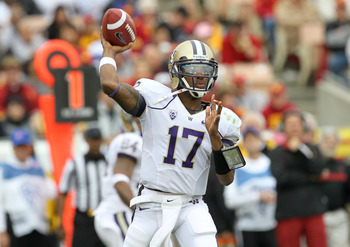 Stephen Dunn/Getty Images
With all of the positivity around the Washington State program, Washington has stood around idling as this year may actually be a step back for the Huskies.
While the offense is good, the defense is awful and will be their biggest challenge in 2012.
Todd Graham Returns for a Second Season with Arizona State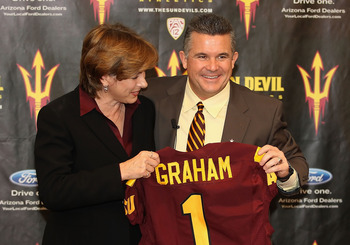 Christian Petersen/Getty Images
For the past three years, Todd Graham has jumped from program to program and held the head coaching position at three different schools.
After landing in Arizona State this year, look for Graham to actually settle down and return for a second season.
The Ducks Cheerleaders Will Still Look Good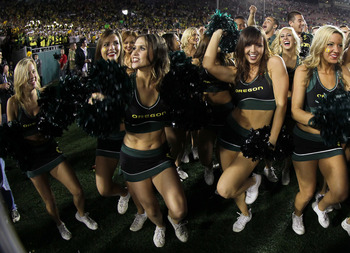 Stephen Dunn/Getty Images
One thing that seems to be consistent in college football is not the talent on the field for Oregon, but the talent off of it.
The Ducks seem to always have some outstanding cheerleaders on the sideline that can distract from the game. The 2012 squad will not disappoint.
No Team from a BCS Conference Goes Undefeated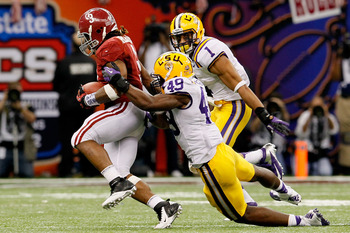 Kevin C. Cox/Getty Images
The amount of talent around the nation is at an all-time high. With the wide net of talent that has been cast over the BCS teams, look for the national title game to feature two teams with a loss.
A Playoff Draws Closer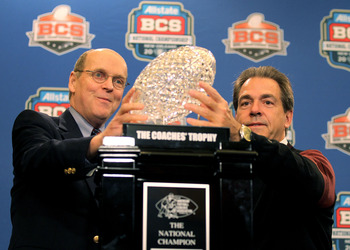 Andy Lyons/Getty Images
Seems like every season an argument for a playoff picks up more steam.
If the national title game features teams with a loss, look for this argument to pick up even more and bring college fans closer to what they desire, a true playoff.
Heat Gets Turned Up on Jimbo Fisher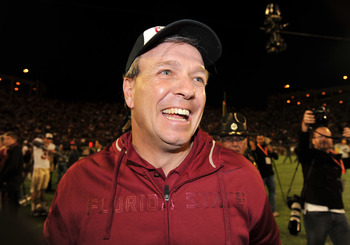 Al Messerschmidt/Getty Images
From all accounts, Florida State is set up for another potentially great season. The only problem for Florida State is the potential never turns into reality as of late.
If the Seminoles come up short again, look for Jimbo Fisher to start feeling the heat to win and win now.
Miami Misses out on a Bowl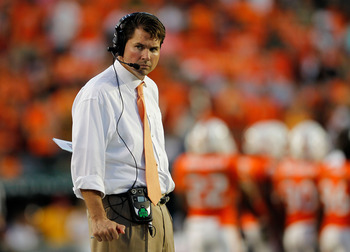 Mike Ehrmann/Getty Images
Things have not gone well for Miami recently, and they about to get worse for Al Golden and company. This year, Miami has a rather difficult schedule.
With their problems with finding consistency last year, the Hurricanes will struggle through the 2012 season and eventually miss out on the bowl season.
Virginia Plays Better but Ends Year with Worse Record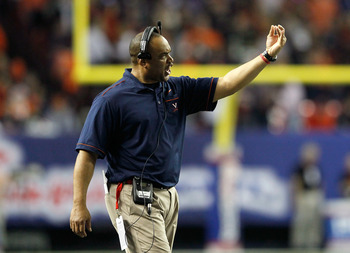 Kevin C. Cox/Getty Images
Last year's 8-4 record for Mike London and Virginia was a great step for the program.
While the program is heading in the right direction, the schedule this year is brutal so while the Cavaliers may play better, seven wins may be the outcome.
Florida Stays in the Middle of the SEC Pack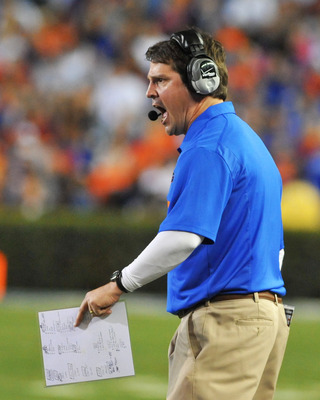 Al Messerschmidt/Getty Images
Since losing Tim Tebow, Florida has almost appeared to be lost as it has stayed in the middle of the pack in the SEC.
Without a strong offense, the Gators will continue to struggle, and this year's season may start to resemble how last year looked.
SMU Wins Conference USA Title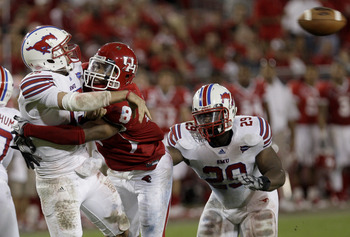 Thomas B. Shea/Getty Images
In the offseason, teams like Houston and Southern Miss have taken a step back, while SMU has continued to rise over the past couple of seasons.
Look for June Jones to get SMU back to the top of the conference and win Conference USA in 2012.
TCU Has Strong Showing in Big 12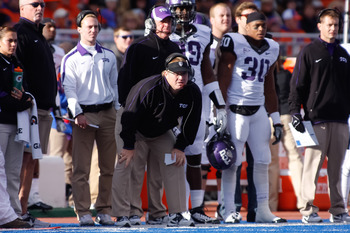 Otto Kitsinger III/Getty Images
Unlike Boise State, TCU is jumping into the deep end and is now playing in a BCS conference.
With the move, TCU will gain some respect as they will be extremely competitive in the Big 12 and may even finish in the top three during 2012.
West Virginia Wins the Big 12 Title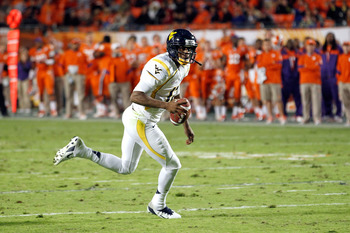 J. Meric/Getty Images
Speaking of the Big 12, TCU is joined by West Virginia as the new kids in town. West Virginia has an extremely potent offense and has some key games at home.
With a favorable schedule, the Mountaineers will ride their offense all the way to a conference title.
Coach of the Year Will Be Gary Patterson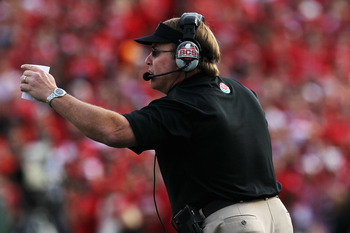 Stephen Dunn/Getty Images
With the change of conference, TCU all of a sudden finds itself in a much more competitive conference.
With the personnel that the Horned Frogs have, they should have a very strong showing in their first year, and it will garner Gary Patterson some attention as this year's coach of the year.
Doak Walker Award Will Be Won by Kenjon Barner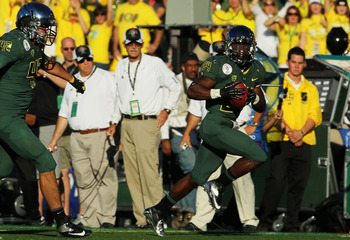 Stephen Dunn/Getty Images
With the departure of LaMichael James, Kenjon Barner is going to be a huge benefactor with a ton of carries in a run-heavy offense.
As long as Barner remains healthy, he has the skills and the offense to lead the nation in rushing, and by doing so, Barner will win the Doak Walker award.
Matt Barkley Wins the Heisman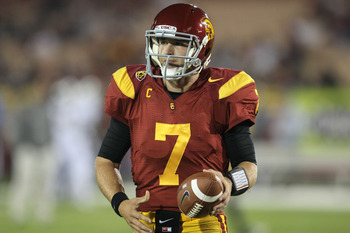 Stephen Dunn/Getty Images
As the 2011 season started to wind to a close, Matt Barkley's Heisman stock started to soar, but it appeared to be too little too late.
With the amount of attention the Trojans are already receiving, look for Barkley to capitalize and win a Heisman Trophy.
Only One SEC Team Will Be in the Top 5 Before the Bowls Start
Kevin C. Cox/Getty Images
By the time that bowl season rolls around, fans of the SEC are used to seeing a couple of teams up towards the top of the rankings. Last year, the conference was home for the top two teams in the nation.
While the SEC will remain strong, the SEC will only have one team in the top five nationally.
West Virginia Will Play Alabama for the National Title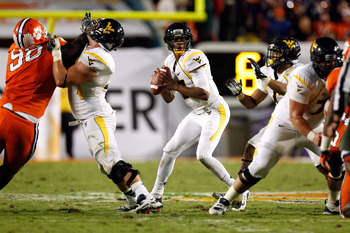 J. Meric/Getty Images
Once all the dust settles, the teams playing for the BCS National Championship will be announced, and West Virginia will be going head to head with Alabama.
Both teams will have won their conference, which will eliminate last year's argument, and it will be a classic matchup of offense versus defense.
Alabama Repeats as National Champions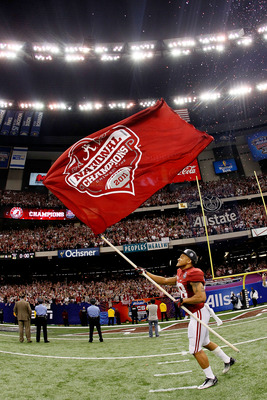 Kevin C. Cox/Getty Images
Despite all of the turnover that the Tide had in the offseason, Nick Saban is the best coach in the land.
After reloading and bringing in new stars, the Tide will take of West Virginia and win their second straight national title.
Keep Reading