The Wonderlic Test, Morris Claiborne and Bus Cook's Failure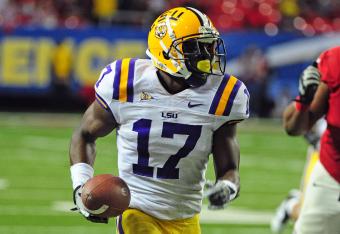 Scott Cunningham/Getty Images
Morris Claiborne scored a four on the Wonderlic test he took at the combine in February. We all found out in a leak that came out April 3. It is incredible to think that someone would leak this information. The immediate reaction to the score was fairly harsh but to be expected.
We have heard from Morris Claiborne himself telling us that he has a learning disability. This helps to explain the poor test score. Why did he take the test to begin with?
By all accounts, Claiborne is a very good person with very good character. Claiborne is a hard worker and a very good football player. There is nothing in his history to suggest that he is a problem on any level.
The Wonderlic test score leads to questions, but Claiborne is not alone in this. Bus Cook is Claiborne's agent, and I am confused as to what he is doing for Claiborne.
When Adam Schefter of ESPN asked for a response, Cook replied (h/t PFT):
"I haven't heard a word about it," Cook said of the score. "I haven't talked to anybody about it. All I know is that [Claiborne] was from a complicated defensive system and he flourished in it. I've never seen any sort of deficiency in him. I'm sitting here in shock at what you're telling me."
I am shocked that Bus Cook would make that statement.
Bus Cook has a job and that is to make Morris Claiborne the highest draft pick he can make him. Sometimes, agents have it tough because there are things that happen that are completely out of their control. This, however, is not one of them.
If you think Cook didn't know about Claiborne's learning disability, you are kidding yourself. It is well documented. If it is true that Cook didn't know about Claiborne's disability then his culpability is even worse than it is if he knew about it and "misremembered."
Former NFL scout Greg Gabriel of the National Football Post wrote:
"When Claiborne came out of high school, the schools that recruited him knew he had a learning disability. I don't know much about his disability other than it has to do with reading. Everyone I have talked to tells me that Claiborne has great character and is a great kid. He knows and understands his disability and uses all the resources that LSU has available to control it and to help him get by in the classroom. When it comes to football he puts in extra time to learn and understand his assignments and it is not a problem. Will he need reps? Probably, but no more than the usual rookie would need. In saying that, Claiborne's test score was NOT a true indicator of his intelligence. He can and does learn."
Agents put their clients into training programs that teach and train them to perform well at the combine and their pro day workouts. It has almost become a science. The players practice running the 40-yard dash, vertical jumping and taking the Wonderlic test.
Morris Claiborne wasn't properly prepared for the combine as evidenced by his workout. Looking at his numbers it is obvious.
His 40 time was 4.47 seconds and is tied for 18th among cornerbacks
His vertical jump of 34.5" is tied for 23rd among cornerbacks
His broad jump of 9'10" is 34th among cornerbacks
His 3-Cone Drill time of 7.01 seconds is tied for 29th among cornerbacks
His 20-yard shuttle time of 4.12 seconds is tied for 13th among cornerbacks
Although he did not put up good measurables, it is fortunate for him that most scouts have overlooked them.
Bus Cook allowed Morris Claiborne to remain at home and prepare for the draft with Kenneth Prude, a former high school football coach at Fair Park High School in Shreveport, La.
Prude is Claiborne's former high school coach. He is widely considered to be Claiborne's mentor, but he is not a trainer who trains professional football players for a living.
There are bigger issues with Prude however. Kenneth Prude was indicted in May of 2005 of molesting two boys. A jury acquitted Prude of one charge and was deadlocked on the second charge. He has not been re-charged in the case.
Cook can pretend that he is unaware of what is happening with Morris Claiborne, but it is his job to be aware. Claiborne is way behind the other players, and it is Cook's job to keep him as prepared as he can.
Has Bus Cook failed Morris Claiborne in the pre-draft process?
If I were talking to Cook, I would ask why he did not better prepare Claiborne for the combine and why he did not prepare him for everything he would encounter in the pre-draft process.
Most importantly, I would want to know why he would allow a trainer who doesn't train professional athletes to be principally responsible for training Claiborne.
When you lump it all together, you really have to wonder about the decisions that Bus Cook has made regarding Morris Claiborne. I am left scratching my head.
This article is
What is the duplicate article?
Why is this article offensive?
Where is this article plagiarized from?
Why is this article poorly edited?