Masters 2012: 10 Bold Predictions for Day 2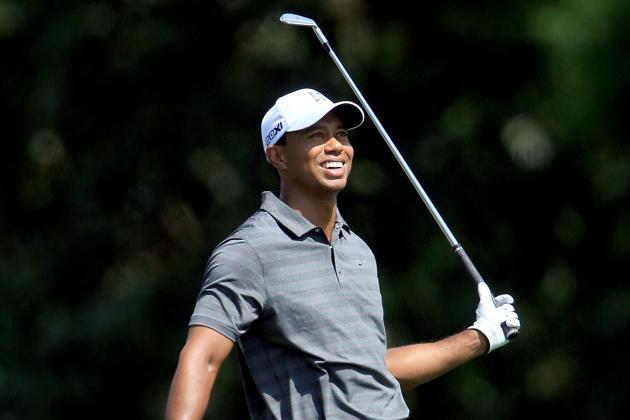 David Cannon/Getty Images

The 2012 Masters is well under way. After Day 1, we have learned a lot about the field, but it has only been that, Day 1.
Many people expected a roar from Tiger Woods today, but that really did not happen. Woods usually does not have an amazing performance in the first round. Woods leaves that to the field, while he chips away at the lead the next two days.
There is still a lot of golf to be played, three rounds to be exact, so read on to find out 10 bold predictions for Day 2.
Begin Slideshow

»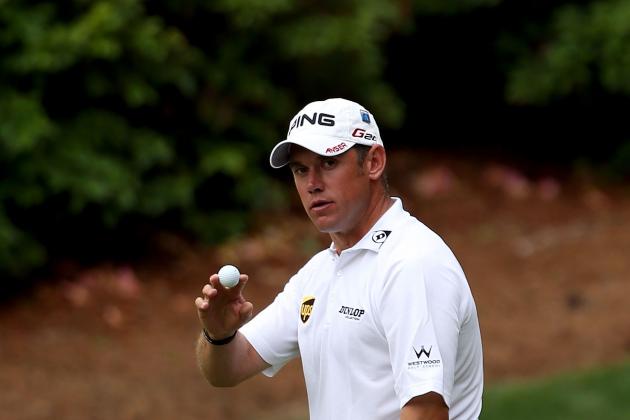 Andrew Redington/Getty Images

Lee Westwood pretty much owned Augusta in the opening round, holding the lead at minus-5. Don't expect this trend to continue.
Westwood is obviously a good golfer or else he would not be ranked No. 3 in the world. However, he has never won a major, not once.
Westwood has a chance at capturing his first major victory, but he will not show any signs of that in the second round of the tournament. Expect Westwood to fall down the leaderboard tomorrow.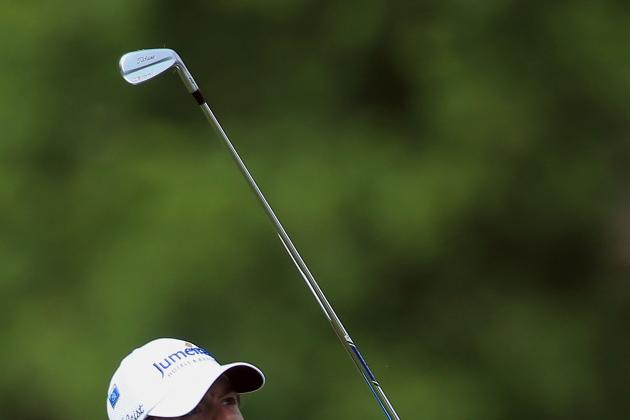 David Cannon/Getty Images

As it stands, Rory McIlroy is at minus-1, which will leave him four strokes back when he starts his second round.
McIlroy started the day absolutely horrible, with a double bogey. For him to get all the way back to even par and then to finish at minus-1 is pretty incredible.
McIlroy finished the day with back-to-back birdies. He will continue this going into round two. At the end of the day, don't be surprised when McIlroy makes up a four-stroke deficit and is leading going into Day 3.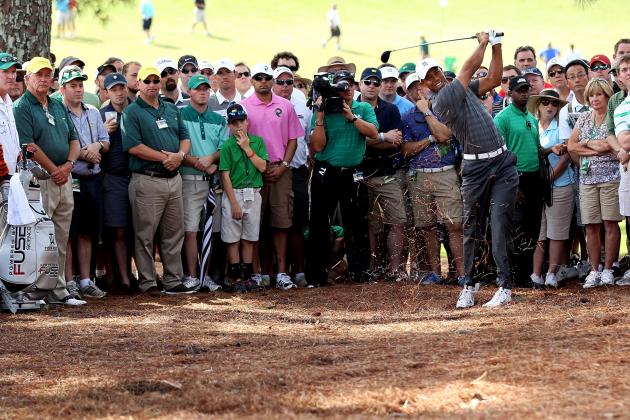 Andrew Redington/Getty Images

If you look at Tiger Woods' scorecard for the day, you would definitely think that he had a pretty fair day on the course. However, Woods is lucky that he managed to end the day with a 72 because he very well could have shot a 78.
Woods did not play very well today to say the least. He got up and down for par on holes he should have at the very least bogeyed.
Look for Tiger to get things going and be in striking distance heading into the third round.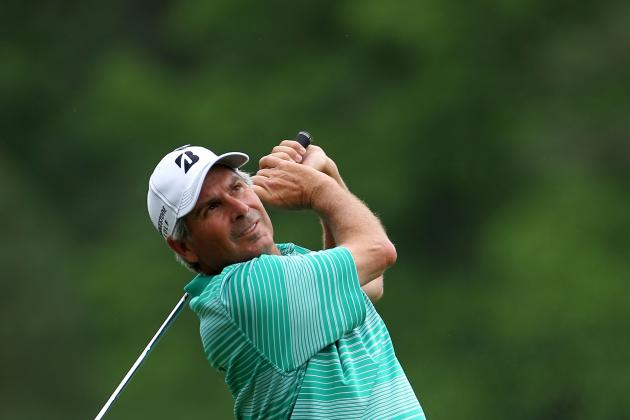 Jamie Squire/Getty Images

What was that one name again? Oh yeah, Fred Couples.
Couples really has not been in the golf spotlight for some time now. Well, he finished the day with a 70, which leaves him only three shots back of the lead.
Couples may not win this thing, but he will definitely get people's attention. Look for Couples to shoot lower than 70 tomorrow.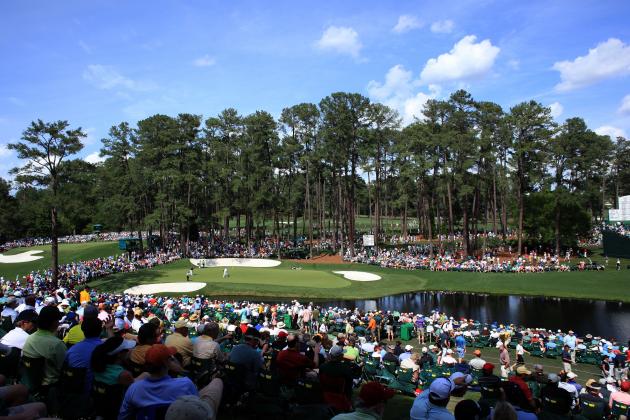 David Cannon/Getty Images

This may possibly go against the Rory McIlroy slide, but there will be a golfer out there tomorrow who shoots a 65 or less.
This may be kind of hard to believe, considering that the best round today was a 67, which was, of course, by Mr. Westwood.
The course played relative easy in the opening day of the Masters, with 29 people shooting under par and earning red numbers.
Westwood's 67 may have been the best round of Day 1, but someone will go even lower in Day 2.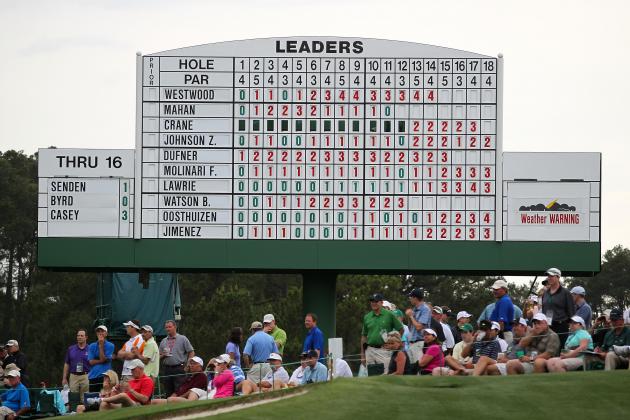 Jamie Squire/Getty Images

Considering that hole Nos. 17 and 18 owned Tiger Woods today, this may be a bit of a stretch.
Tiger is obviously human, but thunder does not strike in the same place twice.
Once Woods approaches the 17th and 18th tee boxes, he will be sure not to make the same mistake that he did in his first round by going one-under or better on the two holes.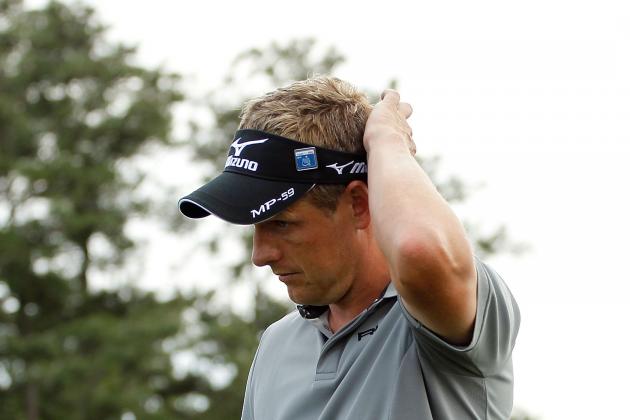 Streeter Lecka/Getty Images

Luke Donald is the No. 1 golfer in the world rankings, so he obviously has some game. Donald has not shown that game off in the Masters so far.
Donald finished the day at plus-3, which leaves him tied in 64th place. He had six bogeys on the day, which a third of the holes. That is not going to get the job done. Not even by a long shot.
Donald will have to have a good round if he even plans on sticking around for the weekend, but he will continue to falter in the Masters, which will eventually lead him to missing the cut.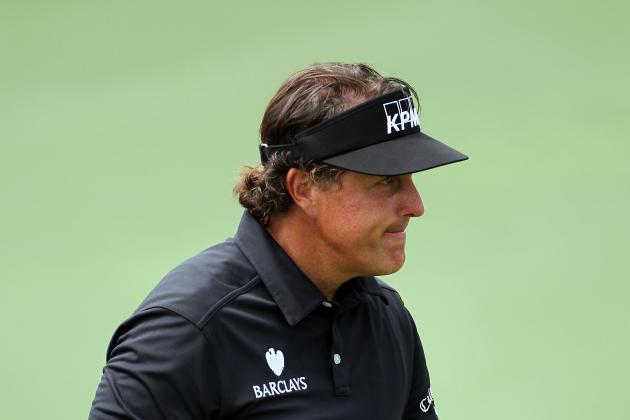 Jamie Squire/Getty Images

Phil Mickelson's scorecard pretty much has every color of the rainbow on it, not literally, but he was up and down the whole entire day.
Philly only had eight pars in the first round.
It seemed like Mickelson could not make up his mind because he pretty much went birdie, bogey or par on every third hole. He even managed to get some purple on his scorecard with a triple bogey.
Well, if history repeats itself, Phil will have a good second round and will be along for the ride during the weekend.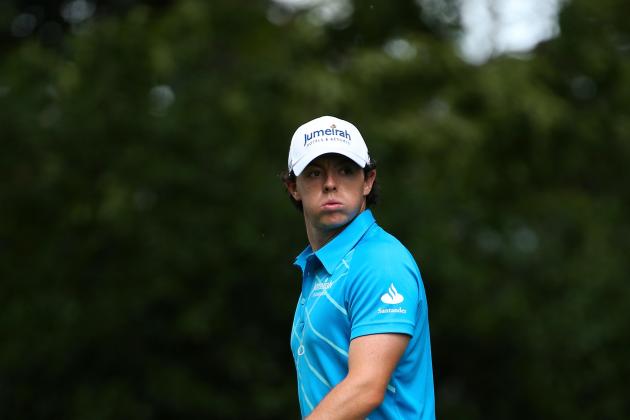 Andrew Redington/Getty Images

McIlroy started the day off with a double bogey. I am sure his final round of last year entered his head constantly...until he got to the second tee box and shook all of the jitters away.
McIlroy is one of the most competitive golfers in the game today; it is just a part of his Rory McIlroy swag.
Anyways, the first hole was not only rough on McIlroy, but the entire field as well. It was the hardest hole on Day 1, but McIlroy will birdie it just because he can on Day 2.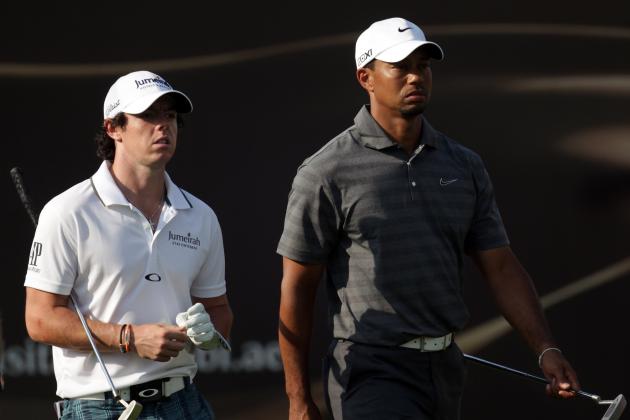 Ross Kinnaird/Getty Images

There would be nothing better than for Tiger Woods and Rory McIlroy to be paired up in the final round of the Masters competing for the green jacket.
What a story that would make for. Good thing for stories is they aren't fairy tales, so this is actually likely to happen.
Day 2 of the Masters will be a good one for both McIlroy and Woods. So good that the Masters will be a two-man race between the two most talked about golfers in the world after this round.
If you're a tweeter, feel free to follow me @TheTrevorLowry