New York Mets Honor Gary Carter in Pregame Festivities with No. 8 Jerseys
April 5, 2012

On opening day at Shea Stadium in 1985, Gary Carter hit a walk-off home run off Neil Allen in the bottom of the 10th inning to give the New York Mets a 6-5 win over the St. Louis Cardinals.
On opening day at Citi Field 27 years later, the Mets honored their late former star in pregame ceremonies.
Mets players each wore Carter's blue No. 8 jersey during batting practice. 
Before the game, Carter's family—all wearing his pinstriped No. 8 home jersey—took the field to unveil a home plate logo bearing his nickname, "Kid," and the No. 8 on Citi Field's left center field wall. It's the same logo that the Mets have worn as a patch on their sleeves during spring training and will continue to wear all season long.
During the Mets' home opener versus the Atlanta Braves, Carter's pinstriped jersey also hung in the home team's dugout. 
Each of the gestures made for a touching tribute to one of the team's most popular players—a key figure during a five-year run in which the Mets won a World Series championship and were the dominant baseball team in New York City.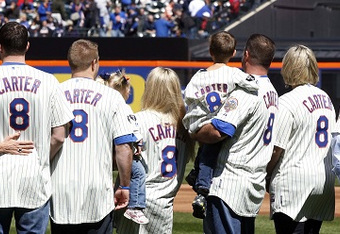 Considering Carter played the first 11 years of his career with the Montreal Expos, it's even more impressive that he captured the hearts of New York and was identified so strongly with the Mets. And it's especially admirable that the team has demonstrated how much he meant to the organization and its fans with these tributes. 
Kudos to the Mets for honoring one of their greats. And here's one more tip of the cap to The Kid.