Let Twitter, Fake Accounts Be a Lesson to Overzealous NFL Media
April 6, 2012

Jason Kempin/Getty Images
"Often confused with the inferior AdaM Schefter. . This is a fake account. Breaking fake news. Trolling the NFL."
--Twitter bio, @AdarnSchefter
Though the bio couldn't be more clear about what the account is and what it's up to, @AdarnSchefter's handle and profile picture effectively ape the verified account of ESPN NFL reporter Adam Schefter. Under what looks at first glance like the real McCoy's banner, @AdarnSchefter tweets out fake-but-plausible NFL news, then retweets everyone who falls for it.
Boy, do people fall for it. With just his seventh tweet, @AdarnSchefter claimed "It's official. The #Jaguars have traded for Tim Tebow," and the official @SportsCenter account unwittingly retweeted it. The fib went viral, and the well-fed troll built himself a bridge to notoriety.
"The best part is that I spelled seeking wrong," he gloated after hoodwinking many with his report that the Dolphins were "seaking" a trade of Reggie Bush. How could so many keep falling for the same old prank?
Bleacher Report Lead Writer Dan Levy wrote earlier this week about the scoop-obsessed modern media. Old bragging rights about getting a story in the paper a day earlier than the other guys no longer apply. But modern writers still try and scoop each other, and some gripe about getting "credit" for stories tweeted almost simultaneously.
Even when you don't break news yourself, part of being a "content generator" is relaying news and analysis to your followers. A modern sports reporter bets their authority—and, by extension, their livelihood—on every tweet they send.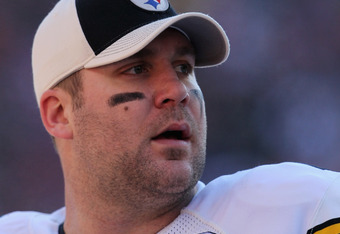 Jeff Gross/Getty Images
Mike Wise of the Washington Post found that out the hard way. Wise, a well-respected columnist, conducted a Twitter "experiment" during his weekday radio show. As the NFL world was waiting for the announcement of whether it would suspend Pittsburgh Steelers quarterback Ben Roethlisberger, Wise tweeted that Roethlisberger would "get five games."
It was a complete lie.
Wise said he was trying see how far the lie would spread. It spread—almost immediately—to his editors. By the time his radio show was over, Wise's tweet had been thoroughly debunked, and his subsequent explanation far too little, far too late. Wise was suspended for a month.
That incident painfully underscored to media members that Twitter and other online mediums are just as "real" as print when it comes to breaking news. Signing his name to a lie did massive harm to Wise's reputation, and he paid for it.
Mindlessly hitting the "retweet" button after too-hastily reading a deceptive tweet is not nearly as unethical as intentionally spreading a false story, but the effect is the same. Followers attach the name, face and reputation of the reporter to something untrue.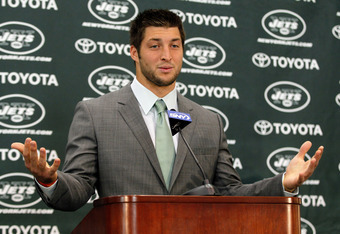 Mike Stobe/Getty Images
After the Denver Broncos signed Peyton Manning, speculation was rampant that Tim Tebow would be traded. As reporters frantically tried to get the story, several fake accounts popped up to dupe the scoops. One of which, @TirnTebow, even snookered the well-connected NFLN and NFL.com reporter Michael Lombardi.
Lombardi read the fake Tebow's claim that he was going to Jacksonville. But rather than simply hitting the RT button as many of his contemporaries did, Lombardi typed out "Tebow to Jacksonville according to Tebow."
This caused a whole new wave of false information to ripple throughout Twitter. Those who had been waiting for legitimate news pounced on Lombardi's tweet, and the trusted NFL reporter accidentally made it sound like he had spoken to Tebow himself.
But simple deceptions like copycat handle names (like T-I-R-N Tebow and A-D-A-R-N Schefter above) are easily fallen—and apologized—for.
What's trickier is cases like "Incarcerated Bob." A well-known radio show caller, Incarcerated Bob is fond of pretending he has sources and "reporting" stories that he's fabricated. Anyone with the temerity to point out Bob's appalling track record is blocked or shouted down.
Nevertheless, Bob does have a sizable following and some amount of name recognition, so he is occasionally cited by reputable outlets who simply didn't do their homework.
Not only does that make the reputable outlets less reputable, but it puts a feather in the liar's cap. Playing on the cutting edge of Twitter news will get your reputation sliced to ribbons.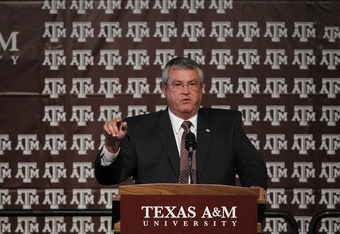 Aaron M. Sprecher/Getty Images
Chip Brown, lead writer for the Rivals.com Texas affiliate, Orangebloods.com, worked like a dog reporting every twist and turn of 2010's NCAA conference realignment saga. From his handle, @ChipBrownOB, Brown broke a steady stream of scoops—culminating in his report that the Texas AD and President informed staff that the Big 12 was no more.
Of course, the backroom dealings of very rich men can turn on a handshake, and much of what Brown reported as done deals came undone. No one doubts that Brown has good sources, and much of what he had been told was likely "true" at the time. He did his job well, and with gusto.
But in his haste to beat the rest of Twitter, Brown failed to let developing news develop. His legitimate journalism looked no different than Incarcerated Bob making stuff up.
As Levy pointed out, it's not worth it. With millions of people all following their own unique set of tweeters, blowing away the sports media world with a unilateral "scoop" is nearly impossible. Even if a Jay Glazer manages to beat a Chris Mortensen to the punch on a story by a few minutes, nobody will remember who had the scoop the next day.
But people will remember who got it wrong forever.