Oregon Ducks: 3 Possible Replacement Head Coaches for Chip Kelly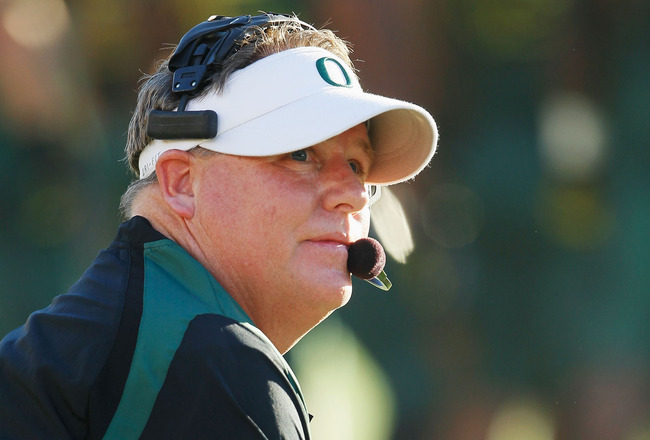 Jeff Gross/Getty Images
Wasn't it just great seeing Chip Kelly and the Oregon Ducks at practice this week? Kelly, in his trademark shorts and visor, looked trim. He was smiling and laughing in his comments to the media just like right after the Rose Bowl win as if absolutely nothing had changed.
But some things have changed since Jan. 2, 2012. On Jan. 22, we all had to admit that denial was more than just a river in Egypt. We had to man up, look in the mirror and admit to ourselves—probably for the first time—that Chip would not stay at Oregon forever. In fact, he might be gone the next morning.
Instead, Kelly decided he had "unfinished business" at Oregon and turned down the Tampa Bay Buccaneers' very generous offer. That whoosh you heard on Jan. 23 was three million Oregonians letting out their breath.
But in the months since then, reality has set in for most Ducks fans. "It's only a matter of time" is what one hears most frequently when the subject is Kelly and the NFL.
So, Oregon players and fans seem safe for the 2012 campaign. But what if the Oregon Ducks win the national championship—and many intelligent people believe this is a very real possibility this year—and Kelly completes his unfinished business. What then?
He's gone. You know it deep in your heart in that little place you compartmentalize things you just can't think about right now.
Let's look at the possibilities for Oregon if Kelly leaves after this season. Then, I'm not going to think about it again until next January. I'm going to enjoy the 2012 season to the fullest and face reality only when I must.
Chris Petersen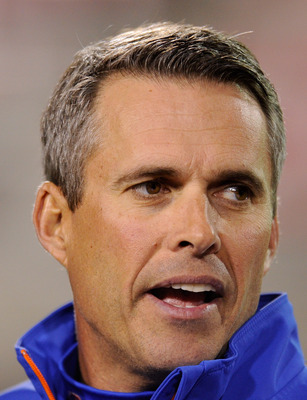 Ethan Miller/Getty Images
Yes, Chris Petersen of Boise State is a very good college football coach.
Yes, Petersen has ties to both the state of Oregon and the University of Oregon.
Yes, Phil Knight reportedly likes the guy.
No, I'm not quite willing to appoint Petersen the new king of the Ducks quite yet. Here's why.
First, we have no reason to think he will leave Boise if asked nicely. As Ken Goe of The Oregonian reported last month, Petersen and his family love Boise. He was just awarded a new five-year, $12 million contract.
At the end of every season, Petersen's name is on just about everyone's short list, and he's turned them all down. People think because he spent six years in the Oregon program working for Mike Bellotti as receivers coach and because he has family in Portland that the Oregon head coaching job would be more of a lure for him.
Perhaps that's true. But maybe the guy loves what he's doing and where he is. Don't all successful head coaches want to test themselves at the next level? You would think so, but Petersen turned down Penn State, and if ever there was an opportunity to test yourself, that was certainly it.
Here's where it gets tricky for me. If Petersen can be wooed, do the Ducks really want him? I don't know the slightest thing about what makes a college coach a great coach, but I do know what entertains me.
I think Petersen is boring. He seems very nice, but I find him predictable and bland. You will argue that winning is more important than conducting a good interview after the game. While that's true, it's closer in importance than you think.
Winning is only one reason why the Ducks will be highly ranked in preseason polls. It's the total package, I believe: style of play, splashy uniforms, noisy fans, a hilarious mascot and yes, a charming, funny, smart, highly-quotable head coach.
Whether we like it or not, college football is literally run by television. My personal feeling is that Chris Petersen might be too much of a snooze to keep the Ducks on Gameday and in the poll voters' top-of-mind-awareness.
Mark Helfrich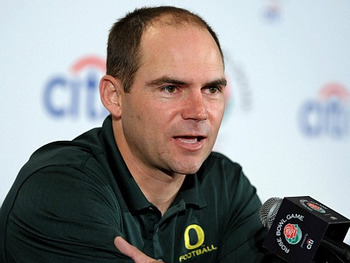 The news around the Chip-Kelly-to-the-Buccaneers story that shocked me the most was that University of Oregon Athletic Director Rob Mullens was very close to offering the head coaching job to offensive coordinator Mark Helfrich.
In fact, several media outlets had reported that the job had actually been offered to Helfrich and then rescinded about midnight on Sunday when Kelly changed his mind.
If they offered the job to Helfrich without even making a phone call to Chris Petersen, that tells me that Helfrich is the heir apparent, just as Kelly was to Bellotti.
There is not a doubt in my mind that Helfrich will be a highly successful head coach someday very soon. It could very well be next year at Oregon. But a lot can happen in a year of college football.
Maybe the new QB doesn't complete as many passes as Darron Thomas. Maybe Kenjon Barner doesn't come through in tight places like LaMichael James. Maybe the genius offensive coordinator turns into an idiot.
But right now, based on what we know, you have to give the nod to Helfrich to replace his current boss.
Jon Gruden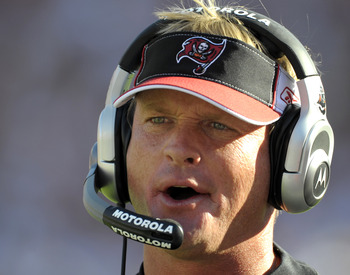 Al Messerschmidt/Getty Images
I'm not quite sure when I got the idea in my head that Jon Gruden should be the next head coach of the Oregon Ducks. But it's stuck there, and I can't get rid of it.
I think it started when Gruden paid a visit to Autzen Stadium during spring practice in April 2009. It was reported then that Chip Kelly offered the offensive coordinator position to Gruden. He declined. At that time, Gruden said he wanted to learn more about the spread offense for a potential return to the NFL.
But Gruden made another visit to Eugene the next year in April 2010. The former NFL coach of the Tampa Bay Buccaneers (gee, where have we heard that team's name lately?) showed up with dozens of other coaches to watch spring practice. Gruden was also a speaker at Oregon's annual coaching clinic.
It just seems to me that there are a lot of connections between Gruden and the Oregon program. Kelly considers Gruden to be a close friend and mentor. Gruden's predecessor at Tampa Bay, Tony Dungy, is also a mentor of Kelly's, and his son, Eric, plays wide receiver for Oregon.
LeGarrette Blount plays at Tampa Bay, after no doubt receiving a vote of confidence from his former college head coach to someone in the Bucs organization. It feels like this Chip Kelly, Tampa Bay, Jon Gruden thing is all linked in the universe somehow.
The other thing that won't let go in my head is that Phil Knight likes to make a splash. He rarely does anything that's not "big." Hiring Jon Gruden would be mega-big.
Oh, right, Knight's not in charge of the hiring. Uh-huh.
Keep Reading

Oregon Ducks Football: Like this team?